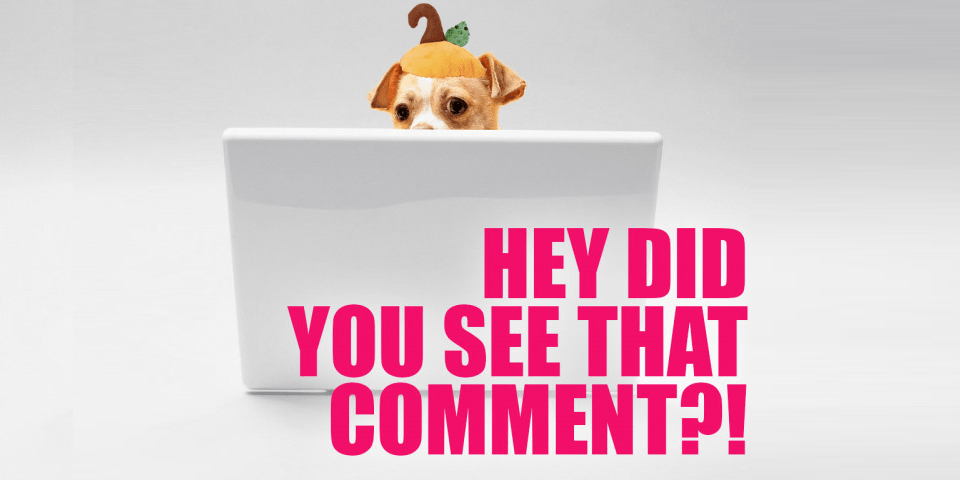 Happy almost-Halloween, my dear ghouls! As you can see from the pumpkin hat, we're celebrating in style. And it's also AMA Day! If you haven't signed up for A+ yet, today is a GREAT day to do it, you can ask the staff all of your most pressing questions! Personally, I would like to know how they all ended up with such amazing hair.
This week, Kayla was announced as new Managing Editor! This is SO exciting!
Speaking of Kayla, have you been reading Wild Cravings?
Curious about your deepest fear? Nicole's got the quiz for you! (I do not need a quiz to know that my deepest fears are manipulative people and also many tiny holes in things, which makes me ITCH just thinking about it.)
Sally always swoops in with the commentary we need, and she's here again this week to help us process Jojo Siwa's tenure on Dancing With the Stars!
9 Holes in My Haunted House, Ranked by Lesbianism. Lol, holes. (The DIY portion of this was unexpectedly soothing, thank you Nicole!)
"All we can do is take care of our animal bodies." I loved this piece by A'liya so much!!
Finally, Scenes From a Gender really is the gift that keeps on giving.
And then there were your comments!
---
On Notes for a Queer Homemaker: Spells and Potions:
The It Girl Award to shamblebot:
On Welcome Our New Managing Editor, Kayla Kumari Upadhyaya!
The VIE (Very Important Energy) Award to Manzanita:

On Wild Cravings: Memory Soup:
The Vegan Dream Award to Andi:
On QUIZ: What's Your Greatest Fear?
The My Void, My Self Award to himani and Freddie: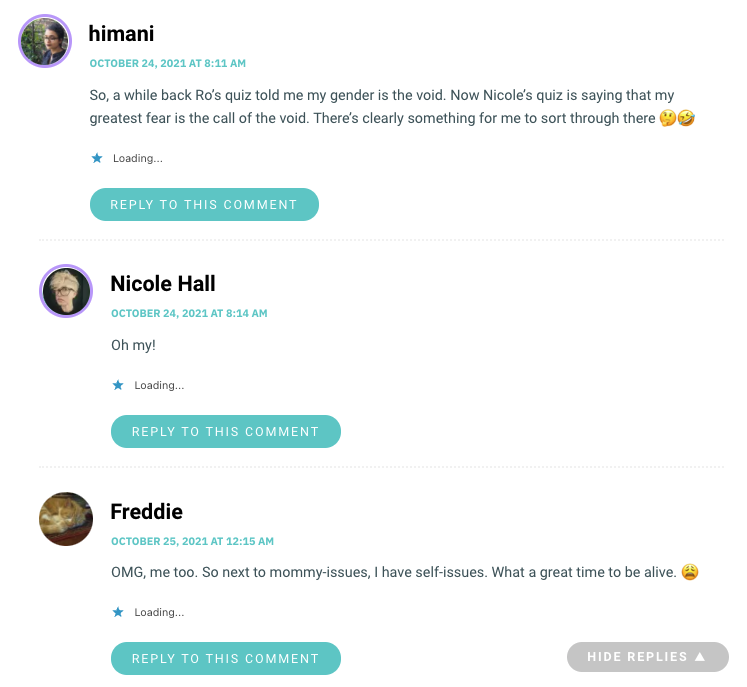 On 9 Holes in My Haunted House, Ranked by Lesbianism:
The On Topic Award to Rosehips:
On It's Time to Process Every JoJo Siwa Routine on "Dancing With the Stars":
The Activity Partners Award to Caitlin and Yasmin: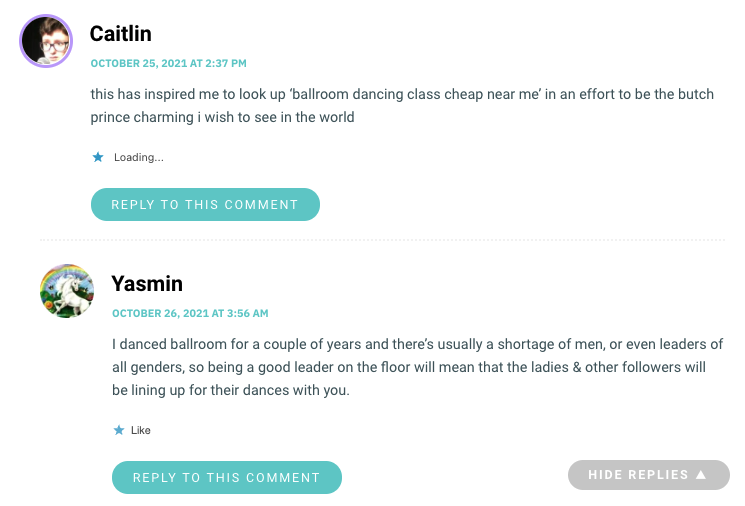 On How To Choose A Halloween Costume:
The Surprise! Award to KatieRainyDay:
---
See a comment that needs to be here? Let me know! Tag me [at] queergirl.