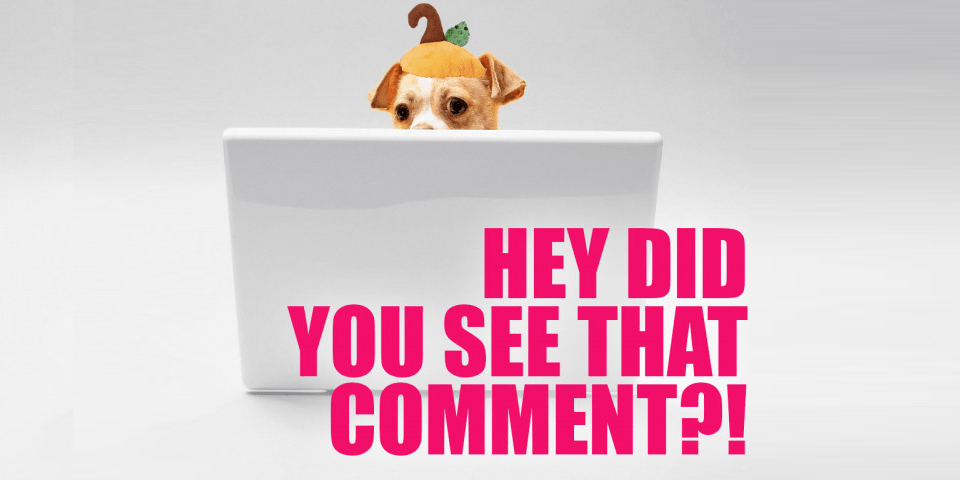 Trick or treat, babes! The Comment Awards pup dressed up for Halloween – did you?
Every single year, I dust off my favorite brown leather boots, the ones with the million yards of laces and the holes worn into the soles, the ones that make me feel like my very favorite version of myself, and I build my witch costume from the ground up. I walk around in my pointy hat and my fingerless gloves and I do my very best to believe in my own inherent power. I love this holiday! There's so much that is scary in the world, but not nearly enough days in the year when we have license to be whatever we can dare to dream up. Happy Halloween, my loves!
This week, Heather wrote about Alex P. Keaton, Jo from The Facts of Life, and some of her other very first soft butch fashion icons.
Holly brought us some basic butch fashions for autumn at the brewery.
Sally watched MTV's True Love and True Lies, and guess what: it's gay!
Jourdain introduced us to Spiral, a new thriller where the scariest thing of all are the blind spots of unsupportive white partners.
In a truly ambitious undertaking, the TV team ranked every single one of the 111 sex scenes in The L Word. Personally I am still scarred by Bette and Tina's angry sex from the season 1 finale!
This was so beautiful, from Valerie Anne: Haunting of Hill House's Spooky Lesbian Empath Helped Me Understand My Own Ghosts.
And KT was out here asking the most important question of all – which Castro twin is Tegan, and which is Sara?
And then there were your comments!
---
On Basic Butch Style: What to Wear on a Fall Brewery Trip:
The Meet You There At Swoon Award to Vanessa:

On "Batwoman" Keeps Getting Gayer and Queering Superhero Tropes:
The Dare to Defy Award to Xan:
On MTV's "True Love and True Lies" Is Gay, Indulges Your Secret Hobby of Judging Which Couples are Actually in Love:
The Affiar to Remember Award to Snaelle: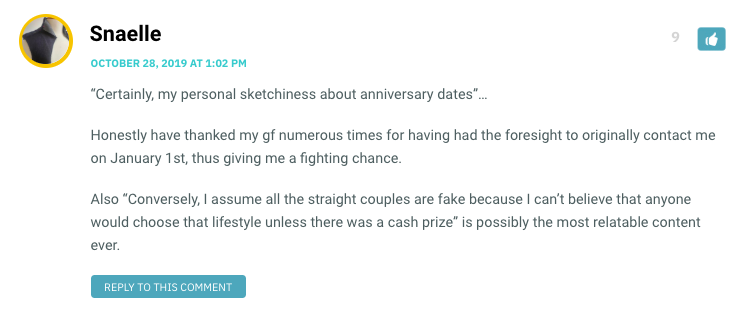 On Also.Also.Also: You're Probably Possessed By a Ghost, It's Fine:
The Possession of Madelaine Award to Madelaine:

On Monsters & Mommis: "Good Manners" Is a Tribute to Queer Motherhood:
The Two Roads Award to shewasnice:

On Every "L Word" Sex Scene, Ranked:
The Sexographic Award to Chandra: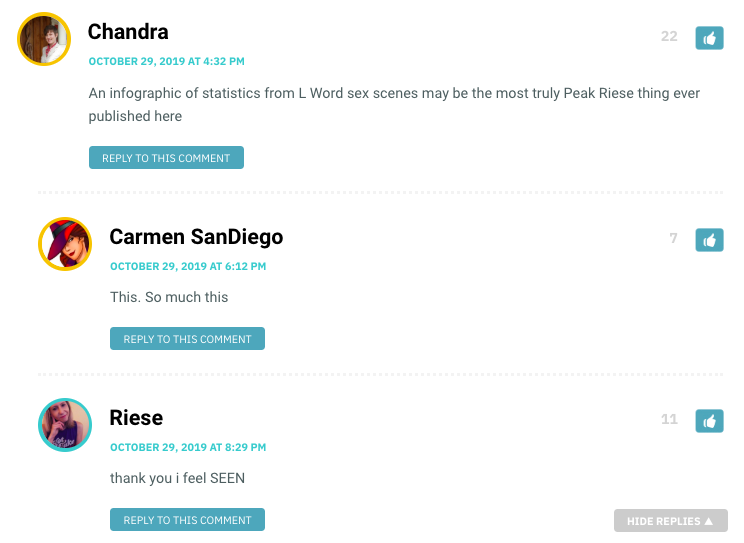 On Pop Culture Fix: Kristen Stewart Does Fingerplay With Kate McKinnon In "SNL" Promo and We're Like, So Gay Dude:
The Hungry for CHIKIN Award to Rachael:

On Started from the Bottom: A Lifelong Bottom's Adventures in Topping:
The Now We're Here Award to Snow:
---
See a comment that needs to be here? Let me know! Tag me [at] queergirl or write "comment award" to nominate!