In every iconic twosome, there is a Tegan, and there is a Sara. Take the Twin Cities, for example. Hip, hard-rocking Minneapolis is the Tegan while romantic, literary St. Paul is the Sara. Peanut butter? Tegan. Jelly? Sara. This is perhaps the one true binary.
So when I saw this goofy Tik Tok of presidential candidate Julián Castro and his twin brother, Congressman Joaquin Castro, it got me thinking about the similarities between America's favorite twin politicos and Canada's favorite twin musicians.
For one, the Castros and the Quins are both mid-September Virgos. They write books. They're civil rights advocates. They take playful jabs at each other.
But the question remains: which Castro is the Tegan and which one is the Sara???
Let's break it down using a few key factors.
---
Fashion
Alright, so Julián Castro loves a classic button up, much like our girl Sara, especially during the Sainthood years. Joaquin has more fun with layering and likes to rock a black t-shirt on his days off.
I was ready to call this one early, but then I saw THIS:
Excuse me?? Is that Julián sporting a shiny leather jacket OVER A HOODIE? Come on. That's so Tegan. This might be a toss-up.
---
Tattoos
As far as I can tell, neither Julián nor Joaquin have any tattoos. But Joaquin joked about getting a face tattoo after reporters kept mixing him up with his brother. He also grew a beard to differentiate himself.
That sass? That disgruntled individualism? That's Tegan points for Joaquin.
---
Big Feelings
Listen, we all have to cry it out sometimes. Sara has teared up during interviews while talking about deeply personal issues. So has Julián Castro. And you know what? That's great. We love a sensitive twin.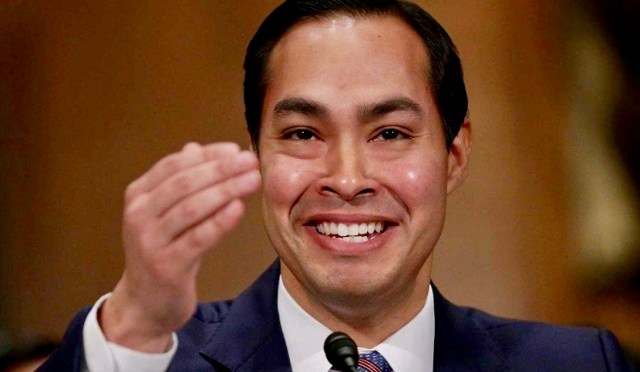 Joaquin, on the other hand, is all about the clapbacks.
Yeah the 20% who've announced their retirements. https://t.co/60hMC02wVV

— Joaquin Castro (@JoaquinCastrotx) October 21, 2019
More big Tegan vibes from Joaquin.
---
Cats
Sara's cats are too good for this world, and make frequent appearances on Tegan and Sara's social media. A scroll through Joaquin's Instagram yielded a grand total of zero cats.
Julián's features one cat, but it's A VERY IMPORTANT CAT.
Making fair treatment of animals part of a presidential platform? TOTAL Sara move. (See also: the previous "Big Feelings")
Plus, Here's Julián's daughter wearing a fun cat ear headband. More partial Sara points.
---
In Conclusion
There's no doubt about it, folks: Joaquin is the Tegan and Julián is the Sara.