feature image via Taylor Hatmaker
Wow, it's been a bit since I've talked to you in a witcherly manner. Summer's now in full swing, so I hope all you sea hags are having fun at the beach, all you snow witches are blasting the AC and everyone is working on maintaining their practice, whatever it is. Let's briefly catch up on the witchy content we've published here at Autostraddle. We have our classic Satellite of Love: Queer Horoscopes, which are amazing as always. If you don't already watch Wynonna Earp, Valerie, who's been writing recaps of the show tells me that there's a witch on it this season. From outside of our website, Broadly has an interesting article on "The First Ladies Who Brought Witchcraft to the White House."
For me personally, it's been a tough summer, and I've been finding comfort and healing in witchcraft. I've started journaling, and usually my journaling involves me contemplating my place and relationship with the spirits and deities I worship and work with and live with. I talk to Santa Muerte, La Virgen and the spirits and powers around me that give me my power and that effect the world around me. I'm starting to feel more comfortable in my skin and in my spirituality. Recently I was walking through a crystal store and my friend asked what I loved so much about Santa Muerte, why I found comfort in her, and thanks to my journaling I was able to express my veneration for her more succintly and profoundly than I had ever before. I love Santa Muerte because she's a home for me, she's comfort when I feel like I've failed who I was supposed to be or who other people want me to be. She doesn't judge me, and when my time comes she'll embrace me. She's here for me in a way that many religions often fail queer and trans poc. What are some of your favorite ways to connect with yourself and your practice?
---
Summer Solstice Celebration Playlist
by Casey
https://open.spotify.com/user/12160371920/playlist/3lCAxol9pI2fOmqEE4KrcY
---
Words With Witches
by Rachel
tincture: an extract made with a plant or herb and typically a solution of alcohol, vinegar, or a glycerol — herbs and a solvent are placed in a container and left for weeks to allow the substances from the herbs to be extracted by the solvent. Well known-tinctures include tincture of opium, also known as laudanum; Warburg's tincture, invented in 1834 by Dr. Carl Warburg and marked "as a medicine for fevers, especially tropical fevers, including malaria;" and tincture of iodine, still used to disinfect your skin at the doctor's before a shot or needle.
---
Magical Potion of the Month: Late-Summer Sidecar
by Raquel
It's just hitting high summer in Texas, and I'll be honest: I'm dreaming of going nearly anywhere else. I dream of the balmy days of late spring, just before it folds itself to the dry heat. It's high time to take advantage with a lighter, summery cocktail.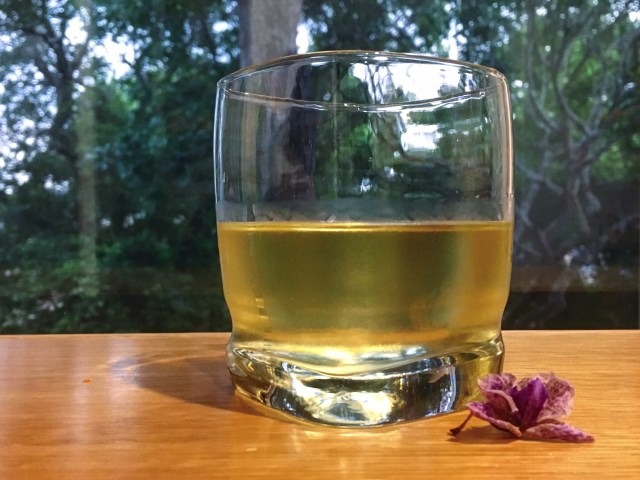 In college, I had the lucky opportunity to spend some time in Milan, where cocktail hour—called the aperitivo, there—is an honored cultural tradition. I wish I could go back, but in the spirit of Italian breezes, I threw together this "twist" on the classic sidecar, using some pale Canadian whiskey (a gift from my queer mentor) and limoncello.
The result is a very light, sweet, summery drink—perfect for small bites on an outdoor patio. Find the misters and bring your doggo along!
As always, I believe in experimentation, adjustment, and what-the-hell winging it. Take every instruction as a suggestion, add more or less alcohol to taste. (Warning: I tend to like things strong). And please—let me know if you've improved upon what I've given you!
Late-Summer Sidecar
This is a very simple drink—perfect for making multiples of, as a signature cocktail for a yard party, perhaps.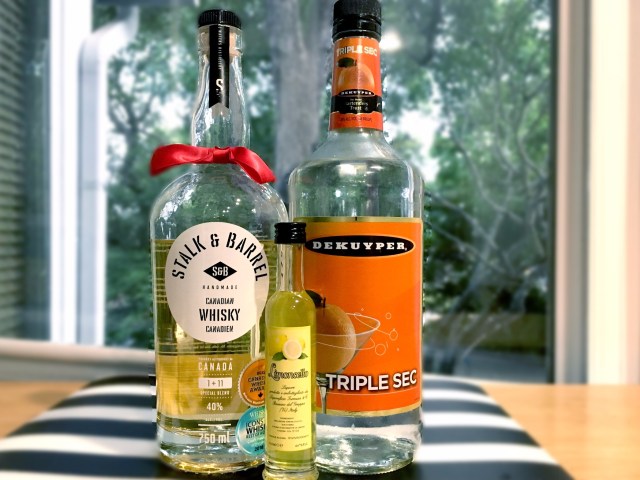 Ingredients:
2 shot of whiskey, preferably a lighter one (I used Stalk & Barrel)
2 shots of limoncello
2 shots of triple sec
lime juice to taste
ice
Instructions:
Pour the whiskey, limoncello, triple sec, and lime juice into a cocktail shaker with ice. Shake well and strain into a vessel of your choice. (The typical vessel for a sidecar is the classic cocktail glass, but as this one's made with whiskey, I like pouring it into a simple tumbler).
Spritz with lime juice to cut the sweetness, to your taste. If you feel fancy, garnish it with some rosemary sprigs.
Take this opportunity to invite over some of your dearest queers for a small get-together! If, like the proverb, whiskey makes you frisky, consider getting a copy of our very own Archie's SWEATGASM: a sexy queer truth or dare game.
Don't let any non-queers come—there is enough time for them, another time. Sit and bask in community. If you don't have anyone around you in person, skype in your best friends—or make some on the Autostraddle social forums and Facebook groups. I encourage you to gather around one another this month; as the flowers are bursting and nature is ripening around us, this is the time to give love, openly, to yourself and to your community.
---
Elder – A Witch's Medicine Chest
by Beth
It's said that a witch can easily turn herself into an Elder. This tree has so many food and medicinal uses, and is central to so much folklore, it is a true witch's tree, suitably demonised by the church as if to confirm its magical status. Even the name sounds wise, doesn't it? Some Native American peoples said that the Elder tree taught other trees how to grow, whilst in Scandinavia, Elder had its own dryad (tree spirit) called HyldeMoer — 'Elder Mother'. Elder has been used traditionally by Celts and other northern European peoples to make magic wands, amulets and other protective and magical tools.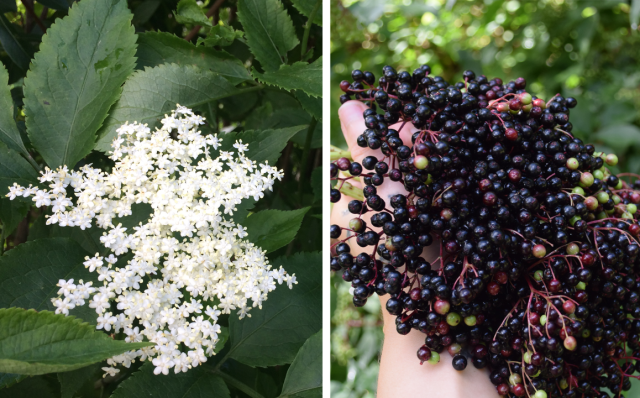 Elder trees act as gateways between this world and the fairy realm; people who sit or sleep beneath Elder trees may be transported to other worlds, never to return. It's bad luck to make a baby's cradle from Elder, as the fairy-folk — or HyldeMoer herself — may come and snatch the baby away, or even replace it with a fairy-baby. Elder trees were planted in burial grounds to help spirits pass over. In the ancient tree ogham, Elder is Ruis, the letter 'R', and is associated with Samhain — the end/beginning of the Wheel of the Year.
As I write this (in early July) the Elder tree is in full bloom — though the flowers will be over by the time you read this. (Don't worry the berries are coming soon!) The white heads are large, frothy and distinctive, made up of thousands of tiny, tiny flowers, and they smell heavenly on a sunny day. You can use them to flavour all kinds of things: steep with hot water and sugar to make a tasty cordial, make Elderflower wine (my all-time favourite) or champagne. Or make sweet elderflower fritters! Simply drying the flowers in a warm place (I use a stackable bamboo steamer!) is making my home smell delicious.
Elder flowers are a useful cold remedy as it boosts the immune system. Dried and blended with yarrow and mint (both also abundant here just now) they make a tasty tea that can help you move quickly through a cold. Alone, Elderflower tea is a cleansing tonic that opens pores and in larger quantities induces sweating. Elderberries — which arrive around September — are so high in vitamin C they can help you to not catch a cold in the first place! Make a tincture or cordial, make jam, sauce (substitute elderberries for any berries in your recipes) or just eat the berries raw — they're delicious. (Avoid the toxic unripe green ones!) There are many, many uses for Elder flowers, berries, bark and more — check Mrs Grieve for lots more.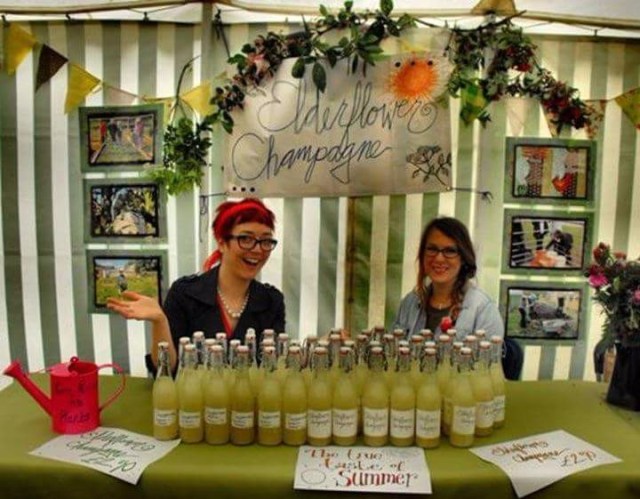 Aside from the Elderflower wine, my favourite way to use Elder is for a different ceremonial drink. It's super-simple, and the drink can be brought out at rituals, gatherings or special moments for a small, potent, tasty toast:
Fetch a large jar and fill it to the brim with elderberries (it will take a long time to pick and sort them all, remove any green ones and all bits of stalk). Pour a jar of honey over all of it and watch it seep down through the jar (beautiful!). Then pour brandy over the whole thing until the jar is topped up, or use apple juice if you prefer a non-alcohol version. Place the jar on your windowsill and shake it every day for a week, then put it in a dark place and leave for another couple of months, shaking regularly. After this, strain the mixture into a bottle and voila! A deep, dark, luscious drink and a witch's toast. Whenever I pass this around, it induces giggling and light spirits — a fun way to bring everybody together and close out a ritual on a happy note.
---
My Favorite Witch
by Valerie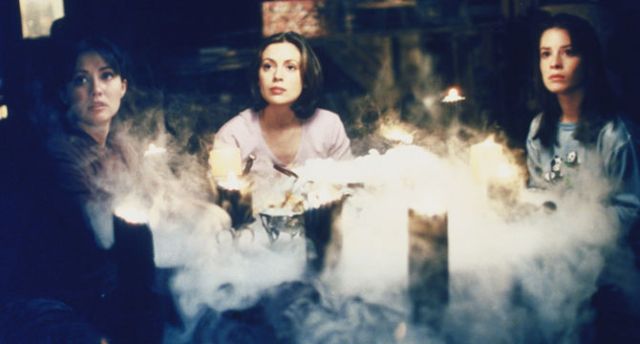 Okay so I've been obsessed with fictional witches for as long as I can remember. From books like Secret Circle and Twitches and Harry Potter to movies like The Craft and Practical Magic (and heck, even Casper Meets Wendy) to shows featuring witches like Buffy and Sabrina the Teenage Witch, I've always loved having a healthy heap of magic in my life at all times. I even had a spellbook when I was little where I'd copy down the spells from the different novels I read or from episodes of Charmed JUST IN CASE. Whether or not this had anything to do with the fact that I grew up very close to Salem, MA is anyone's guess; Hocus Pocus wasn't that far off with how the Salem Witch Trials are integrated into history classes every year of school somehow.
So while it would be actually impossible for me to choose a favorite, I want to give a shout-out to Charmed. I loved the mythology of the show — how they each had one specific special skill, but they can do other spells/more magic when they worked as a trio (the power of three will set us free!), they come from a long line of powerful witches, etc. And the show in general just felt very powerful-woman-centric in a time when not a ton of shows were. (Granted, the best shows were, like Buffy, but still.) Depending on the day I either wanted them to adopt me as their littlest sister or I wanted to BE them — two of my friends and I would even act out scenes from the show in each others' living rooms at sleepovers, relating to that sisterly bond, and loving the idea of being stronger together. I haven't rewatched Charmed since college because I'm terrified it won't hold up, but the memories I have of it are fun and comforting, and magical af.