It's no great mystery why so many queer people are, and always have been, drawn to superhero stories. Secret identities. Double lives. Mutants who discover their powers when they go through puberty and are ostracized from society if they reveal them. This week's Batwoman, "Who Are You?," spoke the metaphor right out loud, and then flipped it on its head. In an early-episode voiceover to Bruce, Kate says after coming out when a kid on the playground called her gay — "Yeah? And?" — she never looked back or tried to hide her sexuality. Choosing to become Batwoman is choosing a closet, hiding a huge part of herself away, and she wonders if it's worth it. (Also, yes, Bruce: she's quoting Rihanna.)
That's not the only thing making Kate question her choices this week, or the only superhero trope Batwoman's writers queer right up. Kate really hit it off with Reagan after their meet-cute at last week's near-murder party. They're cozied up in bed together, smoochin', flirtin', being real tcute,when hey're interrupted by a text from Luke — who is supposed to be a great keeper of secret identities, but closes his message with a red bat emoji?? — and Kate lies, badly, about a plumbing emergency and darts. On her lunch date with Reagan, on a casual stroll through the city, Luke breaks in with another urgent Bat-situation, and Kate dips again. She does invite Reagan to this week's fancy third act festivities, a party full of priceless antique jewelry (like these museum curators don't know what city they live in), and Reagan reluctantly agrees. After an awkward meeting in which Sophie and Regan smile painfully at each other, Reagan and Kate finally settle into a drink at the bar — when Magpie shows up to stuff her pockets with broaches and pendents. And Kate bounces, again.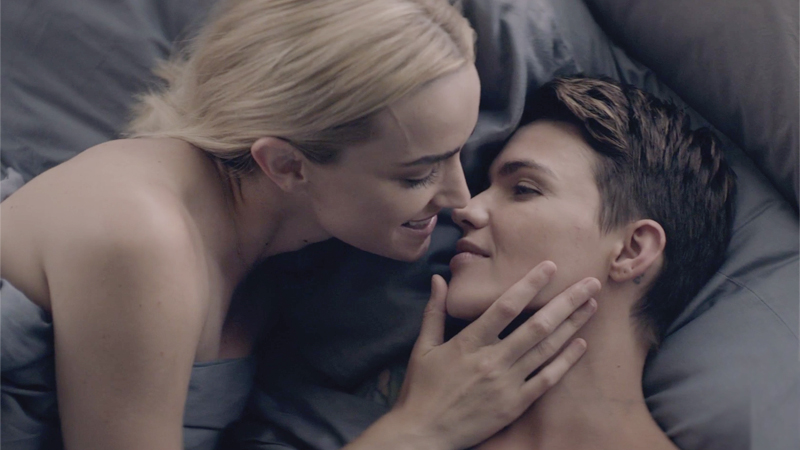 This is truly a superhero trope as old as time — but oooh it makes me antsy to see flaky and emotionally unavailable masculine-of-center gay women on TV. We do not need to keep hammering out Shane McCutcheons in perpetuity. But Batwoman totally zigged when I thought it was going to zag!
At the end of the night, after Batwoman saves the day and the Bat-brand and especially the life of a little girl who idolizes her, Kate and Reagan get real. Reagan's not needy, she doesn't want to be the anchor of Kate's life, they just met — but if she misses a spin class or trades a shift at work to hang out and Kate bails on her, that sucks. Kate doesn't make excuses, promise to be better, coax Reagan into giving her another chance. She agrees she's been a jerk. She likes Reagan. She can't be fair to her right now. So probably it's better if they stop seeing each other. I've watched Clark Kent drag Lois Lane through flaky, bad boyfriend hell for at least 13 full seasons of TV and five full-length feature films. These two women talk out their feelings, explain their needs and desires, and handle the dissonance like adults in 42 minutes. (GAAAAAAY.)
This absolutely won't be the end of Kate and Reagan, or if the whole Kate-Reagan-Sophie triangle, but the episode does a nice job beginning to establish the personal cost of being a superhero, to the cape-wearer and the people who love them. And though I've seen this story about ten billion times between a guy superhero and his gal, I've only ever seen it twice between two women: in the Batwoman comics in Maggie and Kate's New 52 Batwoman storyline, and on last season's Black Lightning between Grace and Anissa.The queer novelty has not worn off!
"Who Are You?" also continues to shade in the lines of its supporting women characters in a way that absolutely delights me. Every episode gives me another reason to want to prove my love for Mary by stepping in front of a bullet for her or pushing her off some train tracks or just making her a nice cozy bowl of homemade soup and some fresh-baked bread. This week she meets Batwoman for the first time. To keep her identity safe, Kate uses a voice-modulator to make her sound like an Australian doing an American accent in a slightly more husky way. Mary is starstruck, but chill about it (mostly). And she's immediately all-business when Batwoman reveals she's brought a half-dead man — Alice's boyfriend who tried to kill Mary once already — in for her to save. Mary keeps him alive, valiantly; she also scolds Batwoman for mistreating him and uses his morphine haze to pump him for information about Alice. Which is to say, she remains perfect.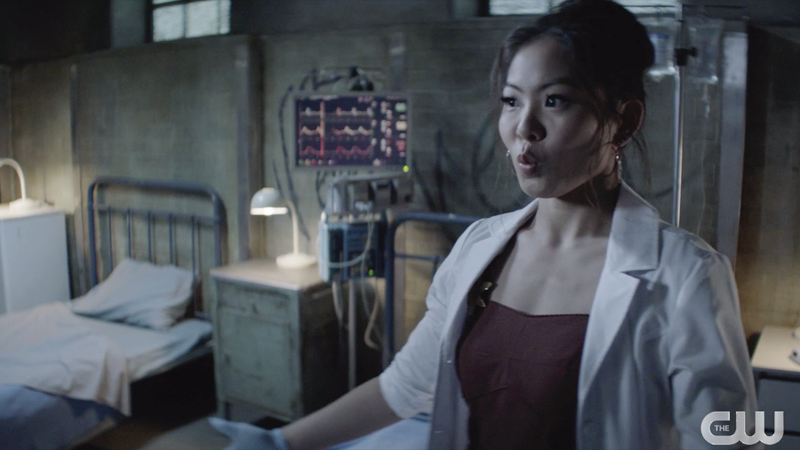 And Rachel Skarsten continues to chew through Alice's scenes with the nice mix of playfully unhinged and downright psychotic. She forces Katherine to tell Jacob that the authorities actually never found Beth's body. Those skull fragments were from a deer and Katherine paid the doctor doing the DNA analysis to say they belonged to Beth. And Alice only has to cut off one guy's finger with some hedge-clippers to make it happen! Imagine what she could do if she had a 3D printer like Magpie's that uses the apparently widely accessible office supply of: explodable ink!
The CW has already given Batwoman a full-season order. That's plenty of time for Bruce Wayne to make his way home — but after only four episodes of Ruby Rose in the cape and cowl, I can honestly say, I don't care if Batman ever comes back to Gotham City.