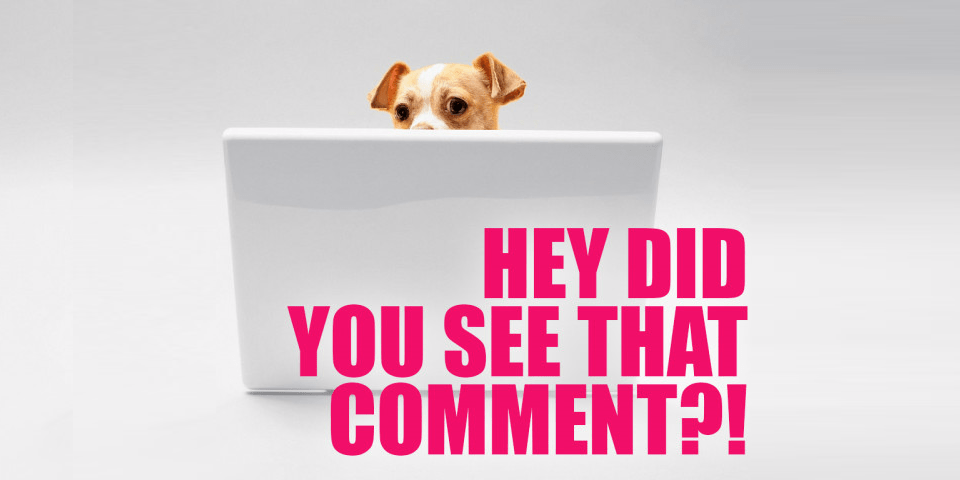 Hello, starlings! I'm not going to make this weird, but today I would like to say that all through this long pandemic — through months when I couldn't see family or friends, and through bleak news weeks like this one, through grief and through joy, this community — you — have been there for me. I knew we were in it together, and it helped.
This was a really extraordinary week of writing on this website we call home, and I feel so lucky to read everyone's words, to hear stories of connection, or loss, which is about connection too; to see that people are still creating, still writing books and loving one another and, ya know, hugging girls with their legs in friendship! I'm so glad we're here together. Let's get to it!
This week, like so many weeks before it, Heather Hogan made me cry in the best way with this: Aunt Opal and the California Cabbage Fund.
Padya wrote about the magic, and teleportation, of cooking meals from home.
I was prepared for Arthur to end its 25-year run, but I was somehow not prepared for grown-up Francine to show up looking queer AF!
The POWER of these two together! Thank you, Carmen, for this important piece of not-quite-information about Toni Morrison and Fran Lebowitz.
Is the pandemic destroying your mental health? You're not alone. And we love you very much. That goes for me, personally — I love you very much. Hang in there.
Dani, this…is is…perfection? Five Outfits for When You Want To Feel Like the Lead in an Assassin Thriller.
Ro's got some important things we should know about eating disorders.
And finally, we've got two more pieces from Time Zones Week, which has been an absolute gift! Here's  the time travel of love, from Vanessa, and the time zones of grief, from Rosemary.
Then there were your comments!
---
On Five Outfits for When You Want To Feel Like the Lead in an Assassin Thriller:
The Main Character Award to shamblebot: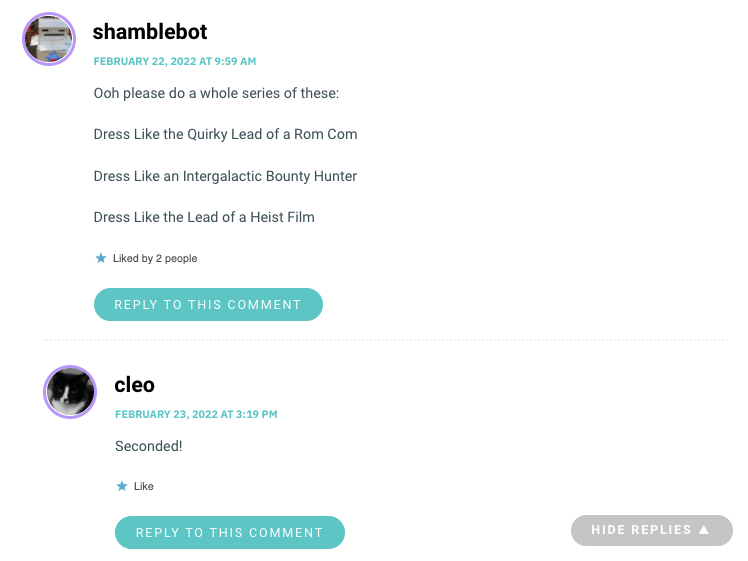 On Did The "Arthurwp_postsFinale Just Confirm The Lesbian Is A Lesbian?!?
The Crossover Award to shura and Caitlin: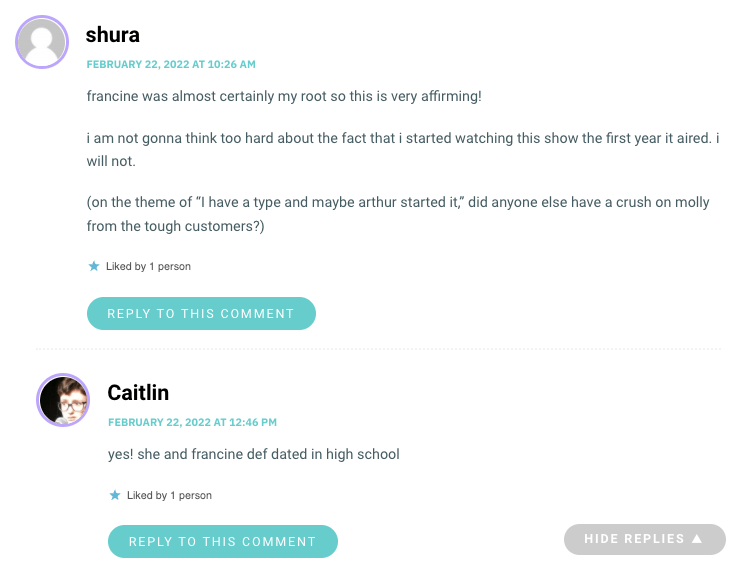 On I Was Today Years Old When I Found Out About Toni Morrison and Fran Lebowitz, and Now I Can Think About Nothing Else:
The Galpal Agenda Award to xx:
On Quiz: Which Vintage Queer Classic From Yash's Bookshelf Are You?
The Nancy Clue Award to Kristen:
On Aunt Opal and the California Cabbage Fund:
The Gems and Cabbages Award to Iarran mé:

The Make Food Not War Award to adunlap: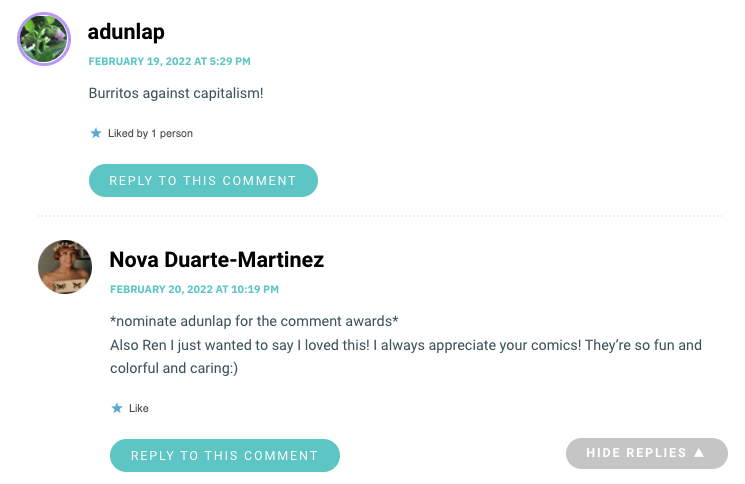 And on We Call It Time Travel:
The Love Is Not a Lie Award to anguissola:

And the Jeremy Bearimy Award to Anya:
---
See a comment that needs to be here? Let me know! Tag me [at] queergirl.