Batter up! Hey, batter batter batter! We're the members of…the All-American League…Do I play baseball? No. Did I ever play or enjoy a sport involving a bat and a ball? Also no. But I am now and forever a huge baseball fan thanks to A League of Their Own! I marathoned the eight episodes in two days and then I watched the movie, which I hadn't seen since fifth grade, and now I've started the series again at the beginning. It's that good.
This week in baseball, there was LOTS of crying, when I burst into tears approximately nine (9) times watching the show. Also, Autostraddle brought it home with Carmen and Heather's switch-hitting recaps, Riese's deep dive into the incredible true story of two girls in love women's baseball,  this quiz that will tell you which player you are, and if you ever wanted to see the Autostraddle team decked out in their childhood softball uniforms, have I got the post for you!
Also since I last saw you, we wrapped up Diner Week with this gorgeous piece from shea, and this reflection on beginnings and endings from Yashwina.
From Phyllis Christopher, Ro brought us 13 photos of dyke culture from 1988-2003, or what I assume the kids will soon be calling "the turn of the century," and WOW.
A+ Platinum just got a whole new bunch of queer books!
Himani wrote about the disappointing queer South Asian rep in Never Have I Ever.
Dani Janae had some helpful thoughts for a reader who's wondering: is substance use a relationship dealbreaker?
I read the headline on this week's Pop Culture Fix and OH WOW I AM READY: Queen Latifah Goes Full Mad Max in "End of the Road" Trailer.
And for the first episode of Gutter Talk, the new comics column from Niko, she wrote about Spiderwoman, her very first superhero.
And then there were your comments!
---
On Quiz: Which "League Of Their Own" Character Are You?
The Why Not Both? Award to ICouldIfIWantedTo:
On 32 Excerpts From Really Special "League Of Their Own" Reviews Written By Homophobes Who've Had Quite Enough:
The Methinks They Doth Protest Too Much Award to Casey:
And the Life Goals Award to annomalia:

On "A League of Their Own" Episode 104 Recap: YOUR FACE IS BORING:
The Brothers Award to Carmen Phillips: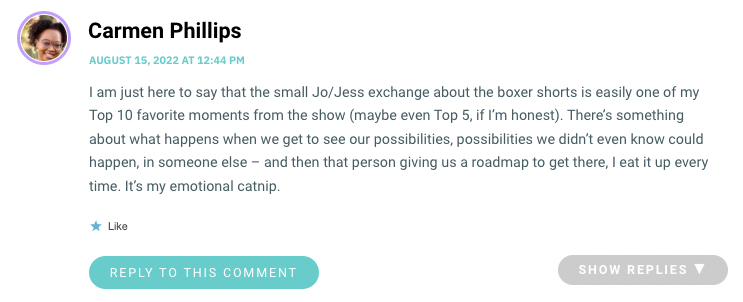 On How Realistic is "A League Of Their Own"? Let's Do a Historical Deep Dive!
The Cite Your Sources Award to Lauwer:
On "A League of Their Own" Episode 105 Recap: Finding a Little Piece of Home:
The Writer's Room Award to cxfergus:

On Pop Culture Fix: Queen Latifah Goes Full Mad Max in "End of the Road" Trailer:
The Professional Gal Pals Award to Caitlin:
And on "A League of Their Own" Episode 107 Recap: Loud Enough For Ya?
The Points! Were! Made! Award, also to Caitlin! (A double-hitter this week!)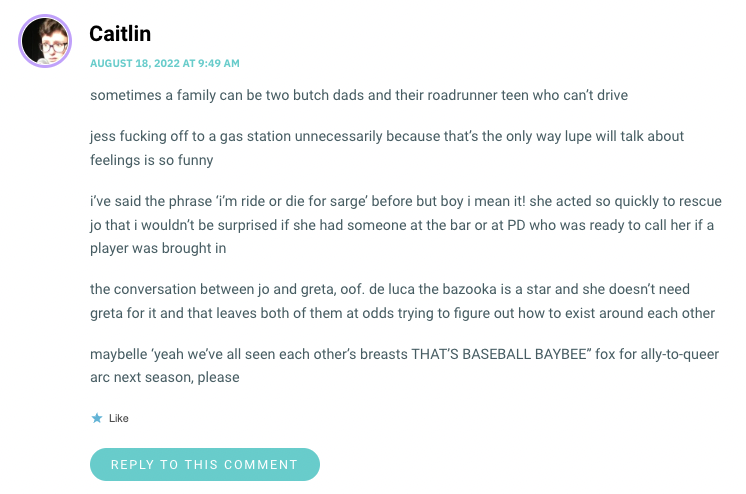 ---
See a comment that needs to be here? Let me know! Tag me [at] autostraddle!