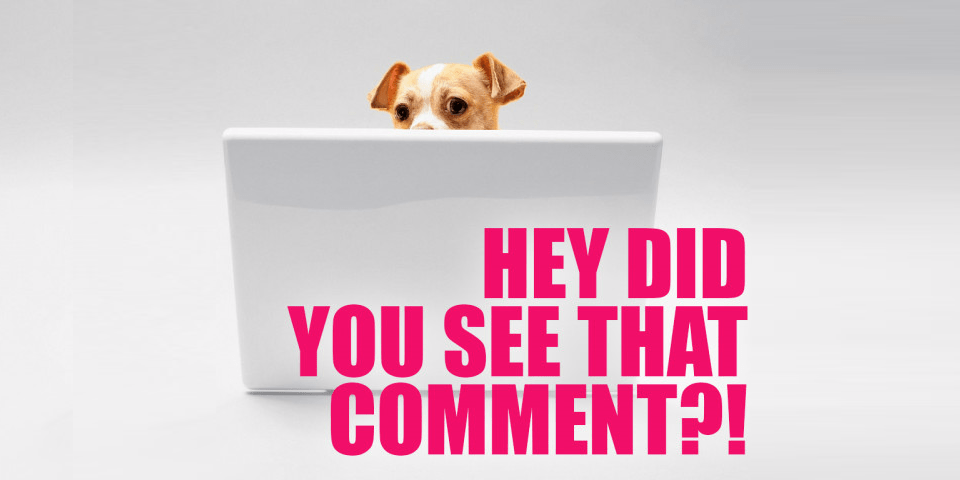 Hi, loves! Are you doing okay? Here in California, this week has been a doozy – the smoke alone has had me feeling like I'm about to do some Furiosa cosplay, or maybe land on Mars with Hilary Swank. But guess what! It's Friday! And we're here, and we're together, and that's just peachy.
This week, Rachel wrote about LGBT labor history, and just how fundamental it is to our queer history overall.
Star Trek: Discovery is adding trans and nonbinary characters next season! I am very excited about this! (Unrelated, but: Tilly forever!)
This week's You Need Help is relevant to your interests, if your interests involve doing sexy things with your hands – or even if you just want to become a better climber.
This was an absolute delight: 31 Extra-Special Ways You Described Your Sexual Orientation on the 2020 Reader Survey.
Chinelo interviewed Uyaiedu Ikpe-Etim, who wrote and directed the queer Nigerian film Ìfé. This was so! Good!
Foolish Child chronicled the very strange times we are living in.
And then there were your comments!
---
On Queer WNBA Players Smashed Records This Week:
The WNB-Yay Award to Beck:

On Reine #12: Take A Sip, Babes:
The Dangerous Games Award to Clara:

On Sunday Funday and "Star Trek: Discovery" Knows the Future Isn't Cis:
The Dear Gene Award to theorie:
On "To L and Back" L Word Podcast Episode 505: Lookin' At You Kid With Zeke Smith:
The Ratings Goldmine Award to BettyOnIt:
On You Need Help: Are There Exercises For Better Finger Sex?
The Games 'N' Sports Award to Lavendula, EngGrl, and Selket: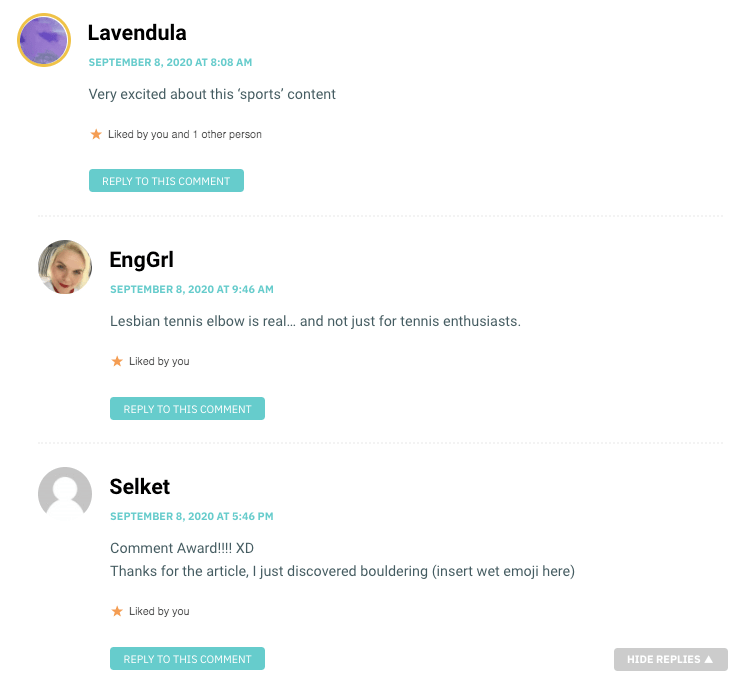 And the Best Kind of PT Award to Corvidae:

On 31 Extra-Special Ways You Described Your Sexual Orientation on the 2020 Reader Survey:
The Cycling Enthusiast Award to Elinor Rooks:
And on No Filter: Ashley Benson Has Commenced in the Customary Post-Break Up New Pet:
The Staycation Award to Cleo:

---
See a comment that needs to be here? Let me know! Tag me [at] queergirl.