Sexual orientation labels! They matter to some people and don't matter to some other people! Some people think about them and some people don't. In the end, we are all made of stars. On our 2020 Reader Survey we asked our readers to select the sexual orientation label that best applied to them, but also offered another open space for them to get more or less specific, in line with their deepest desires. And as usual, everybody had a lot of fun ways to discuss who they are into or who they might potentially develop a crush on if we're ever allowed to spend time with strangers ever again! Firstly, the big-picture numbers: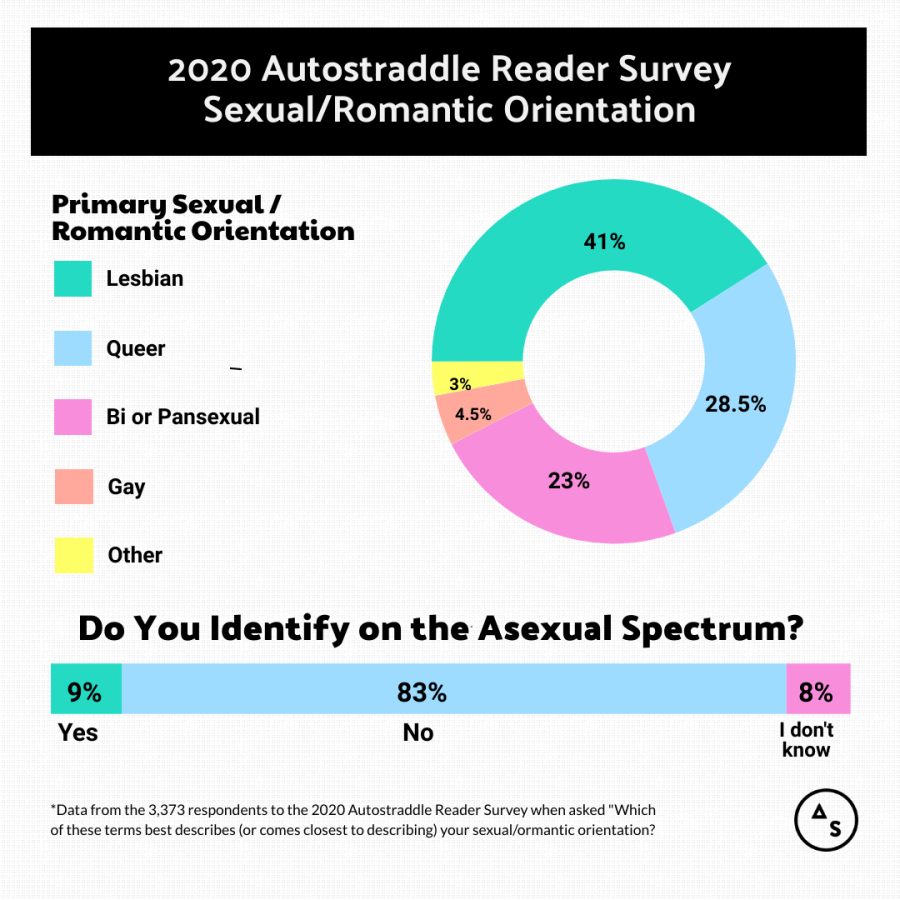 A lot of the answers from the 605 who pitched in on the open-ended sexual orientation box were people who wanted to: share the details of their uncertainty on this matter, note that they are attracted to everybody besides cis men or that they're into non-binary people as well as women, specifically acknowledge their ace-spectrum identity as well as their homo-or-bi/panromanic identity, clarify the impact of their gender identity and trans status on their sexual orientation, or otherwise discuss their journeys.
Here is a sampling of some of your most specific/special/interesting write-in answers, assembled here for your enjoyment and opportunity:
1. 90% very gay, 10% dudes are fine
2. Slut (but ugh covid :((((
3. Probably pan, but I like the bi flag colors more
4. queer dyke, but I often round it up to lesbian
5. A wavy slightly confused human who likes other humans, especially ones in beanies and flannels and tattoos and who are soft and gentle and like to eat food and read books and hang with cats
6. Dyke with one (1) exception
7. Ladysexual
8. Dykey soft butch femme lord with dangerous bisexual energy
9. Do I like men or am I just traumatised?? Can I be gay if I don't have a gender??? These questions don't keep me up at night but maybe they should
10. Raging Dyke
11. Unconcerned about exact bodily presence but consistently attracted to queer masc of centre personal energy
12. Horny Queer lesbian
13. Queer; gay bitch; A Bi Who Probably Could Never Have a Serious Relationship with a Man
14. Gay. So gay. How can anyone say no to boobs? Boobs are the best.
15. Lesbian lesbian lesbian gay gay gay gay
16. Bykesexual, as in, I'm a bisexual who prefers women
17. Really I'm queer and into all the babes regardless of gender but I like saying gay because I think it's cute
18. Technically bi cause Chris Hemsworth exists but basically gay
19. Girls are pretty and ugh
20. Grey lesbian, queer, lots of handwaving
21. Super not sure these days, since most orientations are relative to your own gender, and I no longer WANT a gender, so how do I describe the sort of people (female-identified) that I prefer? And that's just romantically; sexually I'm both demi and unfussed, so I both don't care and don't want :X yay?
22. Bi-fluid. I made it up.
23. I'm attracted to AFAB butches, androgynous people, enbies, trans dudes, masc women, and the occasional skinny cis man with soft features
24. Lesbian/Pansexual. Queer just allows me to not have a longer discussion about my identity especially because I once dated dudes. To be fair I haven't in 7-8 years so it'd be great if people would shut up about it. 😉
25. Confused.
26. "Queer" if speaking/writing english. Only exists as an anglizism in german, so there I most often use the equivalent of lesbian, especially when not in a queer setting
27. I say lesbian, but I'm not 100% sure I'm not attracted to men. I KNOW I like women, both in real life and in "briefly seeing a random attractive person on tv" contexts. I am not 100% sure I won't ever be attracted to men, although I never have been in real life, but then again, I haven't been attracted to that many people in real life anyway, and I have had some experiences with movie characters that might be analogous to the sort of "passing attraction" I sometimes feel towards women, but I'm not sure. And I enjoy reading MLM stories, including (sometimes) explicit ones and thinking about them in a fictional context, but not as something I would actually want myself (I think.) So, in short, I ly identify as a lesbian, it's possible I'm actually bisexual (probably in the "70/30 women to men way") and at this point I don't really care, I'm keeping myself open to whatever comes, but still strongly identify with lesbian identifying experiences. We'll see.
28. Every combination of the words "Queer" "Lesbian" and "Dyke" with a rainbow and double heart and sparkle emoji
29. Anyone but men I think??? So like not just women, for sure, but also a hard no on dudes.
30. Sapphic Slayer
31. The more specific term would be "Baffled"