Hi there, fireflies! Did you know that right this very moment, you can sit up a little bit straighter, open up your shoulders and ribcage, and do a great big stretch?
(I read once that we are cute to elephants in the same way that small animals are cute to us, so if an elephant was nearby, I imagine they'd be thinking "ohh, great big stretch!" Just like I tell my dog when he stretches.)
These are normal thoughts to be having during quarantine, surely?
This week, I don't know, I guess maybe… did Taylor Swift come out with an album, or something?
Read this: Year of Our (Audre) Lorde: July Is a Black Unicorn.
Wynonna Earp is BACK! And Valerie Anne is recapping!
It's Leo season in a pandemic! Luckily, there's a sex toy post for that.
Natalie's here with her top ten TV characters, and what a list of strong, complicated people!
Mel wrote about Javicia Leslie, Batwoman, and the value of seeing yourself represented onscreen.
And then there were your comments!
---
On Taylor Swift's "bettywp_postsIs Exactly the Anthem I Needed as a 16-Year-Old Repressed Lesbian:
The Yearn Into It Award to spookyscary: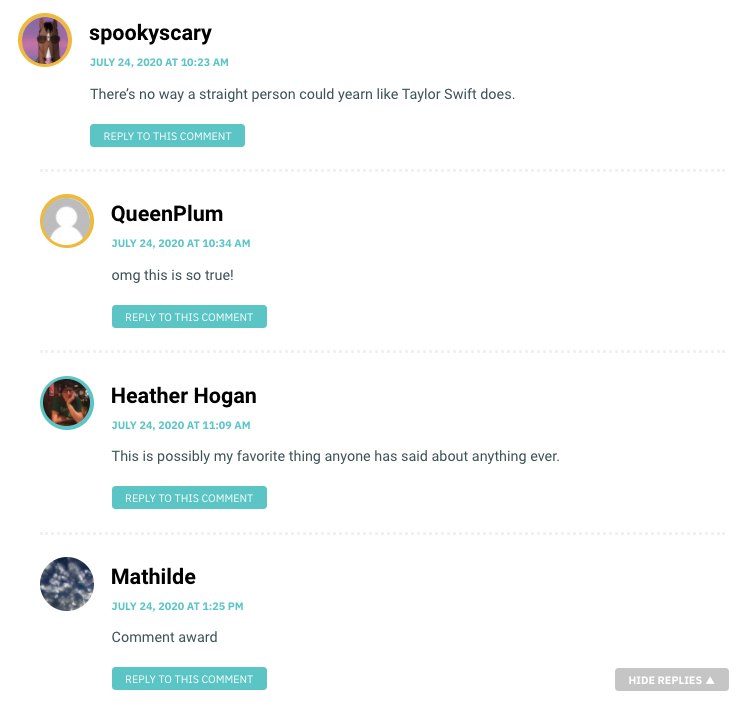 On You Need Help: Is It Normal To Be Happy In a Relationship and Still Think About an Ex?
The Rewiring Award to Chandra: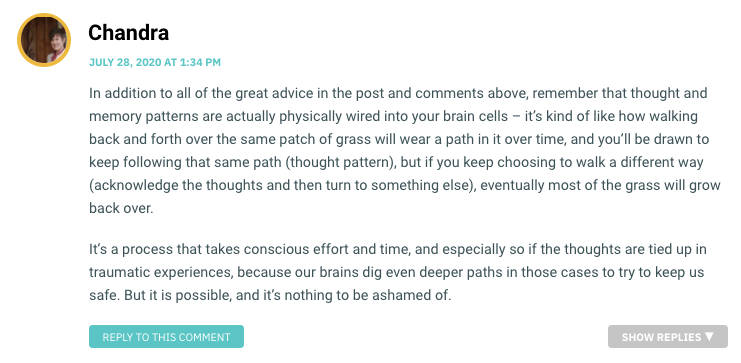 On "Wynonna Earpwp_postsEpisode 401 Recap: Angel In Chains:
The Misadventures Award to Am I Ginger:

On The Category Is "Shut Out of the 2020 Emmyswp_postsand the Winner Is Pose, the Reason Is Transphobia:
The Not a Robot Award to thatottergirl:
On No Filter: Hayley Kiyoko in Taylor Swift "cardiganwp_postsCosplay:
The Mother of Invention Award to cass:

On With Javicia Leslie's Batwoman, My Favorite Character Is Finally Being Played by Someone Who Looks Like Me:
The Cowl Arts Award to Valerie Anne:
On Queer British Teen Dramedy "In My Skinwp_postsHits Hard on Class and Mental Illness, Misses on Race:
The BHS (Bard High School) Award to Gina:

And on Foolish Child #77: Black Lives Matter Isn't a Trend:
The Mightier Than The Sword Award to Whitney:
---
See a comment that needs to be here? Tag me! I'm [at] queergirl.