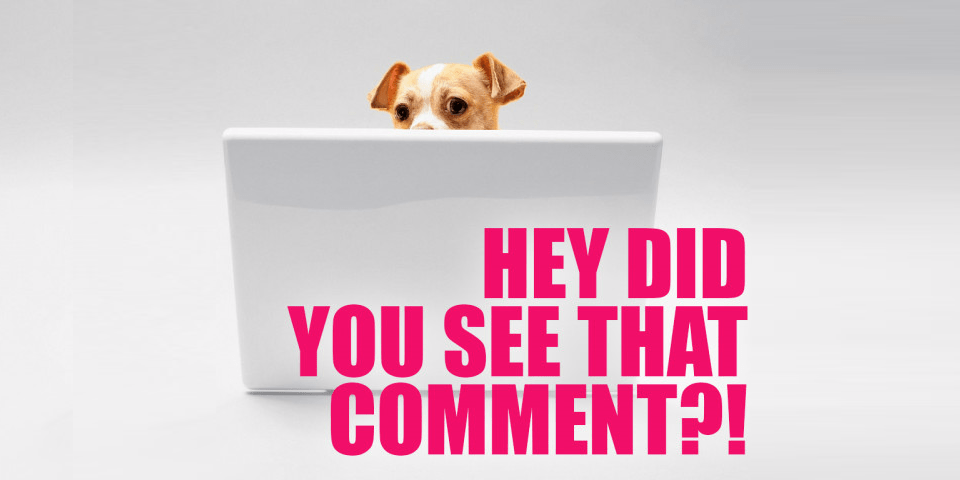 Hi, fireflies! Did you enjoy last weekend's Valentine's Day gift to us all? The Love Is/Is Not A Lie content was truly top-notch. Love is pretty much a lie on TV, and celebrities quite often break up; but then on the other hand, there's Vanessa's deeply personal experience, and Heather! And! Stacy! My heart has been very full all week.
Also this week, Bishakh brought us what is perhaps my very favorite installment of Scenes From a Gender.
Drew wrote about Water Lilies and that precious pang of queer adolescence.
We are truly blessed by Riese's mind (and her databases): 47 Straight Actresses Who Play Gay A Lot.
The team also ranked '80s and '90s sitcom characters by lesbianism. My god, the backward hats alone!
Read this: Six Black Queer Travelers Share How They Attempt to Locate Community Around the Globe.
And oh, hey! Did you know Autostraddle is fundraising? Read Rachel and Abeni's stories, learn more about the team's visions for Autostraddle's future, and consider making a gift or signing up for A+ if it's within your budget! You all have been GREAT at showing up and we are so, so thankful for you, always.
And then there were your comments!
---
On Love Is Not a Lie: In Sickness and in Health:
The NEVER A LIE Award to M.:

On Pop Culture Fix: Ashlyn Harris and Ali Krieger Adopt a Daughter and Member of the 2040 USWNT:
The Bette, The Alpha Award to Aly and Deli Twotone:
On "Water Lilies" Is a Memory of Gay Adolescence:
The Walk and Talk Award to hochaus: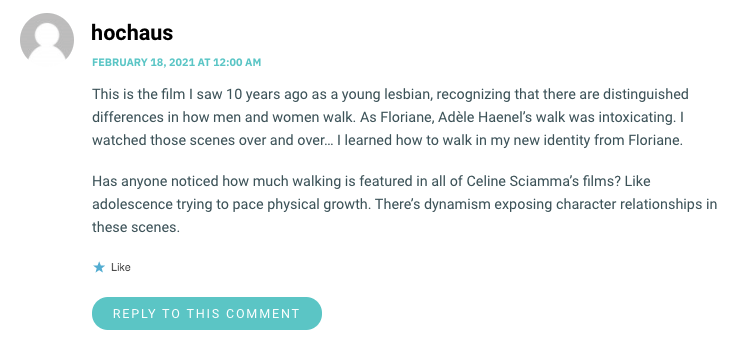 On 47 Straight Actresses Who Play Gay A Lot:
The If These Walls Could Talk Award to Gilbert and Sally: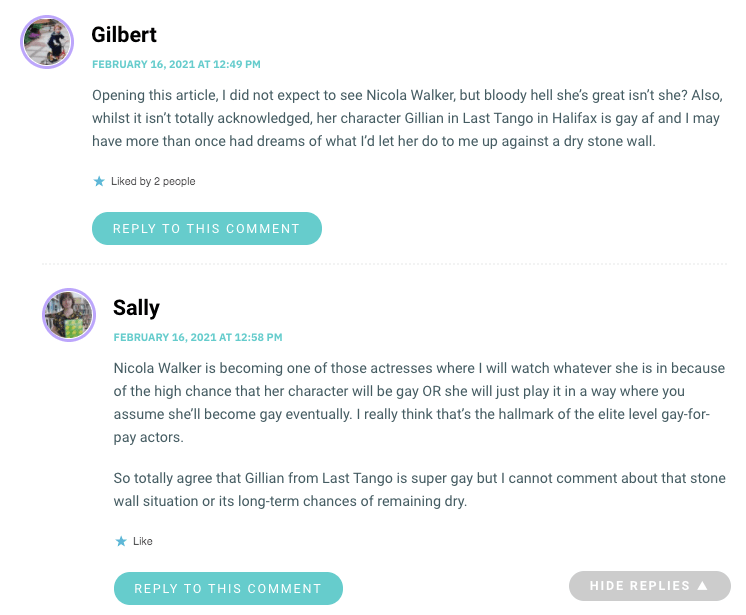 The Whoopi?? Award to :) (with an honorable mention to every person who learned that someone new wasn't gay thanks to this list):
And the PARTY LIKE IT'S 2009 Award to pepitagoya:
And on '80s and '90s Sitcom Characters, Ranked by Lesbianism:
The Darlene, Darlene, Darlene Darleeeene, I'm Begging Of You Please Don't Date A Man Award to Noodlesforever and Chandra: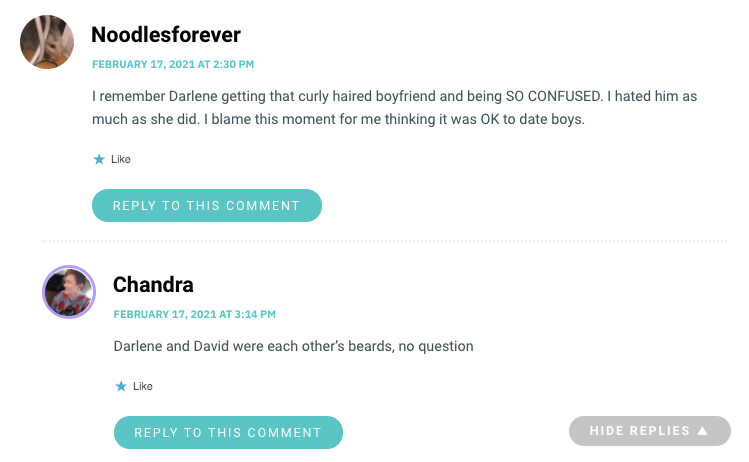 And the Two Gay Names, No Waiting Award to thatottergirl:

---
See a comment that needs to be here? Let me know! Tag me [at] queergirl.