The Punky Brewster reboot lands on Peacock next week, which we were all honestly already pretty hype about — and then we learned that Jasika Nicole has been cast as Lauren, "a fun-loving and self assured lawyer who's relationship with [Punky's best friend] Cherie develops throughout the season.wp_postsSo, now we're even more worked up! However, while it's good to see gay characters in comedy remakes, it's also important to remember that '80s and '90s comedies were saturated with LESBIANISM. And to prove it, our team has ranked 25 of the gayest '80s and '90s sitcom characters by lesbianism, just for you.
---
25. Roz, Frasier
Heather: I'm willing to concede that I only think Roz — and everyone else on Frasier — is queer because Daniel Lavery writes so prolifically about the show.
---
24. Vanessa Huxtable, The Cosby Show
Natalie: Vanessa Huxtable is on my list of the worst TV kids ever, right along with Julie Taylor from Friday Night Lights, Maddie Conrad from Nashville, and Grace Florrick from The Good Wife.
Heather: I went back and forth between Vanessa and Denise, but ultimately it was Vanssa's endless anxiety that gave her the lesbian edge.
Shelli: I agree with Natalie so hard but also the anxiety is that queer trait that made me think again about her lesbianing.
Carmen: Vanessa wanted to have BIIIIIIG FUN.
---
23. Lisa Turtle, Saved by the Bell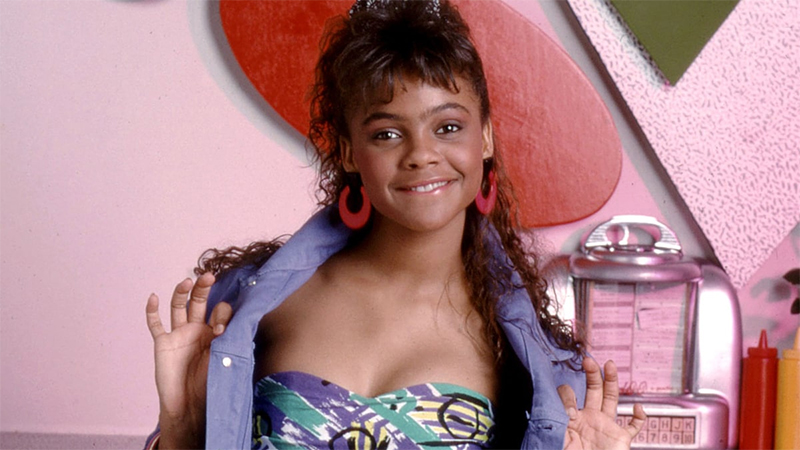 Shelli: I don't see it — but I would like to.
Heather: Rosa Diaz on Brooklyn Nine-Nine said that Lisa Turtle made her bisexual, so that's something.
Stef: Honestly there's gotta be a reason she resisted Screech for so long.
Riese: At the age of 40 she falls in love with a woman for the first time and writes a personal essay for The Cut about it.
Carmen: As a very high maintenance Black femme, let me just say we recognize our own.
KaeLyn: Strong bisexual power femme energy is all I'm saying.
---
22. Aunt Rachel, Family Matters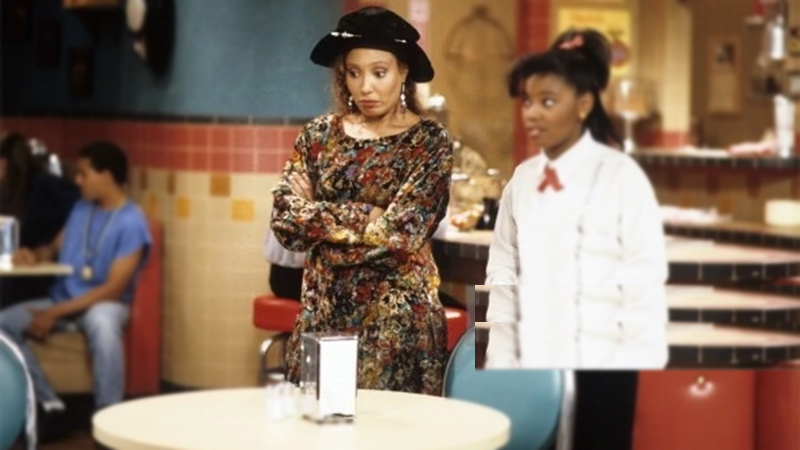 Heather: Freelance writer.
Carmen: I feel like I have no proof that Aunt Rachel was a lesbian? But also, given her relatively small role on the series, her staying power in our memories speaks for itself.
KaeLyn: Emphasis on FREELANCE WRITER.
---
21. Kimber and Storm, Jem and the Holograms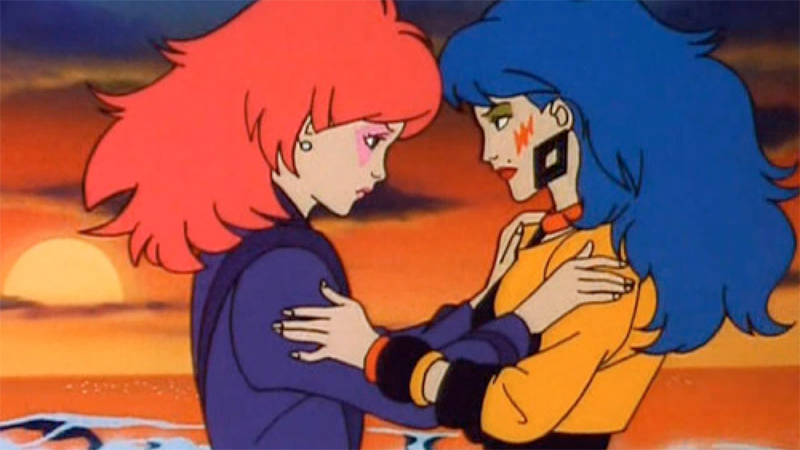 Heather: Okay, Stormer slept with a picture of her and Kimber on her NIGHTSTAND, and Pizazz and the other Misfits had to bribe her with a PORSCHE and a PURSE FULL OF CREDIT CARDS to get her to stop making duets with Kimber and come back to their band.
---
20. Elaine Benes, Seinfeld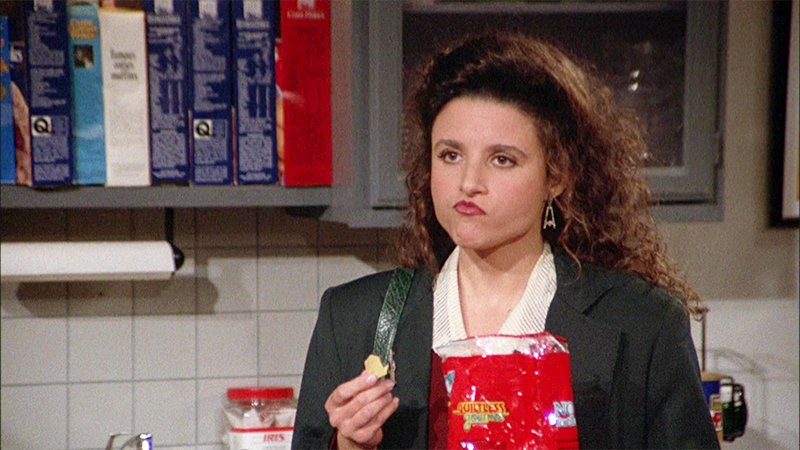 Stef: I nominate Elaine just as a style icon alone.
Nicole: I always got lesbian vibes from her.
Stef: She kept trying to date men but she like truly truly hated every second of it.
Nicole: Just a very tragic case of compulsory heterosexuality.
Stef: Imagine Jerry Seinfeld being the ex boyfriend you kept as a friend.
Stef: She's gay.
---
19. Ashley Banks, The Fresh Prince of Bel-Air
Valerie Anne: I feel like there was a period of time on that show where if it had been on now instead of the 90s, Ashley would have dated a girl just to rock the boat/dare people to challenge her about it.
Carmen: What I'm saying is that if someone told me Ashley Banks "experimented in college" after the show was over… I would believe it.
---
18. Julia Sugarbaker, Designing Women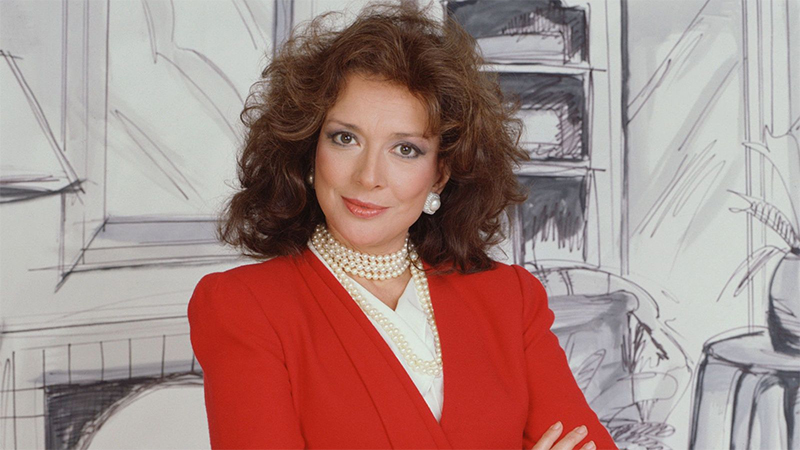 Shelli: Bare minimum she kissed a girl after Sunday school a few times.
Stef: I didn't really watch Designing Women even when they ran it right after Golden Girls because like, after Golden Girls what else even IS there? But I feel strongly about these shoulder pads.
KaeLyn: She's tried it, but she's not committing to it.
Heather: Okay but name someone with more Bette Porter energy.
---
17. Alex P Keaton, Family Ties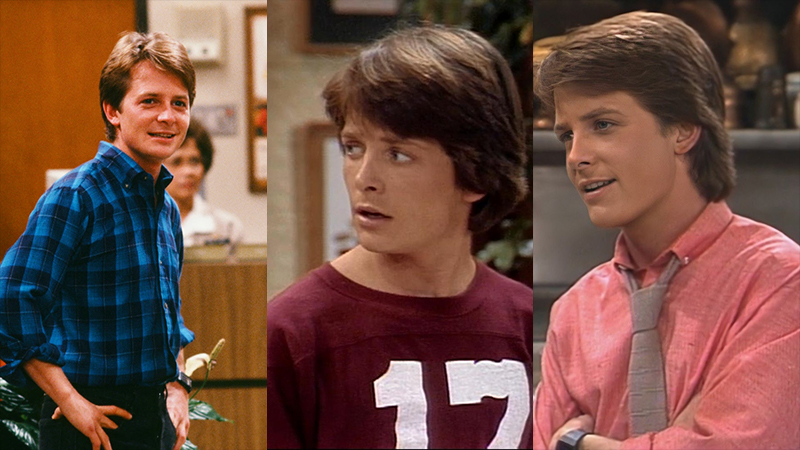 Riese: Republican.
Carmen: But iconic fashion choices anyway.
KaeLyn: Deeply in the closet.
Heather: Soft butch dreamboat.
---
16. Chrissy Seaver, Growing Pains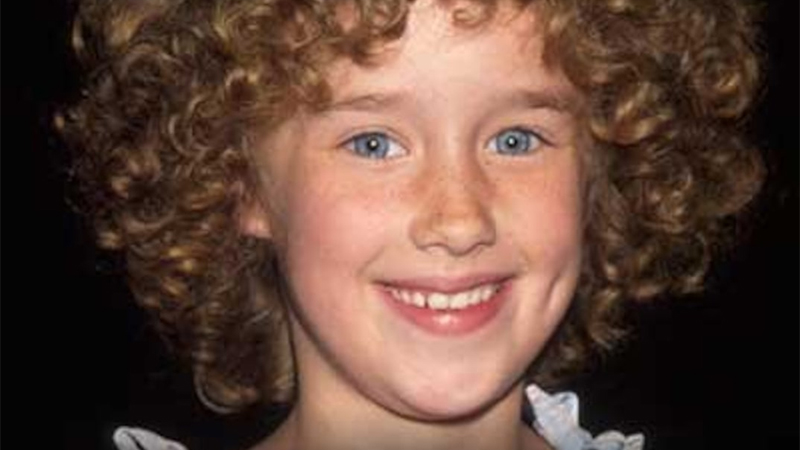 Heather: Chrissy grew up to be Ashley Johnson. You know, Ellie from The Last of Us and Yasha from Critical Role? I rest my case. 🔨
---
15. Clarissa, Clarissa Explains it All
Abeni: Her best (platonic!) friend was a BOY!!!
Sarah: Gay.
Abeni: I don't think she ever dated or talked about boys that I can remember. That bedroom, though, wtf? How could you even concentrate on anything with that much stimuli? The 90s were an interesting time.
Riese: We love a maximalist.
Stef: You know what's really gay, is that little surf-rock musical interlude they play whenever the ladder clunks against her windowsill and she goes, "Oh, hey Sam" WAAOAOOOOAAAAOAAA.
Abeni: She also programmed her own PC games.
Stef: Also she had a pet baby alligator in a kiddie pool? Which seems not thought through especially well, but you know how lesbians love unconventional pets.
Malic: Every picture of Clarissa is straight out of one of those "what gay people wear to brunchwp_postsmemes.
Adrian: The chaotic gender presentation speaks to my soul.
---
14. Phoebe, Friends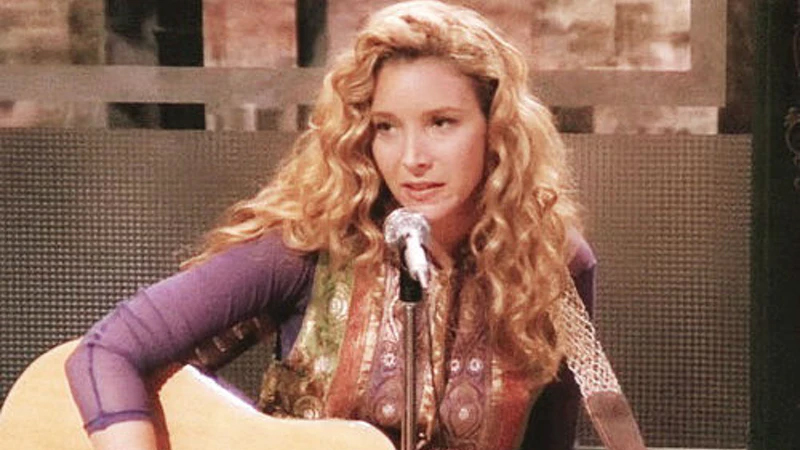 Riese: There is a zero percent chance that phoebe would say no if a woman asked her on a date.
Stef: Honestly the only person on the whole show I liked.
Heather: She's like that person who discovers she's queer and starts hanging out with queer people and wakes up one day and realizes she hasn't been to Central Perk or spoken to Rachel or Monica in three years.
---
13. Freddie Brooks, A Different World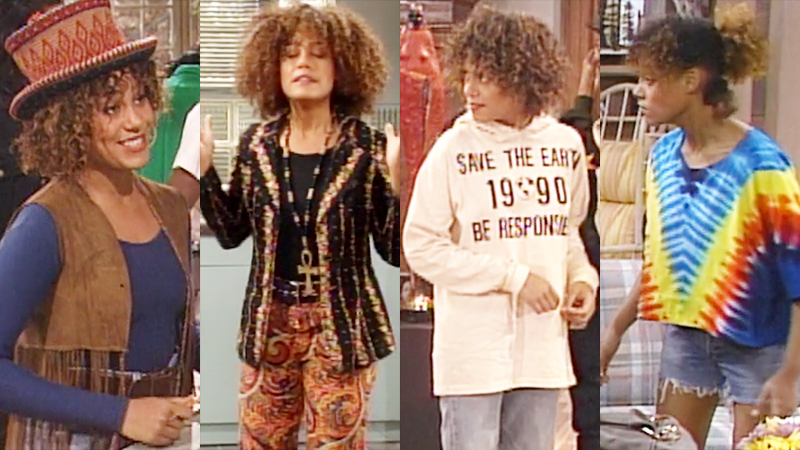 Shelli: Free Love Freddie was occasionally in someone's box in the dorms of Hillman and I shall believe no different.
Riese: Combining the queer ease of a fedora with the queer labor of crochet, straight women simply cannot.
Stef: That vest alone.
Carmen: You will never, not ever, convince me that Freddie Brooks and Kim Reese were roommates for seasons four through six of A Different World and no late night bedsharing was going on!?!? Nuh uh. No ma'm.
KaeLyn: Ahem.
---
12. Margaret Kim, All-American Girl
Riese: Def pansexual, also got cancelled after one season despite being good, which is gay.
Riese: Also made a joke about being a lesbian in the pilot.
Stef: With a smile that says "I just did something gay."
Carmen: There is no character Margaret Cho has ever played that did not rank at the top of any gay scale. That's physics, babyyyy.
---
11. Donna, That 70s Show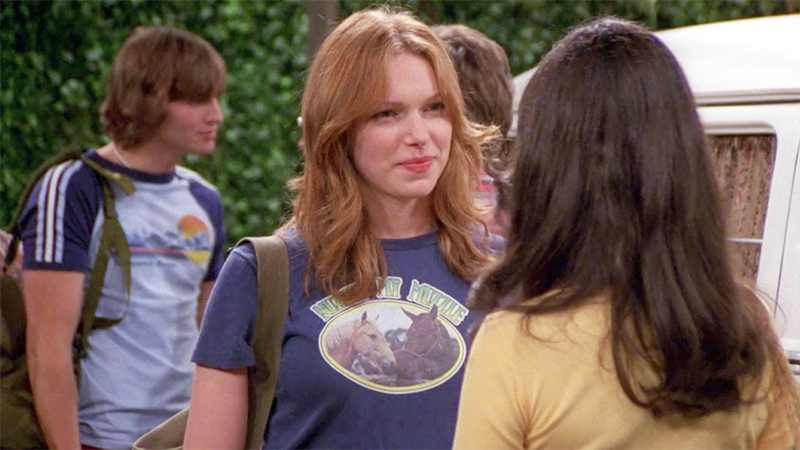 Shelli: My answer is based on the tees alone.
Stef: Eric was definitely a gateway boyfriend.
Adrian: Donna is bi, a hill I will die on.
---
10. Dorothy Zbornak, Golden Girls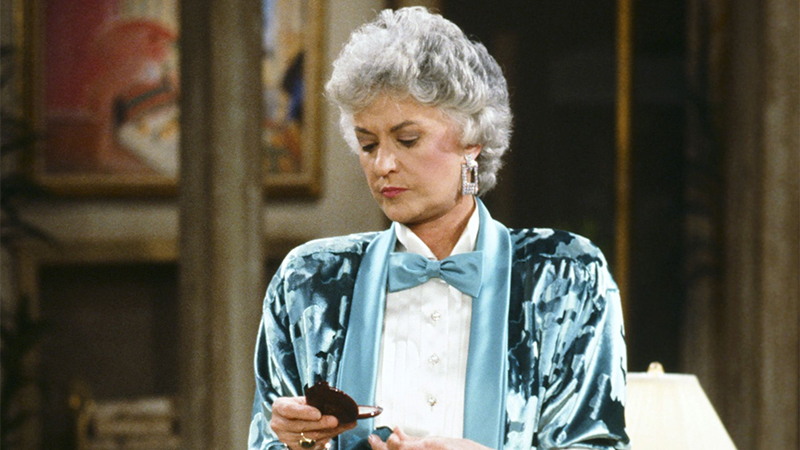 Shelli: Was dykin in Brooklyn for years even when she was with Stan's cheating ass.
Stef: Nobody wears a billowing vest quite like Dorothy, which isn't necessarily a gay thing but it's not not a gay thing.
Riese: I imagine her being like a dyke who wrote a lot of books about activism in the '90s and now in her elder years is like, honestly who needs girlfriend drama when I have such good friends and so many scarves.
Stef: I will say if she came out Sophia would NOT be surprised.
KaeLyn: The last person in my family I came out to was an older woman who was a retired university dean and professor and who never married despite being engaged more than once. When I came out to her, she shared with me in so many words that she "used to have a special friend, too, when she was young." Anyway, Dorothy has definitely had some special friends along the way.
---
9. Kimmy Gibbler, Full House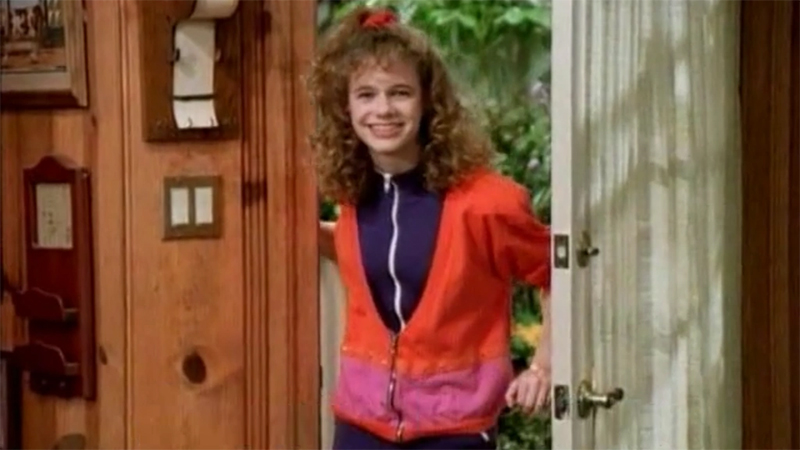 Shelli: MAYBE her and DJ tucked each other's hair behind the ears once.
Stef: I relate strongly to how she just keeps showing up somewhere she's not welcome, pretty sure it's gonna work out for her this time.
Riese: def kissed DJ during truth or dare and liked it, but it ended there for her.
Stef: I think Kimmy figured it out in college.
Malic: Persistence is gay.
---
8. Blossom Russo, Blossom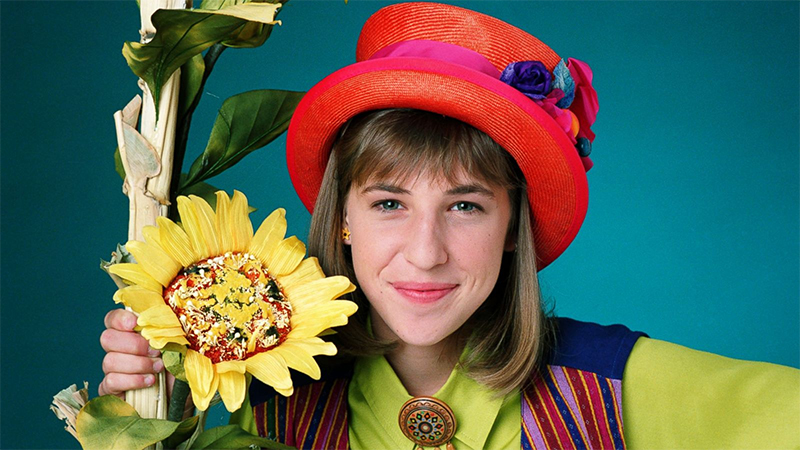 Valerie Anne: I wasn't allowed to watch Blossom when I was little because the one time I did turn it on Salt-n-Pepa were on singing "Let's Talk About Sex" but I definitely owned a floppy flower hat like hers and I mean… look at her.
Laneia: I voted 3 on a scale of 1-5 but Valerie makes a good point here. Her khaki shorts are gayer than I am.
Abeni: Once they made a safe sex video in one episode and I will never forget this line one of the boys said: "It's safe sex or no sex. I've been doing one my whole life, iIcan't wait to do the other." I may be misremembering somewhat. that show was pretty progressive!
Riese: Looks gay but acts straight: the '90s!!!
---
7. Darlene, Roseanne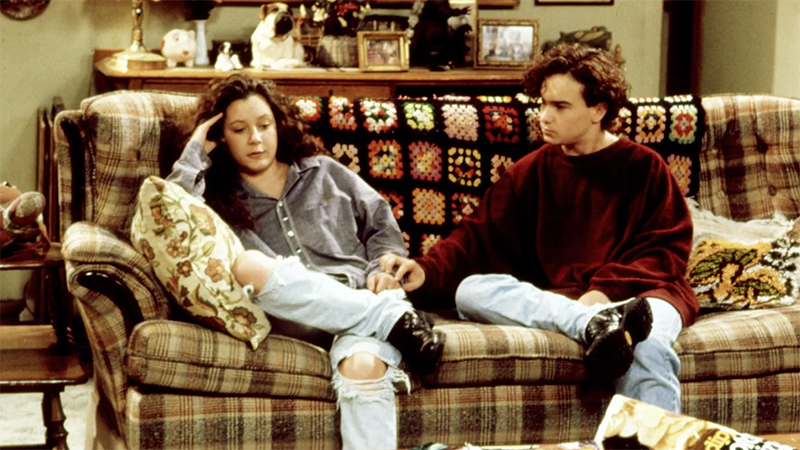 Heather: Speaking of looking gay and acting straight.
Riese: I feel like Nancy asked Roseanne a lot if she ever wondered if Darlene was gay and Roseanne was like of course not what are you talking about and Nancy like raised her eyebrows and shrugged and drank a sip of coffee and was like "Okay, we'll see."
Shelli: I had such a crush on this white woman and that's mostly because she treated the truly idiotic men in her life like idiots.
Carmen: Facts.
---
6. Andell, Moesha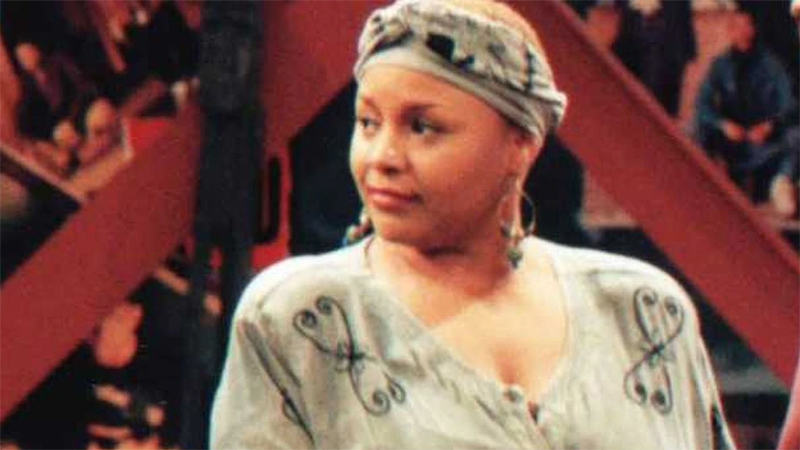 Natalie: If I had to pick someone to be gay on Moesha, it would've been Andell, right?
Shelli: Oh Andell was dykin' for sure.
Shelli: At least dabblin'.
Shelli: There ain't no way that she wasn't — like, no way.
---
5. Tori, Saved by the Bell
Riese: l e a t h e r j a c k e t
Riese: Also the actress is gay.
Stef: Also Tori is gay, which makes her gay.
Riese: That's math.
Stef: Math makes you gay.
---
4. Punky Brewster, Punky Brewster

Valerie Anne: I've been called Punky by family members (and now friends) my whole life and I came by the nickname honestly; I was just like lil Punky when I was little (and am currently wearing mismatched socks) and I grew up to be a lesbian therefore so would/did she. That's just math.
Shelli: I used to want to be punky so bad — ask my dad.
Riese: My mom didn't let me watch shows with commercials so i'd go to my friend anna's house to watch this show because i felt a deep affinity to this tomboy and her sneaks.
Carmen: I know almost nothing about Punky Brewster and have never seen the show, but even I know she's a lesbian and that's just lesbian law.
KaeLyn: It's the pigtails. See also: Pippi Longstocking.
---
3. Alex Mack, The Secret World of Alex Mack
Shelli: My QUEEN.
Stef: Alex Mack had the ability to actually turn into a puddle, which seems pretty literal but definitely very lesbian.
Valerie Anne: 90% of the queer women i know could put together an Alex Mack cosplay from items in their closet at a moment's notice.
Carmen: I'm literally dressed like this right now.
---
2. Jo, The Facts of Life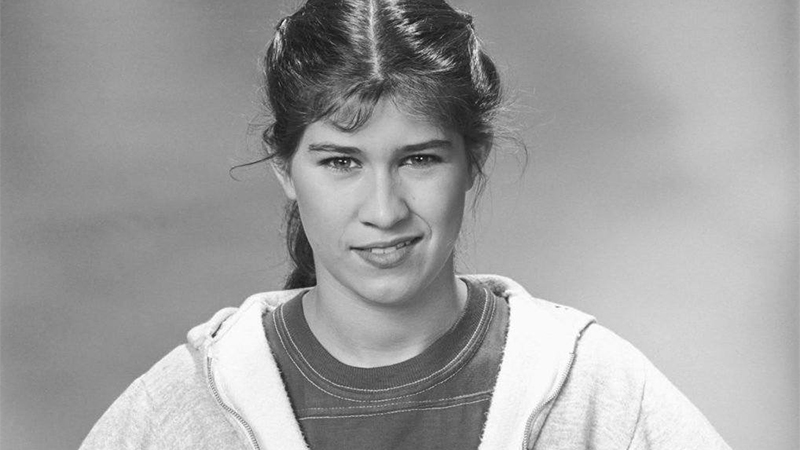 Tracy: So on the scale of one to five, we can't give her a ten?
Riese: Literally gay.
Malic: Such a daddy.
---
1. Khadijah James, Living Single
Carmen: AND NOW WE ARE HOME. Okay. I can rest easy.
Shelli: There it is.
KaeLyn: Um. 😳
---
Support Independent Queer Media
We're raising funds to make it through the end of July. 99% of the people who read this site don't support. Will you be one of the ones who do? Joining A+ is one of the best ways to support Autostraddle — plus you get access to bonus content while keeping the site 99% free for everyone. Will you join today?