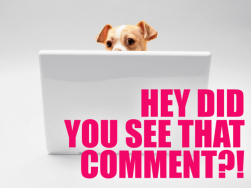 Hi, babes! Your hair looks great today! I CANNOT WAIT TO WATCH JESSICA JONES BUT I HAVE TO WAIT UNTIL TOMORROW BECAUSE TONIGHT I AM SEEING A WRINKLE IN TIME, thanks for asking!
This week, Raquel went to Lesbians Who Tech.
Are you reading this from inside the stomach of a dinosaur? MAYBE.
Take My Wife is now available on iTunes! Both seasons! Riese and Heather watched it all, and were thrilled.
In news that should surprise no one, Erin has out-Erin'd herself, and is undertaking a project called 30 Days of Carol. Invite me 'round!
I have a crush on every single person in this week's No Filter. That's totally normal and healthy, right? I'm fine.
And then there were your comments!
---
On Monday Roundtable: Our Most Incorrect Childhood Beliefs:
The Peach Emoji Award to Isabel and thatottergirl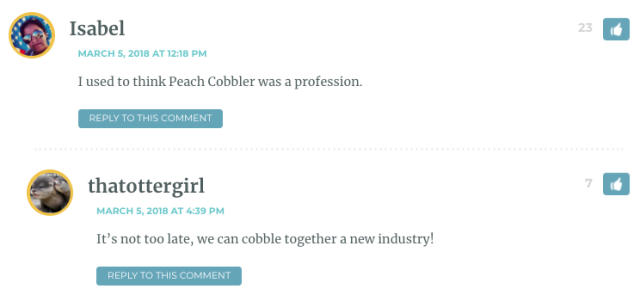 On 30 Days of Carol: Day Two – What's Your Carol Alignment?
The "Say It's Carol Singers" Award to Kristana: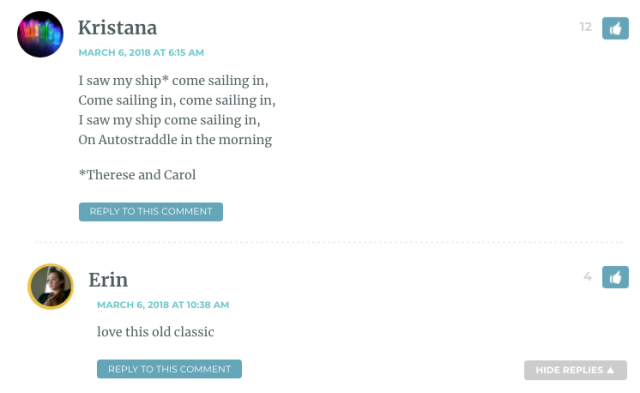 And the Haven't Thought About Him All Day Award to Sally, Carmen SanDiego, and Erin: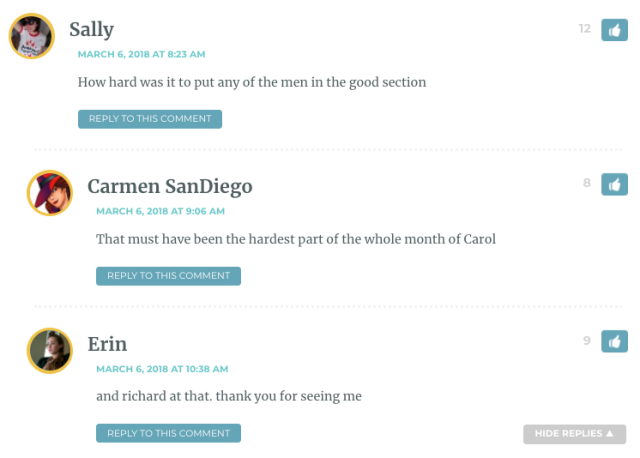 On How To Be Friends With Your Ex:
The Planned Obsolescence Award to Adèle: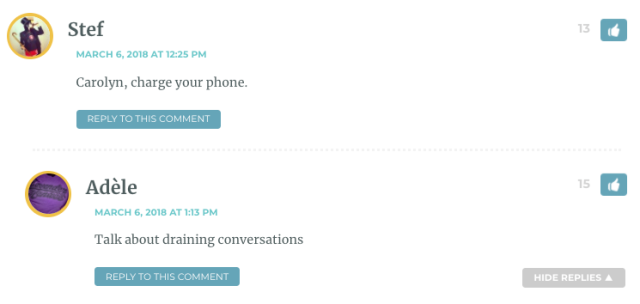 On No Filter: Sarah Paulson and Holland Taylor Have Killed Me and I Am Dead Now, Goodbye:
The 'Rents Are All Right Award to Jeanna:
On 30 Days of Carol: Day Four – Meet the Hero Who Contributed to Carol's Oscar Nod:
The 30 Days of Maggie Award to Maggie:

On Pop Culture Fix: Ilene Chaiken Aided By Marina After Crashing Her Car Outside The Planet and Other Inspirational Tales:
The True Detective Award to Freakazoid and Lucky#19:
On Join Us This April For TRIVIAL CAHOOTS: Autostraddle Queer Trivia Meet-Up Month!
The Ring Me Award to Sally:

And on Also.Also.Also: It's International Women's Day!
The Goddess Award to Athena:
---
See a funny or amazing comment that needs to be here? E-mail me at queergirlblogs [at] gmail [dot] com!