Hey! Happy Friday Homestyle Hashbrowns! I'm doing a Friday Open Thread for the first time in a long time and I'm excited to talk to all of you! What have you been doing? Tell me everything that's happened! I'm really glad to see you and as corny as it sounds, I'm proud of y'all for making it through these terrible political, and just, world, times. But look! We've got each other and you can see that by looking at all the people talking in this thread!
Do you ever read that website Atlas Obscura? It's one of my favorites, not only because I love the weird news and history they have there, but also because I love their travel guide. Whenever I'm going to a new city or state I like to check out the website and find out what cool, weird, unique sites they have to see there. I don't always end up going to the places, but I still love to learn about things that make the world more magical. It makes me feel good that there are real life places tied to urban legends and beautiful pieces of art and architecture and nature for us to keep seeing. There are still beautiful things in the world.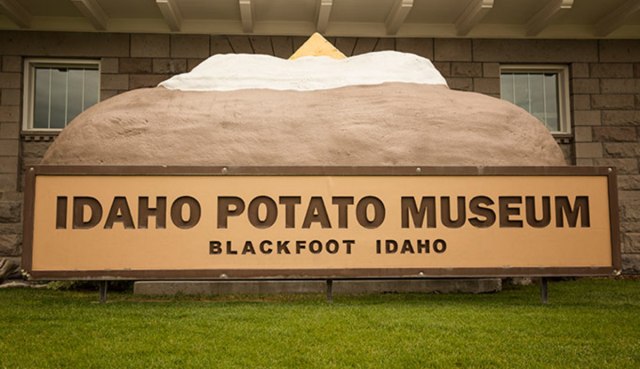 The town I'm from in Idaho has the Don Aslett Museum of Clean, which both Riese and former Autostraddle writer Maddie have been too. It was built by Don Aslett, who owns a cleaning supply empire and it was his passion project and is just about the history of cleaning. It's weird and wonderful. Fifteen minutes away there's also the Idaho Potato Museum, a museum all about potatoes that houses things like a life size pin-up of Marilyn Monroe in a dress made from a potato sack and the world's largest potato crisp. A crisp is made from reconstituted potato flakes, whereas a chip is a slice of potato.
So, today I want to know what special and weird things come from where you live! It doesn't have to be listed on Atlas Obscura, it just has to be the first place you think of when someone asks, "what's the weirdest thing about your hometown?"
---
How To Post A Photo In The Comments:
Find a photo on the web, right click (on a Mac, control+click), hit "Copy Image URLwp_postsand then…
code it in to your comment like so:
If you need to upload the photo you love from your computer, try using imgur. To learn more about posting photos, check out A.E.i's step-by-step guide.
How To Post A Video In The Comments, Too:
Find a video on YouTube, copy the URL, and paste the link on its own separate line in your comment. You no longer need to use the "embedwp_postscode!