In August and September, I drove 9000 miles around the United States. This is a big, bizarre place, with a lot of things you can really only see right where I saw them. They all tell their own stories about this weirdo country. Here are some of those things, from roadside attractions to monuments to the Cold War to an iconic warehouse past its prime.
---
The Mitchell Corn Palace, Mitchell, SD
When you drive across the country, you plan to see some things ahead of time, and other things you just stumble across. The Corn Palace, in Mitchell, South Dakota, is something I planned to see. The defining characteristic of the Corn Palace is its corn murals — giant panels that cover its walls, outside and in, depicting various midwestern scenes, composed of twelve different colors of corn. Outside, the murals' theme changes every year. The 2014 theme is "Remember When," and so the murals are all devoted to nostalgia for a "simpler" time. Like this mural, of an outhouse.
Inside, the murals inside attempt to portray a history of collaboration between Native peoples and white settlers, but the whiteness of the locals and tourists visiting seems to suggest otherwise.
You can also buy a lot of things at the Corn Palace. Like this hat:
---
Minuteman II Missile National Historic Monument
Unlike the Corn Palace, the Minutemen II Missile National Historic Monument was not something I planned to see, but when I saw a brochure for it in a rest stop, I knew I needed to go. The idea of a monument to a weapon of mass destruction makes me slightly nauseous, but it is "the only national park to tell the story of the Cold War," and I wanted to see how the story is told.
At the visitors' center on the eastern edge of Badlands National Park, the very nice ranger offered me a screening of a ten-minute video about the Missile. She even gave me a pencil, so I can take notes. The video is titled, "Partners in Peace."
"The people of South Dakota never realized they were in a war zone," says the narrator, referring to the hundreds of nuclear warheads secretly deployed across the Great Plains, armed and ready to be launched across the North Pole at a moment's notice to destroy the Soviet Union. The Monument is so damn earnest in its insistence that hundreds of missiles with warheads, which were each, "equal to 60% of all the munitions used in WWII," kept people safe. Peace maintained by the threat of certain destruction seems like a twisted kind of peace to me. The video outdoes itself when a Pete Seeger song, "Little Boxes," plays at the end. Is it a joke? A jab at the late great Seeger's socialist politics?
I don't ask the ranger before I leave.
---
The Museum of Clean, Pocatello, ID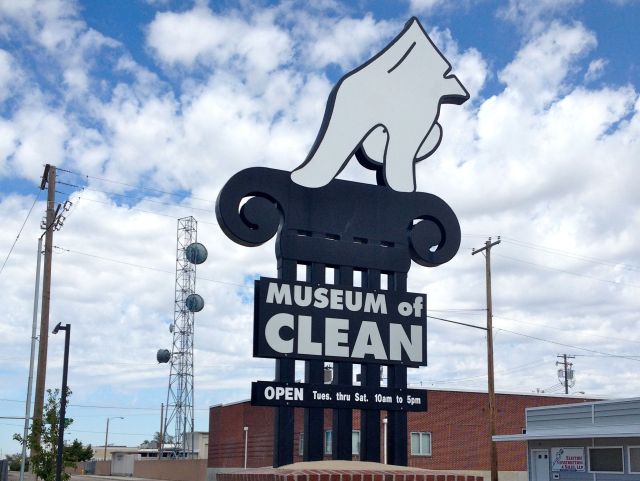 When I stayed with Mey in Pocatello, Idaho, she took me to the big sights of the city, prominently featuring Don Aslett's Museum of Clean. When we arrived, we joined a tour led by none other than multimillionaire vacuum sales mogul, Don Aslett, himself. Aslett took us and the other visitors on the full tour of his expansive collections of vacuums, brooms, mops, toilets and bathtubs, including a collection of cleaning-supplies-sculptures, mostly made by his brother. He kept up vivid commentary throughout, telling us how everything worked and what he'd paid for each artifact. He also shared all kinds of his ideas about gender, like "women design the best houses," because they have to clean them, though his advice to me was that, "I should find a man who can sweep."
Aslett wouldn't want you go about the rest of your day thinking that the Museum of Clean is just about washing away dirt and dust. He sprinkled the tour with allusions to his ideas about moral and spiritual cleanliness. "Clean is the most important word, after faith," he told CBS News. I'll leave you here with the Museum's mission statement:
"The ultimate mission and vision of the Museum of Clean is to sell the idea and value of clean, to put clean into the minds of all who visit. We want to expand the scope of clean into areas like clean homes, clean minds, clean language, clean community, and a clean world."
---
Craters of the Moon National Monument
Two hours beyond Pocatello, past the nuclear research lab, Craters of the Moon National Monument preserves acres and acres of cooled lava and cave systems sprawled beneath the surface. Mey and I hiked out to Devil's Orchard, which was one of the most grim National Parks Service trail exhibits I've ever seen. Interpretive signs were placed along the trail, telling a cautionary tale of how footprints, pollution, and human presence in general has destroyed many of the geological formations in the lava flows by causing erosion, breakages and oxidation. It basically admonishes you for feeling entitled to be there at all. I thought it was kind of awesome. Most National Parks signage encourages you to consider conservation of the natural world without guilting you for obviously having a role in destroying it. Craters of the Moon told it like it was. I wondered if this sort of interpretive signage is considered off-brand for the National Parks Service.
---
Lisa Frank's World Headquarters, Tucson, AZ
Did you read the article last year about Lisa Frank's Tucson headquarters? Of course you did. I spent a week in Tucson on this trip, and as almost an afterthought, I decided to see Lisa Frank HQ on my way out of town. It looked how the article described it: hearts, stars and music notes decorating the walls secured behind a fence, the silver unicorn, missing its horn. The building has clearly seen busier days. The parking lot was nearly empty, and 20 truck bays, painted in a rainbow, seemed far too many for whatever goes in and out of the giant building these days. Honestly, I never cared that much about Lisa Frank stuff as a kid. My fascination with this spot has much more to do with the view that this semi-abandoned rainbow-colored warehouse on the fringe of Tucson sprawl gives us of how cultural phenomena rise and fall, both guiding and being guided by the economy.
Have you been to any of these places? What weirdo things did I miss?