Here is a conversation I remember having about year ago with my friend Laura, who I've been close with since—oh, I dunno—since second grade? That sounds right.
Ali: Have you seen the clip of Mister Rogers telling people how to deal with tragedy on the news?
Laura: No?
Ali: Mister Rogers says when you see something bad happening on the news, you should always look for the helpers. There will always be helpers—people rushing into tragedy to try to make it better. And he says if you look to the helpers, there will always be hope.
(both Ali and Laura start violently sobbing. When they quiet—)
Laura: I often question how children today are going to grow up. Like, how they're going to know how to be good citizens, good people. Because Mister Rogers isn't around to tell them.
Here is that clip, in case you need it again today.
So when Rachel asked if I could do Mr. Rogers for the Nerd Couture series, and when that request was accompanied by this photoshop originally featured in the A+ Insider, I actually also cried a little?
I cried because someone a) asked me anything about Mr. Rogers and b) put my face on Mr. Rogers body and that made me just so fucking happy. I miss Mr. Rogers so much. No one but no one can ever truly be Mr. Rogers except Mr. Rogers.
That doesn't mean we can't all try to dress like Mr. Rogers. That doesn't mean we can't all strive to be like Mr. Rogers.
---
Mr. Rogers is extraordinarily easy to imitate, fashion-wise, because every single episode begins with him coming home and getting dressed in his neighborhood outfit, presumably in clothes that make him the happiest. So in every episode, we get to see inside his closet. And that closet is filled with solid-colored zip-up cardigans. We get to see, as he removes his suit jacket to replace it with one of his many sweaters, what his shirt, tie and belt all look like. And we get to see him change into the same pair of sneakers for years and years. Check it:
https://www.youtube.com/watch?v=C5Mz0p0kgc4
Another cool thing about Mr. Rogers fashion is that everything in his closet is coordinated with everything else—he can make an outfit by mixing and matching pretty much anything at all. So instead of talking about individual outfits, let's talk instead about categories of clothing that can then be put together as you see fit.
---
The Simple Button Down
https://www.youtube.com/watch?v=tvD5GXQstd0
Mr. Rogers seems to have embodied my Theory Of Button Down Shirts, so much so that I wonder now if I learned it from him. And this theory is that, no matter what the rest of your closet has, having one really excellent white button down and one really excellent blue button down will mean you never want for tops. I actually can't find any episode where he isn't wearing either a white or blue button down.
White Gap Oxford, $49.95. Blue Izod Shirt, $55.
---
The Anything-Goes Tie
https://www.youtube.com/watch?v=0hInSo3zOJo
The tie can be solid. The tie can be spotted. The tie can be striped. The tie can be ANYTHING. And the reason is because Mr. Rogers doesn't do busy sweaters or crazy colors and patterns in his shirts. That means that Mr. Rogers probably had that Dad-esque tie rack full of one million options and he probably truly could choose which to wear based on how he was feeling that day, and not based on how it would go with the rest of his clothing. So let's look at an array of straight ties and how to tie them.
Clockwise from top left: Band of Outsiders Polka Dot Tie, $39. 1901 Lobster Print Silk Tie, $39.50. 1901 Woven Wool Tie, $39.50. Tie Bar Woven Wool Blend Tie, $15.
And we can't forget the knot—here's a knot that's good with casual button down shirts:
---
The Simple Belt and The Suit Trousers
https://www.youtube.com/watch?v=T3LZdD71Kh4
No fancy buckles. No weird colors. Mr. Rogers wears no-nonsense brown or black belts every darn time. And there's something to be learned from that—having one plain brown belt and one plain black belt means you will never want for belts. No matter what kind of pants you're wearing, you're covered with one brown belt and one black belt, neither of which will clash with your various outfits because of belt weirdness.
Even though Mr. Rogers is dressing casually, he leaves his suit trousers on when he changes into his comfortable clothes—I love this. Even in a casual outfit, Mr. Rogers, though he is very comfortable, is never sloppy. And I recognize that leaving one's suit trousers on when one gets home from work is probably very indicative of the era. But, even as I type this while wearing skinny jeans, I propose we at least consider bringing it back.
Left to right and top to bottom: Claiborne Charcoal Suit Pant, $44.99. JC Penney Grey Flat Front Suit Pant, $35.99. Linea Pelle Casual Belt, $20.40-27.20. J. Crew Leather Roller Buckle Belt, $45. J. Crew Crosby Suit Pant, $225. Ludlow Slim Suit Pant, $158.
---
The Solid-Color Zip-Up Cardigan
https://www.youtube.com/watch?v=F2kKXxN-6aM
The crowning glory. The thing everyone thinks about when they think of Mr. Rogers. There are some variations in the cardigans—some have cable knit patterns, some have pipping down the zipper, some colors are bolder than others. But because of Mr. Rogers, a couple generations of people think of this cardigan as a warm, inviting piece of clothing for only the very kindest people in the world. Now y'all, I am warning you—it is a bit difficult to find new solid-color zip-up cardigans right now. It is, perhaps, not the hottest fashion item of the season. But here, I found you some!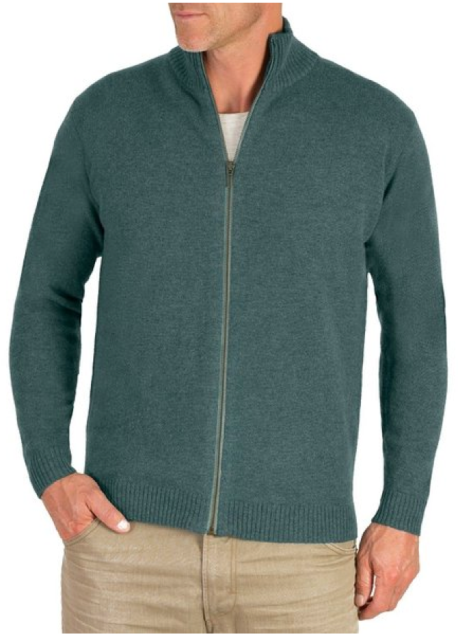 Wool Over Lincoln Zipper Cardigan, $38. It's pictured in "Dark Kingfisher" but is available in a bunch of other colors.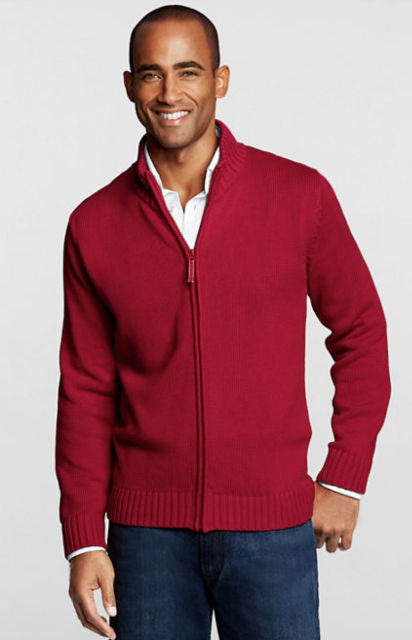 Lands' End Zipper-Front Drifter Cardigan, $50. It's pictured in red but comes in a bunch of others colors.
Where it is possible to find sweaters like this is thrift stores. Whoever decided these were popular items to donate was clearly not thinking of the world's best neighbor at the time.
However, it should be noted that, no matter where you purchase, no one can ever truly have those cardigans or anything close to them: Mr. Rogers's mother hand-knit every single one of those cardigans. The same Smithsonian article, by the way, states that Fred Rogers was color blind, which also explains why everything matches pretty well with everything else.
Anyway. If you'd like to dress this whole look up more, I found a Neighborhood Trolley lapel pin for you.
---
The Blue Canvas Sneakers
https://www.youtube.com/watch?v=5ZQsbO0NB9A
Because who wants to remain in their work shoes? No one.
Keds Champion Oxfords, $45. Ralph Lauren Vaughn Sneaker, $20.
---
The Orange Bag
https://www.youtube.com/watch?v=-CBBgV8jilY
So I noticed that whenever Mr. Rogers brings something inside in a bag, that bag is very frequently orange? In some of the later episodes, it's the same orange bag over and over. I could not find you that orange bag. But here is a thing that is aesthetically similar:
L.L. Bean Everyday Lightweight Tote, $24.95.
---
The Mr. Rogers Attitude
More important that anything Mr. Rogers could teach a bunch of nerdy queer women about fashion is the attitude, the outlook on life. The outfit isn't complete without striving to be as much like Mr. Rogers in our every day lives as we possibly can. Just from these few episodes, we are reminded that we should be curious; we should be ourselves; we should be friends with and friendly to all sorts of people (I wish modern media would take a cue from the representation on this show); we should celebrate all kinds of jobs—like farmers, factory workers and delivery men—and all kinds of people in all kinds of jobs are good at them and proud of what they do; everything takes practice and we should keep at it if we want to get good; and when we have mad feelings, we should find something creative to do with our hands and not take those feelings out on others.
In short, I think it's probably valuable for every adult to sit down every so often with some knitting and a cup of tea to watch Mr. Rogers. And to zip our sweaters all the way up and then back down a quarter of the way. To embody the essence of a good citizen and a good neighbor. No Mr. Fred Rogers ensemble is complete without that.
Feature image via Huffington Post.