Hello Autostraddle! As you may have noticed, the human once known as Intern Grace is becoming a comic book star and therefore is unable to continue being my third arm / forever companion. So I need a new personal intern to fill the void in my heart and life. Hopefully Autostraddle can also fill a void in your heart/life! It's sort of like working at a gas station except also not really and only if you're really passionate about gasoline.
You should be:
Funny. Seriously. Also: clever.
A photoshop superstar able to quickly make graphics
An expert on all things Autostraddle
An expert on all things lesbian internet
On top of important entertainment and pop culture news relevant to queer women, especially television
Detail-oriented
A better speller than me
Dependable
Really good at social media
Excellent at finding information on the internet
Competent at HTML and online blogging platforms
You also need to be located in the U.S., since the job involves a lot of U.S television and you'll need to communicate with me while I'm working.
This job will include:
Research
Making screencaps for 2-3 TV shows / week (for me and the other recappers)
Making bizarre graphics for recaps and other articles (for example)
Writing posts, if you so desire
Making quote graphics to share on social media
Helping to put together megaposts like the Hot 100 and 100 Best LGBT Books
Functioning as my personal assistant at A-Camp
[That list formerly included "copyediting and fact-checking my posts" but I realized that's not a thing I had Grace do until she was a paid employee, and I feel weird about someone doing it for free, so I removed it.]
Also: SO MANY OTHER THINGS! A lot of this really depends on your skill set. Grace was hired to do screencaps but turned out to have many other skills and talents! We expect the same thing will happen with you. You can expect to spend 8-15 hours a week on Autostraddle stuff, but we're flexible.
In the past, Intern Grace's job has involved a dynamic assortment of duties including:
Bringing me dry cereal and ice water when I was sick in bed at A-Camp
Photoshopping 20+ fictional characters and celebrities on top of a screenshot of Romi Klinger entering Whitney Mixter's door
Making a playlist inspired by a picture of Kristen Stewart
Reading my mind
Figuring out if somebody else has already written about a thing I wanted to write about
Serving as my go-to source for What The Kids Are Into These Days
Talking to me for hours about Glee and The Real L Word
To apply please submit the following materials to riese [at] autostraddle [dot] com by Monday, October 27th:
A cover letter explaining why you wanna do this, what your availability is, what you'd like to get out of this internship. Also include links to your tumblr and/or twitter and/or instagram.
Amy and Karma from "Faking It" photoshopped onto the Thelma & Louise movie poster
A birthday card for Stef! Here are some examples of the kinds of cards we make for our staff for their birthdays. Be creative and use what you know about Stef to make the perfect card.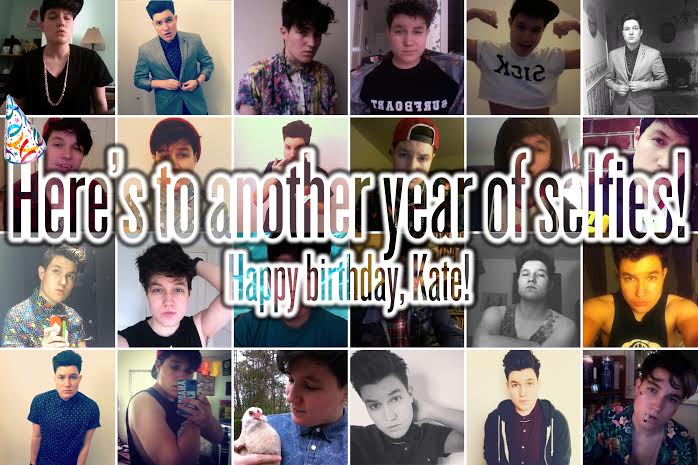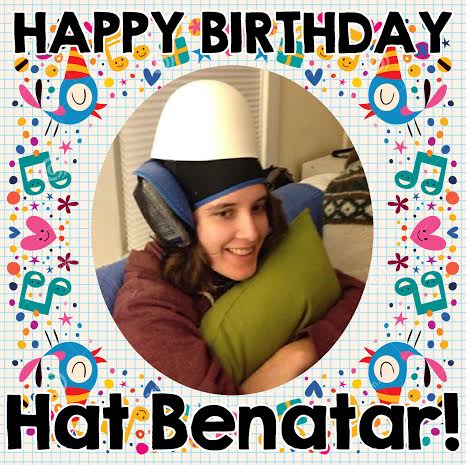 We do believe that every publication who can pay their interns, should. Unfortunately we can't, because we don't have enough money. (And yes, we've tried to make this money! We barely have enough money as is to pay our six full-time employees, three part-time employees, eight subject editors and 20 writers… and last time we ran a fundraiser to pay our writers, it didn't even meet its goal of $10k. There's nothing that matters more to me than paying these humans and the second we're able to pay our intern, we will, and you can help expedite this process by joining A+, donating, buying merchandise or shopping through our affiliate links.)
But Intern Grace eventually did become a full-time paid employee by the end of her run here, and that could very well happen to you!
However, you will get:
Incredibly flexible hours
Love
College credit if this is a thing you want and a thing we can help you get
Experience with the very innermost workings of online lesbian media
An opportunity to write for Autostraddle (and get paid per-post)
Free A-Camp
Free and discounted Autostraddle Merch
Free A+ membership
Opportunities for advancement and taking on more responsibilities
I am excited to meet you!