Hey, you ever heard of Bottoms? It's time to love it! You want a Josie and PJ Style Thief? No, you want Hazel's grandpa style? Riese covered them all! Also: Bottoms characters ranked by whether or not they'd be bottoms. Drew's at you from the Toronto International Film Festival again this week, with reviews of The Queen of My Dreams, How to Have Sex, Days of Happiness, NYAD, and Unicorns and National Anthem. Kayla watched the Dutch threesome movie Happy Ending, which — spoiler alert! — did not, in fact, have a happy ending. However! There's some sunshine on the horizon! The Morning Show is back for season three and so are Christina's recaps. Carmen wrote about to the Starz Power book universe (only the gay parts!). And I reviewed season two of Wheel of Time and the super sweet end of Disenchantment.
Notes from the TV Team:
+ After a much-too-long hiatus, All Rise returns to complete its third and final season on Saturday. Fingers crossed that Ness made it out of the courthouse insurrection alive. — Natalie
+ Was the hug between Willie Jack and Elora on Reservation Dogs this week platonic? Maybe. Maybe not. Or maybe I'm just projecting because we've seemingly lost Jackie to Bear? But whatever the case, it gives me the opportunity to, once again, sing this show's praises. Each and every week, Reservation Dogs amuses and astounds in equal measure. I love this show so much — after this strike is over, I better see Hollywood casting Paulina Alexis in everything — and I'm heartbroken that there are just two episodes left. — Natalie
---
The Chi 606-607: "Boyz II Men" and "Long Live"
"Is it just me or is The Chi good this season?" I asked myself in the notes for last week's episode. But then a new character (more on that in a second) grabs the mic at the kids' graduation party, wearing a WE'REGAY varsity jacket and I amend my previous thought: "is it good or is it just gayer?"
It's too early to make an official pronouncement on what's driving my love for The Chi's sixth season but the proliferation of all this beautiful, melanated queerness? Well, let's just say it doesn't hurt.
The latest addition to The Chi's rainbow coalition: Britney (Amari Noelle Ferguson), the sister that Bakari thought he'd lost to the foster care system. She's too young for me to fawn over but I'm happy for a whole generation of queer girls (and heretofore straight girls) who are about to swoon over Britney the way my generation swooned over Snoop from The Wire. I love that for y'all, truly.
(Also? I'm taking Britney's name as an homage to Brittney Griner. For reasons.)
Britney shows up on Bakari's doorstep, looking to reconnect and with ambitions of chasing her music dreams in Chicago. She doesn't say how she'll do it — she "ran into some money," she acknowledges — but when she freestyles at the graduation party, it's clear that Britney's got the talent to fuel those dreams. Jemma slides up next to her, asking if Britney has a manager, but the newcomer seems more interested in establishing a more personal connection. Jake slings his arm around Jemma to let Britney know she's taken but Britney doesn't seem dissuaded. And, given the way Jemma's turned into a mini-Tierra, I don't imagine she'll take much more convincing either.
Meanwhile, Dre's continued effort to reconnect with her ex-fiancée, Monica, has Nina all in her feelings. On the one hand, the supportive, loving part of Dre understands her reaction, given that Nina came into her queerness so late, but the petty part of her is like, "Nina, you cheated on me with Da Brat, you don't get to judge me." After a check-in with Jada and Tracy, Dre leans into her supportive side, letting Monica know that she's going to fall back until Nina's more comfortable.
That comfort might take a while though because Nina is going through it…aside from Dre's re-appearing ex, her son's gaming career is taking him to Los Angeles and her daughter drafts her into joining her for a therapy session. We learn so much about Nina through Keisha's retelling of her parents' divorce — how Nina gave up so much control in that so now she clings to it — and Nina gets immediately defensive about the recounting of her failures as a parent. But as she settles into the session, Nina confesses to her daughter that she never wanted any of her life…that she'd been forced into heterosexuality and marriage and motherhood by a desire to please. Keisha is aghast at the revelation, wondering, "How do I make peace with the fact my mother didn't want me?" Her reaction is perplexing, given her own history, and it's odd to see that ignored here.
Fatima's mother and sister, Aerin and Isis, return to The Chi this week for their first meeting with Victor. He assures the pair that he's serious about his relationship with Fatima and believes that wedding bells will be in their future. But he questions whether they think Fatima would want to start a family with him, especially given his criminal history. Aerin reminds him that everyone has a past and Fatima has only ever followed her heart. Isis interjects with a mother's well-earned cynicism — "Every time I followed my heart, it got broken" — and tells Victo not to let that happen to her daughter.
Later, Victor approaches Fatima directly about the possibility of them starting a family. She admits that having a family is something she's always dreamed about but she never believed it'd happen for her. He assures her that this is a dream they can bring to fruition but Fatima worries about the FBI investigation and the demands of his job. Victor downplays the investigation and affirms that he'll be a full and active parent. Fatima relents and the couple promises to keep talking about building their family.
---
Written by Nic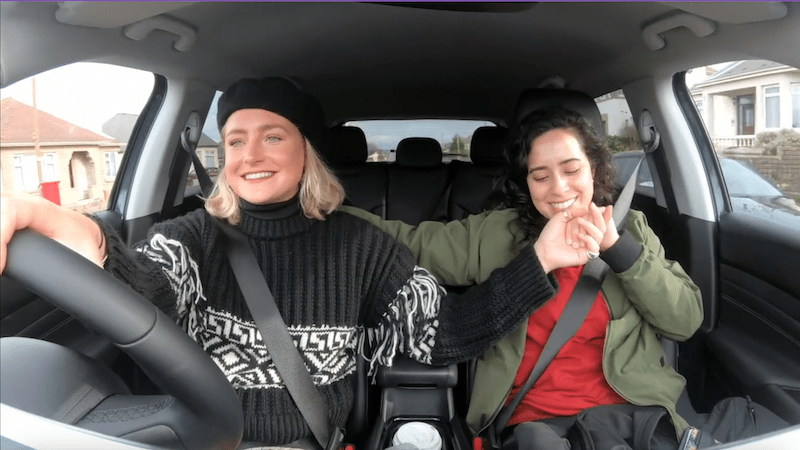 This week on 90 Day Fiancé: Before the 90 Days, Statler and Dempsey finally have the conversation that could make or break a relationship: do they want children? But first! Our gals have a jolly good time exploring the castle that Statler booked for Dempsey's birthday. I'm talking sword fights, shouting across a too long dining table to each other, and taking in the miles of greenery in sight from the tallest tower. Scotland is on my very long wish list of travel destinations and all this episode did was confirm it.
While the two drive to Edinburgh to do some sightseeing, Dempsey explains in her voiceover that this is the best she's ever been treated in a relationship and despite being fearful about potentially moving in with Statler, she's starting to warm up to the idea. Smash cut to the drive where they joke about both having beautiful eyes (I mean, FACTS though) and if they could, they would have "eye babies" together. This leads Dempsey to admit that she would like to be pregnant one day and that however it happens, she wants to be a mother. Statler's eyes somehow get even bigger as she says she doesn't know if she wants kids. In order to keep the peace on her birthday, Dempsey tables that convo for another time and the two enjoy what looks like a delightful day in Edinburgh complete with "Happy Birthday" being played on bagpipes.
It's their last morning together, and Dempsey and Statler are both just so sad that they're leaving Scotland and that Statler's trip is just about over. So naturally, this is the time when they talk about what their future together might look like. After the ups and downs of the trip, Statler being all-in while Dempsey wavered, opinions from friends and family, dropping the L word, Dempsey coming around to the idea of moving in … it all comes down the Kid Talk.
Dempsey reiterates that she wants to have children and when Statler asks why, she says that children make the world a better place, that she would be a great mum, and that she wants to recreate the beauty of growing up that was mirrored for her by her family. And the whole time Dempsey is talking, you can just see Statler sitting there replaying her childhood in her mind and seeing the exact opposite of what Dempsey is describing. When Dempsey explains that she would also be open to adopt, that triggers something in Statler because she immediately says that as an adoptee herself, she doesn't have the emotional capacity to parent an adopted child. And look, say what you want about Statler, but I love that she knows herself enough to say that she needs to work through her trauma and won't put her baggage on a child.
Things get dicey though when Statler emphasizes that really doesn't want kids, a shift from the conversation we saw earlier, and that if that's something Dempsey needs, then their relationship won't work. Dempsey then gets up and leaves breakfast to get ready and the producers ask why she left. She says that the conversation we saw isn't the conversation that they've had in the past and Statler made it seem like it was something she would be open to. On the flip side, Statler claims that Dempsey went from "oh, this is something I'd consider" to "I must have children." And maybe they're both right, that's fine! People can change their minds! Will this be the end for them? That's the question they ask (and hopefully answer) next week.
---
This week, the Trio is flailing a bit while separated. Charles goes to the Diner alone and Uma finds this so pathetic she invites him to sit with her. Charles insists Oliver and Mabel will reach out and apologize but Uma reminds him about how her friendship with Bunny ended and suggests maybe they don't waste the time they have together.
Meanwhile Mabel is packing up her apartment with the help of Theo. Of note, Mabel has learned a lot more ASL since we last saw these two together, which I love. Theo suggests that Mabel's next step in her solo investigation should be to talk to Ben's brother Dickie, who is holding an auction of Ben's movie memorabilia.
Oliver is also struggling without his buds, especially since he's having a hell of a time replacing Charles in the musical. He thinks he's found the perfect solution when Matthew Broderick shows up, but he ends up being more trouble than he's worth, so he reconnects with Charles and recasts him in the musical.
Mabel and Theo go to the auction and learn that Dickie has a lifetime of resentment from living in golden boy Ben's shadow and cleaning up his messes. They also realize that the child's drawing that was said to be Ben's original inspiration for his hit franchise CoBro was actually drawn by Dickie. Plus, they learn that Ben's watch was never set to the correct time, and since the medical examiners apparently used his watch instead of, I dunno, science to determine time of death, it means the superfan arrested for Ben's murder is innocent.
Mabel tries to do the podcast with Theo and Tobert, but it's not the same, and she misses her guys. But she has to get the superfan out of jail, so she has no choice but to move on.
Charles and Oliver show up to Mabel's apartment to offer a clue as a peace offering, but Mabel is already moved out. And as they stand in the hallway, bewildered, they get a notification: Mabel has done a teaser for the podcast, and announced she would be continuing it…alone. #BloodyMabel
---