We're merely one week away from our big conversation about this month's Read a F-cking Book Club selection, The Miseducation of Cameron Post by emily m. danforth, which means it's giveaway time!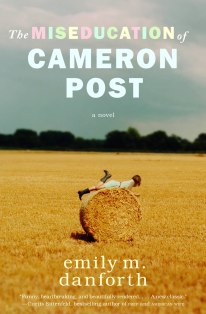 Hopefully you've plowed through most or all of the book by now and are probably bursting at the seams with questions for emily, who will be taking your questions, because she's awesome!
So, here's how the giveaway is gonna work:
You're gonna email autostraddlemoderators [at] gmail [dot] com with your question for Emily by Sunday night, November 4.
Everybody who submits a question will be entered in the drawing to win a Lindsey Lloyd care package!
On November 8th when we have our discussion, we'll announce the winner of the drawing, and emily will mail you your special package!
As you probably already know, Lindsey Lloyd is Cameron Post's fairy dykemother from Seattle who travels to Miles City, Montana, for swimming in the summers. But when Lindsey returns home for school and Cameron returns to her dyke-free life of lusting after straight girls in Miles City, Lindsey takes it upon herself to brief Cameron on everything she's missing via Postal Mail. This means Bikini Kill heavy mix tapes, old issues of The Advocate and cheeky postcards like this one:
 "True to her word, even before midterms Lindsey had already sent me maybe twenty handwritten notebook pages filled with her observations and current love interests, alway sin sparkly pen, as well as a busted-up copy of Rubyfruit Jungle, a couple of random issues of The Advocate, and maybe a dozen mix tapes with each song written in a different color on the cardboard liner inside. Everything but the tapes I hid under my mattress, which is what I knew that teenage boys did with their porn-mag stashes. The tapes I wore threadbare on my Walkman during cross-country practices."
emily sent us pictures of the giveaway care package so here's a sneak peak!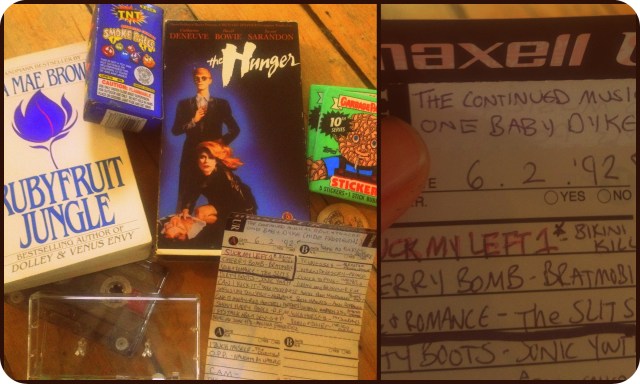 Seriously this is the best giveaway ever. Okay, you know the rules!