I wasn't sure how I was going to write Gayme Night this month, you guys, because my wife and I are moving and we can't host ANYTHING right now, because we are boxes. I love having my community over to my house, and making them drinks, and sometimes baking for folks as well. I love love love it and have been devastated as we started packing and I became unable to bake and unwilling to show my friends my disaster apartment. What's a gaymer to do? WHAT WOULD I SHARE WITH YOU ALL? Then I remembered that not everyone likes to host in their space or has a space to host in. That's it! THAT'S WHAT I'M GOING TO SHARE WITH YOU. Here's what I learned about hosting a Gayme Night in a public space.
The Pros and Cons of Doing Things This Way
Well first off, you don't have to clean beforehand, and you don't have to clean up after. That's a huge boon. This also takes the pressure off you to be hostly—you're still going to bring a game and teach a game, but you're not nearly as on the hook for everyone's fun. If you pick a place with a bar or a menu, your choices for food and drink will likely be a lot more extensive than they would be in your apartment or house. And you don't have to make it or serve it! You can sit back and play the game and order that vegan hot dog served on a soft pretzel and just LET IT HAPPEN.
The cons, of course, include other people. I had a dude come up to me while we were literally in the middle of playing a game and talk over my friends to tell me that if I really liked gaming, he was part of a meet-up over on — NOPE nope nope. I'm not going to pour my time and energy into a space dominated by white, cis dude nerds who stare at me and my friends when we come in. NOPE. I'll just be over here, throwing my queer-as-fuck gayme nights, thank you. This man talked to me for five entire minutes before I finally said, "You know what? I'm playing with my friends just now. I'll catch you later." And then he talked for 30 more seconds and then finally left us alone. That right there is the major con of playing games in public, especially if you choose unique, interesting games. People will want to talk to you. And if you are anything other than a white, cis dude playing with other white, cis dudes, you may find that people in public feel entitled to your time even though you are clearly busy and may interrupt your game. Practice saying, "I'm playing with my friends just now and want to concentrate on being present here with them."
The other major con is, of course, that you are at the mercy of the establishment you pick. I'll talk about that in a hot second.
---
Pick Your Establishment
When you're hosting a Gayme Night in a public space, what you're looking for is something with seating and a nice, big table. I picked a nearby Arts and Crafts, which is a local chain of craft beer places where I live. They have this great seating area:
I knew about that table, I wanted that table, and I knew that I've been into this particular bar on Sunday evenings before and there's been NO ONE there. So I phoned just to make sure the bar was still open on Sundays. Perfect, they were. But I didn't tell them I was planning to bring a game or two, and I didn't ask what turned out to be a very relevant question: are there any other events at the bar that night? We get there and, turns out, trivia was in ten minutes. Apparently Arts and Crafts, since last I'd been there on an empty Sunday evening, took measures to make sure it wasn't empty on Sunday evening anymore. It was still sparse in there, and we managed to get our table, but we all looked at each other and shrugged—it was Gayme night, after all, and trivia was still a game, albeit an unexpected one. I put away one of my games (Sushi Go) and we vowed to play my second pick after we kicked some ass at Trivia. (We did not kick ass at trivia. But we did win the spirit award and our team name was Lady Dragons Who Set You On Fire.)
My point in telling you all that is: call or go in and ask if you could a) bring a group and b) play a board game and c) is there anything going on that night that would prevent you from playing a board game? I took what I learned and applied that to my favorite coffee shop in the neighborhood, and now two of the servers there are ready to play with me and my crew, and oh yeah, we can absolutely play there.  Go out into your community and look around—what places would be happy to have you for an evening? A lunch break? A Gayme Brunch? Ask about the weird spaces too—library with a conference room? Literal clothing store, but you're in there all the time? If you know the space well, ask. No harm in asking. I have a friend who runs a book club out of a retail establishment that sells bags and shoes, anything's possible.
---
Pick Your Game
The criteria for a good bar game is, in my experience, as follows:
Can fit in your bag with little fanfare. Pick something in a small box.
Something with easy-to-see writing. Our game night was fairly low-light, so I didn't want to pick something with tiny card fonts or important miniatures that might get lost or be hard to distinguish from one another.
Something easy to explain. The bar was loud-ish and we were drinking. So a game that's quite easy to talk through and easy to understand was key.
There were a couple in my collection that fit the criteria: Sushi Go, Werewolf, maybe even Coup from our first Gayme Night, but what I settled on was—
---
This Month's Game: Unspeakable Words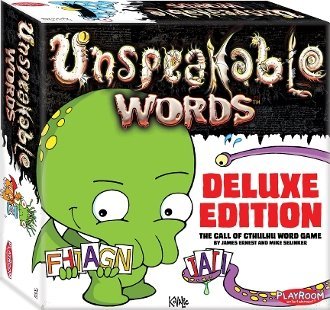 Unspeakable Words is, you guessed it, a word game, but with a crazy chthonic twist. You're dealt a hand of cards and from that hand, you must make a word. Each letter is assigned a value based on how many angles it has. When you create the word, someone writes it down (in my case, on a bar napkin), and that word may not be repeated for the rest of the game. Once you make a word and use it in a sentence, roll a d20. If you roll above that value, brilliant. You get your points and retain your sanity. If you roll below that number, bad luck. You still get your points, but you lose one of your sanity tokens, which are in the shape of these adorable little chtulhus: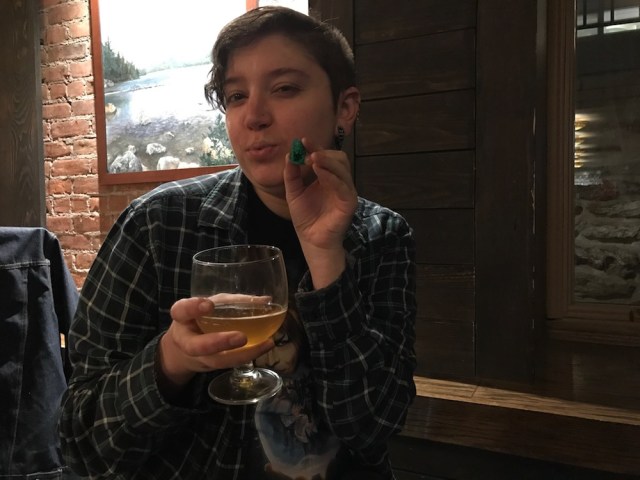 When you're down to one sanity token, the normal rules of spelling and grammar no longer apply to you. You may make any word with any combination of letters, but you've got to give it a definition and use it in a sentence. You still make your sanity roll, but with fewer restraints, you can be far more strategic about your score. First person to a hundred points wins—my friend Catherine almost beat me, but in the end, I won this one. If you want to see a video of this being played, it was featured on Wil Wheaton's Tabletop a million years ago:
---
Host-Type-Stuff, Tho?
Listen, I love a good theme, and I strive to go above and beyond with every gayme night. But when you're playing in public, your players may not want to participate in silly games or do an accompanying craft. You may not be able to bring a themed dessert, or whatever you normally do for your gayme night. The best thing you can do as a host to a game night in a public place is learn from my mistakes and figure out if there's trivia or live music or something that's going to make playing impossible. Otherwise, what you're doing here is getting your community out, and potentially into an establishment you love. Pick a great place with great people and support business you enjoy.