Within folk music, there exists a thrilling subgenre of songs known as "murder ballads." I'm sure you can guess the subject. Through their lyrics, these story-songs dramatically illustrate gruesome homicides. A typical scenario would involve a young woman being lured to a secluded location by her male lover, who then kills her as punishment for perceived sexual excesses, disposes of her corpse in water for symbolic "cleansing," then leaves and confesses his crime. Though there's some variation within the modern murder ballad genre, we continue to live in a misogyny-soaked culture where violence against women is both glorified and normalized on a daily basis. With that context in mind, I'd like to draw your attention to something remarkably beautiful, subversive and powerful: Hurray For The Riff Raff's music video for "The Body Electric."
The band's 26-year old queer-identified Puerto Rican-descended frontwoman, Alynda Lee Segarra, has previously said that her intention in every song she writes is to put a feminist viewpoint on old folk songs. This one is no different. At first, her goal was to create a response to misogynistic murder ballads, humanizing the victims as women just like Segarra and her friends. As the work evolved, however, it took on a larger meaning to her.
There is a true connection between gendered violence and racist violence. There is a weaponization of the body happening right now in America. Our bodies are being turned against us. Black and brown bodies are being portrayed as inherently dangerous. … It is the same evil idea that leads us to blame women for attacks by their abusers. Normalizing rape, domestic abuse and even murder of women of all races is an effort to take the humanity out of our female bodies. To objectify and to ridicule the female body is ultimately a symptom of fear of the power women hold.
As is often discussed on this website, those with intersecting oppressions are made especially vulnerable by the kyriarchy. In particular, trans women of color are often hit devastatingly hard. So it was amazing to see "The Body Electric" music video flip the script to feature Katey Red, trans mother of "Sissy Bounce" music, as Botticelli's Venus (a symbol of divine beauty). The anti-violence themed track also includes the work of multi-instrumentalist fiddler/drummer Yosi Perlstein, co-founder of Hurray For The Riff Raff and a queer-identified trans man.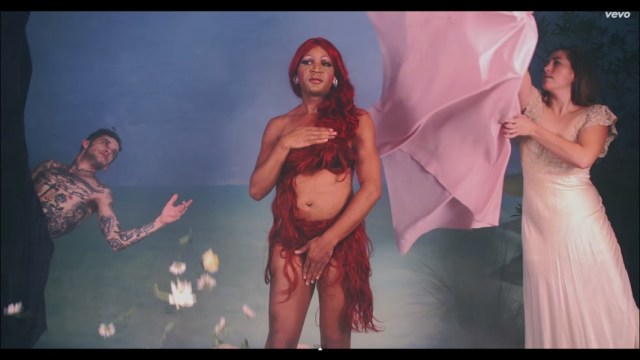 The song's title, "The Body Electric," refers to the Walt Whitman poem which perceives all human bodies as sacred. Segarra says it also refers to Damini, one of the many names given to the 2012 victim of gang rape on a Delhi bus. "Damini" means lightning, which is appropriate considering the swift, heated reaction the incident sparked. Segarra hopes that her song will breathe power and humanity back into all people who feel targeted by violence and oppression.
Segarra's voice is like dark chocolate with sea salt. Her politics make my heart beat faster than a KitchenAid stand mixer. Her lyrics are pointed as star anise, and powerful as ghost pepper. I could go on, but I'm getting hungry and maybe you'd better just watch now:
Am I wrong, or is this not the most beautiful thing to grace your ears and eyes since Angel Haze last did, ya know, basically anything? (This is not to diminish Haze, who remains incredible. I merely invoke her name to let you know how excited I am about this. Which is to say: very, very excited.)
If you enjoyed this, you may also want to check out the song Segarra wrote for Trayvon Martin, and Hurray For The Riff Raff's more light-hearted music video featuring a girl gang at a roller rink.