2016 was the best of times and worst of times. Just kidding, 2016 was the absolute worst of times. Moving through the world as a queer woman this year was a special kind of brutal. While we were getting acquainted our new post-truth Trumpian dystopia, we were losing our safe spaces even inside our fictional worlds. So many lesbian and bisexual characters fell victim to the Bury Your Gays trope this year that GLAAD had to step in and ask networks to put a pin in it. There were some bright spots, though, some girls kissing the girls they wanted to kiss. And so here is our list of best and worst queer women on TV in 2016. Below you'll find familiar Autostraddle faces and some of your longtime favorite TV writers from AfterEllen, many of whom will be joining us in the New Year to keep writing about the shows that do us right. (Here's our list from last year, for comparison's sake.)
---
THE BEST
Annalise Keating, How to Get Away With Murder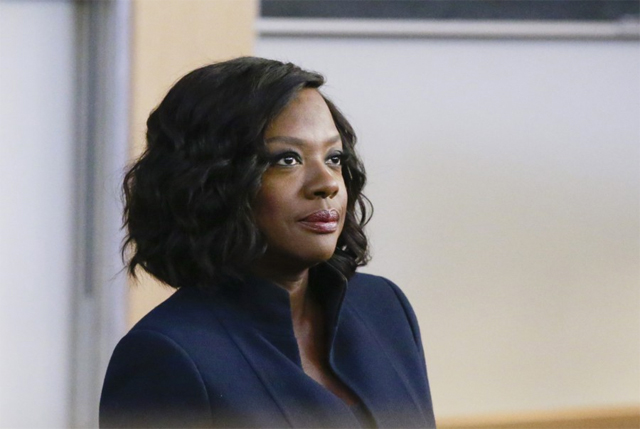 I believe fully and truly and wholly with absolute and total conviction that if there were more TV characters like Annalise Keating in the world — in fact, if Shonda Rhimes were in charge of TV, full stop — Donald Trump would still be that blowhard billionaire nobody from The Apprentice tweeting weird shit about Kristen Stewart and Robert Pattinson. When everything in our culture centers on white men, when all our best TV show and books and movies are written by and star complicated white men, they are the only ones who receive the benefit of nuanced criticism in real life too. People love Don Draper and Walter White and Dexter Morgan (a literal serial killer!) but they hate Annalise Keating. Why is that, do you think? Because she's a black woman, that's why. A brilliant, successful, powerful, unapologetic black woman with complicated motivations and a capacity to do great good and great harm to herself and the people around her.
She also happens to be bisexual and the only time she lights up and lets go and exists without the smoke and mirrors and self-propaganda is when she's with Eve. We need a thousand more characters like her on TV, a thousand more black women, a thousand more bi women, a thousand more fully realized women. It would be a whole other world if there were more Annalise Keatings. A whole other unrecognizable world.
Poussey Washington, Orange Is the New Black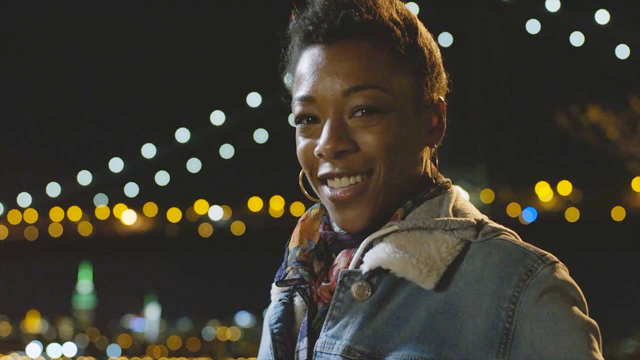 Oh, Orange Is the New Black. She was the BEST CHARACTER ON THE SHOW. Tough but tender. Wise but so bad at love. Depressed but full of humor. She was relatable and real and wonderful and beautiful and just — ugh! WHY. WHY. WHY. Poussey Washington was murdered by an incompetent white man who will face no repercussions for extinguishing her brilliant light from this world. To what? Make a point? If a person made it four seasons into Orange Is the New Black without understanding that the Black Lives Matter movement is vital and that there's a pandemic of violence perpetrated against black people by white law enforcement, seeing Poussey die wasn't going to convince them. We lose so many minority characters to prove a point to the majority, and we still end up with Donald Trump. Maybe we could try to prove a point in a new way. Maybe we could let the black people and the queer people LIVE. This storyline was the worst but Poussey? She was the fucking best.
Luisa Alver, Jane the Virgin
Jane the Virgin remains the best and most feminist show on television and anyone who is not watching it is actively robbing themselves of joy. The show has always had trouble figuring out what exactly to do with Luisa. She's only connected to Jane tangentially and that connection is rooted in Luisa accidentally artificially inseminating Jane in the pilot episode. But there's something so wonderful about Luisa, something so innocent and raw and desperate to be seen and loved. Sure, her insecurity and desire sometimes lead her into an underwater submarine lair with the crime lord/lover who killed her father and shot Jane's husband on his wedding night and dated Luisa under a fake identity (wearing a mask and a voice modulator!) for at least six months — but, you know, that's life inside a telenova. Luisa is funny as heck and learning loyalty in the hardest ways. Watching her fall in love with Susanna and break free from Rose was a very special treat in a very bleak year for TV.
Ruby and Sapphire, Steven Universe
There were a handful of deeply romantic queer moments on TV this year, but nothing beats the flashback episode of Steven Universe where Garnet tells Steven a goodnight/birthday story about how Ruby and Sapphire met, fused, fell in love, and met his mother. Ruby's pants caught on fire at one point! It's called "The Answer" and love is the answer and every insecurity and hope you've ever had in the world are on full display in Ruby and Sapphire's climactic duet. "Did you say I was different?" "And you hadn't before?" "Of course not! When would I have ever?" Look, just watch it. You deserve four minutes of complete happiness.
Alex Danvers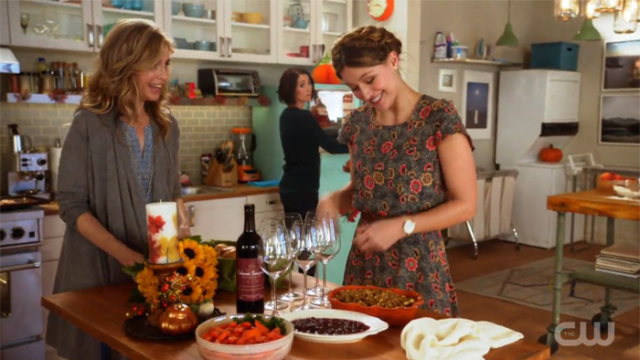 Sheer perfection.
---
Lexa, The 100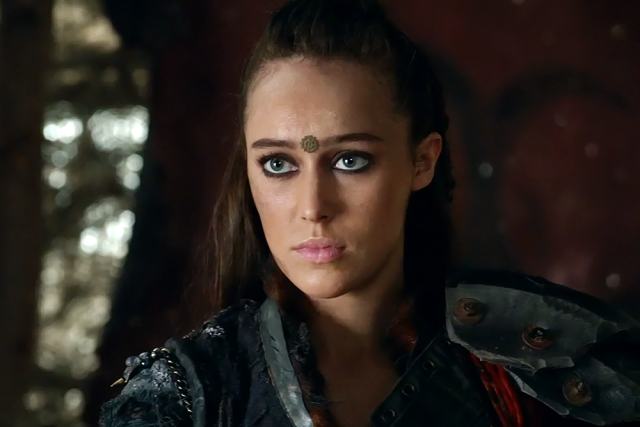 How do I even begin to explain my undying love for Commander Lexa, leader of the 12 clans? I started watching The 100 back in season one and was all about it, instantly. I'm a huge fan of shows that don't talk down to their audiences and for me, The 100 placed morally ambiguous questions in front of its characters and rarely gave them a clear-cut path to virtue. When Lexa barrelled into the story, army in tow and demanded blood for blood, I fell in love. When she left Clarke, the one girl she could be honest and vulnerable with, at the foot of Mt. Weather because an entire people's livelihood rested on her shoulders, I loved her even more.
Season three of The 100 gave us one of the best queer characters TV had ever seen. In her throne room Lexa was tough and unyielding, able to silence a dude in one single push out a window. When she was with Clarke she was soft and earnest. Lexa didn't love easily but she loved without boundaries, like many of us who have been hurt in the past and become increasingly guarded with our hearts. She represented a multi-faceted glance into the life of a leader who was given impossible circumstances, but extraordinary intelligence, patience and wisdom. She was well rounded, complex, and unabashedly queer.
So, when The 100 decided to throw away one of its most interesting character arcs, potential for further world-building and its entire queer fan base, all for the sake of "shock value," I was absolutely livid. The second Lexa was hit by that stray bullet, The 100's writing became shoddy, transparent and heavy-handed. The plotline became increasingly convoluted, with characters winding through its uninteresting ramifications, but one single glimmer of Lexa remained. The stupid City of Light goal meant that we might see her again, except I think everyone knew they payoff would be minimal, and we were right. The second that Clarke went into that control room, and Lexa stayed outside "fighting" or whatever the heck was happening in that scene, I knew the writers never had any clue how entangled Lexa's storyline was with Clarke's. They had the opportunity for a heart wrenching goodbye, and a chance for these characters to play out the narrative they've always struggled against: the good of the people at the expense of their own hearts. If Lexa had asked Clarke not to pull that lever, she would have brought The 100 back to its roots: moral ambiguity without a clear path to success.
Lexa represented far more than a well-written queer television character: she showed us that queer women could be ruthless leaders, compassionate teachers, brave warriors and soft-hearted lovers. She did it all at once and without a moment's hesitation. It's only appropriate that the loss of her character on TV sparked a revolution in real life with LGBT Fans Deserve Better raising almost $160,000 for The Trevor Project; too bad The 100 had to dismantle itself in the process. I don't even know when the next season starts, and what's worse, I don't care.
Eve Rothlo, How to Get Away With Murder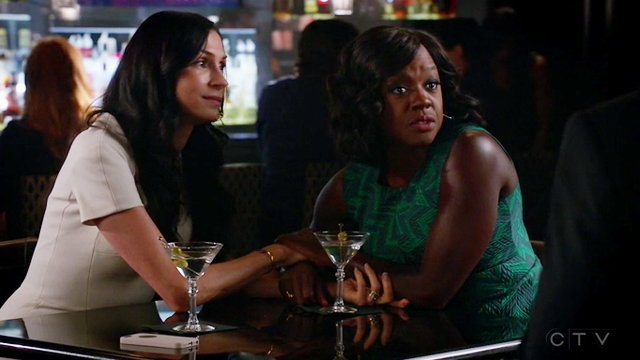 Here's my issue with How to Get Away With Murder: I hate it. So, here's my issue with Eve Rothlo: I have none. I love her. I reluctantly stayed in the room when my girlfriend watched it this season, but every time Eve came on screen, I couldn't look away. Not only was she a source of peace for Annalise, she was also a problem-solver, a kickass lawyer and, in some ways, a light at the end of the tunnel.
Here's my second issue with Eve Rothlo: she looks just like X-Men's Jean Grey, for some reason. So let me tell you, if you (like me) happen to hate How to Get Away With Murder, and cannot bring yourself to take yet another drink when any of the characters says, "Rebecca," you can keep in mind that when Jean Grey isn't a teacher at Charles Xavier's School for Gifted Youngsters; she's a crooked lawyer with her former flame, Viola Davis and the show gets FAR more interesting.
Also, and this is completely unrelated, Karla Souza and I grew up in the same neighborhood in Mexico (when her name was Karla Olivares), and once when we were kids, my brother scratched her brother in the face. Do with that what you will.
Yara Greyjoy, Game of Thrones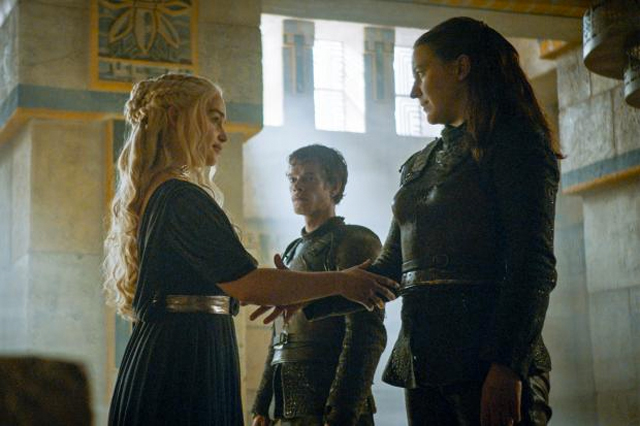 I know that the writing behind Yara Greyjoy isn't great. I know that the men who write Yara Greyjoy seem to think that the only way to represent wlw as equal in humanity to any other character is to represent her as they would a man, as if any shred of femininity would shatter the illusion of strength, and I'm not cool with that. However, I am extremely cool with Yara Greyjoy being touted as the rightful ruler of the Iron Islands, as the strongest of the Greyjoy children and most of all that her sexuality is just one of her many roguish behaviors that makes her a captain to her men.
I cannot even begin to describe the collective squeal that rang through our apartment when my girlfriend and I watched her unabashedly flirt with Daenerys Targaryen, and the wide-eyed appreciation we had when Daenerys cocked an eyebrow while feeling a tingling in her dragon-loins. When do we ever get that? Never. (I mean, we felt it once when Lexa and Clarke finally fell madly in bed, but we all know how that turned out.) Here's my petition to Game of Thrones in this new year, let Yara Greyjoy be the Iron Queen that launched a thousand ships.
Delphine Cormier, Orphan Black
Delphine "I'm-French-We-Enjoy-Lovers" Cormier has been at the top of my favorites list since her first bonjour, but I'm mentioning her now because in this year of the modern era, 2016, she caught a bullet and lived.
Plus, in a total boss move, she proved that the "let's take our clothes off to keep warm" move still works like a charm.
---
Mey Rude, Trans Editor/Music Editor
Marsha P. Johnson and Sylvia Rivera, Drunk History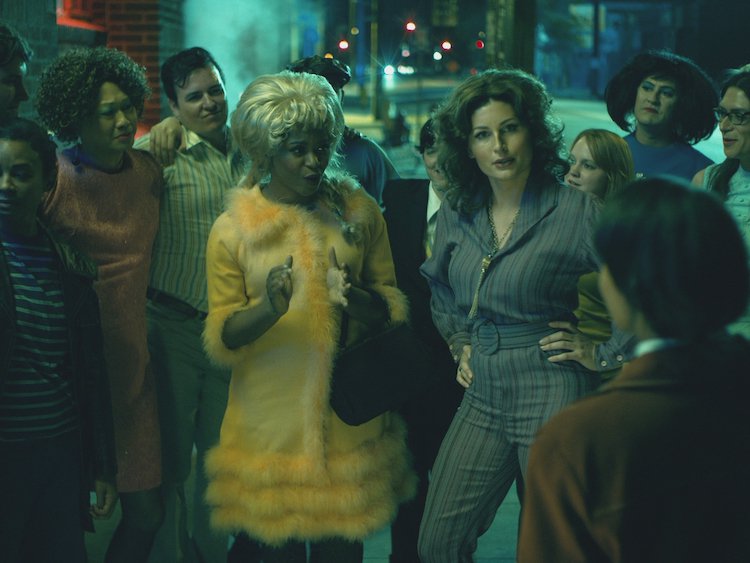 Drunk History gets things right where so many other shows and movies don't. Not only did they highlight the fact that trans women of color (specifically these two) were leaders of the Stonewall Riots, but they got two trans women to play them. Alexandra Grey, who was all over TV this year, put in a hilarious and lively performance as Marsha and Trace Lysette was gorgeous and powerful as her co-riotor Sylvia. This was one of my favorite pieces of trans media ever.
Young Maura, Transparent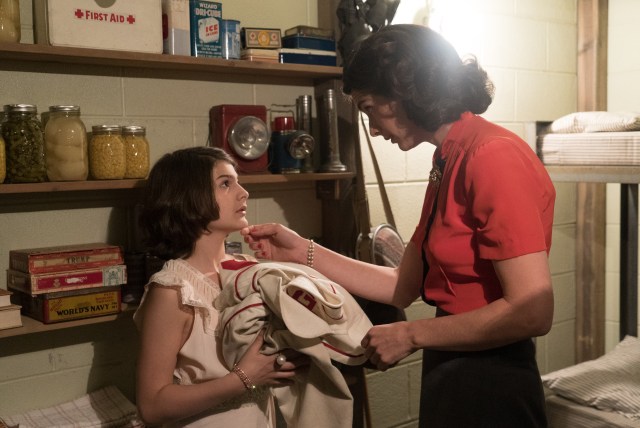 We got to see a trans kid on a show played by a trans kid actor! 12 year old Sophia Grace Gianna did a brilliant job playing young Maura in this flashback episode of Transparent where we see her exploring her gender as a young child and how her family dealt with that. Like the rest of the show, this episode isn't super happy, but it is realistic, and it is brilliantly made and brilliantly written (by trans writer Our Lady J) and brilliantly acted. This is the kind of live action media about trans kids that I look forward to seeing more of.
Shea, Transparent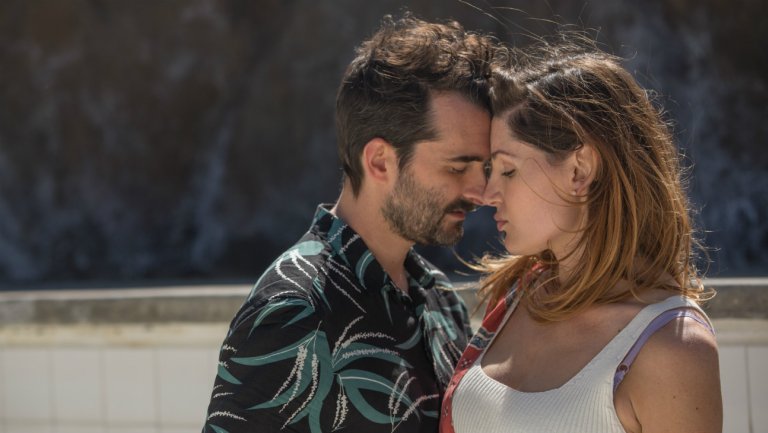 Trace Lysette shows up on my list for a second time, this time for her brilliant acting on season three of Transparent. She was so freaking great when she went on an ill-fated roadtrip with The Worst Pfefferman, Josh. Lysette's moving and powerful performance in this episode showed the often depressing reality of dating men when you're trans. Josh is his typical proudly ignorant and jerky self, and Shea ends up being disappointed by love once more.
Stevonnie, Steven Universe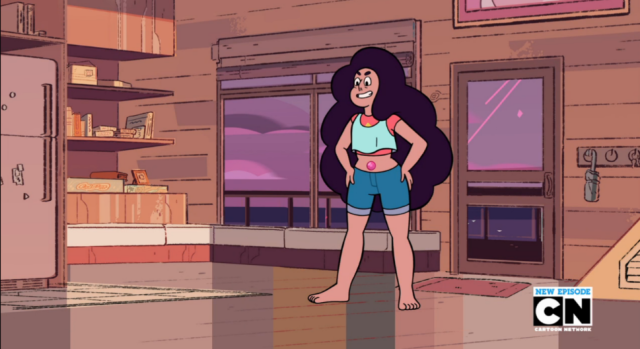 Stevonnie is a straight-up non-binary character on a kids show! That alone is enough to make me include them on this list, but also they're a wonderfully realized character who helps people watching the show learn some incredibly valuable lessons. This year we got to see them sing for the first time, in the song "Here Comes A Thoughtwp_postswhere Garnet helps them practice mindfulness and learn to forgive themself and grow from their mistakes. It was a brilliant episode and it's super important that a canonically non-binary character like Stevonnie was the one to teach us this lesson.
Lola, Difficult People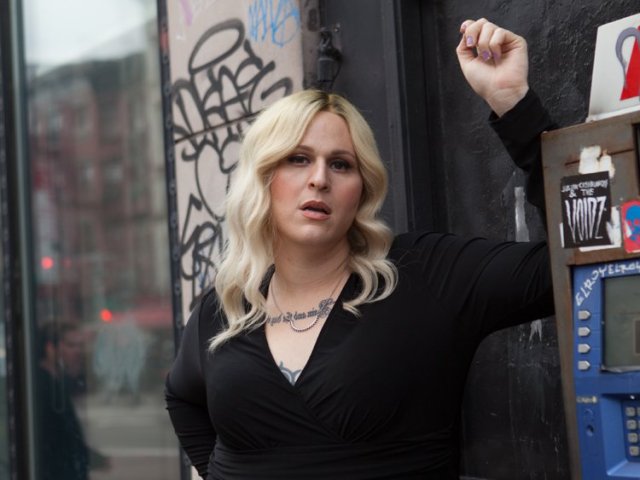 Lola, played by trans actor Shakina Nayfack, is a white trans woman who works at the same cafe as Billy in this show that's about a bunch of horrible people and she might be the most difficult and horrible of them all. She's a 9/11 turther, she thinks she's allowed to use slurs because she's a trans woman, she complains that everyone is transphobic when they don't like something she says. She's a terrific, barely heightened, version of a lot real life people. Also, her name is Lola, like the Kink's song, which is a detail I love.
---
Riese, Editor-in-Chief
Cameron Esposito & Rhea Butcher, Take My Wife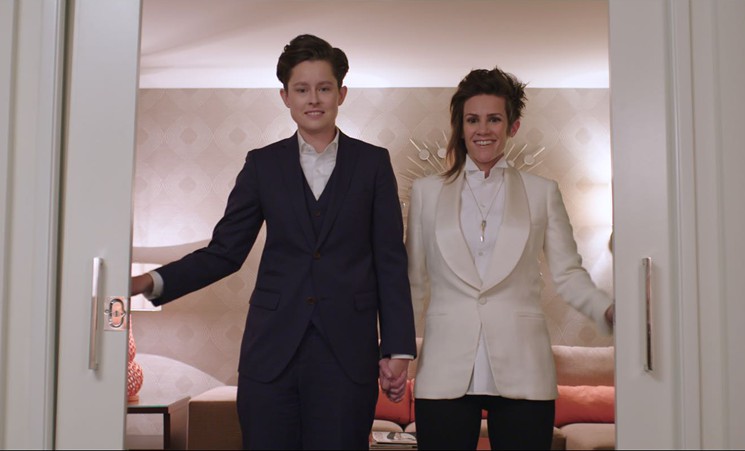 Sometimes you don't know what you've been missing 'til the real thing comes along, and that thing was Take My Wife. Lesbians don't get relationship comedies, you know? That's for straight people, for the Raymonds and the Seinfelds and the Kings of Queens. NOT ANYMORE, MY FRIENDS. Take My Wife exudes a rarely-witnessed authenticity, ALSO it's hilarious and ALSO Rhea and Cameron are adorable and also they are not femme-presenting, which's VERY rare on television.
Poussey Washington, Orange is the New Black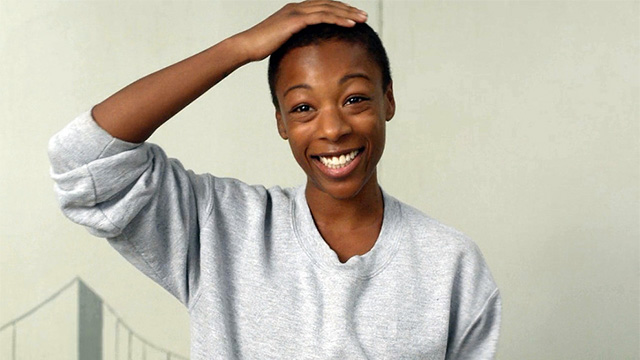 I mean duh. Poussey was my favorite character on television, full stop, for the last three years. Heather said enough that I feel comfortable not saying anything more, but fucking hell. YOU MESSED UP, OITNB.
Amy Raudenfield, Faking It
Yes, the Amy/Felix storyline drove me bananas this season, but Faking It got cancelled this year and I feel it's my duty to mention Amy one last time. Amy, a queer woman at the dead-center of a television show that tackled the LGBTQIA+ alphabet soup with Glee-esque fervor. Amy, a tomboy femme with an annoying straight best friend she's in love with. Amy, who actually managed to exit with a happy ending that involved her and another lady loving each other and becoming girlfriends. I'll miss you, Amy, and your sarcasm and your donut shirts.
Root, Person of Interest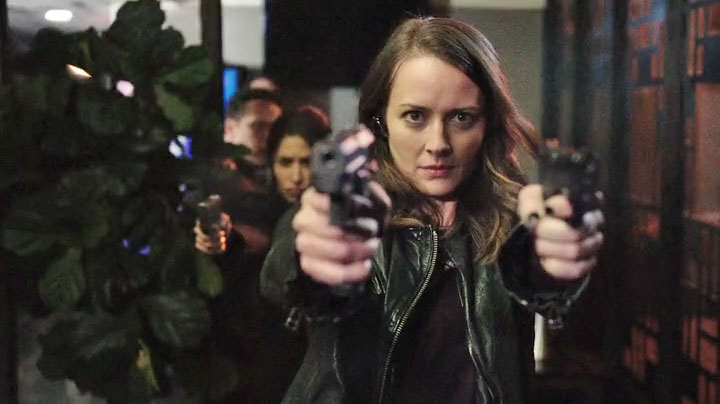 Another tragic loss this year was Root, a sexy genius who manages to win the heart of a sociopath assassin who previously considered herself incapable of love. What makes Root (and Shaw) so incredible is that Person of Interest just doesn't have romantic storylines. At all. Ever. Seriously even Criminal Minds and Law & Order SVU pay more attention to the romantic entanglements of their main characters than Person of Interest. The show only broke this focus once, and they broke it for a lesbian couple. Four for you, POI. FOUR FOR YOU.
Molly, Faking It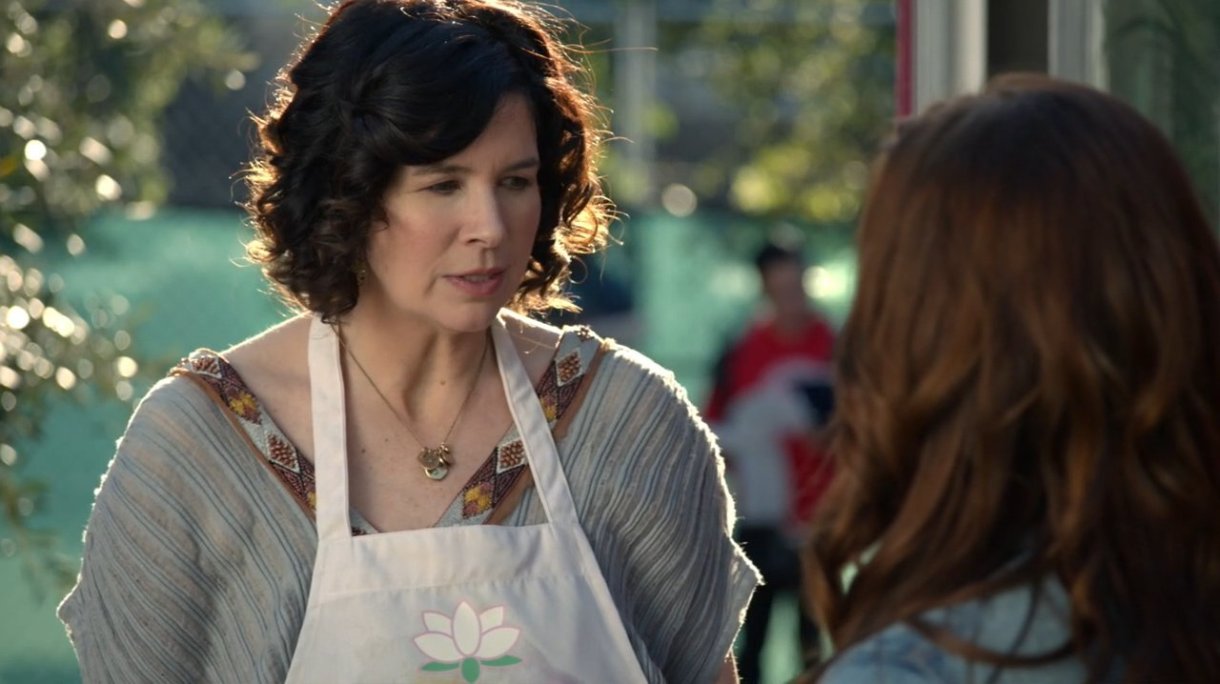 I wanna take a minute for Karma's Mom Molly because firstly, Molly's life dream is to own a food truck that sells edibles, smoothies, and soap. But secondly because this year Karma's parents came out to their daughter as poly and bisexual and introduced her to THEIR GIRLFRIEND, Diane! There is essentially zero poly representation on scripted television (seriously, I can't think of a single example) so I will take this morsel and I will bake it into a pot brownie and I will have a kale smoothie with it and fondly remember Molly.
---
Valerie Anne, Supergirl/Orphan Black/Wynonna Earp Recapper
Alex Danvers, Supergirl
Best coming out story. I originally had hoped that she was just going to have been out, and we just learned about it. "Hey I have a crush on this girl," "Cool hope she's not as bad as your last girlfriend." So at the first signs of Gay Panic™, I flinched and braced myself for a tired old awkward tale. But Supergirl brought something new to the story, and gave Alex such heartfelt, meaningful mono- and dialogues during her albeit somewhat accelerated coming out process. It was truly something to behold. Not to mention Alex herself is fierce and loyal and brave and hilarious, it's nice to have her on the team. (And she's already got great taste in women.)
Cosima and Delphine, Orphan Black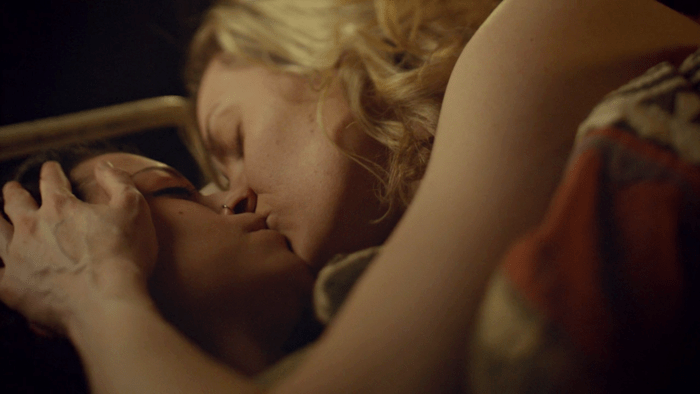 Best reunion. Cosima and Delphine being reunited when everyone thought Delphine was dead and then them having to strip down and cuddle for warmth felt like a fever dream but wasn't. I watched that episode with Heather and we literally jumped up and down and hugged like our team just won the superbowl. (And in this day and age, a queer woman being not dead does indeed feel like a win.)
Waverly Earp, Wynonna Earp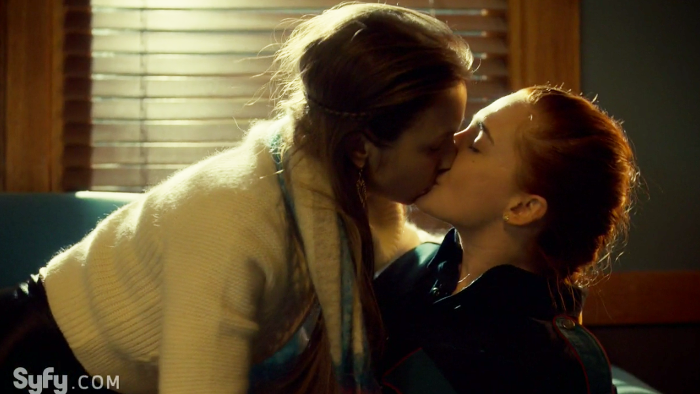 Best kiss. When Waverly Earp shut the door to the sheriff's office and CLIMBED UP Nicole Haught like she was the sexiest tree on the planet, I just about died. And it only got better from there.
Max and Eleanor, Black Sails
Best head bitches in charge. Max and Eleanor from Black Sails. Eleanor is too busy reclaiming her position on top to bed anyone right now and Max is making a red-headed LadyPirate fall in love with her (and I do so love Anne Bonny) but I will never stop hoping these beautiful fools will someday get together, because I truly think they would be the power couple that ruled Nassau into greatness.
---
Stef and Lena Adams Foster, The Fosters
The last year for the Adams Foster family of perpetual teenage insanity was typically bonkers. But amid the Hunger Games cornucopia of teen drama we still have the best lesbian moms ever on television. They are imperfect. They fight, they have a house that's falling apart, and they don't have sex enough. They are tired and snappish but also funny and loving. Most of all they're committed.
Many shows (L Word I am looking at you) don't know what to do with committed couples other than break them up, The Fosters continues to find ways to challenge Stef and Lena as a couple. They stretch and bend in ways that can be uncomfortable to watch but they always come back to each other. This season, Stef's cancer storyline allowed Teri Polo and Sherri Saum to bring more depth, love, and humor to their characters. The scenes in which Stef confronts her fears that Lena will stop loving and desiring her post-surgery were especially poignant. These two characters (and the actors who play them) are meant for each other. I've come to expect nothing less from the lesbian Coach and Tami Taylor.
Nicole Haught, Wynonna Earp
Every once in awhile you get a fairy tale hero who is every bit as good as promised. Nicole Haught is one of the first times I have seen a lesbian character be that kind of knight in shining armor. She's almost too good to be true. So much so that Wynonna calls her a walking bumper sticker. It's about time the queer ladies got a feminist hot cop with a mean right hook (and who knows enough to put on a damn bulletproof vest).
Alex Danvers, Supergirl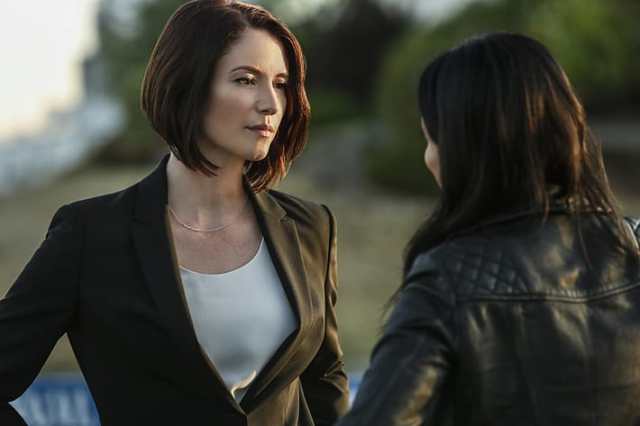 When a story gets to me I feel it in my hands. I know it sounds super weird. But my hands tingle, and ache when a story or a character resonates with me. In general it's extremely rare. But every week of Alex's coming out arc had me pausing the show to try to shake the ache out of my hands.
Stories help us make sense of our world, who we are, and where we fit. It was no surprise when Alex turned out to be the queer character the show promised us this season. She screamed queer from day one. But what was surprising was a story that was so true and real in the hands of a capable actress who broke my heart when she said "she doesn't like me… like that.wp_postsI've been there. Probably you've been there.
"In the particular contains the universal.wp_postsBy getting the details right — the reemergence of long forgotten feelings, the crushing sadness of unrequited feelings, the tumblers of a lock lining up and finally allowing us to understand what those feelings meant — Supergirl showed us that it understands us. It sees us, it knows us, and it invited us to come, sit down, and listen to a story that our hearts will recognize as our own. My hands hurt just thinking about it and I couldn't be happier.
---
Bea Smith, Wentworth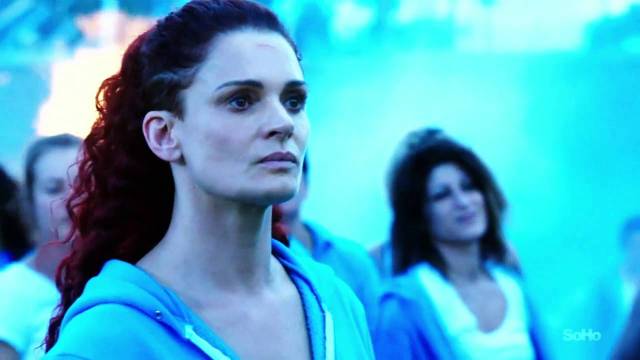 Australian prison drama Wentworth is one of the greatest and queerest television shows ever made, but I almost never tell anyone to watch it. It doesn't feel right to inflict it on a civilian; I worry they won't understand how much it asks of you, how loving it means giving it permission to hurt you and accepting that something terrible is always either happening or about to happen. I'd been through three seasons of it, accompanied the toughest fandom on the internet and Franky Doyle (who makes Alex Vause look like Lover Cindy), and we survived because we always expected the worst. But none of us expected Bea Smith to fall in love with Allie Novak, and so we could not be prepared for what it did to us.
You have to understand that Bea was already a legendary character before she kissed a girl; she was the lead on the original Prisoner series, the Top Dog of Cell Block H, and the battered, resilient soul of Wentworth. This isn't one of those cases where a boring character gets assigned remedial queerness to make them more interesting. But for all her badassery and hard-won power, Bea was and always had been miserable. So much horrible shit had happened to her (see paragraph one) that by this season she was all but lifeless, all but numb.
And then Allie Novak, another prisoner who'd been cruelly knocked around by the world, walked right up to the untouchable Top Dog and smiled. She made fun of her, even. She got her to FREESTYLE RAP. And even though she'd never been attracted to a woman before, it was enough to make Bea pry apart the bars of her heart and let in a love so strong it made them both forget they were in prison. You've never seen a character grow so much and so beautifully as Bea did during those episodes, confronted by the terrifying prospect of happiness, of a body and a heart that dared to want. The writing was a gift, the acting was a revelation, Danielle Cormack and Kate Jenkinson's chemistry was without parallel. But it was clear, from our understanding of the laws of Wentworth, that our dizzying rise had to be accompanied by an equally spectacular fall.
Bea Smith died in the season finale, and on the one hand, that made her one more name added to a list that is already unbearably long. But she died bringing down her greatest foe. She died and her spirit rushed on to prepare a place in the afterlife for Allie.
How I make sense of it is: the writers started with the certainty that they would kill Bea this season. I don't really agree with that decision, but if I take it as a given, I can give them some credit for the way they did it. She didn't have to fall in love. She didn't have to fall in love with a woman (especially since there was a hunky guard who'd been waiting in the wings for three seasons). Bea's death broke my heart like my first love, in a sharper and deeper way than I'll ever let a show break my heart again. But I can't regret it any more than I regret the happy moments of love affairs that happened to end.
I won't tell you to watch Wentworth, because I don't like being responsible for other people's tears. But if you do, Bea Smith (and Danielle Cormack) will make it worth the pain.
---
Jenna Marshall, Pretty Little Liars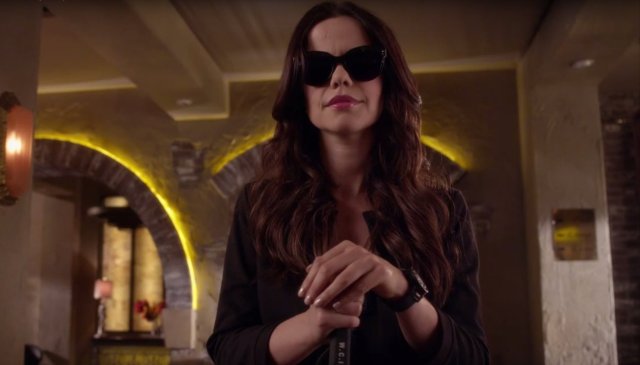 Consider the life of Jenna Marshall for just a moment. Imagine you were strolling around Rosewood, minding your own damn business, when this queen bitch Alison DiLaurentis and her cronies throw fireworks into your garage, blinding you for NO.FUCKING.REASON. Then, they proceed to A) accuse you of every crime in town B) kill all your lady lovers C) slap your sunglasses off of your perfect face and D) make fun of your disability to your face for the better part of a decade. THEN imagine that, in addition to these indignities, some Big Bad has tried to drown you the Lake of 1,000 Faces, bombs your childhood home into oblivion, and kidnaps you in a van. I think it's safe to say that Jenna Marshall's life has been one long blind 2016-style dumpster fire. In season 7A's finale, Jenna lures the Liars to a spooky abandoned school for the blind (so on brand) and just starts terrorizing them with a handgun like a Scooby Doo villain. I even cheered when she kicked Noel Kahn's decapitated head out of the way to chase after those bitches. With Pretty Little Liars nearing the end of their run, I would love to see a reboot told entirely from the perspective of Jenna Marshall. I guess I'll just have to settle for her stabbing everyone in the heart with her flute and then playing some classic jazz. Bitch cannot see, but Bitch can be one of the best characters of all time.
Yorkie and Kelly, Black Mirror/San Junipero
Let's be honest: no one is looking to Black Mirror for uplifting storylines, let alone uplifting queer storylines. The series focuses on the ways in which technology reveals our worst traits and impulses; it's usually a downer. Who would have thought that the bleak waters of Black Mirror would give us one of the most enduring and uplifting queer love stories of 2016? "San Juniperowp_poststook us all by surprise with it's twisty love story of Yorkie and Kelly, two women who traverse time and distance to find each other. While the conceit of the episode is classic sci-fi, it is the grounded, human love story that elevates the romance between the shy, introverted Yorkie and the wild party girl Kelly. Their tentative flirtations, fears, and very tender sex scene strike a chord of familiarity that every queer woman can relate too. If only we could all plug ourselves into San Junipero for the next four years, then heaven really would be a place on Earth.
Delphine Cormier, Orphan Black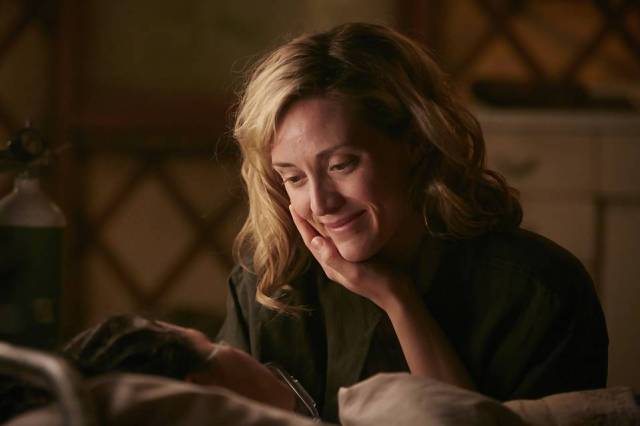 In season 3, we watched Delphine Cormier get shot in the stomach and left to die in an empty parking lot. In season 4, we watched Cosima collapse when Evie Cho tells her that Delphine is dead. We assume she is dead, because this is what happens to queer female TV characters that we fall in love with: they die. That's just how these things go. But in the season 4 finale, when it seems like Cosima is going to die in the frozen woods of that mysterious island, she is rescued by a very much alive Delphine Cormier! After getting saved by the Messengers, Delphine has been living in this tiny yurt village, working tirelessly towards a cure for Cosima and her sestras. When she finds Cosima dying of hypothermia, she strips down, gets into bed with her, and literally kisses her back to life. Cosima gives her the last bit of intel needed, and she cooks up and injects Cosima with the cure for her bloody lungs disease. It's so rare for anyone on Orphan Black to get a happy ending, but here, just for a brief moment, naked and cuddled on a cot, Cophine gets theirs. It's about damn time.
---
Willa Warren, The Family
The Family was crazymaking in lots of ways — the show literally never decided if it took place in a big city or a small town and characters would do completely ridiculous our out-of-character things because the plot needed them to happen — but I kept going back because of Willa Warren. Unlike another queer character on the show, Willa was written as a complex character first, with her sexuality just one aspect of who she was. You know, like a person.
She was the smartest character on the show, ferociously ambitious and running up against the fact that she was the closeted lesbian daughter of a "family valueswp_postsgubernatorial candidate. Willa was also the peacemaker child from a dysfunctional family all grown up, still trying desperately to make everything perfect even after a tremendous loss. Her desperate scrabbling to be the good girl and make everything OK made her increasingly willing to do very, very bad things. Little things like knowingly allowing an impostor pretending to be her abducted brother into her home. Little things like perhaps calling in a murderous hit or two.
Willa was always a churn of anxiety and calculation and Alison Pill played her brilliantly. You could always see Willa thinking, holding back a storm of emotions, and wanting the exact woman she shouldn't. And which of us hasn't done that last one? I had huge problems with The Family, but I still hold out hope that one day Willa will get spun off into the series she deserves.
---
Sameen Shaw, Person of Interest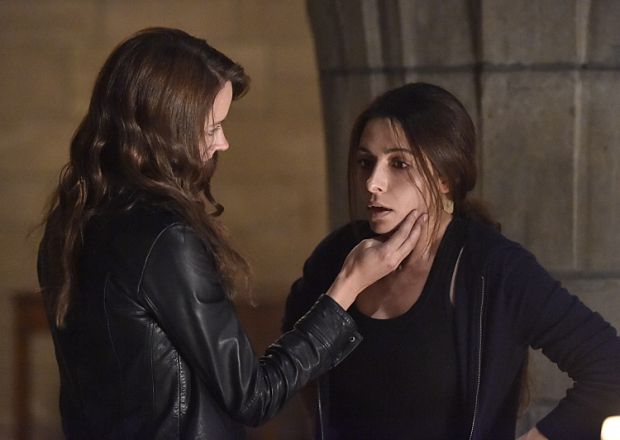 Listen, there's a chance I'm a little biased here because I would watch Sarah Shahi read the phone book, but her portrayal of Sameen Shaw in Person of Interest's fifth and final season was a goddamn revelation. Shaw, who has a self-diagnosed Axis II Personality Disorder, was put through the ringer in the final episodes (I mean, she committed suicide in more than 6,741 simulations to protect Root and their mission), and Shahi brought heartbreaking and nuanced emotional depth to her performance. The show might have ended, but Shaw is still in my heart for a hundred reasons. She's a straight line – an arrow (and I'm probably going to cry about that forever).
---
Karly, Social Media Co-Editor/Carmilla Recapper
Lexa, The 100
We were so young and happy in early 2016. It was so amazing to see Lexa return in season three, somehow more capable and more attractive. I still feel butterflies in my stomach whenever I remember the bowing scene. I felt so lucky to be able to write about her here. Lexa was a wise leader, a badass warrior, and she obviously was the best girlfriend ever. She was willing to say goodbye to Clarke for the sake of peace between her people and the selfish, awful Sky People who didn't deserve it. Sometimes it's easier to remember the betrayal and grief after her death than it is to remember the good times. But do yourself a favor and remember how great she was, and how she captured our hearts and imaginations… or read some good fanfiction. Rest in Peace.
Alex Danvers, Supergirl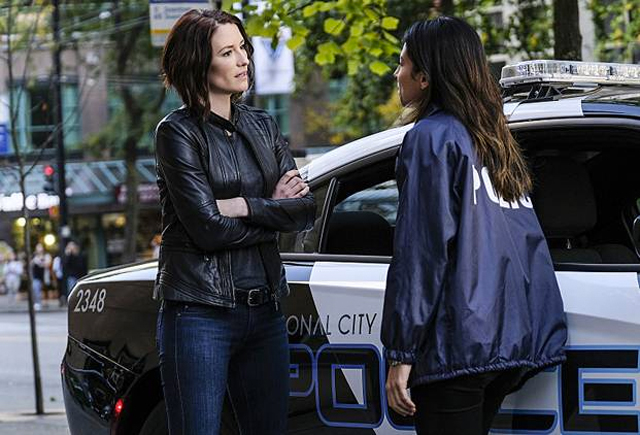 When word got out that a character in one of the CW superhero shows was going to come out of the closet, Alex was the first one I hoped for. But it felt unlikely. How sad is that? Alex is a smart, capable, and ambitious badass and she's an amazing big sister. Who wouldn't want her on our team? And what a coming out it was! Many of us realized we were gay in our 20s, when we've already figured out so much other stuff in our lives. Alex's storyline felt so real and honest. Sometimes I feel like I'd rather take on an alien menace than tell a girl I like her. But Alex is so brave and she can do both!
---
NEXT: THE WORST.
Pages: 1 2See entire article on one page