Previously on Supergirl, we met adorable human Nia Nal who is here to remind Kara who she is; a baddie who calls himself the Agent of Liberty killed J'onn's friend Fiona; the Graves Siblings were up to some Earth First bullshit; and President Wonder Woman was outed as an alien.
We open on a country divided. The president is resigning, but Supergirl is more determined than ever to fight for what's right. President Wonder Woman is glad she will, and encourages her to continue to be the beacon of hope we all need.
Outside, the protests become a riot and Supergirl breaks it up, imploring them to talk to each other instead of fighting.
Also fighting are the DEO agents, but Alex doesn't want to hear it. It's their job to defend all citizens, they can argue about politics after hours. Alex doesn't have time for their bullshit though because she has to go interrogate Otis. And interrogate him she does.
Eventually she gets it out of him that Mercy isn't working alone, even with Otis captured, and that the president is only Phase One, which doesn't bode well for the other phases.
When we cut back to check on Mercy and her bossman, we learn that she's come across some kryptonite, because apparently it just grows on trees now.
When Kara comes to check in, Alex tells her that she's worried about the unrest. She shows Kara the dark web and how the activity has multiplied exponentially overnight after the presidential reveal.
Meanwhile, Mercy kills a man in an elevator just because. Okay fine just kidding it ends up being to steal his laptop but I legit just thought she killed him because he wasn't going to hold the elevator door for her and honestly I was okay with that.
At CatCo, Nia asks James if he's going to make a public statement on their official stance about the president being an alien, but James tells her to focus on facts for now. She smiles politely and agrees but you can see something tugging at the back of her mind.
Kara goes and picks up some Big Belly Burger and brings it to Lena like the good girlfriend she is and Lena says, "You're my favorite person," then looks directly into the camera and gives me, specifically, the middle finger. Or at least it felt that way.
Lena and Kara giggle over their meals. Lena checks in on how Kara's sweet, empathetic heart has been holding up with all this turmoil, and Kara asks Lena for some help on a story she's writing. All joking and shipping aside, they are really cute and sweet best friends and I fear the day it all comes crashing down.
Until then, we get to enjoy these two gal pals enjoying a meal, and then going over records together, chatting about how Mercy worked for Luthor Corp, and how she was kind of like a big sister to her when they were small.
And while she thinks Mercy has gone off the deep end re: how to do it, Lena doesn't think Ms. Graves is all wrong for wanting humans to be as powerful as aliens. Which Kara seems surprised by, but considering the kind of tech Lena is into (and the kind of tech her own sister uses) it shouldn't be a very far leap to understand, even if she doesn't agree.
Eve comes into the office just then to tell Lena that the computer guy is dead and someone is using his stolen laptop to hack into their system. Lena jumps to work immediately, Kara standing steadfastly nearby.
While this is happening, Nia runs into Brainy in the pizza shop she went in because she was so decaffeinated it must have seemed like a logical place to get coffee. When the hack begins, Brainy's image inducer flickers off, and suddenly Brainy looks like Brainiac-5 again, all blue skin and forehead orbs. The pizza guy turns on Brainy, calling his bros with bats out to beat him down. Nia, seeing this injustice, puts herself between the three huge men and Brainy, firmly standing up for him, scolding them, using her position at CatCo to get them to back the heck down.
As they leave the pizza joint, Brainy is bummed. He thought the pizza guy was his friend. But Nia says that a real friend will accept you for who you truly are. Brainy thinks Nia looks familiar, and asks if they can get to know each other better, and Nia says he'll find her if he really wants to, half-flinching at her own line, and walks away.
Nia goes back to work with no coffee but plenty of rage. She seeks out James and instead of asking this time, she tells him that she thinks he needs to write a statement as the Editor in Chief. He says he has to wait for the right moment, that he can't editorialize right out of the gate. Nia disagrees; she thinks this isn't the time to be careful or PC, this is the time to stand up for what it's right. This is James's chance to fight for justice even though he can't be Guardian anymore.
James asks why she's so passionate about this, and Nia tells him that she's a transgender woman and that she knows what these aliens are going through. She knows what it's like to be attacked and denied because of who she is. She stood up to Brainy's attacker and made a difference, but James has an opportunity to do the same on a much larger scale.
James explains that he has to time it so that he can "reach across the aisle" to ensure the other side will listen instead of pushing them away without them giving him a chance to explain. He wants to stay balanced, and Nia thinks the time for balance is long gone. James thanks her for sharing her truth with him, and it's clear Nia gave him a lot to think about.
At L Corp, Lena won't let Kara leave her side, which makes Kara twitch because she really wants to Supergirl out right now.
Mercy hacks into the mainframe of the building and chats with the girls via the TV in Lena's office and Lena, Kara, and Eve are none too pleased to see her.
Kara does her best to secretly use her powers to keep them safe while trying to find an excuse to get away, but Lena just thinks it's her friend being scared, so she bravely assures Kara that she'll protect her.
Between Lena knowing her way around and Eve having secret MacGyver skills, the three of them make it down to where Lena keeps her newest toys to find her mother's old tech suite missing an arm. Lena moves to put herself between Mercy and Kara which is sweet if you think about how Lena sees it, and kind of hilarious when you think about how Kara must.
Mercy thinks her and Lena are the same, but Lena disagrees. Lena literally says out loud that she's the best, but also claims she wouldn't be so obvious about picking a side. So maybe she's a true neutral, who knows. Though I would venture to guess she's got a dash of chaotic in her.
Anyway, the ladies fight and it's pretty badass.
Lena sends Kara away to keep her out of the firefight so Kara finally suits up and comes back in to give Lena the upper hand. And a compliment, forgetting or not caring that Lena and Supergirl are in a feud. She says the trust thing, too: The Luthor name doesn't deserve Lena.
Supergirl and Alex put Mercy in a cell next to her brother, and the two sets of siblings snark at each other. It's kind of cute.
Over at CatCo, some alien discrimination has cropped up, being touted as a harmless prank, but James thinks back on the conversation he had with Nia and knows he has to say something now before this gets out of hand. He says that within these walls that Cat Grant built with her own two hands, there is no room for hate. Their jobs are to expose the truth, which means ignorance is their enemy. Not each other. Nia mouths a thank you to her boss, grateful he spoke up.
In the DEO's holding area, Mercy talks to Jensen, the whiny agent who keeps bugging Alex, and preys on his anti-alien sensibilities. He starts out all, "I trust Director Danvers," but he's looking rather twitchy.
In his own lil' side plot, J'onn is wandering around National City looking for Fiona. Eventually he finds his way into her apartment and onto her laptop, which leads him to a police officer, who he finds spouting off anti-alien bullshit in a bar. He claims he doesn't know Fiona, but J'onn follows him anyway, and finds himself at some kind of scary, horrible hate rally where all the human nationalists are having a meeting of the scumbags, lead by none other than the Agent of Liberty himself.
At the DEO, Brainy is having a bit of a breakdown because he didn't give Supergirl the right advice earlier when he was still a little shook from his encounter with the pizza men. He confesses to Alex that he doesn't quite understand what happened. He was a regular at the pizza place, finding out he was an alien shouldn't have changed their opinions of him so suddenly, so violently. Alex, a gay, understands.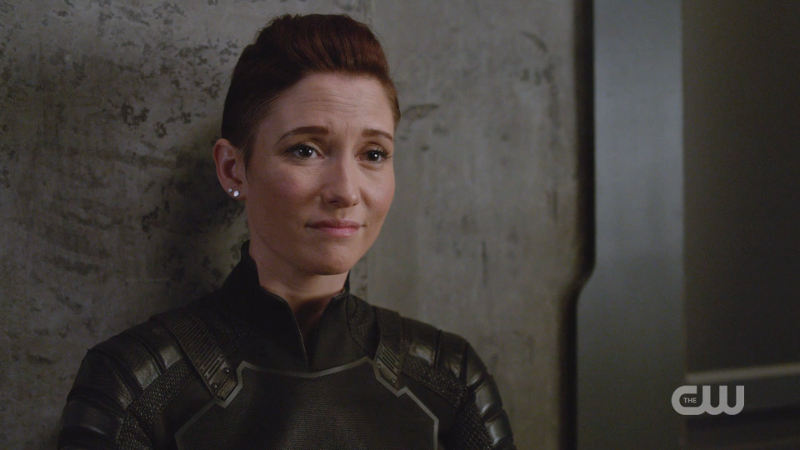 But she assures him that not everyone is like the pizza guys. And she sort of reiterates Nia's point, those who mind don't matter and those who matter don't mind. And she tries to make him smile by assuring him that next time someone is mean to him, she'll take care of them.
Supergirl takes a few moments to speak to the entire country. She tries to get them to see past alien vs human, saying our character isn't made up of where we come from, but what we do. She knows the Graves siblings want the country to turn on each other, but Supergirl begs the nation not to. While she does her level best to be the beacon of hope everyone wants her to be, Jensen is glowering in a corner.
By the time Alex checks in on him again, Jensen is missing along with both Otis and Mercy.
As Supergirl flies home from her meeting with the new president, assuring him she's still going to be protecting people as much as she can even though he's not Wonder Woman, suddenly a green cloud burst into the air. Her lungs fill with kryptonite and her veins glow green and Supergirl falls from the sky.