Hi! Surprise, it's me! I'm covering for Heather while she's out!
In case you missed it, this week started with Carmen's Vida recap, which has a delightful title. Riese made the best Killing Eve listicle ever made about how this show about an assassin and an FBI agent would be is more #relatable than we could have imagined.
Carmen sent me this link about how APPARENTLY Alison "Kinda the Worst" DiLaurentis LEAVES Emily "Pretty Much the Best" Fields in the pilot of The Perfectionists but I'm going to let Heather unpack that one when she gets back because even though I was an early Emison shipper (like I shipped their flashback selves, not their adult selves) this fills me with so much rage I can't even form coherent thoughts. (And just to be super clear, I loved Alison as a character, I thought she was fascinating and flawed and a great villain when she was the villain, but I'm on Team Maya all the way. If you never see me here in Boob Tube Land again, it's because Heather came back from vacation and saw what I just wrote and threw a garbage can at me.)
I've heard rumors that there has been some lesbian activity on Into the Badlands and that's my beat so it's technically my job to tell you about it HOWEVER I'm still not caught up on all of my TV post-camp and this week I was very busy writing you things like my Alex-centric Supergirl recap and a review of Natasha Negovanlis and Annie Briggs' webseries, CLAIREvoyant, and so many more things that aren't specifically TV related so are not currently relevant. So I'll have a four-episode mad-cap for you in next week's Boob Tube, I promise! I'm also behind on Westworld but I think the only queer thing that has happened there is that Evan Rachel Wood, Bisexual continues to be her badass self. I'll report back.
Okay, that's enough from me, let's hear from my fellow TV Team-ers about what else went on this week.
---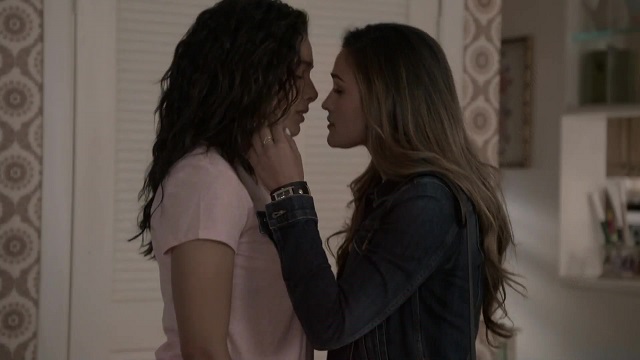 Last year, GLAAD released a report called Still Invisible that looked at programming on the three major Spanish-language broadcast networks (Univision, UniMás and Telemundo) and found a dearth of LGBT representation. Of the 698 characters on the networks' scripted primetime series, only 19 were LGBT characters and, of those, just 6 were women. And while Spanish-language television still has a long way to go before achieving the goal of #pantallainclusiva, Telemundo has added to its ranks with Mi familia perfecta.
The show itself, which debuted back in April, is about the Guerrero family: five kids left to fend for themselves after the death of their father and the deportation of their mother. Think Party of Five but, in Spanish, with an entirely Latinx cast and with the threat of deportation always looming large. One of the Guerrero five, Marisol (Gala Montes), is a soccer savant and joins a prestigious local club team with her best friend and neighbor, Génesis (Michelle De Andrade). While a few of their new teammates are insufferable, one of the team's captains, Megan (Estefany Oliveira), is welcoming…too welcoming for Génesis' brother who reads Megan's actions as flirtatious. Later, Génesis confronts Megan about her brother's suspicions and Megan proudly acknowledges she's gay but says Génesis shouldn't worry…she knows Génesis isn't gay and, even if she was, Génesis isn't her type. Génesis seems both relieved and bothered Megan's admission.
Some weeks later, after she intervenes to stop a fight between Megan and one of their insufferable teammates, Génesis admits that there is something between them. Megan agrees, even if its not what she intended when they started their friendship, and the two nearly kiss, but are interrupted by Génesis' mother (Karla Monroig). The next time they're alone together, Megan comforts Génesis over some upheaval at home and, after assuring Génesis that she can count on her for anything, Megan leans in for their first kiss. Or at least I think it was their first kiss because the show panned away before we could see their lips connect.
Listen, kudos to Telemundo for addressing a void in their storytelling. I can't help but imagine what seeing a couple like Megan and Génesis could do for young girls, who are discovering their queer identity while watching telenovelas with their abuelas…it could be such a lifeline. That said, when Mi familia perfecta features a young lesbian couple — who are, without a doubt, the least problematic relationship on the show — but censors their moments of intimacy, they're doing a disservice to very people who need to see that representation the most.
That said, I really do love this show and I'm hoping that we'll see more of this adorable couple. Mi familia perfecta airs weeknights on Telemundo at 8PM and you can catch up on the entire series at telemundo.com.
---
Quick Hits
Queen Sugar 301 & 302: "Unto The Song" and "Of Their Sojourn Here"
Welcome back to The Queen Sugar Fan Club! We are glad to have you. The Bordelons are back together for another summer. So far nothing gay has happened in Nova's life, but she has Rutina Wesley's face and arms, so hey — there's always home on the horizon. Nova's also at the crossroads of a major career decision, leaving her life at the newspaper for the potential of a new book deal. Queen Sugar opened the season with a plot addressing the ongoing civil rights protest of kneeling during the national anthem, which feels important and newsworthy at a time when ABC wouldn't allow blackish to air a similarly themed episode early this year. — Carmen
Legion 209: "Chapter 17"
Shout out to 'Straddler Kristana, who gave us a heads up earlier this week that in the newest episode of Legion, Aubrey Plaza's Lenny had sex with a woman. Exciting business! Unfortunately, no one on our team is caught up with Legion just yet (Valerie and Riese watched season one, but haven't seen the second season), so we don't have a lot of details to share. But I love you all, so here's a gif from the episode of Aubrey Plaza making out with a girl on teevee. Enjoy! — Carmen
Looks like Maddie Johnson and the Bumblers may have pulled their last con, as Bravo cancelled Imposters after the second season's penultimate episode aired last night. The show, which has, reportedly, done better on Netflix than its done on Bravo, is being shopped around to other networks. — Natalie