Hi crush monsters, this is Straddler On The Street, a feature where I celebrate all of you incredible Autostraddle readers by hunting you down, demanding you chat with me, and then writing about you on the Internet so we can all crush on you. Get excited, because butterflies in your stomach 24/7 is a fantastic way to live.
Header by Rory Midhani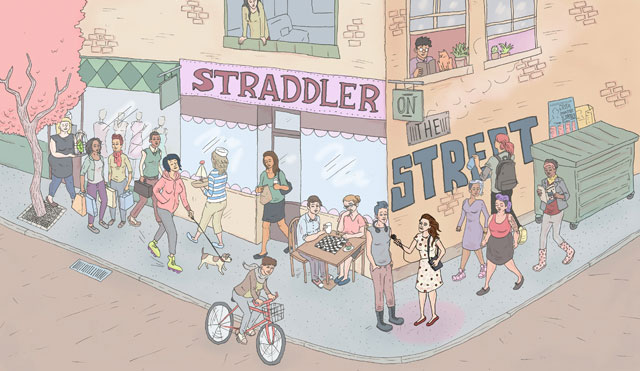 ---
Straddler On The Street: Natalie, 30
The first time I properly met Natalie was on a hike at A-Camp, and once we started talking we just couldn't stop! She described herself as a "completely open book" and I found that was true – it was really exciting and refreshing to be around someone so genuinely honest and open.
Natalie and I talked a lot about her job at the Wisconsin Department of Natural Resources, how to build community while still holding on to one's independence, the trans* community she has sought out at home, and her desire to be part of a larger queer community in the rural area in which she currently lives. I knew I wanted to discuss all of this with her in more depth (and when we weren't avoiding icy patches on the mountain trail that threatened to trip us up and send us plunging to our doom!) so as soon as we got home I insisted on interviewing her for this column. And now here we are! I love when everything works out.
Hi! How are you?
I'm doing awesome today! I don't typically get to dress up for work – what I do is more a 'jeans and t-shirt' kind of job. But today was a meeting so I was able to straighten my hair and put on makeup and all that lovely stuff! Other than that, I've been super busy the past month… but it's a good busy.
That all sounds awesome. What do you do for work?
I've had numerous awesome jobs, but the one that currently occupies my time is as a Wildlife Biologist for the Wisconsin Department of Natural Resources.
Oh neat. Where in Wisconsin do you live?
I currently live in Random Lake. Before you ask, yes, it really is named Random Lake. I moved back home when I left my job in Oregon in 2008. There are some definite perks, and some definite downsides! But it's home, at least for now.
Can you talk about some of the perks and downsides?
[When] I moved back in 2008, I didn't have a job, so I moved back in with my mom. I'm so fortunate that I had this place to move to. I was unemployed for nearly two years before finding the position that I have now. [That said,] I miss living in a place that I can call my own. A place where I can make the decisions about how things are decorated or how often I have to clean – I hate to clean! I just really miss my independence.
But there have been some really solid perks that I can't dismiss! First and foremost, finally having a stable living situation has allowed me to move forward with transitioning. I'm transgender, and living here allows me to put all of my limited financial resources towards costs like traveling to doctors appointments, laser hair removal and electrolysis, and buying a completely new wardrobe. It's so expensive, even shopping at thrift stores. Living at home has also allowed me to pursue my passion with falconry. After 14 years of dreaming, I've been able to obtain my license and take care of my hawks because of the stability I've found here at home. Plus, my relationship with my mother has never been better.
I definitely empathize with missing your independence – I've been living at home for the past few months and feel the same. I want to talk about your age; when we spoke originally you said you're 30 but you feel more like you're in your early twenties. Can you elaborate on that?
Sure! Feeling like I'm in my twenties is a function of my transition. I was 28-29 years old when I began transitioning. I spent 18 years sort of drifting through life. I followed society's plan and did what I was supposed to do, but I don't think many, if any, of the major decisions I made were really 'my' decisions. I didn't start actively participating in my life until I came to terms with my gender identity. I didn't really 'own' my life, and the direction I was headed, until I began transitioning.
So here I am now, 30 years old, yet feeling like it's all just beginning again! I'm going through puberty. Again. I'm struggling to find my identity and my place in the world. Again. And I'm searching for my community and trying to find my passion in this life. All over again! Perhaps I'm wrong in assuming that every other person my age has their shit together and knows what they're doing, but I feel like I'm back at square-one. I also feel like I'm so much younger because of the changes in my life physically. Since accepting who I am back in 2011, I've lost 70 pounds and kept it off, and I've run one 10K race and two half-marathons! I've never been in better physical shape in my life. I feel amazing. I feel like me.
That is so incredible. I'd love to hear more about how you came to your transition, if that's okay.
That's definitely okay; I'm seriously an open book!
I spent my life pre-transition keeping secrets, [but] all that did was keep me disconnected and closed off from all of the people who loved and cared about me. I knew I was 'different' right around the age of 11 or 12, but I didn't have the vocabulary for what I might have been feeling. And I've always been a very perceptive person and a quick learner, so it was apparent to me from a young age that what I was feeling was not okay for a boy. So I hid it deep inside.
Complicating matters greatly was going through puberty fueled by testosterone. It was so confusing trying to sort out all of my feelings, so I just did my best to keep them repressed and hidden away. There was a great deal of guilt and shame attached to these feelings back then. The very darkest days of my life came in high school. Knowing I was different, but not knowing why. Not feeling like I could do anything about it left me in a terrible depression. Of course I did my best to hide that from everyone too. But every now and then I would just stop talking to everyone. My best friends didn't know why and I couldn't fathom telling them. I openly admit that it was during this time that I briefly considered suicide.
Moving to college allowed me the freedom to explore who I was, when I let myself. But I usually found a relationship to bury myself in. It was easier to help everyone else with their problems than to face my own. So I traveled in emotional circles. One month I was certain I was going to transition. Two months later I was convinced I could purge my life of all the clothes, and all the feelings, and be happy being a man. A husband. Possibly someday a father. It was exhausting.
Did you have a moment when you decided for certain that you would transition?
One night in February of 2011 I knew I couldn't go on that way. Denying the feelings wasn't working. It hadn't worked in the 18 years I had been trying. The one thing I hadn't tried was accepting it. Accepting that I am trans*. That I am a woman. I had let fear run my life for too long. For the first time in my life, I was moving forward, free from the vicious cycles. I found support in YouTube channels. And I found the courage to write and reach out to people. I began sharing who I am with my friends, and later my family. It took me a year before I could work up the courage – and work past a pretty good case of social anxiety disorder – to attend a support group meeting in Milwaukee. Slowly, I let go of all the vestiges of a life I had been hiding behind and allowed the world to see me for who I really am. I was terrified! But that was no longer a good enough reason not to move in this direction. I came out publicly and [told] my job on March 28th of this year, and honestly, my life has never been better! It's such a cliché, but colors are brighter, sounds are clearer, smells are sweeter! I feel so freed. I'm such a bright, positive, extroverted person now. It's amazing!
That is really, really wonderful to hear – seriously, I'm grinning! How did the people in your life react?
I mentioned how much I had let fear run my life, and one of the greatest fears of all is rejection. I truly believed that if anyone found out, they would disown me, and I would be alone. So I came out in stages. Each time, I came out to a modest size group of friends and evaluated their reactions. I worked my way from people on the periphery of my life inward to those who meant the most to me. And each time I outed myself, I waited for the shit to hit the fan. I waited for the negative reactions I just knew I was going to get. And they never came! All the preparation for things going badly was for naught!
I may be tempting fate here, but I've had almost zero negative reactions since transitioning. It's been completely the opposite from what I was convinced was going to happen in this rural part of the Midwest where I live! I know how fortunate I am, and often I feel guilty about it. My story is not typical. I still have the support of my family, my friends, my job. Too many others can't say the same.
That's unfortunately true, but it is really heartening to hear how positive your story is, particularly because you weren't expecting it. Do you like living in the Midwest?
I'm such a Wisconsinite! I love my home state. It really has it all for anyone willing to give it a chance. That being said, I do want to move. I have a nomadic spirit, and there are so many other places in this country, and world, that I want to experience, and explore. I also hate humidity. Summers here can suck that way. And I hate what it does to my hair, now that it's long and gorgeous. But the winters, with all the snow, are wonderful. Don't believe all the haters. Snow rocks, if you're willing to get out and embrace it!
When we talked at A-Camp you mentioned that despite loving your home state, one of the downsides right now is that you feel disconnected from a queer community. Can you speak to that a bit?
Yes, that would be one of the major downsides to where I live. I'm about an hour north of Milwaukee, and two hours north of Chicago. Before attending A-Camp, I had never been in the company of more than one or two queer women. One of my current sources of frustration in life is with how disconnected I feel from any sort of queer community. I don't have friends who I can easily or regularly spend time with. I don't have a whole lot of outlets for this aspect of my life.
I attended A-Camp this past October in an attempt to find a community and to make connections to people, and I think I've made some wonderful connections indeed. But I'm still very isolated living where I am, and it's one of the major factors I think about when considering moving.
In the meantime, I've started the Badger Straddlers group in an attempt to connect to all the amazing and wonderful Straddlers that I know must be in my home state. Please join and let's hang out!
I'm so glad you started that group – consider this an open call for all the Midwesterners to join! How did you find out about A-Camp?
My introduction to Autostraddle came during my earliest days of transitioning. I mentioned watching a lot of YouTube channels for information and support. One of those is Translabryinth. The lovely M, whether she knows it or not, brought Autostraddle into my life!
I followed, and fell in love with the site over the next few months and years. I knew about A-Camp, but didn't know if I'd ever be able to go. Or if I went, if I'd ever be accepted. I'd done a lot of reading about how a large portion of the lesbian community does not recognize transwomen as women. But Autostraddle's unequivocal support of the trans community put me at ease, and the personal recommendations of my friends Jen and Morgan sealed the deal! Only a month or so before camp was to begin, I committed to go. 2013 is my year, and October A-Camp could not have been a better way to enter this chapter of my life.
Can you talk about some of your favorite parts of A-Camp?
I still can't believe that, as a native of Wisconsin, my first snow for the season fell in Southern California! It was a wondrous snow kingdom and it made me so happy to see all the campers who experienced snow for the first time in their lives. I sort of take it for granted, growing up where I did.
I had the very best canoeing experience of my life on that crystal clear water of Jenks Lake surrounded by so many beautiful queers. And prom! I danced for the first time since puberty – the first one – and it was so much fun! But most of all, what I take away from camp are the connections. Connections to strong, courageous, intelligent, beautiful people.
Do you have a celeb crush?
I have far too many! Natalie Portman… Amy Adams… Zooey Deschanel… and I would be remiss if I didn't mention DeAnne Smith and Hannah Hart.
You said 2013 was your year – what comes next?
I'm looking to find some financial stability and get out on my own! I'd love to be able to travel more. I'm looking to get more involved in my local trans* community, as well as get more involved with Autostraddle. I'm also looking to find a partner to share this amazing life that I have.
Do you have anything else you'd like to share with the Autostraddle community?
I'm so very open and excited to meet and get to know all of you! I'd be honored if you'd join the Badger Straddlers group and help me build an awesome community here. Don't be afraid to face your fears. Don't be afraid to fail. Just be you… 'cause you're awesome!
---
If you would like to be featured as a future Straddler on the Street, please email vanessa [at] autostraddle [dot] com. Include a few photos, 3-5 sentences about yourself and put "Straddler Submission" in your subject line. Approximately a million people have submitted so far, so please be patient as Vanessa goes through her inbox — you're all sexy with really smart brains, and don't you forget it!