Hi crush monsters, this is Straddler On The Street, a feature where I celebrate all of you incredible Autostraddle readers by hunting you down, demanding you chat with me, and then writing about you on the Internet so we can all crush on you. Get excited, because butterflies in your stomach 24/7 is a fantastic way to live.
Header by Rory Midhani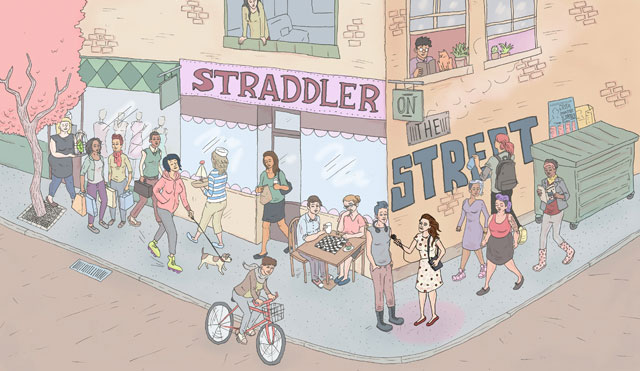 ---
Straddler On The Street: Emily G., 23
Emily is possibly the most enthusiastic human I have ever met. She has a degree in Entertainment Business and a desire to collaborate with every Straddler on the planet, she's attended all three A-Camps and is joining us for #4 in October, she runs the A-Camp tumblr as a completely voluntary labor of love, and she has the ability to get me excited about every thing she ever mentions, even movies I have literally never been able to stay awake through.
This girl is a ball of amazing power queer energy, and you are gonna wanna hear every single thing she has to say… if you can force yourself to tear your eyes away from some of the most inspirational queer hair you will ever see.
How you would describe yourself to a stranger?
I'm an outgoing introvert. I'm an INFJ which I've read is rare.
I've never done one of those tests – they intimidate me!
I really dig Jungian studies of the mind… I guess I'm also cerebral. I live in mine and others' heads a lot. I like alone time because I get to stew in ideas. That's probably one of my favorite parts of A-Camp: it's an idea jambalaya.
Speaking of camp, can we talk about the rad A-Camp tumblr you run?
I got back from the first camp and I thought at one point, "Who's gonna make all this rebloggable?" Then I thought I should just go for it because everyone's so hilarious and good at memes and it has just sort of grown. It's fun, it's like tending to my little A-Camp window garden in between camps.
It is so wonderful…one of my favorite things on the internet.
Wow that's high praise indeed! Thanks!
Of course! I think the fact that it's run by a camper and not a staff member makes it even more special.
Yeah I like that too. I remind people that it's unofficial. I can't answer for staff, but it feels a little official that I'll be a fourth-time camper so I guess I'm prettyyyy into camp!
We are into you being into camp! This seems like a good time to ask about your CAMP FEELINGS.
The first time I gazed upon the idea of camp I was in college studying Entertainment Business at a university that's 85% male and overall pretty damn hetero. Also it was an accelerated degree so the school year was all year round. [It was] really intense so I was thinking, "Damn right I could use a vacay," but mostly it felt like being around a bunch of queer women would be a total relief. When I got there it was like we all finally found each other! I was in [the cabin] Forever 21 which we immediately renamed 21 Hump St. It's still hard to talk about the first camp and capture what a petri dish of emotions and sensations it was…
As someone who was a camper at the first camp as well, I totally know what you mean. Next up can we talk about your adorable girlfriend? When I interviewed her for Straddler On The Street she told me you guys had a U-haul road trip adventure from Florida to California?
I got a particularly adorable girlfriend snoozin' next to me! She's the cutest. And yeah, we totally U-hauled.
Was it fun?
Oh it was! I have approximately 203945 pictures and a boatload of video clips I'll one day put into a road trip video.
I've never driven cross country so it sounds very Exciting with a capital E.
Dude weather is SO wild when you're in a prairie with nothing but miles of road in front and behind you and just tumbleweeds on either side. I saw it storm miles away to my right, and sunshine bursting from clouds to my left. And lightning. Yo, we saw some trippy lightning.
What are some of your favorite moments from the trip?
Definitely seeing all the nature and weather in ways I hadn't seen in person before. The giant rock formations and incredible sunsets and the sense of Oregon Trail Adventure, all with my Izzy sprawled out on top of me or peering out the window with me – Izzy's my kitty.
How long did it take you guys to get from coast to coast?
About five days. Quite a long adventure which Cheryna is in no hurry to repeat ever ever because she did more of the driving. I always rave about it like it was wonderful and Cheryna always reminds people that it was exhausting and scary too, because when you're approaching a mountain and you're gettin' a little low on gas with 50 miles to go there's definitely some suspense. And gross leery truckers are always a drawback on a cross country road trip.
Ugh, gross leery humans in general are an upsetting part of life.
Word. But pulling over and taking family pictures in front of the U-haul with Izzy like some dykey gothic farmers was delightful and I'm super glad I insisted on it.
Oh my actual god, please send me that photo.
Another thing I'd love to talk about is your style because it is RAD. Can you talk about your style evolution?
I was a baby riot grrrl in middle school and through high school where I was introduced to raves and so some nights I was all about that PLUR life. I listened to a lot of metal, industrial rock and crazy ass techno rock genre defyers like MSI so I was always mish-mashing my different inspirations. I started dying my hair in fifth grade, which I initially did to piss off everyone at the Catholic school I attended, most specifically the religion teacher who always made an example out of me because I wasn't even a Catholic – like seriously why was I even there?
Anyway, through middle school and high school I did so. many. things to my hair. In college I knew I was in a very temporary place of not job hunting and definitely trying to avert straight dude attention so I just got really really ambitious and had the best hair time of my life.
Stef specifically wants to know how all your awesome colorful hair doesn't bleed when you wash it.
I keep the colors from bleeding by washing the dye out with cold water… I could talk about hair 5ever.
That's okay! Hair is Really Important, especially for queers.
Yes it is! I gave a presentation about queers and their hair in my Entrepreneur class. I always gaze longingly at the Phresh Cutz station at A-Camp. Katrina's got it goin' on with her clipper skills.
She really does, doesn't she? So now that you're done with college, what are your future plans?
Hm, hopes and dreams… The picture is a little vague which is fine, it wouldn't turn out like I pictured it anyway. But I know that I'm pushing for queer media of all kinds and am constantly exploring my own skills and potentials and what that could mean for me.
I've been working for Lila, an incredible rising queer artist for about a year and a half, and since I graduated and moved to Oakland I've been diving into production work. At university I was really involved in our queer group on campus and the women's networking group. I gave presentations on media literacy and I organized and held screenings of Miss Representation for all of the degree programs – film, gaming, show-pro, entertainment and music business.
My goal is to do a lot of dabbling, really. I love coordinating events, managing sets, and coming up with promotional campaigns and branding strategies. It's all fun as long as we're making something exciting, and working with queers of color, women, and other underrepresented people.
That all sounds so great. Do you want to stay in California?
NorCal is so dope, it's the coolest place and I appreciate Oakland's rich history and unique current dynamic. It's a really special spot in the world. But the pads of my feet itch for Pittsburgh. I'm a Yinzer born and raised and you can't take the 'Burgh outta the Yinzer.
Um… will you laugh at me if I tell you I don't really know what that means?
No one knows what that means outside of the Tri-state area, haha! A Yinzer is a pierogie-eatin'-Pittsburgheese-speakin' native of Pittsburgh, Pennsylvania.
Aha! Got it.
The place has the most incredible character. It's like no place I've ever been. Steel bridges everywhere. Some are ages old and black and rusty, some are brand new and golden yellow and it's got the most incredible feeling I could easily spend hours trying to capture in words. It's home. It really made me so much into who I am.
What are some of your favorite date spots, both in California and in Pittsburgh?
In Pittsburgh, gotta say random adventures to old train tracks, abandoned warehouses, or Phipps Conservatory if you're feelin' fancy. Also Kennywood – best amusement park ever – all day.
So far in the Bay I've also found my favorite dates to be explorations. We take drives up and down the 1 along the coast. Up goes through Redwood Forests and down takes you to kitschy little seaside towns and the views are friggin' spectacular. I'm a sucker for a ghost town or abandoned anything, which is why I'm amped to have lots of friend dates queued up with Grace Kim of Best Day Project.
YES, GRACE! HI, GRACE! I love Auto-friendships. What are some of your favorite books?
Women Who Run With the Wolves by Clarissa Pinkola Estes, A People's History of the United States by Howard Zinn, [anything by] Kate Bornstein of course… I'm only getting started on my Audre Lorde journey, but I am a proud owner and lender of RuPaul's Workin It.
And your favorite movies?
I was raised on two videos, Victor/Victoria and Tina Turner's Private Dancer tour. I can't live without Paris is Burning, Hedwig & the Angry Inch, Saving Face, Cabaret, and Phat Girlz, to name a few. Also The Big Lebowski. I sometimes identify as The Dude but who doesn't?
Can I tell you a secret? I have watched that movie approximately seven times and I never, ever, ever make it through the whole thing. I always fall asleep!
Haha that probably means you are The Dude then! That character wouldn't make it through his own movie.
Hmmm okay I will try to investigate, but I'll probably fall asleep.
Don't even worry about it, Vanessa. Fuck it and go bowling instead.
Is that what The Dude would do?!
Yes!
Okay I am totally down. But before I do that, let me ask you my final questions! How did you discover Autostraddle?
I won't get into the sad trombone bits but I was in a reaaaaallly isolated space in my world [from ages] 18-20 and I spent a lot of time with my computer. I don't really remember the first time I visited for sure but that was the period I read tons and tons of posts.
I'm glad you found us, and that you're in a happier space now.
Yes much! Making it better is a privilege… I know no matter what shitty situation I was in I was lucky that I was able to dig up the resources to find a way out.
Indeed. Do you have anything else you'd like to share with the Autostraddle community?
Signal boosting! There are so many amazing Straddlers creating things. I think we're a group of power queers and I can't wait to collaborate with more Straddlers to make more bitchin' stuff!
Also I started a new blog dasqueer.tumblr.com for queer intersectional media stuff.
I definitely wanna plug Lila Rose. If you're not familiar check out her Autostraddle feature. She's got a brand new music video for her song "Heart Machine" and I helped make it! I'm super proud and hella hella amped about the video.
And if any Straddlers want help, get at me!