Approximately/exactly 22 days from this very moment in your tender yet wild life on this crazy planet, the sixth Season of Skins will premiere on a channel in a country I do not live in, which means approximately/exactly 23 days from this very moment in my tender yet wild life on this crazy planet, I'll be downloading this shit from some superfan's tumblr. Are you excited? Then you're in the right place, we have the same feeling, let's smash our feelings together and have all the feelings. This post you're reading RIGHT THIS VERY SECOND contains heaps of information about Series 6. I found a healthy portion of this information very upsetting due to my irrational attachment to Minky (aka the idea that Mini and Franky could be together or make out or whatever), but having only slept 5 hours in the last two days, it's difficult for me to form an opinion on anything, really. Let alone write a sentence.
First up is the Season Six official trailer!
So, if you're anything like me, when you're not accidentally leaving the ice cream on the cutting board, you're saying out loud to the wall, "I WISH THERE WERE MOAR GAY BOYS ON TEEVEE!" Right? I mean, if we wanna see Franky and Mini make out, we can just go to sleep and dream about it. But gay boys. Gay boys! Put them on the TEEVEE!
Yes, Series Six will feature a brand new character. His name is Alex, which is the same name I give to the baristas at Starbucks. He's a pyromaniac!
This is what the actor who play Alex says about Alex:
"He sleeps around a lot. Alex doesn't have long relationships with guys. In episode three he has sex with guys just to relieve tension… He likes the adrenaline rush. He knows what he wants and exactly what he's doing it… Alex IS a caring person. Although he shags these guys and doesn't really care about them… he cares about his friends and the people in his life."
Anyhow, I've said actually semi-genius things about Skins in the past, but today is not one of those days. Today I am a vessel of information about Skins grasping desperately to my most recent memory of the English language. Let me cut to this chase: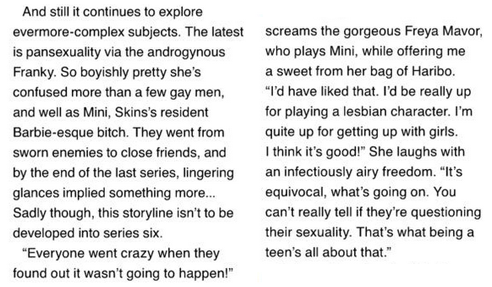 So don't look at this and get any ideas: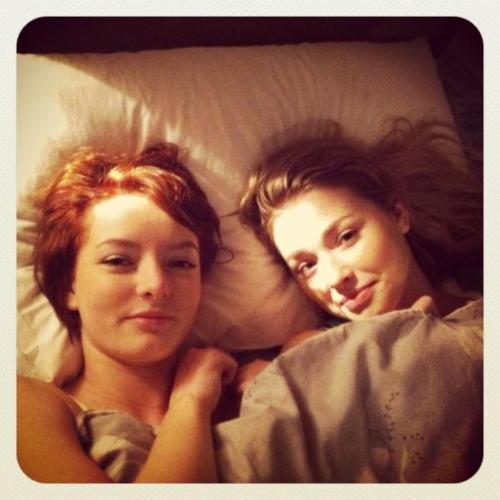 But there's still lots of other neat things to look forward to. Sometimes I wanna get all like ARGHHH WHERE'S THE LEZBIANS but at the same time, that's because I spend truly unhealthy amounts of time analyzing pop culture from a queer/feminist perspective, so it's like a knee-jerk reaction. I like this show, I'll try and trust that they're telling the story they need to tell, regardless of if that story isn't also my own, or yours.
Actually Skins is rare amongst my favorite shows as being a show which played out an entire lesbian storyline between two main characters. FYI, my other favorite shows are: Six Feet Under, The West Wing, Friday Night Lights, The Office, The Wire and My So-Called Life.)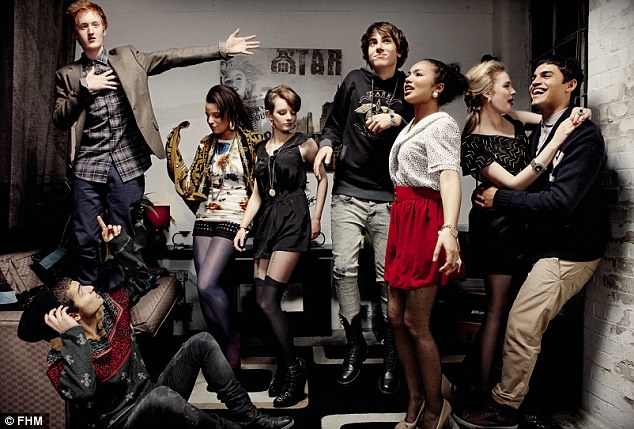 Check out this interview:
Any new issues covered?
Alex: Tons! The big theme is how girls are treated by guys in society.
Sam: There will be a lot more sex!
Sean: A lot of violence, a lot more drug-filled issues, and sexuality preference. A lot of adult themes that start to affect us.
Do you worry how young viewers perceive you and the storylines?
Dakota: I do. In the next series there are seven sex scenes, five of which I've been a part of. I don't want my younger sister to watch it, let alone people I don't know.
Laya: I think a lot of kids are going to be doing it anyway. I like that people can relate to the show. I remember relating to thes how when I was watching the first series. That's why we're doing this; why I'm doing it.
Also, Dakota says this, which is funny, because I said almost literally the exact same thing last year. Maybe everyone says it?
Dakota: The difference with Skins is you see the shit side. When you see the characters taking drugs, we don't then look perfect the next day; we have hangovers and feel like crap. It's not like some kind of fantasy; it's showing what it is like for people who live that kind of lifestyle.
Also, this is funny:
Any off-camera romances?
Laya: Be nice to think, yeah, but no! The boys are like annoying brothers you want to get away from half the time. They come to us for girl advice, to them we're chicks with a dick.
Jess: Sean thinks we're the most disgusting chicks ever.
Laya: Sean's the type of guy who likes his girls pristine and well-kept.
Freya: And obviously he never dates girls who get their periods!
 Also I don't know how I feel about this (really, I don't, I'm not just being Miley):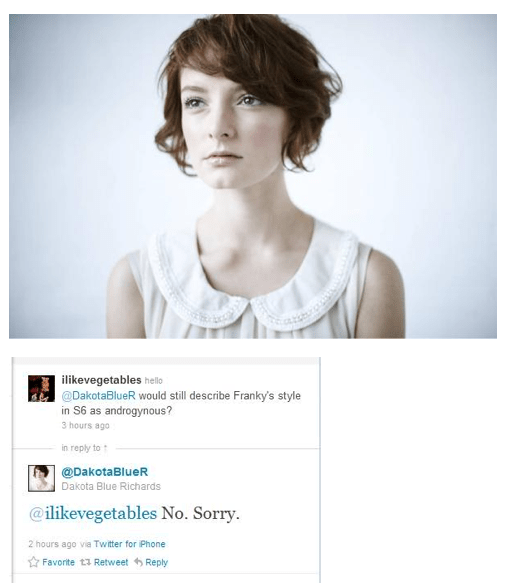 What do y'all think? Are you excited for Skins Season Six? The thing about Skins is that it surprises me a lot, and thinks of things I'd never think of.