Welcome to 2012! It's the end of the world as you know it, right? Well, whatever. There's still good news to be had at the dawning of a new year of love / feelings / friendship / Autostraddle reading in your underwear.
And I have this video, groundbreaking women, more gay marriage news than you can handle, and 23 love stories to prove it:
I Want To Help You Like 2011 In Hindsight
+ So did I mention SheWired compiled lists of 2011's hottest butches and best moments with respect to women in sports?
+ Also, Autostraddle is celebrating a huge year of super good writing.
+ Jezebel has some quick-and-easy resolutions for you.
First Black Woman Mayor: "If Anyone Can…She Can"
Karen Freeman-Wilson is now the first black female mayor of Gary, Indiana ever. The challenges she faces are numerous – among them high crime rates, unemployment, and the city's infrastructure – but if "anyone can do it…. it's someone like her."
Freeman-Wilson is also apparently like Leslie Knope, actually:
Freeman-Wilson isn't tackling the challenge of getting the town frequently featured on lists of America's most dangerous cities on the right track by herself; she's surrounded by a team of advisors with impressive backgrounds. Think of Freeman-Wilson as Leslie Knope and the rest of her team as sort of deputy Leslie Knopes. And the town's about to transform into a real-life Parks and Recreation, but with an all-Gary native cast. And instead of a Sweet'ums factory, innumerable smokestacks spewing fire and black clouds of particulate.
Gay Marriage in Two New States, Cancun
+ Delaware and Hawaii began offering and recognizing civil unions at midnight on New Year's Eve. And it's gonna be both an adorable lesbian dream and a huge party, respectively:
In Delaware, Lisa Goodman of Equality Delaware, the group which led the fight for the civil unions law, and her partner of 14 years, Drewry Fennell, head of the state Criminal Justice Council, will obtain their license from New Castle County Clerk of the Peace Ken Boulden – who will open Sunday to issue licenses by appointment but won't perform civil unions ceremonies – and have their union solemnized at the Trinity Episcopal Church in downtown Wilmington at noon. The couple will be the first to enter a civil union in the state.
Four gay couples will enter civil unions in Hawaii at the stroke of midnight during a celebration being organized by a coalition of groups including Citizens for Equal Rights and Honolulu Pride.
+ Cancun is also hopping on the "I Do" Express apparently because it both improves financial prosperity and appeals to gay people interested in marriage on the beach:
Therefore, she said, agreements have begun to be struck with different airlines and hotel chains to hold these marriages all along Mexico's Caribbean coast.
Novelo said that this "is something very positive. Besides the social part there are many economic benefits because the gay community generates between 45 and 60 percent more income on top of conventional tourism."
She said gay and lesbian marriages are possible in Quintana Roo, "thanks to a legal gap in the Civil Code,wp_postswhich only makes mention of "people interested in getting married,wp_postswithout specifying their gender.
OUT's "23 Love Stories" Bring Joy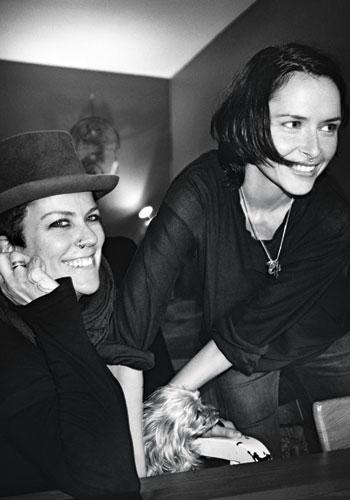 Lesbian love is adorable, and I know I'm right:
I remember being in her kitchen and saying 'I love you.' I was the one who proposed, about eight months later. I knew I wanted to spend the rest of my life with her, but in January 2008, she had an accident where she severed a nerve in her hand, and I had to take her to the ER. I wasn't allowed to go with her into the exam room because I wasn't considered immediate family, and something just came over me, and I thought, I need to marry her. I don't ever want to be separated from her again.
And so are the other same sex couples in the piece.
Gay People Win Against Barnes & Noble, Amazon, Homophobic Calendar Makers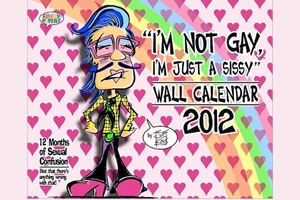 When the Gay and Lesbian Alliance Against Defamation caught wind of Joe King's 2012 calendar "I'm Not Gay, I'm Just A Sissy: 12 Months of Sexual Confusion (Not that there's anything wrong with that!)," they were furious. The author stood up for himself when GLAAD asked Amazon and Barnes & Noble to stop carrying the product, but only made himself look more like an ass:
He also addressed one of the cartoons included in the calendar which includes the caption, "WE ALL HAVE AIDS!": "The 'truth' is that AIDS is an 'elective' disease. It STOPS the day guys quit sticking it to each other. And for the tragedy of women and children infected … THAT stops the day their gay husbands and fathers stop cheating on them. Anyone need MORE education, science or funding to understand THAT?"
GLAAD was obviously right in pinning the calendar "anti-gay and anti-transgender," as well as "hateful and dehumanizing." So let's celebrate, because the calendar is no longer sold on Amazon or at Barnes & Noble.
Here's Otters
Hope you had a great new year's kiss: