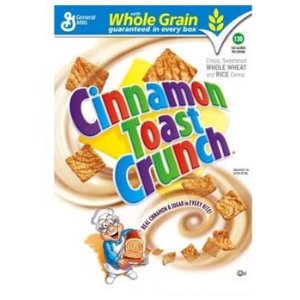 Truth: I freakin' love Cinnamon Toast Crunch. If I'm buying a box I'm most likely celebrating some sort of personal victory for which I feel the need to reward myself because box of this sweet stuff is lucky to make it three days in my apartment. Also, the last time I bought a box I got a pen shaped like Luke Skywalker!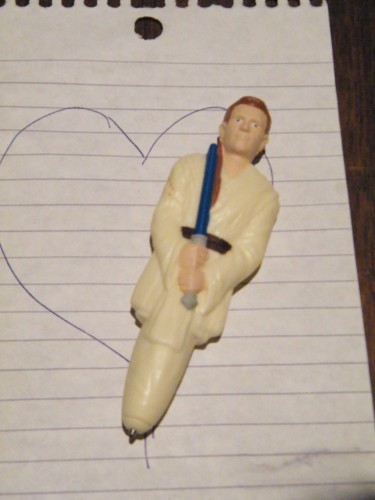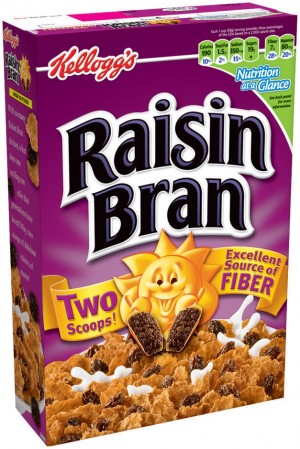 I don't like raisins. I don't like bran flakes. Yet I love Raisin Bran.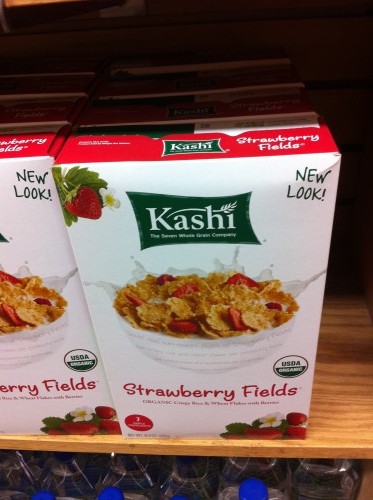 See, here is the thing about eating freeze-dried berries: they don't feel like real food. I rarely eat breakfast; cereal for me is an afterthought, either a really lazy dinner or something I wolf down when I'm drunk and suddenly remember that I need food to live. It's certainly true that you could eat a regular nutritious flake-based cereal and put real, fresh sliced berries in it — which I will do from time to time — but these are astronaut berries and that makes them superior. I can pretend that I'm getting my dietary fiber in outer space.

Because cereal is so expensive, I usually choose which cereal I'm going to eat that week based on which kinds are on sale for $3.99 or less. So, last year, when I saw at my grocery store a sale for 2/$3 for a certain kind of cereal, I immediately grabbed it. Best deal of my life! The cereal was so yummy I went back and bought more. The only problem right now is that I can't remember what it's called. I'm pretty sure it's President's Choice Cranberry Almond Crunch except google images is failing to provide the proper evidence. There might not be almonds in it and it might not be President's Choice.
Anyways, whenever I see that cereal on sale I stock up because it is sooo good… tastes like the success of getting a whole box for $1.50.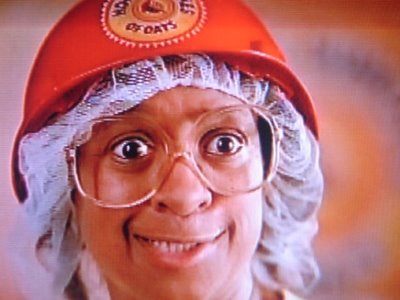 Okay, a few things about Honey Bunches of Oats: 1) it's not vegan, 2) the flaky parts, which are not mentioned in the cereal's title, tend to get soggy in milk, and 3) it's delicious. Sorry, haters. The cute commercials where cheerful middle-aged people in hard hats (which, what??? how dangerous is cereal manufacturing??) don't hurt, but also: this is a perfect balance between sweet, not-too-sweet, sort-of healthy, or at least not as unhealthy as Honey Smacks (do they still make those?), and filling. You think you know about the clusters, but you don't know. You think you know, but you have no idea.
Also, this cereal was brought to you by vanilla almond and/or soymilk. You're welcome.
PS Sorry they're not vegan. I don't think I've eaten them since I became vegan. Probably. Seems unlikely.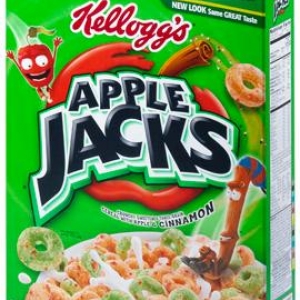 Correct me if I'm wrong, but I'm pretty sure there are two types of kids in this world: those whose parents allow them to eat sugary cereals, and those whose parents do not allow them to eat sugary cereals, all of whom grow up to be ravenous and spiteful consumers of General Mills products. I am the former, but many of my friends are the latter, and, being an excellent partner in crime, I am often glad to indulge in sugary cereal consumption, preferably with those little variety packs (tiny boxes!), and as long as I get dibs on Apple Jacks.
I don't know what my preference for Apple Jacks says about me, except that perhaps I enjoy being blatantly lied to, as that shit does not taste like apples and does not care who knows it. Apple Jacks are, however, colored somewhat like apples, and they do taste like cinnamon, which I think we can all agree is a good taste. Besides, it's a nice reprieve from all those cereals who take their names very seriously and are shaped like small cookies, or even more strangely, small pieces of toast. Cookie Crisp is good and whatever, but honestly, I never really wanted cookies for breakfast. I wanted fake apples shaped like rings. I don't have any sentimental stories about Apple Jacks, maybe because I grew up with the privilege to enjoy such cereal and am now subsequently devoid of sentiment toward it. So in the place of an anecdote, I will leave you with this quote from the Apple Jacks Wikipedia page: "As of 2004, the marketing mascots are a care-free Jamaican cinnamon stick named CinnaMon and an accident-prone apple named Bad Apple." I don't have a TV, so I didn't know this. But now that I do know this, I can honestly say my quality of life has improved just a little bit. Thanks, Apple Jacks.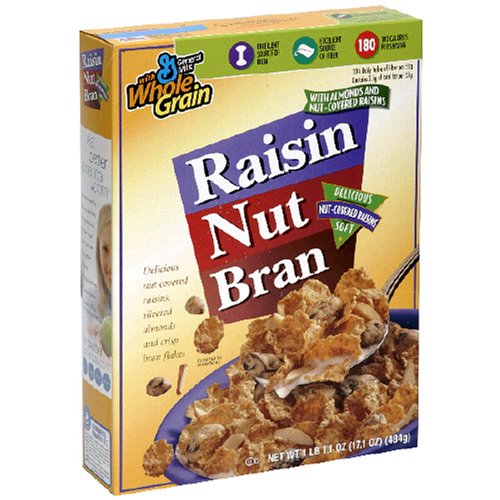 I think I was born a 60 year-old dietician, at least in the cereal department, because I've never ever wanted to eat the sugary stuff with cartoon mascots. There was one time, with my grandmother, when I asked — begged — for a box of Smacks because there was a toy inside that seemed totally necessary. Knowing my history with breakfast foods, she didn't believe that I would actually eat the cereal and made me PROMISE THE BEST PROMISE that I would. I promised but then didn't, because you guys, eating Smacks is like eating measuring cups full of honey-coated brown sugar and newspaper.
But Raisin Nut Bran? It's not just a box of flakes — not a box of BRAN. And it's not just raisins, it's raisins coated in some weird-ass chewy almondy crust situation. Plus toasted almond slivers, and the sensible bran flakes stay crunchy and relevant all the way 'til the end. I mean good grief, what the heck else do you need from a box of cereal?? Maybe a $2 off coupon, because this stuff is expensive.

You probably have a lot of feelings right now. Feelings you're essentially obligated to share, vehemently if possible, with everyone else. CEREALS. GO.
Pages: 1 2See entire article on one page