We need to talk about cereal and how it's the perfect food. It's the best breakfast — two ingredients, one if you're lazy. It's also lunch, and dinner, and the meal that sometimes happens in between lunch and dinner, and also the other meal that you sometimes eat at three AM. We love cereal. You love cereal. Lesbians love cereal. This is common knowledge. But there are a lot of choices to be made! Sugary or fiber-filled? Colorful marshmallows or shredded wheat? Is dried fruit awesome or weird? Honey Nut or original?  And so, in the grand tradition of cookies, gas station candy, things to eat with peanut butter, drugstore cookies, and ways to consume melted cheese, we have to ask: which cereals do we love the MOST? Here, let us tell you.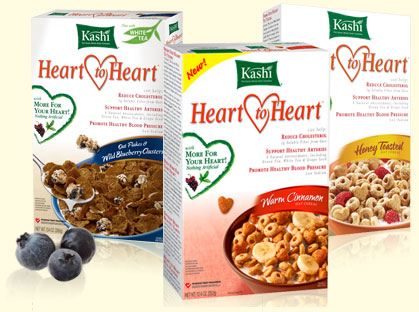 Kashi Heart to Heart cereal is like your soul mate.
It first catches your eye when those adorable tiny hearts beckon you from across the aisle at Trader Joe's. You take it home with you that very evening. The tastes is sweet and comfortable — a surprise considering the abruptness of your meeting. You feel safe with Heart to Heart. The more you learn about it the more you like it. It's good to you, making sure you have enough antioxidants and heart-healthy vitamins and keeping your sodium low. It cares in ways no one else ever has.
Sure, there are other boxes to admire. Boxes of different colors, boxes with fancy toys, boxes making special offers for your devotion. But they boast only cheap thrills — a short-lived sugar rush or milky explosion in your mouth — and don't compare to the security you get from Heart to Heart. A long-term commitment with any other suddenly seems improbable, even risky.
Before long, Heart to Heart is a staple in your apartment and you find it nearly impossible to be away from it for more than a few days. You introduce it to your friends and family. You begin to think that you'd even trust Heart to Heart with your future children. Of course there are days when you feel like trying something new or can't seem to agree on whether to put it in milk or yogurt, but those feelings always pass by dinnertime. And when the sun comes up each morning, you can't help think that there's no other cereal you'd rather wake up with.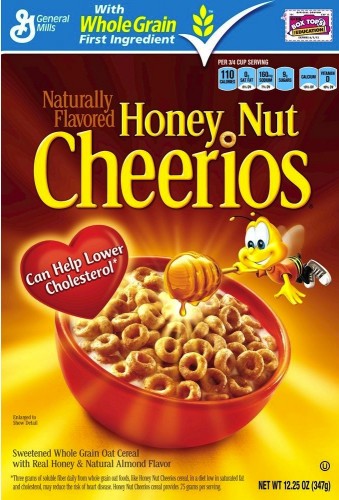 I have been eating Honey Nut Cheerios for as long as I have been able to digest solid foods, which means I have some very weird memories of it. For example: my parents always set the table for breakfast the night before, including putting the cereal box on the table, until the year we had a cat that was offended by the bee on the box and attacked accordingly, and we went downstairs to find the kitchen trashed and the cat sitting in my mother's cereal bowl, which also explains why the cat lasted only a year.*
When it hadn't been shredded, I read the box every morning, because that is what I did, and also because as a six year old apparently I had the memory of a goldfish.
And much like the cat, to this day I am put off by the talking bee mascot — originally, because it interrupted Xena (Xena and Bugs Bunny were the only two shows I was allowed to watch as a child); currently, because if a obnoxious talking bee the size of my head chasing me around and trying to steal my cereal isn't the epitome of a nightmare, I don't know what is.
I hear that they stopped using actual nuts a few years ago in favour of "natural flavours," to which I can only say: I feel outraged, but did not notice until I read it on Wikipedia this morning.
Honey Nut Cheerios also has the unique advantage of being sort of like healthy cereal and sort of like junk food cereal, which is probably what has held my taste buds captive for so long. Also Omar Little likes them, so.
*(Kidding! My parents gave it away because of allergies. And it lived a happy life until it was eaten by a coyote in Saskatchewan.)

A dilemma I've always had in relation to breakfast cereals is that some days I feel like something healthy and other days I feel like something ridiculously unhealthy, and I'm not a person who can afford to stock a selection of cereals in my cupboard.
That's why I'm a huge fan of Special K, a highly flexible, all-in-one breakfast cereal that you can easily jazz the f*ck up to suit your needs. When I feel like being healthy, I'll eat it with fresh strawberries and yoghurt. And when I'm feeling a little dusty I'll throw in some sort of chocolate powder like Nesquik or Milo. The brilliance of Special K is that it tastes great when paired with anything or nothing at all – I'm also a fan of eating handfuls straight out of the box.
Special K marketers have described the cereal as having "the deliciously malty taste of crisp toasted wheat and rice flakes that are high in protein and low in GI", and there's not much I can add to that except to say that it is only available in Australia (I think) and perhaps contains more sugar than those annoying Special K television ads would have you believe.

Toasted Oatmeal Flakes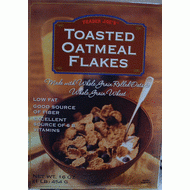 One time I was at Trader Joe's with my friend and we were picking out breakfast so I picked out the closest thing I could find to boxed cinnamon rolls (maple syrup and brown sugar shredded wheat) and she picked out what looked like the most humdrum box of cereal I'd ever seen: Toasted Oatmeal Flakes. As it turns out, the oatmeal flakes blew my shredded wheat out of the water (milk?). They taste kind of like crispy oatmeal cookies and are good as Traditional Breakfast Cereal with milk or in a baggie at snack time. Yes, they're still mostly sugar, but they look and sound enough like adult food to convince me that eating them every morning will not rot my teeth.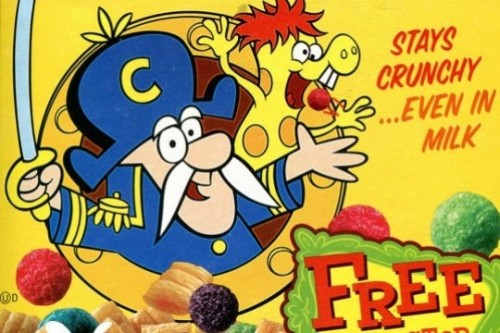 Captain Crunch with Crunch Berries is absolutely devoid of nutrition. It's packaged inside of a yellow box made of titanium and filled with a cereal made for breakfast marauders/berry pimps. I eat this cereal under very specific circumstances. Truth: this is my younger brother's favorite cereal. I've bought family sized jumbo packs of CCwCBs and given them to him as Christmas presents, wrapped, tagged and under the tree. Phil is my fairy princess gay baby brother and I adore his simple ass. So, he's got to be around. Two, I cannot be in a rush. This cereal is made of yellow number 6, blue number 8*, sugary magic and bricks. It's HARD. You will scrape off your gums if you try to eat this straight out the gate. You must let the Captain and his Crunch Berries marinate in the milk for a minute. There should be enough time for you to put your laundry in the dryer, pass that d to the left and/or read this post about cereal with your bro. So here's to all the homotastic siblings in the world who still bond over sugary kiddie breakfast cereal, may your bowls be deep, spoons be wide and dumbassery last forever.
*I made up the color numbers.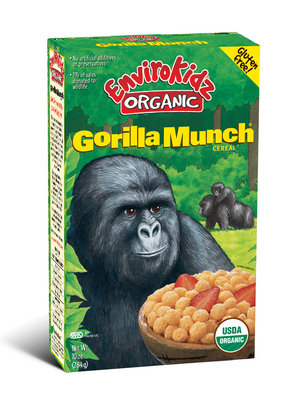 The thing about cereal is that I don't really eat it in the morning. Do you have any idea how cold it is in New England at 6am? I much prefer a toasted bagel or some hot oatmeal. For me, cereal is exclusively an eat with my hands out of the box mid-day cereal. Usually an Ultimate Frisbee tournament or snowboarding snack. That means I need a cereal that's easy to eat (no flakes or rice) and also has an excellent box. I've gotta have my Gorilla Munch from EnviroKids. I feel comfortable openly telling you that Gorilla Munch is a knock off of Kix, but really it's so much more! For one, it's gluten free. For another, there is a picture of a Gorilla on the front! When I'm out eating it in public I can tell what people are thinking. "Holy shit! That girl eats the same thing as a gluten free gorilla!" Nobody fucks with someone who eats like a gorilla and is also trying to reduce their gluten intake. No one.


Next: Cinnamon Toast Crunch, Rasin Bran and so much more!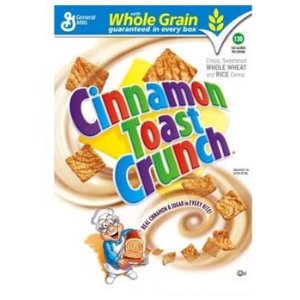 Truth: I freakin' love Cinnamon Toast Crunch. If I'm buying a box I'm most likely celebrating some sort of personal victory for which I feel the need to reward myself because box of this sweet stuff is lucky to make it three days in my apartment. Also, the last time I bought a box I got a pen shaped like Luke Skywalker!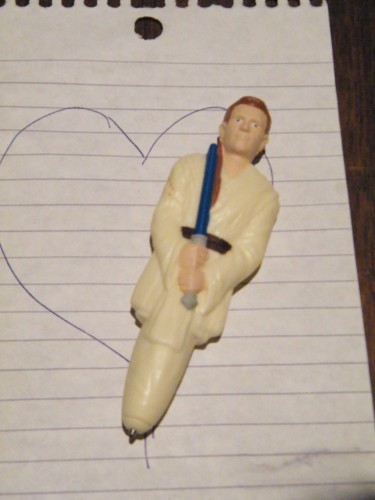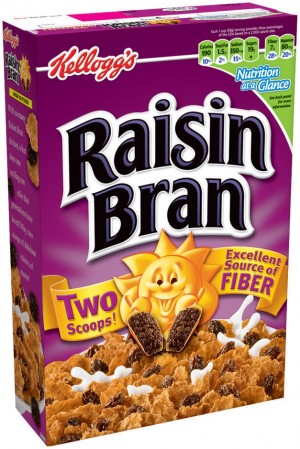 I don't like raisins. I don't like bran flakes. Yet I love Raisin Bran.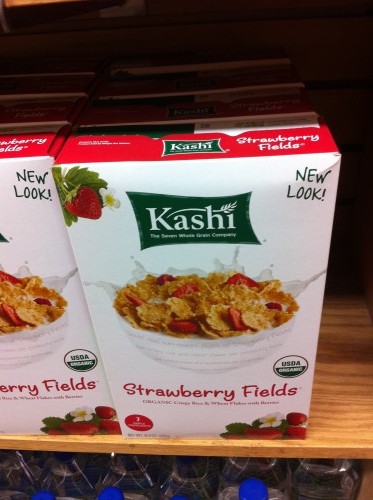 See, here is the thing about eating freeze-dried berries: they don't feel like real food. I rarely eat breakfast; cereal for me is an afterthought, either a really lazy dinner or something I wolf down when I'm drunk and suddenly remember that I need food to live. It's certainly true that you could eat a regular nutritious flake-based cereal and put real, fresh sliced berries in it — which I will do from time to time — but these are astronaut berries and that makes them superior. I can pretend that I'm getting my dietary fiber in outer space.

Because cereal is so expensive, I usually choose which cereal I'm going to eat that week based on which kinds are on sale for $3.99 or less. So, last year, when I saw at my grocery store a sale for 2/$3 for a certain kind of cereal, I immediately grabbed it. Best deal of my life! The cereal was so yummy I went back and bought more. The only problem right now is that I can't remember what it's called. I'm pretty sure it's President's Choice Cranberry Almond Crunch except google images is failing to provide the proper evidence. There might not be almonds in it and it might not be President's Choice.
Anyways, whenever I see that cereal on sale I stock up because it is sooo good… tastes like the success of getting a whole box for $1.50.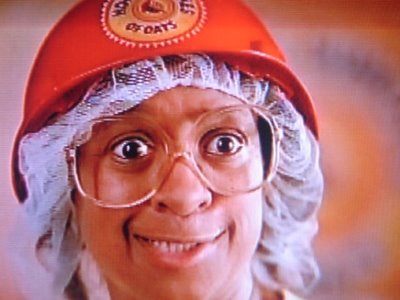 Okay, a few things about Honey Bunches of Oats: 1) it's not vegan, 2) the flaky parts, which are not mentioned in the cereal's title, tend to get soggy in milk, and 3) it's delicious. Sorry, haters. The cute commercials where cheerful middle-aged people in hard hats (which, what??? how dangerous is cereal manufacturing??) don't hurt, but also: this is a perfect balance between sweet, not-too-sweet, sort-of healthy, or at least not as unhealthy as Honey Smacks (do they still make those?), and filling. You think you know about the clusters, but you don't know. You think you know, but you have no idea.
Also, this cereal was brought to you by vanilla almond and/or soymilk. You're welcome.
PS Sorry they're not vegan. I don't think I've eaten them since I became vegan. Probably. Seems unlikely.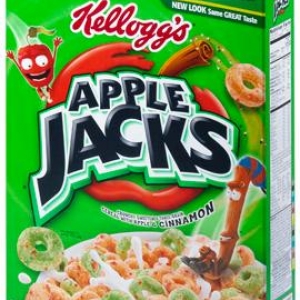 Correct me if I'm wrong, but I'm pretty sure there are two types of kids in this world: those whose parents allow them to eat sugary cereals, and those whose parents do not allow them to eat sugary cereals, all of whom grow up to be ravenous and spiteful consumers of General Mills products. I am the former, but many of my friends are the latter, and, being an excellent partner in crime, I am often glad to indulge in sugary cereal consumption, preferably with those little variety packs (tiny boxes!), and as long as I get dibs on Apple Jacks.
I don't know what my preference for Apple Jacks says about me, except that perhaps I enjoy being blatantly lied to, as that shit does not taste like apples and does not care who knows it. Apple Jacks are, however, colored somewhat like apples, and they do taste like cinnamon, which I think we can all agree is a good taste. Besides, it's a nice reprieve from all those cereals who take their names very seriously and are shaped like small cookies, or even more strangely, small pieces of toast. Cookie Crisp is good and whatever, but honestly, I never really wanted cookies for breakfast. I wanted fake apples shaped like rings. I don't have any sentimental stories about Apple Jacks, maybe because I grew up with the privilege to enjoy such cereal and am now subsequently devoid of sentiment toward it. So in the place of an anecdote, I will leave you with this quote from the Apple Jacks Wikipedia page: "As of 2004, the marketing mascots are a care-free Jamaican cinnamon stick named CinnaMon and an accident-prone apple named Bad Apple." I don't have a TV, so I didn't know this. But now that I do know this, I can honestly say my quality of life has improved just a little bit. Thanks, Apple Jacks.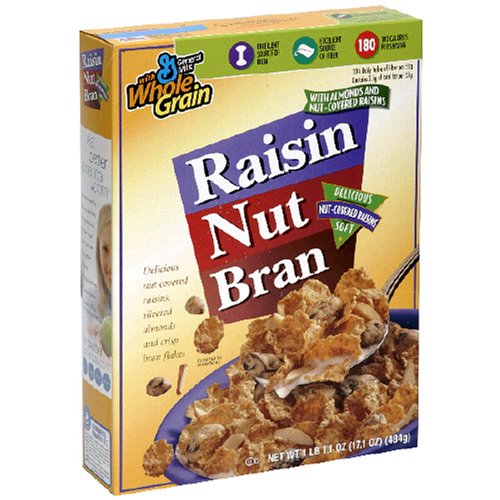 I think I was born a 60 year-old dietician, at least in the cereal department, because I've never ever wanted to eat the sugary stuff with cartoon mascots. There was one time, with my grandmother, when I asked — begged — for a box of Smacks because there was a toy inside that seemed totally necessary. Knowing my history with breakfast foods, she didn't believe that I would actually eat the cereal and made me PROMISE THE BEST PROMISE that I would. I promised but then didn't, because you guys, eating Smacks is like eating measuring cups full of honey-coated brown sugar and newspaper.
But Raisin Nut Bran? It's not just a box of flakes — not a box of BRAN. And it's not just raisins, it's raisins coated in some weird-ass chewy almondy crust situation. Plus toasted almond slivers, and the sensible bran flakes stay crunchy and relevant all the way 'til the end. I mean good grief, what the heck else do you need from a box of cereal?? Maybe a $2 off coupon, because this stuff is expensive.

You probably have a lot of feelings right now. Feelings you're essentially obligated to share, vehemently if possible, with everyone else. CEREALS. GO.
Pages: 1 2See entire article on one page