When I decided to carry Baby T. Rex, I entered this emerging world of LGBTQIA people choosing to have children. We've always been around, queer folks with kids, but this specific type of parenting choice — carrying a baby through a uterus-having person with partner(s) who can't impregnate that partner "naturally" — hasn't always been readily available. It's still not affordable to many and it's still not easy to get insurance to cover and it's still available based on whether medical providers in your area work with LGBT families.
However, it's becoming more readily available to those with a moderate level of income stability, whereas it was primarily available to families with a lot of privilege and access to medical advocacy in past generations of queer folks. In my personal friend circle alone, I know three people who had a queer baby through assisted reproductive tech around the same time we did. A couple of those folks are having a second kid right now.
Same-gender parents have been foster parents and adoptive parents for ages (where it's not been outlawed or restricted, anyway) and continue to be more likely to adopt than straight parents. Of course, there are also tons of queer parents who have children through current or previous relationships where sex resulted in babies. I definitely don't mean to erase these queer parents. That's the thing.
As fertility treatments become more available to queer people with uteruses, I find myself becoming more uncomfortable with the increasingly heteronormative assumptions people make about the decision to parent this way. As what's available to us begins to look more and more like what has historically been the Path to A Successful Life for Straight Folks (monogamy, marriage, making babies, house in the suburbs), it feels like we're being forced into that same narrative.
What I mean is the ever-present and deeply normalized bias that a child who is genetically or gestationally related to you is, somehow, more legitimate. That adoption is the less preferable option or is somehow less of a true family bond than giving birth. (I'm adopted.) That having genetic material or something to imitate an ancestral link from both parents is the best way and that not having that is something of a loss. (We intentionally chose a donor who is not the same race as Waffle.) That not being biologically related to your child loosens your bond to them. (Waffle is not biologically related to Remi.)
That marriage and making kids is the ultimate goal in a way that feels sticky and old-fashioned and Capitalist and exactly what Queer Nation warned us about. (YIKES.)
That said, when the Queers Read This manifesto was passed out at Gay Pride in NYC in 1990, it felt impossible that queer people could procreate. It felt like heterosexuality had the stronghold on the ability to create families through biology. In the manifesto, they wrote: Quite simply, the structure of power in the Judeo-Christian world has made procreation its cornerstone. Families having children assures consumers for the nation's products and a workforce to produce them, as well as a built-in family system to care for its ill, reducing the expense of public healthcare systems. All non-procreative behavior is considered a threat, from homosexuality to birth control to abortion as an option.
When those forebearers of what became Queer Nation wrote the manifesto, they weren't thinking about a future in which queer resilience could include taking back procreation in a queer way. Queering baby making wasn't even on the table. Queer people were creating families through kinship and birthing through art and culture and activism and fighting for their very survival. Damn. We're still fighting for all of that today.
In the aftermath of marriage equality and in the era of LGBT family-making being a trending topic, I feel more and more pulled to reflect on parenting through my queer lens. What if creating our own families, through intimate kinship with each other as lovers and friends and now, in this era, through expanding our legal families, as well, is another way to fight back against the regime of the norm—against heteropatriarchy and cissexism and transmisogyny? Why do we have to be defined by heterosexual norms just because we finally have some access to the procreative power that was so often used to invalidate queer relationships and trans people's actual bodies? What if our very queer procreation is a threat to the heterosexual nuclear traditional family and what if we embraced that as our weapon?
I want to embrace it. Sometimes the path to doing so feels murky and complicated by the reality of the world. I'm never more acutely aware of how being queer and a parent is different than when I'm surrounded by straight parents. I've cultivated a fairly insulated personal queer community and having a child thrust me into the world of Parents, of other adults with kids. Anytime I go to a family-friendly space, I'm literally surrounded by straight people. It's full-immersion heterosexuality. Finding other queer and trans families with kids is not impossible in my city, but it's difficult to make time to be with each other. We have to create that space and time intentionally.
More often, I find myself talking to and exchanging babysitting time with the families who live near us, my neighbors who are very nice and very kind and also very, very, very straight. These are progressive folks, nice and smart and informed people who listen to NPR and are very welcoming to Waffle and Remi and me. They're also in straight relationships and with the privilege of being straight, completely unaware of the gendered BS they joke about and have accepted as fact. I also feel like I got to enter a different level of closeness with my existing friends who are heterosexual and who have kids. Some of the things we bond over are truly universal to parenting. (Hello, sleep regressions.) Some feel untrue to me, primarily broad assumptions about "how boys act" and "how girls act" that just don't align with my observations of Remi's behavior or of my understanding of gender.
When I feel pulled into the heteronormative parenting vacuum, I try to remind myself of my own power. I've done this queer analysis on myself already. I've embraced my own femininity and seemingly-but-not-actually heteronormative gender expression as my intentional femme armor. I've built and grown my queer community intentionally. I've busted through respectability politics to a truer version of myself who doesn't take shit and builds on trust. I know that my very blood is queer, my sexual orientation is perpetually bi/pan/non-monosexual, and my self can't be separated from who I am and how I love, ever, no matter who I'm dating or where I am or what my family looks like.
I take a deep breath.
My family is my queer community, my friends and my loves and the people who I've loved and lost along the way. My family is Remi and Waffle, too, and the life we've very intentionally built together. We are not imitating heterosexuality. We aren't building our family based on blood or ethnicity or genetics or anything. I can hold that to be true while also valuing that Remi is my only known blood relative and that means something to me, personally, deeply. What it doesn't mean is that my relationship to my mother is less valid or that Waffle's relationship to Remi is less valid. What it does mean is that Remi won't grow up as untethered to her ancestry as I did and that Remi will also know and feel that families are built on love above blood, as I do.
It also means that, as a queer family, we can't disappear into the suburbs. We have to keep fighting for those who don't have the freedom to make choices around parenting. We have an obligation to continue to be visible and outspoken. We have to continue to work to expand who has access to family-making choices, particularly for folks on the margins with less access to healthcare, less financial security, less freedom over their bodies, less ability to use or afford assisted reproductive technology, who are still unable to imagine a future where having children is a reachable possibility. We've gotta acknowledge that marriage and children are not the end goal for queer liberation, that dignity and survival are still very real and vital goals for many in our queer and trans communities, that having the house and the baby does not mean we've achieved equity. It means refusing to assimilate or hold up the straight, white hetero family as the ideal, to commit to changing those powerful institutions even and especially from the inside.
My queer parent friends, those in real life and those I've met through this very column and through Autostraddle: I want this for you. I want this for us. I know it'll be imperfect. I'm grateful that we're in it together.
---
5 Queer Family Things I'm Currently Over-Processing
1. Nap Be Gone
Remi has been down to one nap in the afternoon for several months now. In the last few weeks, the nap has been pushed later and later and bedtime has been getting later, as well. We already put her to bed fairly late in the evening, but when norm started creeping up to midnight, which is honestly too late for Waffle and I to feel fully human, I decided to try something.
I think my two-year-old is starting to drop the very last nap and I am NOT READY for it. 🙄 (to the sound of my toddler jumping on the mattress and yelling "Dinosaur Traaaaaiiiiin!!!" over the baby monitor)

— KaeLyn (Indoor Cat) Rich (@KaeLynRich) February 19, 2019
I took a gamble. I let Remi stay up without a nap. It was, honestly, fine. Kind of great, even. Remi had been fighting naps every day for the past month. I took her to work with me and she stayed awake the whole time, even on the car ride home. So I just let it ride out. Worst case scenario: There'd be a total meltdown if Remi became overtired. Best case? She'd go to bed earlier and hopefully be fine?
Remi was ready for bed around 9:15 instead of 11:45 and went right down and slept for 12 hours instead of 9 hours. I don't want to completely give up the afternoon nap, but we're transitioning to a "quiet time" for an hour in the afternoon, during which Remi can take a nap if she wants or play in her crib. But I don't have to play the game of trying to get her to sleep when she isn't tired.
The downside is that Waffle works late at night and may not be able to see her at bedtime if Remi's schedule changes. We have a very cute family bedtime routine that ends with a group sing-along of Twinkle Twinkle Little Star that just won't be the same without Waffle. But it may be worth it to have some time back to ourselves at night. We'll see!
---
2. When the Mommy is Away…
…the Waffles will play! I've been traveling for work a lot lately. Scratch that. I'm always traveling or running around a lot, so nothing's new there. Now that Remi is firmly in the toddler stage of life, she and Waffle have a lot of fun when I'm away. Some might say TOO MUCH FUN.
---
3. Blast Off
Remi is entertaining many possible future careers. Musician, horse farm owner (Is that what it's called to own horses professionally?), doctor, baker, artist, socialite, explorer, paleontologist, and now… astronaut! To infinity and beyond!!!
The world is truly her oyster, ya'll.
---
4. Camp Fawn is Coming
When I was very pregnant and also very sad to be missing A-Camp in 2016, Rory and I had this chat about my feels and also came up with a vision for Club Fawn, the baby disco version of Klub Deer.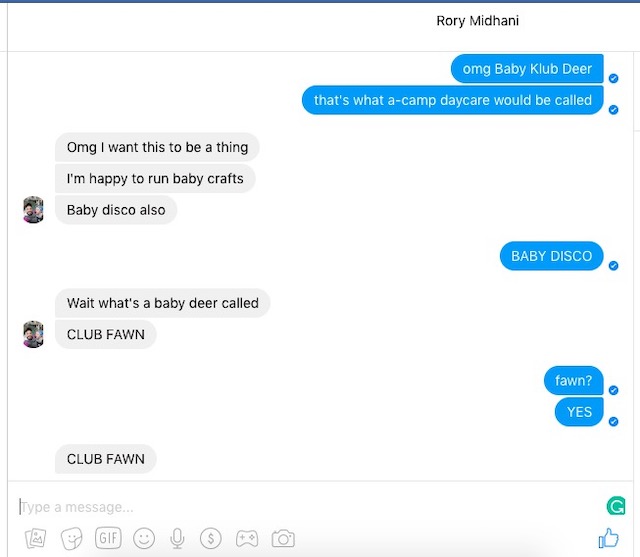 Rory sent me this very cute card in the mail shortly after.
This year, at A-Camp XI, I'm finally making a return, with Remi by my side. I'm very excited to be with old and new friends and to share it all with Baby T. Rex! I've already spent a very long time reading every possible article on flying with a toddler and looking into many options for restraining a two-year-old in an airplane seat and it's kind of a stressful thing to do a six-hour flight for the very first time flying with a kid, and to do it as one adult, but I'm excited! I can do this, right? Right?
More importantly, will we see you at Club Fawn?
---
5. I'm Fine
Just leaving you with this gem from my week. Hope your week was swell!
What level of parenting fatigue is it that I woke up an hour before my alarm today because a crow was cawing in the tree outside my bedroom window and it sounded like Remi saying, "Mom! Mom! Mom!"? Remi was still asleep…

— KaeLyn (Indoor Cat) Rich (@KaeLynRich) February 22, 2019