It's prom season: a time of tulle, drunken limo rides and weird feelings of nostalgia for a high school experience everyone everyone claims to hate while they're having it. When you're queer, prom is a whole special adventure where you're either out and maybe having to fight The Man or your family to have the night you want, or you're NOT out, and maybe it feels like a sham, or at least like it isn't quite what your heart wants it to be. Last year we gave you three decades of amazing queer prom pics. Now we're back to share the gory details of our own prom stories, many of which involve date drama (sexuality-related or otherwise), several of which involved tears, and one of which features a feather boa. Are you ready? Share your own prom-related tales in the comments!
Laura M., Staff Writer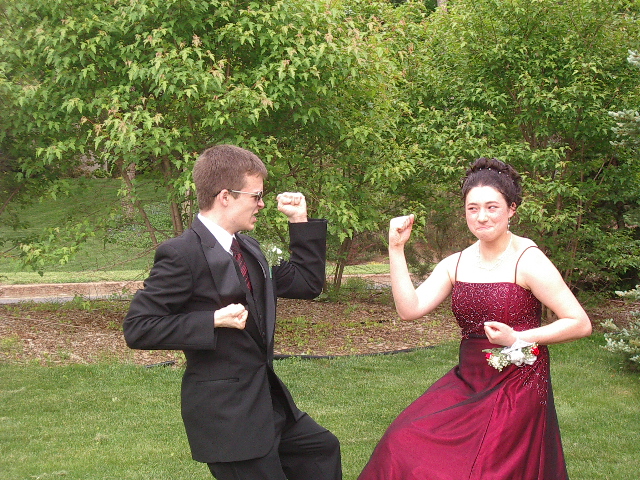 I went to junior prom in 2004 with a boy from my karate class. He was a senior, and delightfully nerdy. He asked me to go with him over AIM, because that was how most meaningful interpersonal conversations were carried out during my high school years — in AIM, or over the chat function within World of Warcraft.
I remember being impressed with my date's SAT score (1490) and the fact that he'd already earned his black belt. We were pleased with this photo because both of us agreed that he looked like Agent Smith in The Matrix. One time he asked me if I thought that he looked like Leonardo DiCaprio. I never answered.
---
Maree, Staff Writer
I somehow managed to go prom all four years of high school, which is a feat I hope I never have to repeat. Is there a word for that, like the prom equivalent of a hat-trick? A prom-dunk, maybe? Anyway, my junior year I went with my girlfriend, which did not necessarily seem like a big deal since we were pretty open about being together at school in general. I believe that since we were not especially cool, no one really cared? We went all out, outfits-wise: she essentially looked like a tiny mobster and I looked like a giant cupcake. I remember I wore fake eyelashes and one of them fell off during the parents/couples photoshoot at my friend's house, and my mom ran to Target to get me a new one and then was sad she didn't get as many pictures. I feel like generally it was a pretty typical suburban prom story, complete with a huge limo and dinner at the Outback Steakhouse. Our limo driver did get lost on the way to the dance, so we were late, BUT when my girlfriend and I went back to my house to change before the post-prom party that the school was throwing (you know, to keep us underage idiot children from drinking) I remember that my mom wasn't there and that was when the night got REALLY GOOD ifyouknowwhatImean.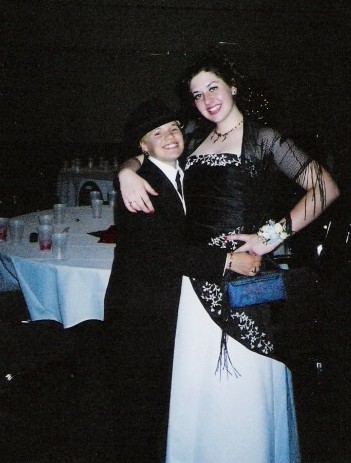 ---
Audrey, Staff Writer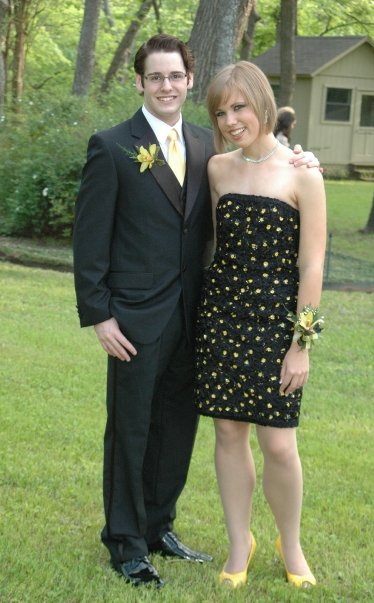 My best friend Steven invited me to our senior prom in a department store during our sophomore year. Two years later, it actually happened, because we were both way too queer and closeted to have actual relationships in high school. At the time, I was the only person he had come out to (and barely, at that) and I made a lot of defensive jokes about how obviously I wasn't a lesbian (to be fair, I was right). High school in the suburbs! What a rush. On prom night, all our best friends piled into a too-small limo (I was sitting on the floor of it in the above pictured vintage sequined mini dress) and went and had a really fun, very sober time. The obvious highlight was when most of the guests had cleared out to go smoke shitty weed in their parents' backyards and the DJ put on "Seasons of Love" from rent. The 100 or so stragglers, I kid you not, formed a giant circle and swayed together. Cheesy as all get out, but also one of my favorite memories from my teens, and maybe the gayest thing that's ever happened. My current #1 semi-serious dream is that Steven and I go to our 10-year reunion together in drag so we can top it.
---
Maddie, Staff Writer
Junior prom was wholly unremarkable until long after the fact, when I discovered the boy I went with was queer when a friend of mine from college matched with him on Tinder.
By the time senior prom rolled around I had checked out of high school almost entirely. I was a mess. Prom was a mess. I went to prom with a group of friends but my official "date" was my best friend. My other friend who was having an after-prom party at her house invited me, but refused to invite my date because she rubbed her the wrong way. I was furious about because I thought she'd never have done that if I'd had a boy as my date, even if we were just going as friends. Then when prom finally arrived, my friend I went with spent literally the whole time talking to a boy who she then went on to date, leaving me to basically just sit there and feel unhappy and bitter. I went to no one's after prom party, and instead went home and the next morning woke up and to drive to visit my friend who was in college, to prove to everyone just how over high school I was. The one excellent part about prom was that I made my own dress and it was really pretty.
---
Stef, Music Editor and Vapid Fluff Editor
I went to junior prom with a boy I'd met at a Marilyn Manson concert, because of course I did. We'd had desperate, furtive crushes on each other for years, but never at the same time. At the time I invited him, he was oblivious to my clumsy advances, and immediately afterwards, he figured it out (by which point I was disgusted and over it, of course). Anyway, the prom itself wasn't very memorable but afterwards we'd rented a limo to drive us around New York and somehow we found a bar in Little Italy that would serve a bunch of 15-year-olds in formalwear. My date got incredibly drunk and ended up passing out in the back of the limo, facedown in my boobs. It was not the romantic prom story I felt I'd been promised.
I didn't go to senior prom; my best friend and I stayed home and rented Carrie. It turned out to be one of the best decisions I've ever made.
---
Rachel, Managing Editor
I didn't take M to the senior prom as my date, but I didn't not take her as my date either, which was actually pretty emblematic of our intense friendship that spanned most of high school. We went with a group of other female friends, most of whom didn't have dates, so our pairing didn't particularly stand out. The whole group, including us, was incredibly tame; I don't think any drinking occurred at all, which is maybe why the night was so remarkably unremarkable. The only drama I remember was an acquaintance crying briefly in the bathroom as she adjusted the silicone inserts inside her dress, and me thinking about how I didn't know her well enough to comfort her but I liked her livejournal. The most major event of my personal magical night of memories occurred late in the evening, when slow songs started to come into heavier rotation. P, a perfectly nice dude who had carried a torch for me one-sidedly senior year, was really insistent about dancing with me, which wasn't ideal. Luckily, M swooped in to rescue me, grabbing me to slow dance with her instead — definitely just a helpful gesture of friendship and not the best thing I could ever imagine happening, ever. Anyways, a few years later we both came out for real, and look at us now.
---
Riese, Editor-in-Chief
It's a good thing I have pics 'cause otherwise I'm not sure I would remember what happened. I mean, I do have pics, and I still barely remember what happened. However, I imagine my memory is better than the memory of all of my friends, who were all drunk or on drugs at prom! JUST KIDDING! No wait, I'm not. They really were. I was not. I was a very well-behaved adolescent.
Anyhow, I went to a boarding school for the arts in Northern Michigan for my last two years of high school, a place where prom was called "morp," your grade level was irrelevant to your participation, and we were transported to the hotel and then to the afterparty at a bowling alley and then back to our dorms via school bus. There wasn't any stigma against same-sex couples attending, although most gay guys went with their female best friends for costuming purposes. I'd been waiting all my life to have a prom picture on my grandparents' mantle that'd confirm my reputation as a Normal Person, rather than the Artsy Weirdo Dork Loser I suspected I was, and therefore I was pleased as punch to have a male date. Furthermore, I had no idea back then that I was even remotely queer and I had a lot of internalized homophobia against lesbians (but none against gay guys, who I thought were G-d's gift to womynkind).
Junior year, 1998, my friends and I had the brilliant idea to make a bunch of fliers for an imaginary prom and plaster the school with them, in hopes of inspiring laughter and revelry. The prom theme that year was "Midnight in the Garden of Good and Evil," which we thought was stupid. Our idea was much better:
Unfortunately, all the signs were removed by the next morning, which is very sad and also an invasion of free speech. I still wonder who took them down and if they had a nice chuckle.
I went to prom that year with my gay best friend who I guess at the time was also kinda my boyfriend? Despite his homosexuality, we'd managed to fall in love and lost our hetero-virginities to each other (he'd already been with men, I'd been with zero people, ever). The main thing I remember from this prom is that all of our friends were drunk or tripping on acid. We didn't know that at the time, though, we just thought everybody was just really giggly because they kept laughing at us! We were in our own little world, I guess.
According to my diary, re: this prom, "Last night was prom. We bowled and danced. The best part was the bus ride back." Seriously my diary is gonna sell for a billion dollars at Sotheby's one day.
Senior Prom is another event for which I have only the vaguest of memories. I recall that I attended and that I did so with my boyfriend at the time, and that somebody did my hair with tiny transparent aqua-colored butterfly clips that were very ahead of their time. It was only 1999, and I was definitely rocking a solid 2002 look.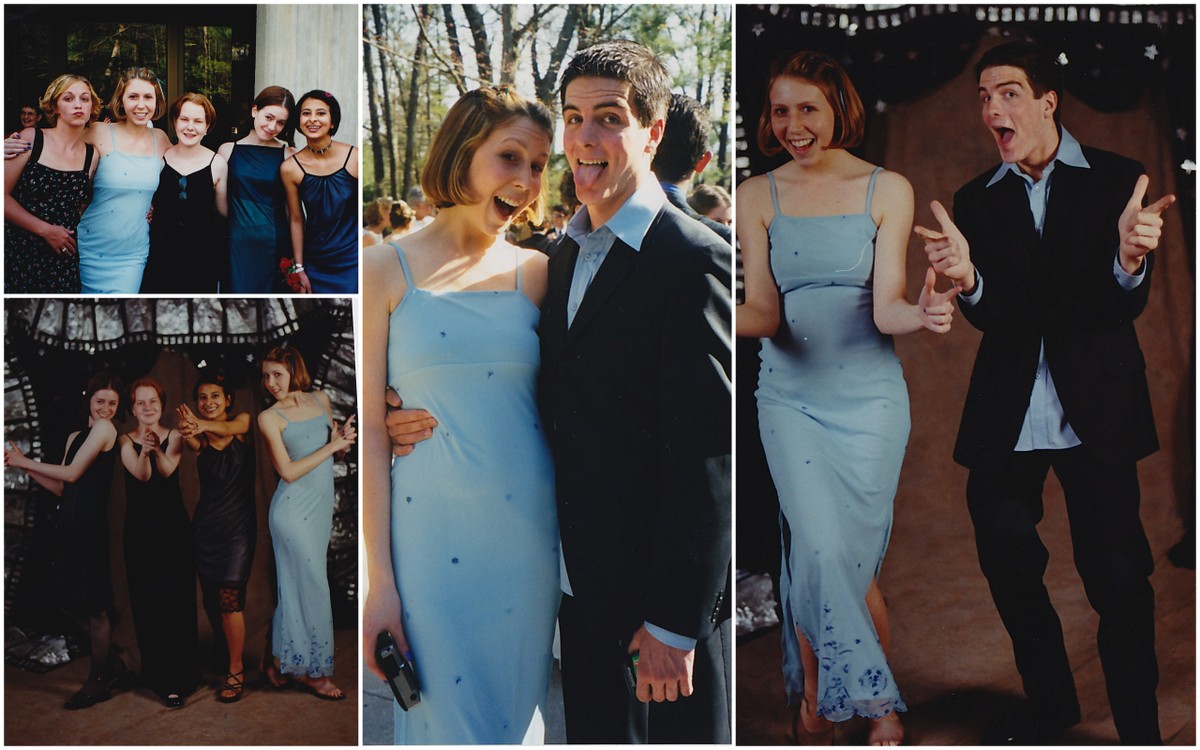 John had just bought his first really nice suit and I wanted my dress to match his shirt, which eventually lead me to the clearance rack at 5-7-9. I didn't really like my dress, but I love when couples look matchy so it was worth the $25 or whatever, even though I never wore it again.
According to my diary, prom was "good." I danced but mostly didn't dance, because I can't dance, so instead I let my boyfriend "dance with all these girls." Also, "we had a fight at the bowling alley that we needed to have, and hopefully resolved things enough." I concluded this compelling narrative with the following: "Who knows what could happen. I hope everything's good forever." WHAT A DREAMER I WAS.
---
Cameron, Cartoonist
I went to both my Junior and Senior proms, which is curious because I hated everything about prom. Dancing. Formalwear. Couples. Overt heterosexuality. Make-up. People I went to school with. It was like the perfect storm of everything that was the worst.

I never really dated in high school (probably because I was busy procrastinating confronting my own sexuality). But my best male friend asked me to junior prom, which I thought was a platonic ask, so I said yes. I was wrong. It was weird.  That was the catalyst for letting him know that sorry, nothing personal  but I was maybeprobablydefinitely vibing in a more Sapphic direction?

So. Before my senior prom, I spent a few weeks making grand plans to ask this girl I was totally in love with, Taylor. Over the course of some months, we'd established that there was some kind of romantical thing between us and she broke up with her girlfriend. Tay ended up being my first kiss, the first person I snuck around with for impromptu make-out sessions after school, the first person I exchanged mix CDs that included way too much Tegan & Sara with (actually, I think I got the entire discography from her), the first person I traded poor attempts at sexting with.

Anyway. I was totally ready to officially ask her to prom. By extension, that would also mean my public coming out (which I was terrified of; Tay wasn't even publicly out yet), and we'd be the only out lesbians in our entire suburban Ohioan high school. Regardless, I planned to ask after she returned from her spring break trip in Florida.

Except that she came back with a girlfriend. A girlfriend who lived in Florida. A girlfriend from Florida who came up to Ohio and took her to the prom that I was going to ask her to. Heartbroken didn't even begin to express how I felt.

Out of spite, I still went. I was in a prom group of six, including the guy who'd asked me to junior prom. Half of us ended up coming out as queer at some point.

I had fun. I don't think I even looked at Taylor and her date. If I did, I don't remember. I didn't even feel that weird wearing a dress and heels. I spent most of the time with my prom group and/or commiserating with this guy, Jamie, about how much it sucked not being able to be at prom with the girls we wanted to go with. His crush Christina (one of my best friends), and Taylor were bffs. Jamie and I became best friends. The poetry of the situation wasn't lost on us.

We went to an after-party Taylor's house. Instead of going inside, Jamie and I sat under the stars on a trampoline with some of our classmates drinking SoCo out of the bottle, talking about whatever it is drunk teenagers talk about, and falling asleep on a couch hours later.

In the morning, I went back to my house with Christina. We made banana pancakes while she told me about how much she hated Taylor's girlfriend. Partly because she thought it would make me feel better (it did), partly because she just genuinely hated that girl.

In conclusion: High school is dumb, prom is dumb. But six years later, Jamie, Christina, Taylor and I are super close friends, so I guess they're not THAT dumb?
---
Alex Vega, Design Director

I don't know if she was my girlfriend at the time, technically. I was desperately trying to hold on to her, and prom season felt nostalgic because it was basically on the day of her prom one year before that we began our romantic relationship. Of course I wanted to bring her, but for awhile I wasn't 100% sure that I should until a friend approached me in the hallway, "You're bringing Jenny to prom, right?!" like it would be more outrageous if I didn't bring her.
And I'm so glad I did, that we lived in an environment where I could. As we lined up for pictures in front of Ryan's house, we overheard a concerned parent, "I think we're missing two boys?" We laughed so hard. Prom was amazing for me for so many reasons: the surprising support, how little the gender of my date seemed to matter (if it did, I hardly knew), the night itself, the trip all our friends took afterward, but mostly that for one magical weekend I was Jenny's girlfriend again.
---
Marni, Camp Co-Director
In Canada we didn't call it "prom," we called it "grad," and I don't think it's quite as big of a deal to us as it seems to be in America, but who knows I'm sure there are plenty of Canadians out there renting horrible stretch-SUVs too. I wore a dress, which was weird because I have very MOC style and did at that time too (if unfortunately Birkenstock-centered), so it was that thing where I felt like I was in drag all night? My mom claims that I insisted on the dress but that seems dubious to me. Anyway! My high school was a relatively small one in downtown Ottawa with a nerdy reputation, and my experience there as an out babydyke lesbian from 1998-2002 was really not hard or upsetting at all, it was really nbd that I was gay and I knew that I was really lucky for that. It was such a not-thing that I went to grad with my girlfriend and that's not even what this story is about. My gay best friend and I were among the only out people at our school, and we were together all the time (think Janice Ian and the gay guy in Mean Girls, only I was less goth and more army-pants-and-hemp-necklaces). So obviously we put our names in for grad "king" and "queen" (wait, maybe it is a thing in Canada? why did we have these titles?), me going for king and he for queen. And get this you guys: WE WON. I remember the DJ announcing it while everybody was on the dance floor. We went up and he put on the tiara and I put on the crown and we danced to "I'm Too Sexy." After we graduated we moved into an apartment together in university and we hung our crowns on the lights over the mantle. I still have mine, 13 years later.
---
Aja, Beauty Editor
My prom story is about as far away from girl-on-girl as you could get, but I was eighteen years old, a very young mom, and a nervous wreck over being away from my 6-month-old daughter. (FYI: Mama guilt does not discriminate based on age.) I wasn't even supposed to be allowed to go; evidently, getting knocked up when you're a teen precludes you from scholastic milestones by way of school policy. Things like being in the yearbook, going to prom, and perhaps most stingingly, the pomp and circumstance of graduating at a ceremony alongside your peers, but I'd been an outstanding student, an overachiever, and my voice had helped to earn the school its sundry prestigious choral awards, and so the principal acquiesced to my polite request that I should be granted them anyway.
​
So away to prom I went. It was 1998. My dress a floor-length satin gown in creamy sea foam green, boning throughout the bodice, a keyhole halter neckline studded with rhinestones. Opera length gloves? Check. Massive corsage? Of course. Little comb tiara topping off a Disney princess hairdo? Lord help me, yes. It was held at the Galleria in the San Francisco Design Center, which seems a little like overkill in retrospect, but must have been so fancy and nice! I honestly couldn't tell you, as the evening was a tiny bit overshadowed by the fact that I slowly leaked breast milk into that perfect dress. WHICH IS SO HILARIOUS TO ME NOW. It wasn't a total disaster — I wasn't, like, the Carrie of Breast Milk or anything — but it did put a damper on the evening. (LOL.) Not only did I survive it, but I managed to exceed a personal goal to nurse for just over a whole year, with only one other cringeworthy incident: SFO-ORD flight, someone else's baby crying, and BAM. Better hope you brought another shirt on board, Seat 18D, or at least a bunch of extra nursing pads. Live and learn!
​
The dress did get a second act — a gay one, even — eventually. Four years later, I was in a very different place in my life: working at a nonprofit to support the kiddo and I, and when I wasn't at work or sitting in a classroom in Berkeley, I was organizing student Town Halls or anti-war protests or budget cut demonstrations with my rad new friends, most of whom were Bikini Kill-lovin' lady queers who didn't mind being the village this young single mom needed. A pretty bi femme persuaded me to celebrate Halloween in the Castro with her, so I yanked the dress out of the closet at the 11th hour, utterly destroyed it through a combination of knife wounds, muddy boot trampling, just a touch of actual fire and splattered fake blood, et voila! Dead prom queen costume! I made my hair into a ratty, blood-matted mess, yanked the same old gloves and tiara on, forced my mascara to run, and terrified a small child or two on my way out of the door. We joined the revelry in the city, our little pack of East Bay Riot Grrrl dykes, and it was like being in my own dreamy version of a John Hughes movie.
​
Long story short: If that prom dress could talk, I'm pretty sure she'd say, "I'll take a night of supremely unhinged queer debauchery over a posh formal prom ANY DAY."