Like Love Was A Thing I Could Do
I. Black Hearts
It's February, I'm 25 years old and I'm in a blizzard with Kat and Emily after the Black Hearts Party near the Chelsea Piers and Kat and I are in our boots and fishnets and our makeup is smeared and compromised but it doesn't really matter because the snow is more scary-beautiful than either of us will ever be, although together we must have seemed beautiful sometimes, and she was. Beautiful, and graceful, too, and even when angry she had a precise velocity I admired a great deal. But it was hard back then to know the difference between admiration and fear, between a thing and your first memory of that thing, between fucking and fucking up.
Earlier that night we'd been courting a rapt audience in the "Chamber of Destiny," kissing and grabbing each other as demanded by The Wheel, one of many sexual games held in one of many sexually-themed rooms set up in The Frying Pan, the floating dive bar hosting the 17th Annual Anti-Valentine's Day Black Hearts Party. It was big, this lightship docked on a railroad car barge, dank and dimly lit throughout with a catwalk offering views of a tripped-out dance floor crowded with men in leather chaps and lush fur coats, tattooed girls wrapped in strips of black latex, shirtless gay boys in transparent black thongs, women with faces like knives trailed by submissive boys in studded collars and bandit eyemasks. Bright red signs declared EXPOSITION: DESTROY THE STATE BY DISPLAYING YOUR SHAMEFUL BITS TO THE DANCING AREA. 
It was invite-only — Emily's gay photographer friend got us in — and the invitations demanded: Access Denied To Non-Black-Wearing Narcs, Dress to Celebrate Pervosity and Shame Your Ancestors. Feats Rewarded. And If You Don't Like It, Throw Your Own Fucking Party.
We stained our mouths with cup after cup of black vodka, and when we smiled for pictures our lips and teeth belonged to girls who'd spent hours tongue-kissing death on a squalid sofa. Outside the snow was piling up but we didn't know that yet. We just knew these cherry-red pools of light, the ground sticky with beer, ledges covered in black-paper hearts, Kat's hair in my fist and her smile against my ear.  The paper hearts have words on them, and Emily wore Old Enough To Know Better and I wore New In Town: $200 Incall, $300 Outcall and Kat wore Living a Lie and all of these things are true or almost true.
People kept telling us we were a beautiful couple, which is a thing that happens a lot when two thin straight-looking girls touch each other in public. It's always tinged with relief, in a way, thanking us for being lesbians they wanted to look at rather than the manly genderfucking kind of lesbians. We weren't a couple and she wasn't a lesbian, but correcting them seemed besides the point. Everybody was strange, and also a stranger.
But that's all in the past now because whatever boozy brownout had enabled us to forget ourselves in the boat was lost out here in these windy clouds of snow. It's one AM or two AM or later and we've reached the point of coldness where you've almost transcended coldness and become impenetrable unmoving ice monsters. Emily's lost her phone, and like I said, our legs are protected only insofar as boyshorts, fishnets, legwarmers and motorcycle boots could be considered adequate "protection" of one's legs. Where are the other blackhearts now, anyway? We are the only people we can see. Maybe that whole thing took place in another dimension. The only cars out are cabs heading to their own homes before it's too late. Emily's now in the street, waving her hands wildly. I have money, she keeps saying. Cab after cab lumbers past, one slow enough for Emily to dip in, smash her cash against the window, and convince him to take us to Union Square for $100, where we can catch a train to Brooklyn.
And my most vivid memory of that night has never been the blizzard or the Chamber of Destiny, it's the moment we finally arrived home, and how good it was to climb the dingy stairs to our apartment, which I did nearly on all fours, kissing a stair or four in appreciation, forgetting about our fucked-up hair and lives. I'd never loved my bed so much, and never been so grateful that it was only mine.
It's only the next morning that I realize we crossed that line again, Kat and I, and I'd wonder what that meant if I wasn't so confused, in general, about what everything means. It was fun. I knew that much. We'd had a time. What were lines, anyway? Between this kind of friendship and a different kind, or even the lines that left acrid powder on my gums? I mean how fucked up were we? Why didn't anyone stop us? Because we'd keep crossing the line, again and again and again, never sure if it mattered or not.
The Black Hearts Party wasn't on Valentine's Day, officially, it was a few days beforehand. On Valentine's Day proper we had dinner reservations in Soho, for which Kat had suggested I dress like Bette Porter. So I'd done my best interpretation of a powersuit, and I tried to do the other things too, like opening the door for her, pulling out her chair. Stuff like that.
She thinks we're a real lesbian couple! Kat laughs after the waitress finishes her intro and leaves. Silly waitress, thinking two girls on a Valentine's Day dinner date are a lesbian couple! Silly not just because we weren't a couple, but also silly because earlier she'd had to shove the strap-on I'd gotten us in her closet so her boyfriend wouldn't see it when he slept over later. But also Valentine's Day in general is silly and I've never really known what to do about it. I mean, it's so fake, right? A way to package love and sell it to everybody all at once. Charades are the only way I know how to play it. Historically, February 14th has been a doomed day for me, like my casual dismissal of its relevancy engenders just enough affection to ensure I will, in some way, celebrate it, and just enough attitude to ensure I will, in some way, majestically fuck it up or make it as weird as possible. And if you don't like it, throw your own fucking party.
I loved Kat, I know that much. It wasn't romantic love, but I loved her in a heightened, confusing and often self-destructive way, and I loved her because, just like me, she wanted to eat the city alive. We'd rushed into things — our friendship, living together, all of that, overestimating our compatability during a frenzied, chaotic winter. I didn't want to be her girlfriend but I didn't mind what we were doing, either, at least not usually; I was trying on the idea of being one-half of a lesbian couple and as for what she was doing, maybe I'll never know. We were having fun, I guess. Throwing our own fucking party.
We tried to spot the other gay couples in the room and wondered if they noticed us, too. This felt easy enough, like a thing I could do. I could be a girl with another girl on Valentine's Day. Maybe even on other days, too. It felt good, even, like an extended version of my favorite part of going out with a girl (I'd never had a girlfriend, but I'd fucked around) — leading her through a room with my hand on her waist. Or being led. That was even better.
Anyway, isn't this what Valentine's Day had always been to me? A pageant? An opportunity to try on the idea of being in love, being traditional, being a couple you could fit into a envelope.
+
II. 1998
It's too much love, I tell Ezra, and I hear him laugh as I press my foot against the phone booth's clanky door, hoping nobody can see me; none of the piano students in their light blue polos and pressed navy pants en route to the basement's many practice rooms, none of my friends in looser interpretations of our boarding school's uniform checking their email on one of our antiquated rows of monochrome PCs, not anybody at all. I've eschewed the booth's inadequate bench for the floor, where if I sit just right I can look as small as I feel and be as invisible as I wish I was. I'm 16 years old.
At this point, my only sexual experience, ever, was a night a few months prior when I'd drank an entire bottle of JOLT and made out with my ex-roommate's younger brother, which was right before Hayden and I became inseparable and he'd taken on my entire physical presentation as his own personal project. He gave me a makeover, in other words. Maybe a boy will like me now, I thought afterwards, with my haircut and brand-name jeans. I didn't think that boy would be Hayden. Maybe it never really was. It was hard, back then, to know the difference between what you wanted and what you wanted to want.
Too much love! Ezra jokes. Waa waa waa. Too much love on Valentine's Day! You know, Marie —
I know! I know. I feel so — overwhelmed! Or bombarded. I can't explain it. I don't know why I feel this way. Nobody can love me this much, I feel so weird!
Is it weird because he's uh, you know, gay?
No it's weird because I'm weird.
It started early that morning when Astrid bopped over from her side of our suite, her bleached-blonde hair in its intricate assortment of braids and bobby pins, her easy beauty punked-out with layers of black eyeliner, still lacing up her Doc Martens — Risssss baby, you need to go in the hallway!
I didn't know what to expect. Hayden had been hyping this big Valentine's Day plan, and I suspected his parents might be coming up for the weekend, or that we'd be going out to dinner, something like that. I hadn't met his parents yet, but Hayden's Mom had been sending me cute things she found at the Wal-Mart in Fort Smith for months already. I know they must be relieved that their son has a girl in his life now. A few months later, his Stepdad will joke about how they used to worry Hayden might be gay, and Hayden will guffaw like a lunatic, and I will avoid eye contact.
So, my dorm room was at the far end of the hallway and on the other end, slapped onto the exit doors, were three giant sheets of posterboard, haphazardly collaged with magazine pictures, advertisements probably, for cologne and underpants, and, in Hayden's silly handwriting, I love you Marie! Happy Valentine's Day! I tried to do the math, quickly — two girls per room, 15 rooms per side, two sides, 60 people. 60 girls have seen these signs from a gay guy to his best friend. Hayden wanted them to see it. I knew that but I dismissed it.

It was a weird place, my boarding school, I should mention that. It was like a sexy insane asylum for kids who considered themselves artistically exceptional. Hayden was popular and good-looking, a theater major with a big personality who'd been leaving a trail of broken boyhearts in his wake since arriving there in 1996. But I was brand new and had eaten lunch alone in my room for my first month there, until late October when Hayden absorbed me into his orbit and never let me go. Everybody knew him, so now everybody knew me as part of him, like back home where everybody knew me as the best friend of this or that pretty girl.
Hayden was giddy when I got to breakfast, bouncing up and down on his chair like an apple juice addict at snack time. Hayden had this almost manic boyish energy and an earnest, unambigous face: blue kilowatt eyes, a high forehead, carefully spiked sandy-blonde hair. His Oklahoma accent came out in full force when he was excited, which was often, or when he was depressed, which was also often. He'd decorated my chair in balloons and red streamers, and I popped two just sitting down.
It continued throughout the day, because Hayden had solicited a student in each of my classes to present me with a gift — candy, a card, a beanie baby — and at lunch our Dorm Mom led me into her office where 100 carnations were waiting for me. One hundred carnations! I'd been giving Hayden shit about not ordering me one from the school's annual carnation sale, so the motherfucker had gone out and found one hundred goddamn carnations. There was barely space in our room for it. I put it on the floor and stared at it for a good minute or two or three. One hundred white carnations. For me? The only person who gets me things on Valentine's Day is my Mom. Why me? Why did he love me so much? Why would anybody love me this much? He'd find out soon enough how ugly and needy I was, wouldn't he?
My last gift of the day, 7th hour, was this card:
Marie,
I love you dearly! Be in your lobby dressed to the nines at exactly 10 min. before 6. Josh and I will have Jimmy pick you up. You will need a backpack with overnite clothes and your church clothes. Bring two of your fav c.d.s.
All my Love,
Hayden
That's when I went downstairs to hide and call Ezra, and then back upstairs to put on the panty hose that disguised my eczema-ravaged legs, the lavender sweater he liked, the black dress that hadn't seemed quite so aggressively sexy six months and two inches ago. But I was growing up, like I said. We listened to the Violent Femmes while Astrid and Emma did my makeup.
I didn't want to be Hayden's girlfriend, a resolution which had seemed less confusing first semester before he'd lost interest in all the available boys and had redirected all his nervous, hypersexual energy onto me. He began romanticizing middle school ex-girlfriends like girls were a thing he could do again. I could date a girl if she looked like Tyra Banks, he said once. So could I, I said. But we were in love, and we connected in a way I'd never connected with anybody, and never would again for twelve years.
"Jimmy," in a cowboy hat and trenchcoat, escorts me to a White Jeep, where I share the backseat with two giant teddy bears, one for me and one for Henna, Hayden's best friend Josh's girlfriend. I never know how to act around Henna, because she's so pretty and tiny and I'm not. I feel like an enormous gooey beast, not pretty and tiny enough to have a real boyfriend like hers, just good enough for a fake gay boyfriend.
Jimmy isn't Jimmy, of course, he's Hayden's Stepdad, and the woman in a french maid's outfit who greets us at the front door of their luxury motorhome with a bottle of champagne isn't Amélie The French Maid, it's Hayden's Mom. They've driven up from their huge Oklahoma ranch, built with oil money. I feel heady and free after only a few sips, and moreso later that night at Windows, Traverse City's fanciest restaurant, when Hayden puts a diamond necklace on my knee and then around my neck.
Hayden is beaming throughout dinner, and he's been beaming all day. He's proud of himself, you know? Look at him. Look at him at this restaurant, giving a diamond necklace to a blonde girl in a lavender sweater that reminds him of Veronica, from the comic books he read because he had a crush on Archie. He's given me so much, I think. He saved my life, I tell people who don't believe me because they don't know the person I left behind, haven't seen me through tragedies small and large, weren't in my bed for the two years I cried myself to sleep every night. It's almost like he's inhaled me, completely, and it turns out that's what I'd needed all along, I needed to be smoke in somebody else's lungs, needed to take up exactly that much space. And he needed to swallow somebody because he had all this love to give but it was mixed-up, too, from years of being both gay and passionately Christian, being raised by (now-recovered) alcoholics, surviving sexual abuse. He dragged me, a Jew, to church with him on Sundays, and he'd hold my hand the whole time and sometimes cry about Jesus.
I don't have to say, they think we're a real couple! when our waitress treats us like one, because of course. Of course everybody thinks we're a real couple.
Sometimes I feel stupid for playing along, for being the girlfriend he wishes he had instead of the best friend I actually am. But this feels so nice, too: being somebody's girlfriend. Being worth that to somebody. I'm 16 years old, after all.
I stay for the weekend, which's exciting in and of itself because off-campus clearance is complicated and tricky. We go out to eat a lot, and Hayden's parents buy me a stereo and talk about my upcoming trip to Oklahoma. Cuddled up in piles of blankets in the motor-home we watch his favorite film Pretty Woman, and I recognize bits and pieces of it as things Hayden has said or done to me. Hayden talks about our future in New York City when he's a famous actor and I'm a famous film-maker and he stars in all of my films and we're married, which must mean I'll also be okay about spending my life with a guy who never actually wants to fuck me. On our last morning off-campus I grip his hand, digging my thumbs into his palm, squeezing each finger at a time, and he bites my shoulder, like he does often, and we wrestle for a while and later he'll tell me that this was when he wanted to kiss me, that moment right before his Stepdad came back with our mochas, and the television was on and so were our pajama pants. Sexual tension had been stirring between our anxious, adolescent bodies, and soon enough we'd invent a world where sex became a thing we could do together, and we'd fly into that world and we wouldn't realize how imaginary that world was until we were already tumbling out of it. And he would find out how ugly and needy I was, at last.
But Valentine's Day, then, was a thing he could do, a thing he knew how to do. Teddy bears, flowers, candy, dinner, diamonds. Everybody knew about these things. It's a common language, a familiar narrative, a place to start when the way you love people isn't the same way everybody else loves people.
+
III. Red Hearts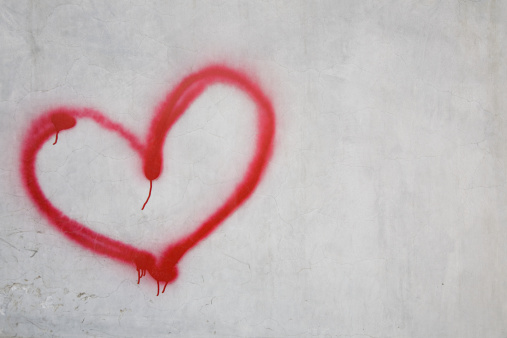 Hayden liked boys, Kat liked boys, I was not a boy, I am not a boy. When you cleared away the paper hearts and carnations, that's all that was left on the table. I'd agreed, eagerly almost, to manage my emotions neatly while theirs ran wildly all over my inadequate body and myriad inadequacies, predicated by our mutual understanding of their elemental disinterest in me. I'd be available when wanted, and polite when unwanted. This wasn't hard at first, because I'd never seen either of them in that way: I'm attracted to masculinity, in women and (when I still liked boys) in men, too, and they were not that, although they were both, objectively, far more attractive and socially competent than I'd ever be, which always kept me just a rung below. They'd feel mixed-up too, soon enough, and take that out on me, and eventually I'd develop shapeless, orderless feelings, too. A fake thing has a way of creating a need for a real thing, a thing you can tell the truth about to parents and strangers and waitresses. It also has a way of preparing you for a real thing.
Hayden and I return to campus, say goodbye to his parents, I check my mail and then walk Hayden back to his dorm. It's snowing, and we're laughing, holding hands, in awe of each other. I've just had my first real Valentine's Day! Then Marie — you complete me, he tells me, gripping my hand, and I smile like an incomplete thing. I tell him me too, my heart beating still, swallowing the sharp air, our light-lipped promises, our heady youth and our inchoate hope for a real love bigger than the whole snowy sky.