Welcome to Movie Night! Where we choose a movie based on any number of variables and feelings, create a themed menu to match, then spend the night eating these foods and watching these movies! It's an uncomplicated but promising plan.
I was having a pretty solid week and I have pretty solid friends, so I decided we all could handle a) running around in my tiny kitchen making a recipe that requires the "gradual addition of broth" and b) the glorious musical clusterf*ck that is Hedwig and the Angry Inch. I hope I was right. In any case, everyone went home singing rock show tunes and full of fake sausage, so I consider the night a success.
Photos are all by Ben Walsh, master of strange angles.
The Movie
Hedwig and the Angry Inch

[Buy Me]
Synopsis, via IMDB:
"Hedwig, born a boy named Hansel in East Berlin, fell in love with an American G.I. and underwent a sex-change operation in order to marry him and flee to the West. Unfortunately, nothing worked out quite as it was supposed to – years later, Hedwig is leading her rock band on a tour of the U.S., telling her life story through a series of concerts at Bilgewater Inn seafood restaurants. Her tour dates coincide with those of arena-rock star Tommy Gnosis, a wide-eyed boy who once loved Hedwig… but then left with all her songs."
This summary is technically correct, but it leaves out a lot: How Hedwig is a case study in pathos and wit and anger and charm. How hating musicals is part of my Personal Brand but I love this one anyway. How having "Wig In A Box" stuck in your head will improve your smarts, imaginative prowess, workplace productivity, and general badassery for an average of 2.4 weeks. How a viewing with the right kind of people will spark really interesting and possibly heated discussions about non-binary identities and intersectionality and responsible trans* representation – there's controversy over how Hedwig's gender presentation is portrayed, and certainly watching this movie (and writing about it!) doesn't signify a wholesale signing off on everything in the film. AND let's not forget how Sleater-Kinney (with memorable help from B-52 Fred Schneider) covered one of Hedwig's songs for a benefit CD:
If you don't feel like improving your knife skills after blasting that, I don't think I can help you. But if you do, let's get started!
The Menu
Arugula & Fennel Salad
Broccoli & Sausage Rissotto
"Angry Inch" Cocktails
+
Arugula and Fennel Salad
"I tried singing once, back in Berlin; they threw tomatoes.  After the show, I had a nice salad." – Hedwig*
Can vegetables be punk-rock? It's hard to say. But if any have the necessary scowl, my vote is for arugula (it's all bite) and fennel (it's got that slow burn).
*I've also been in misunderstood bands, and tomatoes are one of the only things in the world I always hate, so I decided that leaving them out was a sign of solidarity. But if you like them, feel free to toss some in!
Ingredients (serves 8)
1 package baby arugula
1 cup fennel, sliced
8 oz artichoke hearts (1 can)
1 shallot or onion
3 tbsp cider vinegar
5 tbsp olive oil
juice of half a lemon
salt and pepper
3 oz Parmesan cheese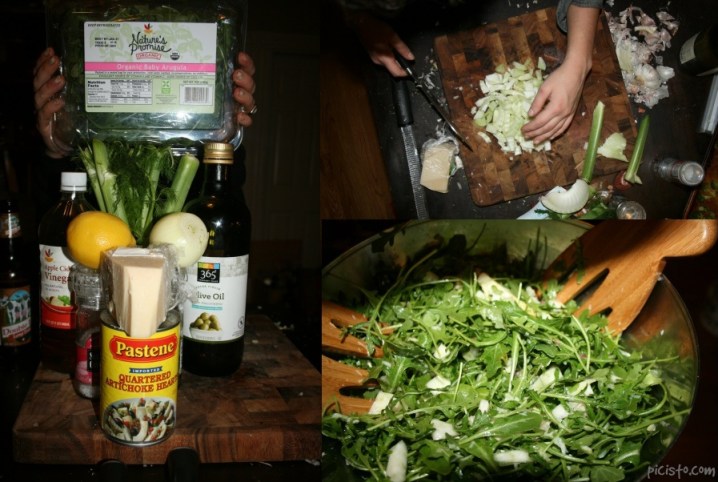 Chop up your onion and/or shallots and leave them in the vinegar to soak for 10 minutes — this will become your dressing. Meanwhile, chop the stems off your fennel, discard them (they make great fake microphones, FYI), and slice the bulbs into bite-sized strips. Put the arugula, fennel, and uncanned artichokes in a bowl and mix it all up. Add the oil, lemon juice, salt, and pepper to your shallot bowl, whisk it with a fork, and drizzle it over the salad. Grate the parm on top, and voila! Salad days, salad nights.
Broccoli & Sausage Risotto
Sausage because of Berlin. Broccoli because broccoli is delicious and harmonizes well with sausage. Risotto because the care that is required to slowly add the broth, and to mindfully and constantly stir, reminds me of the care needed to maintain a blossoming romantic and artistic relationship such as the one between Hedwig and Tommy Gnosis, as does the fact that it inevitably burns anyway. Sigh.
Ingredients
5 tbsp olive oil, divided
1 head broccoli, chopped into bite-sized chunks
1 onion, diced
3 cloves garlic, minced
1 lb sausage or fake sausage (I used "Smart Sausage: Italian Style," and it was delicious and contains 13 grams of protein per serving)
2 cups arborio rice
6 cups veggie broth
1/2 cup white wine
salt and pepper
3 more oz Parmesan cheese
Start by roasting your broccoli — preheat the oven to 400, spread your florets on a baking sheet, drizzle them with about 2 tbsp of the olive oil, and pop them in the oven for about 20 minutes. Meanwhile, brown your sausage by slicing it up and cooking it in an oiled skillet on medium heat until it's fragrant and, well, brown (make sure you push it around a lot with a spatula so it doesn't stick and burn).
If you've got helpful friends, or are a one-man band, you can begin the risotto now too. Pour your vegetable broth in a pot and put it on the back burner to heat. When it starts boiling, bring it down to a simmer. Meanwhile, saute the garlic and onion in a stockpot, using the remaining 3 tbsp of olive oil. When they're translucent, add the arborio rice, and stir it into the oil and onion for two minutes. Add the white wine and stir until it evaporates. Then, start adding the stock. This is the time-intensive part! You're going to want to add half a cup at a time and stir constantly so that the tiny rice kernels can absorb it evenly and become perfectly liquid-filled and soft and delicious. This will take about half an hour and you'll know you're done when the risotto is creamy, but with a slight agreeable chewiness, and you'll know the risotto is creamy-with-some-chew because you will be taste-testing it just enough not to spoil your dinner.
Once it's reached the right consistency, turn your burner off and stir in the broccoli, sausage, butter, and cheese. Cover it and let it sit for two minutes. Then unveil it and serve it to yourself and your patient and famished friends.
"Angry Inch" Cocktails
I was pretty surprised when I couldn't find a Hedwig-related drink recipe online, but I was also glad for the chance to make up my own. Inspired by an unforgettable musical number involving oversized candy and bad puns, this cocktail is characterized by its alcoholic flexibility, as "one inch of whiskey" means whatever you want it to when you get to choose the glass. Have fun.
Ingredients
1 inch whiskey
1 shot limoncello
Coca-Cola
Gummi bears
Pour in the whiskey. Pour in the limoncello. Add a splash of Coca-Cola. Drop in some gummi bears. For extra credit, let your dregs sit overnight and eat the whiskey-soaked gummi bears the next day. Rock star status.