Look, we all know season six of Pretty Little Liars was very bad. Not just the murdering of a trans woman after revealing her to be the show's big psycho. Not just the complete dismissal and sudden double gay standard of Emily's love life. Not just the that Ezra Fitz continued to be a goddamn thing. There wasn't any dramatic tension at all after the time jump.
How could we get excited about finding out the identity of a New A when finding out the identity of the Old A had been such a let down? How could we get excited about these new romances in the Liars' lives when it was obvious to anyone with even just a Scooby-Doo-style understanding of TV that none of the Liars' love interests were anything more than cardboard cutout stand-ins? All the little joys this show used to bring me — the absurdities and the deep hard feminist truths and the power of seeing women's relationships with each other and every time Emily kissed another girl — were lost in season six. Or maybe they were still there (with the exception of Emily kissing other girls) and I just felt too betrayed to see them. I don't know.
What I know is last Tuesday night I was with our senior editors at our staff retreat and Riese turned on Pretty Little Liars and I shrugged like it was no big deal and all of a sudden Emily and Sabrina were planning for a date and Rollins was staring down at me through a cracked windshield covered in blood, and you'll say it's misandry or that my feminism is fucked up or that I'm fucked up but it was the first time a man on this show has faced consequences for preying on a woman, and for all the blood we've seen the Liars spill over the years, his death was the bloodiest. Our ferocious, complicated, scheming, dreaming Alison DiLaurentis reduced to impotence and nothingness for so long; married to this personification of toxic masculinity; subduing her, controlling her, muzzling her, robbing her life from her. She was a vegetable. She'd been a vegetable. But she was born again like fire and she struck back and she ran and the women around her destroyed the monster.
Rollins' head was smashed into that windshield and Ali was standing there in her nightgown like the glorious angel of righteous death. And I was in it for the first time in over twenty episodes.
My nose was six inches from the TV. I don't know how I got there. I scooted closer to hear better or be near the show I fell in love with. Is this our show again? It's the last season. Maybe the writers will finally say fuck it and tell the exact story they want to tell.
Here's what happened in the first three episodes of season seven. Tomorrow I'll roll out my weekly recaps again. If Paige comes back to die this season, I will throw Freeform into the sun. You've been warned.
---
Hanna Marin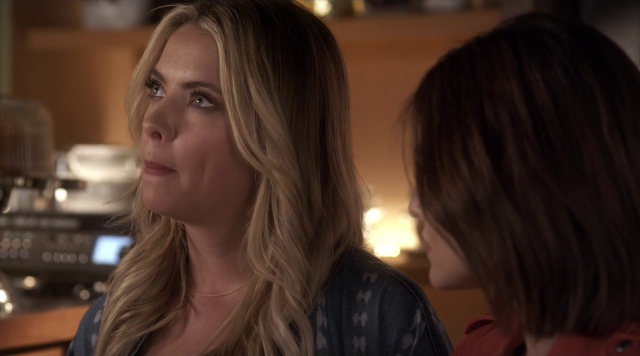 Let's go ahead and start with Hanna who had the dumbest idea in the history of Rosewood (okay and I am counting the time Emily gave that man in the forest her face). She offers herself up as "bait" to catch A, and obviously gets legit kidnapped and tortured (again) in some toolshed in the middle of the Forbidden Forest under the surveillance of a person wearing night vision goggles while stripped down to her underwear like it's a Saw movie. Seeing Hanna filmed in this sexually brutalized way made me all the happier when Rollins crashed through that windshield.
The whole time Hanna is kidnapped, Caleb is pinging out of his gourd, which is pissing Spencer off for stupid reasons. Like yeah, duh, he's still in love with Hanna, Spence, but Hanna is your best friend, so maybe pout about the rabid way your boyfriend's trying to save his ex-girlfriend after she's been rescued? Dream Spencer is a help, though. She arrives in the shack in a hazy daazy fog to tell Hanna to crawl out of the barn through the air ducts the way Caleb crawled into her heart those many moons ago, and Hanna does.
She kisses Caleb. She goes to NYC to try to repair things with her fiance, Cardboard Johnny, but he's mad because she lives in Rosewood now and didn't even text or send him a Snap to let him know she'd been taken hostage and was being waterboarded with gasoline.
The highlight of her escape is when she runs into the street in her skivvies and Jessica DiLaurentis' evil twin sister, Mary Drake, stops to give her a ride back to town.
Hanna's working with Lucas now on some kind of fashion project because the personal space transportation market is hard to break into at the moment and Lucas needs a side project to keep him busy.
Spencer Hastings
Oh, how the mighty have fallen. Scorned in love by Caleb Rivers, King of the Short-Sleeved Button-Up. Fired from her job for never doing her job. Abandoned by her parents for a "cruise" after her mom won the election for Hellmouth Mayor. Spencer forlornly eats pickles and only really perks up when Mary Drake arrives at her backdoor one dark and stormy night to catch up with Veronica and Peter.
Spencer: Did my parents live here when you were a Rosewood resident? They haven't lived here since I was born.
Mary: Well, my sister was a real bitch, I'll tell you that right now.
Spencer: Oh. Ha. Um, yeah, it was a real surprise when we found her buried in my mom's hydrangeas.
Mary: Not to me. She was destined to be clubbed over the head and buried carelessly in a hole in her own backyard.
Spencer: Yeah, um. It's a pretty busy hole. So you bought the Lost Woods Resort? A friend of mine had a lair there one time. I was almost burned alive in a little cabin nearby during my sophomore year. Say, were you Charlotte's mom/did you kidnap Hanna?
Mary: You're a nosy little motherfucker. I like it. Bye.
After Hanna gets out of that little misery hut, Spencer breaks up with Caleb because she loves him but he only likes her. And then she's so desperate for relevance that she actually follows Emily's lead to figuring out what the fuck is going on with Alison and her new horrible husband.
Emily Fields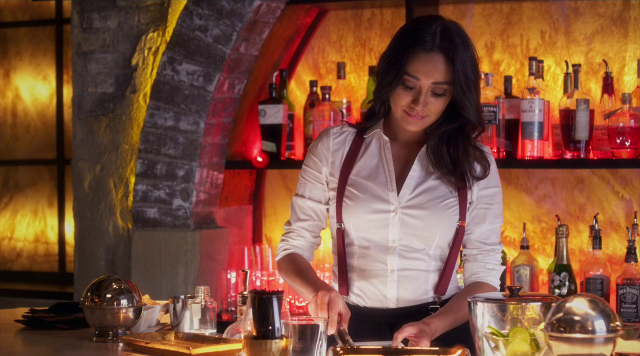 Connected to Ali for all eternity through the Lesbian Spirit Realm due to each of them being the first girl the other one kissed, Emily decides to find out for herself why Alison has lost her literal mind. She goes to the hospital where Rollins works and is keeping her strapped to this, like, cot and whispers in her ear to please confess if she killed her sister. Ali kind of wakes up at that point and thrashes around and screams for Jesus, but Rollins comes in and shoots her up with some drugs to put her back into her coma. Emily feels suspicious of Rollins and also pretty sad because Ali's manic crying out for the Lord is all the proof Emily needs that Ali murdered Charlotte.
Even though Ali is on drugs and being Tracker Jacker tortured by her husband (more on that in a minute), she senses Emily's concern through the Lesbian Spirit Realm and reaches out to her for help. Emily starts to piece some things together. This hospital Rollins works at, for example, is just a warehouse with one room in it that only even kind of looks like it belongs in a medical facility. He's stabbing her with drugs. Not giving them to her through an IV or anything, just jabbing a syringe into her arm every time she wakes up. He's got a bone saw in his bag that he takes out to look at a lot. He's secretly British and watches the BBC and cries about the Brexit. He made out with Charlotte sometimes. He stares out a lot of windows menacingly and seems awfully familiar with Mary Drake.
She convinces Spencer she's right about Rollins by taking her on a deep dive sleuthing mission and discovering that Elliot makes Wilden masks and wears them around Ali to convince her she's a crazy person. She does this by knowing what raw materials go into making masks.
Plus despite all this shockingly competent mystery solving, she wears some suspenders and gets Sabrina to agree to go on a date with her!
Aria Montgomery
Ah, Aria. Aria Aria Aria. So obviously when she co-wrote her book with Ezra the subject was their relationship. Liam comes to town in the capacity of editor and boyfriend to have a little chat with Ezra about it and becomes the very first person on this show to actually call Ezra a predator. It will go down as one of my all-time favorite TV moments and I would like to take this moment to thank Joseph Dougherty from the bottom of my heart for writing it into this show and Norman Buckley for directing it onto my television.
Liam: So, this roman à clef about you and Aria. You're 100 percent a predator in it, dude.
Ezra: EXCUSE ME.
Liam: She's fifteen. You're her teacher.
Ezra: We're only a few years apart, what's the big deal?
Liam: The big deal, as I just stated, is that she was under the age of consent and you were in a position of power and authority over her, you fucking creep.
Ezra: I'm more interested in thinking of myself as a hero, to be perfectly honest with you.
Liam: Well, I'm telling you as a person outside of this shitshow of a town, and outside of the perpetual way y'all victimize the women here, you're a classic predator in every sense of the word, and this isn't even counting the stuff that isn't in this book like all that time you spent stalking your underage students and filming them without their consent.
Ezra:  ¯\_(ツ)_/¯
Obviously Aria breaks up with Liam right after this because he goes ahead and continues his truth crusade by telling her she was both groomed by and preyed upon by her English teacher, and maybe it would have been nice if she'd told him that, but he gets why she didn't (or maybe even couldn't), but let's be real here, Ezra is a monster. She's like, "Okay, bye! Getting real about Ezra isn't going to trend on Twitter!"
You know, but Liam did say it. He said it out loud and I will honor him with a statue in the Rosewood town square after I ultimately am forced to firebomb that town and helicopter the Liars out of there.
Alison DiLaurentis
So here's the deal: Mary Drake and Dr. Rollins are working together to avenge Charlotte's death by taking over the Carasimi Group and the fastest way to do that is by marrying him off to Alison and drugging her within an inch of her life. Masks, too. Masks are the fastest way. Neither Ali's brother nor her father could be bothered to check in on her after her escape from the dollhouse and Charlotte's prosecution and then murder, so it's safe to say she was spiraling.
Aria was off in Boston at her fancy publishing job. Hanna was doing fashion in New York. Emily was reeling from her dad's death and bartending on the beach somewhere. And Spencer was off getting those bangs. So Ali, who has never had one single healthy experience with a man in her entire life, went ahead and married the first one who asked her.
And he's a super pyscho. And now he's dead.
Season seven opened on the Liars frantically digging a hole and freaking out about burying a body. It's fair if you thought you'd never find out why that was happening. But here we are, three episodes in, and we actually know a true thing about a murder. The Liars have been persecuted and prosecuted for crimes they didn't commit for their entire lives. Now they've actually done one. Not the killing part, but definitely the covering it up. This is a new thing. It's The Jenna Thing times one hundred.
Emily's going on a date with a girl, there's a rumor that Charlotte's not dead, someone finally called Ezra Fitz out on his statutory rape. Maybe it's a new day. Maybe the curtain has been pulled back on a new act of the Faustian puppet show. Only time will tell. Time and Mona Vanderwaal.
---
Screencaps, as always, by Nicole (@PLLBigA)! Thank you, my dear friend!