Previously on Pretty Little Liars, Hanna and Spencer and Aria broke into the lab where Lesli Stone works and set all the animals free. As a reward, Mona descended from her throne to tell them some more clues: Charles and Bethany were BFFs who broke out of Radley the same night, Lesli is just another in a neverending psychotic clown parade of red herrings, and also Lesli is Bethany's archnemesis. Also they realized Charles chipped 'em in the neck with tracker jackers. Sara Eeyore-ed around town in the sketchiest possible way and then made out with Emily. And Charles sent Vernon a birthday card that finally severed the last thread that was tethering him to reality, and so he drove to Aunt Carol's and dug his own grave.
Spencer and Aria are enjoying a romantic evening at home in front of the fire, reading up on how to remove the GPS chips Charles (…or Spencer) planted inside their heads. It seems to be a simple neurological surgery, no big deal. It's not like they're installing new eyeballs like what Jenna got that time from Wren. It's not like anyone's getting a head transplant. Aria beeps; she thinks it's her tracker, but actually it's her phone. Mona is texting to say Lesli has agreed to meet up with them and answer all their questions about her time in Radley. How close were Charles and Bethany? Did he ever try to boil her alive in a bathtub? Did she ever call him Freddie? Did he ever call her Bebe Drake?
Aria goes: "Ali needs to be there; where the hell is she?"
That's my main question this season, too, Aria Featherears.
Where Alison is today is: being kidnapped by her father, who is no joke covered in dirt from when he was digging up Charles' grave about ten minutes ago. Ali tries to get him to tell her what the actual fuck is going on, but, as usual, grown men on this show are worthless at knowing or explaining things. So Ali snags the birthday card Vernon's got tucked between the seats and she's like, "HE'S ALIVE?!?!" And then, "He's coming for us, isn't he?!?"
Remember that scene in Order of the Phoenix — the movie; not the book, obviously — when Hermione stares out the stormy window in the Gryffindor common room thinking about Voldemort, and really dramatically, like even her eyebrows are involved, she goes, "He really is out there … isn't he?" Uh. Yeah. Yeah, he's out there. This is movie five. You've known he was out there since the end of movie one. Remember 100 pages ago when he murdered Cedric Diggory and tried to do the same to Harry?
That's what this scene with Ali made me think of: "He's alive?!!! He's coming for us, ISN'T HE?"
Y'all are the brightest witches of your age. What in the chocolate frog hell kind of questions are those? Yes, the main villain of your story is still after you. COME ON.
So many things people say in this episode make me feel like my brain is scrambled eggs. This show is always bonkers and I love it, but usually the things the Liars say about the bonkers-ness make sense. In twenty minutes, Spencer is going to legit go, "He has a badge and gun; he can keep us safe" and my scrambled egg brain is going to shatter inside my head and Spencer and Hanna are going to have to watch a YouTube video about how to glue it back together.
Hanna is beboppin' on out the door to meet the Liars at Mona's to interrogate Lesli when Ashley stops her with the good news that she has received a scholarship and can take her genius brain to college and away from this homicidal shitshow of a town. Ashley is crying. She hasn't been this happy since she robbed that bank and murdered that fake architect. The scholarship is from the Carissimi Group, which is a word you'll remember seeing spray painted on the wall at Radley when Hanna and Spencer were creeping around in the basement with Maddie Ziegler.
At the Brew, Emily runs into a girl named Claire who has been looking for her. Emily assumes that Claire is like every other girl who shows up at this coffee shop saying her name, meaning: a) a lesbian, who b) wants to take Emily's masterclass class on finger banging. Claire is here to see Sara, though, which pleases Emily not one single bit. Because you remember this Claire, right? She showed up in the middle of season four after the Liars found out Sara Harvey was another blonde teenager who wore a yellow tanktop and got assassinated in Alison's backyard on Labor Day. The Liars tracked the Alternate Liars down in Luck Stop, PA or wherever and Claire was one of them. And then later on, Claire came to the Brew and told Emily she spent a lot of time wishing Sara was dead before Sara died.
So it's understandable that Emily feels a little uneasy about producing Sara for Claire, especially after Claire fully guffaws at the idea of Sara having a job/the ability to read.
Spencer also is getting ready to head over to Mona's, when someone knocks on her back door. She sighs the biggest, most annoyed huff and rolls her eyes, and who can blame her? Nine out of ten times it's another riffraff at this back door, come to act like a patronizing prick about every choice she makes for herself. It is not that this time, though. It is Toby. He lifts her up and smooches her face and asks her to stay and bone him, but Ariabae is texting about how Spencer needs to hurry up and get to her, so Spencer lies about having to write her valedictorian speech and bounces.
When Spencer arrives at Mona's, Aria is mutilating the dolls on her shelf, ripping their heads off and pressing them back onto their little doll bodies backwards.
Mona: Well, Lesli's not coming, y'all. She's afraid that talking about Radley is going to make her relapse into being a crazy person.
Hanna: She never achieved un-crazy person status to begin with.
Mona: True. Oh well! But she doesn't know anything more than what I know, obviously, so this is kind of a waste of time. Like I get wanting to menace her face-to-face, but stop freaking out like she's the key to this convoluted Radley scenario.
Aria: I miss Big Rhonda.
Hanna: Anyway, all that stuff you told us when you were driving around your mobile lair and we were burning alive in that lodge, like about the game getting stolen from you in Radley, basically the entire last three seasons of this show, what was that about?
Mona: Oh, I was on drugs.
Spencer: FOR SHAME.
Hanna: Did you kiss Ali the night you rescued her from the side of the road, after the Grunwald pulled her from the earth and two psychos broke out of the local asylum?
Mona: Did I kiss her?
Hanna: You heard me.
Mona: A little, yeah. But mostly we finally just acknowledged that we made each other, like Batman and the Joker did, and then she got in her plane and flew away.
Emily has been isolated from the group by her shady love interest like an early seasons Aria Montgomery. Sara returns from therapy and Emily is telling her she doesn't have to go meet up with Claire, but if she wants to meet up with Claire, Emily will be happy to come along and chaperone. They talk about the nightmare of kissing each other and Emily says they need to take a real think on it before they continue down that path of inevitable lighthouse gizzard-stabbing.
Have you noticed every time these two are in a scene together, the music is sun-dappled hazy-days, like, "Shhh, just relax, viewer, there's nothing going on here but some chill lesbian times that make total sense." I always notice it because sun-dappled hazy-days playlists are my lifeblood and also because every time a TV show or movie tries to make me feel a thing I'm not feeling, over and over, with music, it makes me paranoid and suspicious. It makes me feel like a Hastings on any given Thursday.
Lorenzo arrives in his civvies to talk to Alison, but she is not home, of course, because she has been captured by her father. Lorenzo wants to know where she is and where she's going and why she hasn't returned his calls, because usually he leaves a message telling her how to feel and think, and she calls him right back to confirm what he wants from her. Not today, though. He's left at least three messages telling her the police are her friends and she hasn't even texted back with a police car emoji and a heart. Jason tells Lorenzo to skedaddle, and to tell the police guarding the house to skedaddle, and then he wanders over to the side-porch where someone has left a balloon and a birthday invitation. It is Charles. It is Charles' birthday. Jason is invited to the party!
Jason walks five feet to where the Rosewood Police Department is sitting in their squad car, monitoring the house for intruders because their number one priority is keeping Alison safe, and asks them who put this balloon and birthday invitation on the porch.
JUST KIDDING. He doesn't ask them because they obviously didn't see who crept up onto the porch because the RPD is the most negligent, incompetent group of bozos on the earth.
Anyway, the birthday party is at 42 Wallaby Way. The invitation is for one person only, non-transferable.
Aria's at home cataloguing an absolute mountain of horrible dolls when Mike wanders in and flops on the floor and cries very valid tears about how his heart is broken that Mona has returned from the dead and not contacted him. Literally the first thing Alison did when she was resurrected was sleep with Emily; he just doesn't understand. Aw, Mike. You're such a kind-hearted age-appropriate fella who only ever fully worshipped Mona for the adrenalized hyperreal unicorn beast that she is.
Emily and Sara and Claire are at lunch with Claire.  (This music again!) Sara and Claire are trying to talk about all the things Sara missed while she was away, like Claire's dog grew up into a full dog and not a puppy, and one of their friends had a baby. Okay, and but Emily is feeling kind of left out? So then Sara has to look at the photos on Claire's phone and be like, "Wow, yeah, show Emily this one of you and Josie at Disneyland," right, and then all, "Oh, and Emily, show Claire that one of you and the girls dressed like corpses in the underground bunker where we were held hostage, which is the thing we have in common." Claire invites Sara to come live with her, or even just to have dinner, but Emily doesn't let Sara consider it. She snaps that Sara has police protection at her house and it's time to get the check and go home!
Claire's face is like: "Wouldn't you be safer being guarded by a squadron of newborn babies — literal newborns, with gunk on them still and their eyes aren't even open yet — than being guarded by the Rosewood Police Department?" But she doesn't say that. I guess she assumes crazy old Sara has found her crazy old lesbian match, and lets it go.
At the Brew, Hanna and Spencer are watching videos of surgeries and planning their first tag-team medical procedure together when Hanna brings up the scholarship from the Carissimi Group. Hanna and Spencer joining forces has been my absolute favorite part of this season, and one of my favorite pairings this show has ever done. I love it so much. SO MUCH. Hanna and Spencer Google the Carissimi Group. Its website page looks like some kind of investment firm template, and then they notice one of its business partners is Radley.
Spencer: Carissimi means "beloved," in Latin, by the way. That's just a thing I know off the top of my head.
Hanna: Beloved?! And in the word I saw on the headstone in Aunt Carol's backyard?! Carissimi, as in: "Charles, Beloved Son"!?
Hahaha! What? Come on. At least have a parrot say that shit to me.
Spencer and Hanna decide Carissimi Group is code for "Charles' Private Bank Account" and he's rich because Jessica DiLaurentis kept depositing money in there, despite the fact that Charles was a known psychopath who tried to kill his own sister when he was like seven years old by luring his parents away from her with a recording of himself screaming for help in the yard. (Also: "I feel like a cyclops." "Cyborg." "I'm pretty sure it's pronounced cyclops.")
Spencer's phone rings and when she steps away to take the call, Sabrina slips some gummy bears laced with weed into her satchel with no explanation.
It is Alison who is calling Spencer, and for one single second we get a glimpse of the Real Ali, drugging her dad so she can escape from his moronic clutches and get back to the business of taking care of her own magnificent Slytherin self, but then she's right back to Inexplicable Ali, going: "Spencer, you have to help Jason! He's going to meet up with Charles, my fake-dead brother who tried to murder me as a child and as a teenager and has been terrorizing you for years and who held you hostage in an underground life-sized dollhouse! Don't worry it, though: Charles (quote!) isn't after you, not this time."
Oh, he isn't? We're all good to just hang out with this thoroughly deranged omnipotent cyberghost and not worry that he's going to seize us and torture us? Which is a thing you know from reading a birthday invitation threatening literal murder as your dad drove maniacally down the road covered in grave dirt? He's not after us this time, you say? Okay, then!
Vernon comes crashing into the room, yelling, "DID YOU TAKE MY PHONE? HANG UP RIGHT NOW!" And then this incompetent motherfucker goes, "Will you give me just one day to figure this out?!?!"
The most adrenalized hyperreal minds in America have been trying to figure this out for years, Vernon. You won't understand it in a day! You won't understand it in a lifetime!
Emily is sitting on her bed when Sara shows up in the doorway screaming her name like a blind person. For real, she shouts, "EMILY??!?!" Then she takes two steps to the bed and explains that she's going to live with Claire now so she'll be free to kiss Emily's mouth whenever she wants to. Personally, I think she's going to live with Claire because at the Mad Hatter Tea Party, Emily said that Tanner didn't want Sara to leave town, and so Sara is leaving town. But you go on ahead and think she's doing it for love.
Look, I know you think I'm being insane about Sara because of Paige McCullers, but that is not it! I'm being insane about Sara because no tertiary character comes to town smooching on a Liar unless carnage is afoot. Where is this "family" Sara keeps talking about? Same place as Cousin Nate's "family"? Is she chipped like the other Liars are chipped? I sure don't think so because when Charles looks at his little chip tracker app in a little while, there's four beeping blorps only, and that's all the Liars' chips. Honestly, I think my ability to be skeptical about Sarah the way I am skeptical about Jason and Wren and Garbage Art Johnny says a lot about my feminism, y'all. I'm about equality. Unlike Spencer, my complete distrust of all humans who aren't Liars is balanced. Unlike three years ago, I don't have to believe everything a queer TV character says to me. We don't have to defend Marissa Cooper anymore. WE'RE LIVING IN THE FUTURE.
(Also, this music some more!)
The Liars roll up to Jason's to try to convince him to not go to Charles' birthday party, but he's not home and the RPD officers out front think the Liars should scram and leave the DiLaurentis house alone.
Mike shows up at Mona's with a basketful of dolls, which is a thing I love endlessly. Mike goes to Aria and he's heartbroken over how Mona won't talk to him, and so Aria packs a whole throng of dolls into a laundry basket and is like, "Here, take these terrifying porcelain children over to her" and Mike does, and Mona just immediately starts unpacking them and putting them on her shelf, no questions. One of the dolls' hands is tied up with rope and Mona doesn't even bother to unravel it before situating it in with the other spine-chilling moppets on her shelf.
Sweet Mike says he did everything Mona asked him to do and never tried to rob her of her autonomy and loved even the scary parts of her and kept going out into the woods with satchels of candy even after she was dead, hoping she'd show up there and love him. Oh, Mikey. Never grow into a Rosewood man. Stay a Rosewood teenage boy forever. (Or move.)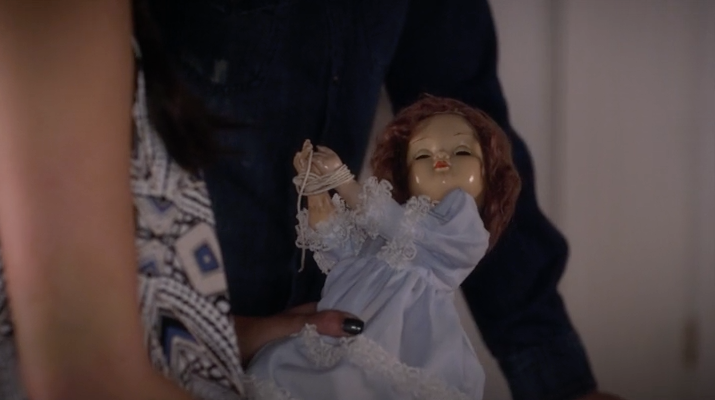 Mona kisses Mike because he really does get her. She doesn't love him like she loves Hanna, but sometimes boxed brownies are okay while the plum pudding's still ripening.
Hanna and Spencer have hatched a plan. Step one) Remove the trackers from the Liars' spinal cords with a scalpel and some plastic tongs from the game of Operation and some Neosporin. Step two) Use one of Caleb's trackers to stalk Jason to the location of Charles' birthday bash. Step three) Ambush Charles. Step four) Live free. When Aria pushes back because what does "ambush Charles" even mean? Dogpile him? The only person who's ever managed to get close enough to do that was Spencer and she just stared straight ahead and whispered his name and didn't even turn to look at his face. Hanna snaps, "I'm not going to live like this anymore!" Which makes perfect sense. Spencer says they'll invite Toby to come along because "he has a badge and a gun; he'll keep us safe." Which is the most senseless thing that has ever come out of her mouth or anyone's mouth in all of history on every plane of the space-time continuum.
Alas, she does invite Toby. He comes over and she explains the whole Charles thing to him while Emily and Aria are yelping upstairs and Hanna is chiding them to relax. Hanna's disembodied voice going "HOLD STILL!" made me laugh so hard. So Spencer gives Toby the shakedown of everything they've learned in season six, and he's halfway out the door to drop this information at Tanner's feet like a cat with a dead rat, pleased as punch with its own competency, when Spencer stops him and begs him to help them "fly under the radar" this one time.
Toby literally goes, "Spencer, this information could have helped us!" And, "Nobody's going anywhere!" And, "You want my help, you're doing it my way!" And then when she goes upstairs, he reaches into her bag and pulls out her gummy bears and reads the private note attached to them and steals them!
Alison's dad slithers into the hotel bathroom and says, "GOING SOMEWHERE?!" at Ali. This guy honestly makes Byron Montgomery look like the world's best dad. "Are you seriously about to get molested by another police officer, Alison? God, you're such a whore!" "Where do you think you're going? To get kidnapped?" "Your face is dirty, asshole. Been out letting your mother bury you alive again?" Whatever, though. She says she's going to bed but really she has laced his coffee with sleeping pills.
Toby's jawin' on them gummy bears like his abs depend on it while Lorenzo mother hens him about eating some protein. Toby says maybe he could stop that shit for a second and man up and get in their squad car so they can swing on down to 42 Wallaby Way and see if anything dodgy's going on. It is out of their jurisdiction and does Lorenzo doesn't really want to leave their beat and do it without letting command know. Toby tells Lorenzo to just get in the car and stop acting like he's so much better than Toby just because he went through a "training program" and knows police words.
Luckily Hanna has not shut off her brain for this episode like everyone else (except, weirdly, Aria?), and so she has a backup phone she's using to track Jason's car. Once it's been sitting still for ten minutes, she sounds the alarm and the Liars make a beeline for the BEAUTIFUL TOYOTA to begin Operation: He's Not After You This Time. Aria hovers her fingers over 911, but decides against it because that's a season one move, to even pretend to want to involve the police.
Jason shows up at some abandoned building and goes inside. Charles peeps him from behind a fence, and pulls out his phone to make sure the Liars' trackers are all still at Spencer's house. They are. Also his phone is making the loudest, most amazing BEEP! BEEP! BEEP! BEEP! sound. Super incognito.
Hampton Inn, Out of Town
Alison: Thank you for coming to get me. I couldn't find my dad's car keys after I drugged him, and you were the only one who answered my call.
Mona: No worries. Do you want to go unleash some hell on your brother(s)?
Alison: No, I have a stupider idea. [Dials 911]
RPD Dispatch: Hello, Rosewood Police Department and Little Caesar's Pizza. How may I direct your call?
Alison: This is Alison. I know who A is.
RPD Dispatch: I'm sorry, honey, did you say you're a gay whiz?
Alison: I KNOW WHO A IS.
RPD Dispatch: You're in the sleigh biz?
Alison: This is AL-I-SON. Dilaurentis?
RPD Dispatch: Ohhh. The one who was preyed on by Wilden? Or Garrett? Or, wait, was it Holbrook? No, Lorenzo's girlfriend, right?
Alison: [to Mona] They're on their way.
The cops bust into Ali's house. No one is there, but that balloon and birthday invitation are still floating around.
At Charles' birthday party, Jason wanders around in the dark hollering, "Charlie? Hey, Charlie! It's me, I came alone! Remember that time you tried to fry Alison like a dumb little fish? Hahaha! I'm here to celebrate your birthday!" Well, Charles doesn't even come out for some cake because Lorenzo and Toby bust up in there, guns and badges blazing, and then the Liars, and then all the whole rest of the Rosewood Police Department, some clowns, the caterers, the people who are there to set up the bouncy castle, a plumber.
Toby is tripping balls and can't get a lock on invisible Charles, who runs around and drops a bunch of pipes on everyone's heads and then starts shooting them all with tennis balls out of a t-shirt cannon. The sound effect of those balls coming out that thing is fantastic. Thwomp! Thwomp! Everyone is dead from tennis ball shrapnel, except for Toby and the Liars. Spencer rushes over to Toby and dusts all the metal pipes off his head and she's like, "You were aiming right at Charles' unseeable face! What happened?" And he's like, "Are these my HANDS? Does it smell purple in here? Oh, Spence, don't wrap me up like a burrito when I die."
And then everyone gets arrested.
The Liars return home to their misery. Ashley won't entertain the idea of Hanna not using the Charles, Beloved Son Fund to go to college. Aria cries because she gave all her dolls away without checking to see if there were millions of dollars stashed in their skulls. Spencer apologizes to Toby for getting him high, but he just is green-colored and doesn't want to hear it. Emily smells Sara's pillow and then foolishly smashes her tracker, so now Charles will know they know he knows they know he chipped them.
DiLaurentis House of Horrors
Jason: Despite the fact that Charles has been trying to destroy your life and the lives of your friends from the moment you were born, I am going to make this all about me.
Alison: Obviously.
Jason: I was going to ask him to turn himself in, you know. I was going to drive him to the police station.
Alison: That would have worked, for sure. You're a goddamn genius.
Jason: I just wanted one moment alone with my brother!
Alison: See, I've never wanted that, due to the way he has been murdering me every time I am alone with him for my whole life.
They hear a kid screaming for Jason to come play with him, and so they walk into the den and Charles has converted what was surely a VHS tape into another old-timey video situation to project onto the wall. Jason says it's a video of a birthday party his imaginary friend had in the middle of the day on a Wednesday one time, and so their mom checked them out of school but made them promise not to tell Vernon about it. The kid on the video is like, "Mommy, when do I have to go back to the asylum." And Jessica D's voice is like, "Not for a while, Freddie. Go eat some cake and don't stab your sister in the eye with your fork."
The Risen Mitten gets a gift from "an ally." It's a giant poster of Freddie's birthday party. The frame is made from the finger bones of a dozen blonde-haired virgins.
Thank you to Nicole (@PLLBigA), always and forever, for these screencaps. Most especially for Cooper the Raccoon, who shall live in infamy for all eternity. You should follow her on Twitter. She's been creeping on the Pretty Little Prom.
Pages: 1 2 3See entire article on one page