I've spent the last few months watching two episodes of Bob Ross' iconic PBS series, The Joy of Painting, every day. Once in the morning with my coffee, and once in the evening with a cup of chamomile tea before I settle in to read and go to sleep. I'm practicing being present. I'm practicing relaxing. I'm practicing focusing on what's right in front of me and experiencing the fullness of it. (I'm practicing not letting my depression and ADHD control my life.) Bob Ross makes me feel like everything is going to be more than okay, with his soothing voice and his gentle wisdom and the hypnotizing sounds of his paint brushes and knives on canvas. (I always watch with headphones to get the full effect of the brush sounds.)
A few weeks ago, my girlfriend woke up in the middle of the night when I was battling insomnia by watching Bob Ross. I was crying. She said, "Baby, why are you crying!?" I said, "Because Bob Ross thinks I can move mountains! Bob Ross thinks I can do anything!"
Here are 50 happy little things Bob Ross has said to me lately that make me so happy to be alive.
---
1.
"It's amazing what you can do with a little love in your heart."
2.
"You have unlimited power."
3.
"God gave you this gift of imagination. Use it."
4.
"When you do it your way, you can go anywhere you choose."
5.
6.
"The least little bit can do so much."
7.
"Gotta give him a friend. Like I always say: everyone needs a friend."
8.
"You can create beautiful things, but you have to see them in your mind first."
9.
"Any time you learn, you gain."
10.
11.
"Any way you want it to be, that's just right."
12.
"Don't forget to make all these little things individuals, all of them special in their own way."
13.
"Didn't you know you had that much power? You can move mountains. You can do anything."
14.
"With something so strong, a little bit can go a long way."
15.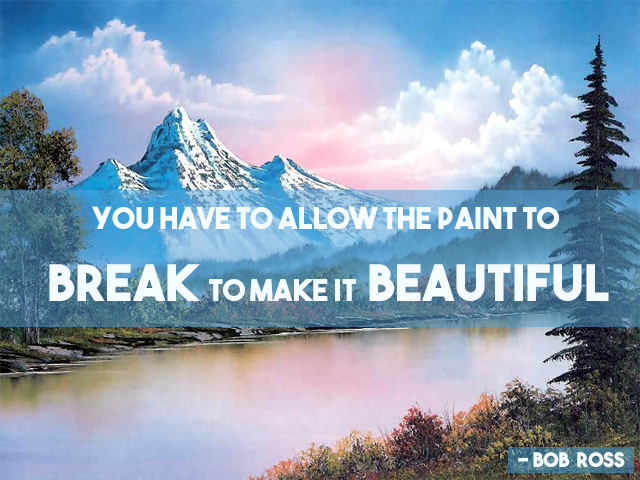 16.
"Just scrape in a few indications of sticks and twigs and other little things in there. People will think you spend hours doing this."
17.
"If you don't like it, change it. It's your world."
18.
"Think about a cloud. Just float around and be there."
19.
"Maybe in our world there lives a happy little tree over there."
20.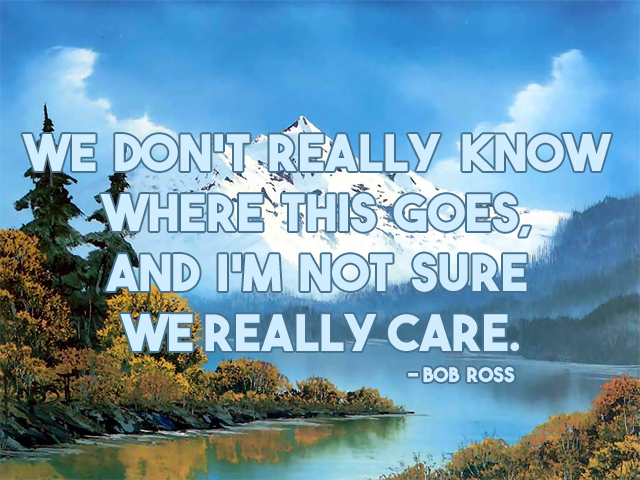 21.
"Sometimes you learn more from your mistakes than you do from your masterpieces."
22.
"You have to put some dark color in so your light color will show."
23.
"People look at me like I'm a little strange, when I go around talking to squirrels and rabbits and stuff. That's okay. That's just okay."
24.
"Only think about one thing at a time. Don't get greedy."
25.
26.
"If you do too much it's going to lose its effectiveness."
27.
"You can do anything your heart can imagine."
28.
"You're meant to have fun in life."
29.
"There's nothing wrong with having a tree as a friend."
30.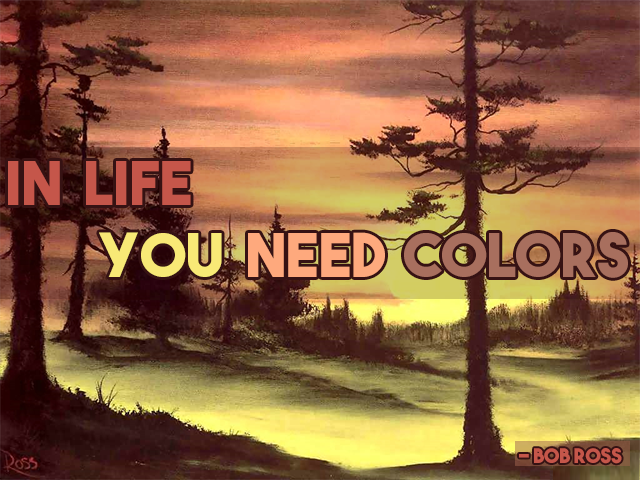 31.
"We don't make mistakes; we just have happy accidents."
32.
"It's a super day, so why not make a beautiful sky?"
33.
"We're gonna make some big decisions in our little world."
34.
"Just let go, and fall like a little waterfall."
35.
36.
"Be careful. You can always add more, but you can't take it away."
37.
"Be so very light. Be a gentle whisper."
38.
"Just go straight in like you're going to stab it — and barely touch it. Barely touch it."
39.
"Don't forget to tell these special people in your life just how special they are to you."
40.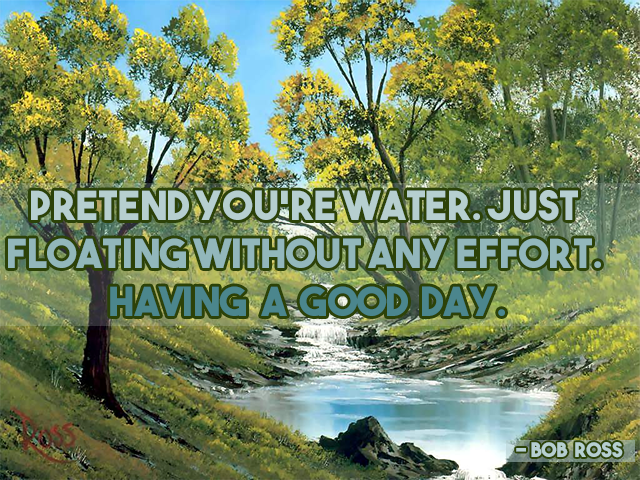 41.
"Take your time. Speed will come later."
42.
"You're the greatest thing that has ever been or ever will be. You're special. You're so very special."
43.
"Just think about these things in your mind; then, bring them into your world."
44.
"That's what makes life fun. That you can make these decisions. That you can create the world that you want."
45.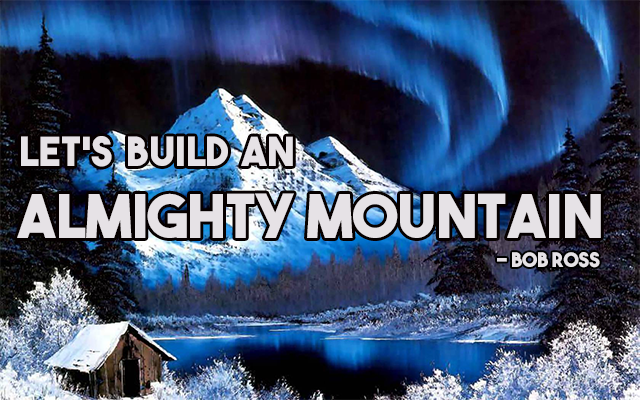 46.
"Whatever makes you happy, you put in your world."
47.
"Trees don't grow even; they don't grow straight — just however it makes them happy."
48.
"Talent is a pursued interest. That is to say, anything you practice you can do."
49.
"Let all these little things happen. Don't fight them. Learn to use them."
50.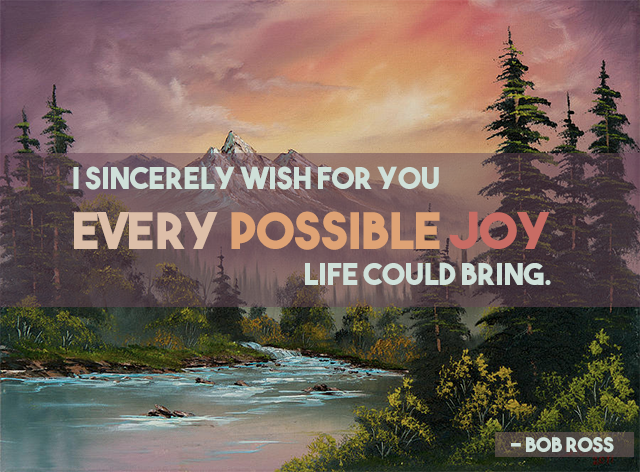 ---
You can stream so many full episodes of The Joy of Painting on Bob Ross' official YouTube channel. And, of course, don't forget this remix.