Jason walks five feet to where the Rosewood Police Department is sitting in their squad car, monitoring the house for intruders because their number one priority is keeping Alison safe, and asks them who put this balloon and birthday invitation on the porch.
JUST KIDDING. He doesn't ask them because they obviously didn't see who crept up onto the porch because the RPD is the most negligent, incompetent group of bozos on the earth.
Anyway, the birthday party is at 42 Wallaby Way. The invitation is for one person only, non-transferable.
Aria's at home cataloguing an absolute mountain of horrible dolls when Mike wanders in and flops on the floor and cries very valid tears about how his heart is broken that Mona has returned from the dead and not contacted him. Literally the first thing Alison did when she was resurrected was sleep with Emily; he just doesn't understand. Aw, Mike. You're such a kind-hearted age-appropriate fella who only ever fully worshipped Mona for the adrenalized hyperreal unicorn beast that she is.
Emily and Sara and Claire are at lunch with Claire.  (This music again!) Sara and Claire are trying to talk about all the things Sara missed while she was away, like Claire's dog grew up into a full dog and not a puppy, and one of their friends had a baby. Okay, and but Emily is feeling kind of left out? So then Sara has to look at the photos on Claire's phone and be like, "Wow, yeah, show Emily this one of you and Josie at Disneyland," right, and then all, "Oh, and Emily, show Claire that one of you and the girls dressed like corpses in the underground bunker where we were held hostage, which is the thing we have in common." Claire invites Sara to come live with her, or even just to have dinner, but Emily doesn't let Sara consider it. She snaps that Sara has police protection at her house and it's time to get the check and go home!
Claire's face is like: "Wouldn't you be safer being guarded by a squadron of newborn babies — literal newborns, with gunk on them still and their eyes aren't even open yet — than being guarded by the Rosewood Police Department?" But she doesn't say that. I guess she assumes crazy old Sara has found her crazy old lesbian match, and lets it go.
At the Brew, Hanna and Spencer are watching videos of surgeries and planning their first tag-team medical procedure together when Hanna brings up the scholarship from the Carissimi Group. Hanna and Spencer joining forces has been my absolute favorite part of this season, and one of my favorite pairings this show has ever done. I love it so much. SO MUCH. Hanna and Spencer Google the Carissimi Group. Its website page looks like some kind of investment firm template, and then they notice one of its business partners is Radley.
Spencer: Carissimi means "beloved," in Latin, by the way. That's just a thing I know off the top of my head.
Hanna: Beloved?! And in the word I saw on the headstone in Aunt Carol's backyard?! Carissimi, as in: "Charles, Beloved Son"!?
Hahaha! What? Come on. At least have a parrot say that shit to me.
Spencer and Hanna decide Carissimi Group is code for "Charles' Private Bank Account" and he's rich because Jessica DiLaurentis kept depositing money in there, despite the fact that Charles was a known psychopath who tried to kill his own sister when he was like seven years old by luring his parents away from her with a recording of himself screaming for help in the yard. (Also: "I feel like a cyclops." "Cyborg." "I'm pretty sure it's pronounced cyclops.")
Spencer's phone rings and when she steps away to take the call, Sabrina slips some gummy bears laced with weed into her satchel with no explanation.
It is Alison who is calling Spencer, and for one single second we get a glimpse of the Real Ali, drugging her dad so she can escape from his moronic clutches and get back to the business of taking care of her own magnificent Slytherin self, but then she's right back to Inexplicable Ali, going: "Spencer, you have to help Jason! He's going to meet up with Charles, my fake-dead brother who tried to murder me as a child and as a teenager and has been terrorizing you for years and who held you hostage in an underground life-sized dollhouse! Don't worry it, though: Charles (quote!) isn't after you, not this time."
Oh, he isn't? We're all good to just hang out with this thoroughly deranged omnipotent cyberghost and not worry that he's going to seize us and torture us? Which is a thing you know from reading a birthday invitation threatening literal murder as your dad drove maniacally down the road covered in grave dirt? He's not after us this time, you say? Okay, then!
Vernon comes crashing into the room, yelling, "DID YOU TAKE MY PHONE? HANG UP RIGHT NOW!" And then this incompetent motherfucker goes, "Will you give me just one day to figure this out?!?!"
The most adrenalized hyperreal minds in America have been trying to figure this out for years, Vernon. You won't understand it in a day! You won't understand it in a lifetime!
Emily is sitting on her bed when Sara shows up in the doorway screaming her name like a blind person. For real, she shouts, "EMILY??!?!" Then she takes two steps to the bed and explains that she's going to live with Claire now so she'll be free to kiss Emily's mouth whenever she wants to. Personally, I think she's going to live with Claire because at the Mad Hatter Tea Party, Emily said that Tanner didn't want Sara to leave town, and so Sara is leaving town. But you go on ahead and think she's doing it for love.
Look, I know you think I'm being insane about Sara because of Paige McCullers, but that is not it! I'm being insane about Sara because no tertiary character comes to town smooching on a Liar unless carnage is afoot. Where is this "family" Sara keeps talking about? Same place as Cousin Nate's "family"? Is she chipped like the other Liars are chipped? I sure don't think so because when Charles looks at his little chip tracker app in a little while, there's four beeping blorps only, and that's all the Liars' chips. Honestly, I think my ability to be skeptical about Sarah the way I am skeptical about Jason and Wren and Garbage Art Johnny says a lot about my feminism, y'all. I'm about equality. Unlike Spencer, my complete distrust of all humans who aren't Liars is balanced. Unlike three years ago, I don't have to believe everything a queer TV character says to me. We don't have to defend Marissa Cooper anymore. WE'RE LIVING IN THE FUTURE.
(Also, this music some more!)
The Liars roll up to Jason's to try to convince him to not go to Charles' birthday party, but he's not home and the RPD officers out front think the Liars should scram and leave the DiLaurentis house alone.
Mike shows up at Mona's with a basketful of dolls, which is a thing I love endlessly. Mike goes to Aria and he's heartbroken over how Mona won't talk to him, and so Aria packs a whole throng of dolls into a laundry basket and is like, "Here, take these terrifying porcelain children over to her" and Mike does, and Mona just immediately starts unpacking them and putting them on her shelf, no questions. One of the dolls' hands is tied up with rope and Mona doesn't even bother to unravel it before situating it in with the other spine-chilling moppets on her shelf.
Sweet Mike says he did everything Mona asked him to do and never tried to rob her of her autonomy and loved even the scary parts of her and kept going out into the woods with satchels of candy even after she was dead, hoping she'd show up there and love him. Oh, Mikey. Never grow into a Rosewood man. Stay a Rosewood teenage boy forever. (Or move.)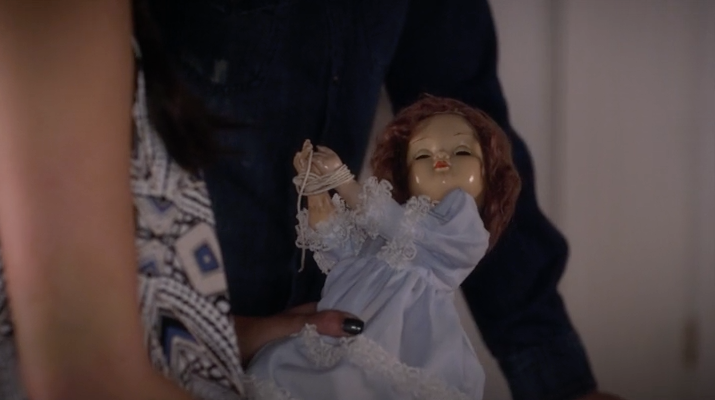 Mona kisses Mike because he really does get her. She doesn't love him like she loves Hanna, but sometimes boxed brownies are okay while the plum pudding's still ripening.
Pages: 1 2 3 See entire article on one page