Ok, are we feeling good? Do we feel ok? Maybe take a break and drink some tea. Here we go! Another round of Pretty Little Liars, or: How I Learned That Lying Is Bad!
Episode 510: A Dark Ali
Our next adventure begins where our last adventure ended: at the police station with the man who admitted to kidnapping Alison. Lieutenant Tanner tells Ali's dad (but mostly the viewers) that the dude's name is Cyrus Petrillo and that his story matches Ali's perfectly. Case closed, cancel the next two seasons.
Except that we all know he's lying. What we don't know is why, although I'm sure we'll find out.
The cops ask Ali if Cyrus is the kidnapper, and she says "I don't know."
Smash over to The Four, who are like, "uhhhhhh stop lying to the police for like two seconds and just say he didn't do it?" But Ali's like, "this show is called Pretty Little LIARS so I have to keep LYING, god, keep up."
Anyway, they're going to use this guy to find out who A is since clearly they're in cahoots.
---
After a brief theme song, Spencer, Hanna, Aria and Emily are walking somewhere together and chatting openly about how fucked everything is. Aria posits that as soon as Ali says that Cyrus is the kidnapper, it'll come to light that he couldn't have done it and that Ali is a liar. Real talk, I don't understand why no one has just decided to be the bigger person and just tell the police everything, even at the risk of doing jail time themselves.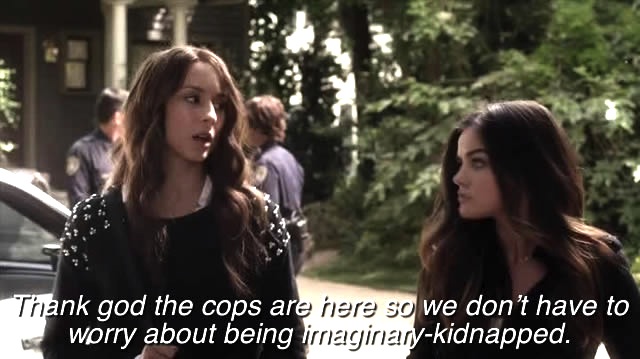 This happens:
Aria: Okay, well, someone needs to go back in there and make sure that she doesn't ID this guy.
Hanna: Right, well, Emily, yeah?
Spencer: Yeah.
Emily: Spencer's the convincing one.
Aria: Yeah, but you're the hardest to disappoint.
Spencer: It's about your eyes.
#spemily4eva
Emily goes inside to talk to Ali while Spencer finally tells Hanna and Aria about the pictures of Ali that Emily stole from Noel. She loudly plot-expositions that she's going to put them in a safe place in her room that nobody knows about.
---
Meanwhile, Emily is emphasizing that Ali shouldn't say that Cyrus kidnapped her. Ali says she understands but that she can't just say that he's innocent, which is GR8 because it means she's still keeping secrets from her friends that she keeps yelling at for not being loyal to her. Ali's dad comes in and says she should definitely tell the cops that Cyrus kidnapped her because he forgot this show is about lying.
---
In a parallel timeline or maybe the same one, Ella is making phone calls to cancel her wedding plans. Aria brings her some food and tells her to eat, but Ella isn't having any of it because she's too sad.
It's ok, though! If I know anything about situations like this, it's that she's about to start studying for the LSAT so she can get into Harvard!
---
We learn how to blacksmith, shoe some horses and ride like the wind over to Caleb's apartment, where Hanna is throwing away all of Caleb's unhealthy food in a transparent attempt to control some aspect of her life. She's really fed up with all of this A bullshit, she confesses. She just wants to be normal.
Hanna: You know, the other day Ms. Adinolfi made an announcement about chorus auditions for a solo and all the girls are freaking out. Then I thought, wow, what's that like? To lose sleep over some stupid chorus audition.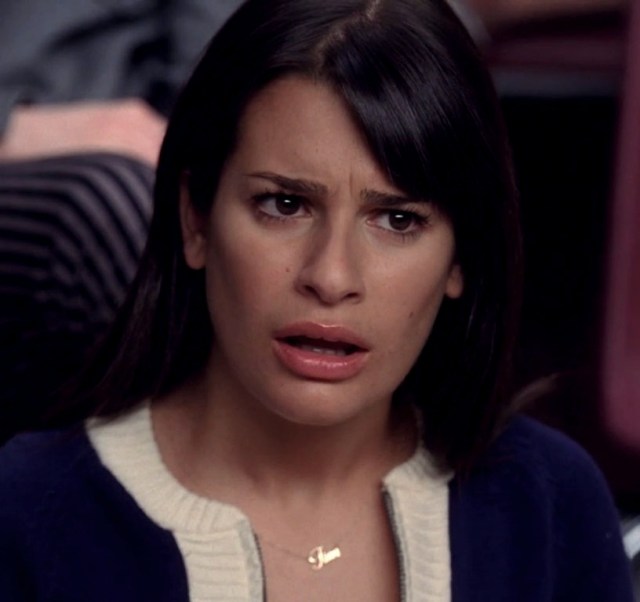 Caleb tells her that you can't be normal with a psychopath tracking your every move. Hanna vows to go to the audition, probably because it's easier to put that on a college resume than "evaded a killer for five+ seasons."
---
Spencer and Emily have some plot to expose over the phone for us! Emily tells her that her search for a new coffee shop is not going well and (unrelated) they should probably start being more careful w/r/t talking about the Ali Situation in public. Spencer agrees and is about to hide the secret pictures in a compartment under her chair when she realizes that the secret tapes Ali made of her medical exam (where the bulk of her kidnapping lie was constructed) were GONE! A TOTALLY TOOK THEM!
Melissa comes into the room, which is important because Spencer simultaneously receives a phone call where A plays back the stolen tapes. She hangs up but receives a text moments later: "Check mate. -A" Womp womp.
---
Hanna and Caleb are getting fit! Aww! They're going for a run together when they encounter Spencer, whose outfit suggests that she's about to tell them she's Dr. Who's next companion and that she's leaving forever.
Disappointingly, she's only here to talk about the security footage she took that may reveal who took the medical tapes, but Hanna's like WHATEVER BYE and literally runs away from her problems.
---
So Spencer takes the tape to Aria. The tape shows Melissa giving something (presumably the medical tapes) to a man (presumably Cyrus) and tells him to "do it."
Aria underlines how fucked up everything is, but then Spencer MY HERO tells her they should just talk to the cops already! You guys! This is the best! Aria feels decidedly not-great about this plan since it involves her confessing to killing Shana, which, again, WAS SELF-DEFENSE.
---
Hanna is signing up for auditions when Mona rises up through the floorboards ready to sing the shit out of a Sara Bareilles song that may or may not have anything to do with the actual audition.
The choir teacher calls their names for the audition, and Mona crumples into a pile on the floor! Which is appropriate because she was just singing "Gravity." ZING. Jk, it's terrifying.
When Mona eventually wakes up, she is confused but immediately and ferociously concerned about where her bag is. Hanna obviously digs through it before giving it back and finds Cyrus' mugshots inside. Ruh-roh.
Pages: 1 2 3 4 5 6See entire article on one page