Episode 511: No One Here Can Love or Understand Me
(Dark title, y'all)
It's all happening, you guys. The liars are going to the police to tell them everything. They're literally crossing the street to go to the station when A has a message for them, and the message is LOL STOP.
Store-window TVs flashes pictures of Ali in a candy-striper uniform at the hospital "no one will believe that we didn't know Ali was alive when they see this," which is crazy? None of the other girls are in those pictures, and they legitimately didn't know that she was alive. But it's enough to stop them from telling the truth. All of this has happened before and will happen again. So say we all. MOVING ON TO THE LYING.
---
We flash over to the Brew and immediately learn two things: 1) the Brew is for sale, which means Zack has successfully been run out of town, and 2) Emily would be the best girlfriend ever.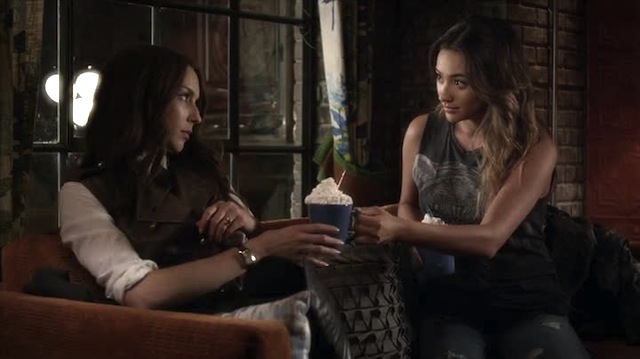 (Emily brings Spencer coffee.)
Spencer: I can't drink coffee right now.
Emily: Oh, it's decaf. I bought it for the whipped cream.
Be still my beating heart.
Anyway, Spencer and Emily chat about how shitty Ali is and how they just need to relax and cool off a little tonight. Maybe the message on the TVs was from Ali pretending to be A, they posit. Or vice versa. Emily is especially mad because she had something "genuine" with Paige but blew her off to stay loyal to Ali.
Spencer: Can you fix it?
Emily: Sure, yeah. I can go up to Paige and say, "So you were right all along. My bad. Let's kiss and make-up."
But then this credit pops on the screen:
And suddenly I hope that's EXACTLY what happens.
---
Over at Caleb's Apartmet, where the doors are never locked and the booze never really runs dry, Hanna waltzes in and smooches the top of Sleeping Caleb's head. He jumps awake, which is a reasonable response given that he fell asleep with his front door wide open.
He's also been drinking, which pisses off Hanna since they had a deal to quit together. She leaves in a huff. Man. It's either the highest highs or the lowest lows with these two lately. That's maybe the most teenager-y part of the show.
---
Emily shows up at Ezra's house to talk to him about Cyrus since apparently Aria hadn't even told him the dude's name? What? Their relationship is so confusing. Regardless, Emily gives him one of the pictures of Ali that they stole from Noel and puts Ezra on the case to dig up some dirt on Cyrus.
---
We take out our time turners and apparate over to the Montgomery house, where Aria arrives at home to find Mona studying and "studying" with her brother.
Later, her dad comes into her room to see if she needs anything, and Aria's like "yeah I need Mona to stop boning Mike," and her dad's like "slow down, you crazy child" and advises her to let it play out on its own. He also says something about wearing a fedora to an event later, so I'm already rolling my eyes.
---
Then we hop on our hoverboards and float over to the hallowed halls of Rosewood High, where Spencer, Aria, Hanna and Emily are talking about who could've sent the message on the TVs. Ali seems to be a frontrunner, which Spencer deems "a bad thought," but nobody can argue against it. I'm mostly worried because we're almost a quarter of the way through this episode and Ali still hasn't made an appearance. She's probably Vee-ing in the shadows or something.
Hanna pulls Spencer aside and asks her for help dealing with Caleb's drinking problems. That's the first time anyone on the show has connected their substance abuse problems.
---
PAIGE IS BACK AND GAYER THAN EVER
Paige and Emily talk about keeping an eye on Sydney and about swimming in general, but the meat of the queer summit is that Emily wants to set aside time to talk. Paige agrees that it's necessary.
Sidebar, can I just say that I haaaaaaaaaate this. Even watching it happen on TV is giving me anxiety. Just say what you need to say right now so I can live my life without wondering what you have to say!
---
Somewhere else in space and time, Spencer is on the phone with Toby. She misses him, a lot, but she really wants him to come over to talk to him about Caleb.
Spencer finds a note from Melissa telling her that her dad is taking her to the airport and she's sorry and Spencer will know the truth soon. Dun dun DUN.
---
And then flash-bang-wallop, we're walking with Hanna, Aria and Emily as they talk about their possible Ali theories. Maybe Ali left town because blah blah blah no one actually knows. What's important is that they run into Tanner, who wants to chat with them. Maybe she wants to swap lemon bar recipes, but probably not. Who can say, though, honestly.
They skip past the part where they talk about lemon bars and instead we get to watch Tanner tell the girls to tell the police anything out of the ordinary, which: HA. She stands up to leave, and then, because there was a Columbo marathon last night or something, she goes "OH JUST ONE MORE THING, WHO KILLED BETHANY YOUNG???" And the girls are like "ehhhhhhhhhhhhhhhh, we haven't thought about it." Good lie, guys. 10/10 in believability on that one.
Pages: 1 2 3 4 5 6See entire article on one page