Hello and welcome to the show about which Riese once said, "Sometimes I feel like Pretty Little Liars has sort of invented its own genre of television. It's like high camp, in a way, but it's also too dark to be camp, and too fresh to be meaningful." I feel like this sentiment is highly applicable to this entire episode. Shall we begin?
---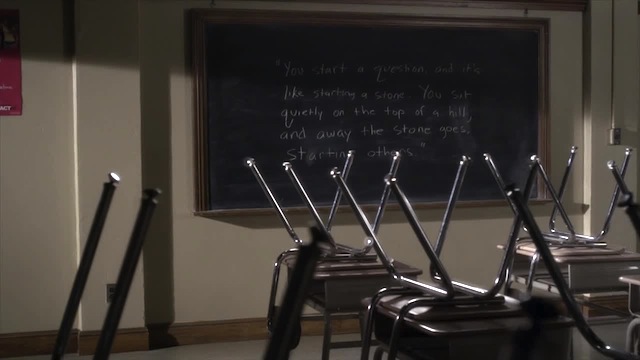 We open in Ezra's classroom, and a quotation from Jekyll and Hyde is written on the wall: "You start a question and it's like starting a stone. You sit quietly on the top of a hill, and away the stone goes, starting others." I need you all to know that the rest of this quotation goes:
and presently some bland old bird (the last you would have thought of) is knocked on the head in his own back garden and the family have to change their name. No sir, I make it a rule of mine: the more it looks like Queer Street, the less I ask.
Brb, off to Queer Street. 54 seconds in and I'm so convinced the writers are already trolling the lesbian community for our endless WHERE IS PAIGE questions.
In come Hanna, Emily, and Spencer, who have just broken in. Emily is trying to call Aria, but Hanna says, "What are you going to say if we get her? Isn't it funny how your old boyfriend turned out to be a stalking whackjob?"
I'm sure a few of us would be able to join that club.
The Liars are trying to find evidence to convince Aria that Ezra is A. Easily, Spencer finds Ali's journal in the desk. So she just carries it on out, instead of hiding it in a backpack or purse or under her really cute fox sweater. For being "the smart one" I'm questioning Spencer's intelligence in this scene. Now we're left to debate who could have been at the cabin? Ezra and Shana?
And who comes around the corner? Mona! She looks around suspiciously and creeps into Ezra's classroom, making sketchy noises in there. Then she walks out with a bunch of folders and papers. Maybe she's not stealing them, maybe she's delivering them.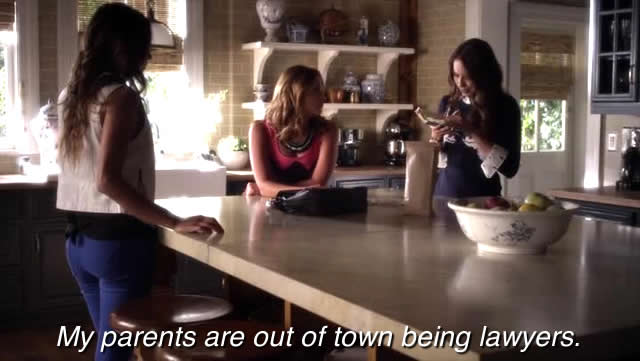 We transfer the party to the Hastings' place. Spencer is sniffling, she says it's allergies? What's that about?
Emily brings up a good point about the email addresses and phone number for the money. This leads Spencer to realize, "What do we know about Shana?"
Hanna wants Emily to interrogate Paige about her summer fling, which seems like a super comfortable and fun talk to have with your girlfriend. I would recommend starting this talk over date night, during a movie or my personal favorite, in the middle of a fight. Go for it! Tell me how that works out for you!
Emily agrees with me that they found that diary in Ezra's desk awfully easy. But Hanna has some wise words:
Okay then.
---
Ezra and Aria are driving along, and Ezra asks my #1 favorite question ever, "What are you thinking?" Aria's like, "You don't want to know," which is my personal code for "Something really meaningless like what color of vintage cowboy boots I should be on the lookout for," but Ezra's unrelenting.
Aria's a writer. Was she always a writer? Did I block this out on purpose?
Aria starts explaining the plot of her story to Ezra and says she likes the villain more, and "Sometimes the villains win." Ezra poignantly replies, "Sometimes," because they are playing up this Ezra as A thing so hard I am having sincere doubts that's all there is to the story here.
---
Spencer is at home watching an old black and white movie she probably borrowed from Aria and we find that she keeps her pills in a quaint little pill box. Is she chasing those with alcohol? Unless that's sparkling water?
She quotes Raymond Chandler here, from "The Simple Art of Murder":
Down these mean streets a man must go who is not himself mean, who is neither tarnished nor afraid. The detective must be a complete man and a common man and yet an unusual man. He must be, to use a rather weathered phrase, a man of honor. He talks as the man of his age talks, that is, with rude wit, a lively sense of the grotesque, a disgust for sham, and a contempt for pettiness.
Can we discuss the heavy-handedness of having Spencer cryptically quote detective stories to herself?
AND THERE IS A FLASH AND NOW WE ARE IN THE 1940s AND EVERYTHING IS BLACK AND WHITE and damn, Spencer's hair looks so fucking good.
Toby comes in wearing a trench coat and I'm having a hard time taking this show seriously anymore and we're only seven minutes in.
Even the title sequence is in black and white with a "old-timey" filter over it.
Toby, who may be real or may not be real, demands facts about Alison. It seems to me that Spencer is speaking pretty normally and Toby has taken up a weird 1940s vernacular (You're spread so thin I can see right through you). Will this spread to the other characters as well?
1940s Spencer is at the coffee shop and Ezra offers to buy her coffee, but she declines. That's right, Spencer, you independent woman you.
Ezra just said he's "good for it" and so it seems like we're stuck in cheesy 1940s slang-land. Make it stoppppp.
Ezra invites Spencer out to dinner, then makes her promise to go, then actually says "Cross your heart and hope to die?" Yeah, I'd walk out on him, too.
We zip on over to Emily and Hanna, who look so fucking good with this Instagram filter I cannot even. Do you guys think the filter is Willow or Inkwell? My bet is on Inkwell due to the contrast levels, just saying.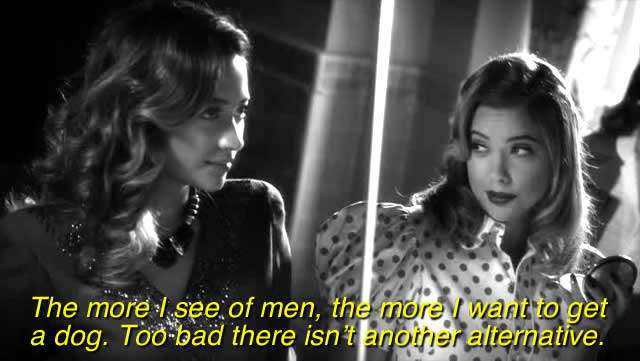 Hanna makes a hilarious lesbian joke, and they complain about Ezra spending ten cents in a tip for coffee.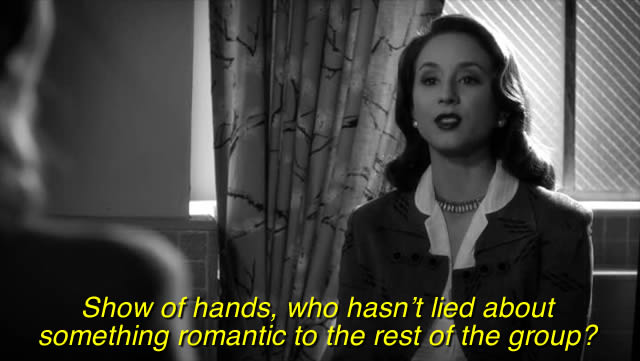 Spencer thinks that Aria is lying about not being back with Ezra. Spencer dubs Hanna the President of the Man-Hater's Club (I'm Treasurer, who wants to be Secretary?) and tells her to keep an eye on Ezra Fitz.
We finally get to 1940s Aria and OF COURSE she is still wearing something bananas even in an alternate reality. I bet the costumers of PLL had so much fun with this episode. I bet the costumers actually pitched this episode entirely.
Aria's a bad liar. They ask her how Syracuse is and she says, "Oh, it was fine" which, words of wisdom, is not believable, ever. Spencer asks her if she made it down to the Erie Canal Museum, and Aria says it was closed. Wikipedia tells me the Museum was opened in 1962, so… I have no idea what the premise of this flashback is at all. Are they all in 1940? Are they in 2014 and Spencer is in 1940?
And why are they all wearing business suits/fancy dresses? Tell me they all just work in a Mad Men style office and drink scotch and nap on their couches. Please let this be true.
---
Later, Spencer walks around in a satiny dress thing and she's calling the Fitzgerald Art Foundation. What number was she calling? The one on the money from Ali's room? She gets freaked out, hangs up, takes pills. Will this bring her back to 2014?
Toby's back, watching her take some pills. He says, "You learn a lot more walking in uninvited" – ladies and gentleman, the entire premise of Pretty Little Liars to date.
I'm really liking the shadows in this episode, it's very Noir and I dig it. We might as well just go camp, you know?
Toby thinks Spencer already has most of the puzzle figured out. She asks him how, and he tells her she's the smart one. Then he looks at THE MOST RIDICULOUS portrait of Alison hanging above the fireplace. When did it get there? Spencer has no clue. Someone snuck into the Hasting's house to hang a Sex Kitten Ali portrait above the fireplace? Spencer mentions she might be alive somewhere and Toby shoots the idea down. Haha, oh Tobes. If you only knew.
Pages: 1 2 3See entire article on one page