Welcome to the Pop Culture fix, your weekly dose of news related to soda pop and the soda pop industry, specifically Mr. Pibbs!
---
+ Once upon a time Samira Wiley was on Orange is the New Black and you loved her so much you could hardly stand it. Now, she'll be starring on a new 10-episode Hulu drama based onThe Handmaid's Tale by Margaret Atwood. (I was reading that book for a class the week of 9/11 and everything felt very strange. It's a really good book.) Elisabeth Moss stars as Offred, Wiley will be playing her best friend.
The Daily Beast talked to Samira Wiley about life after Orange and how she felt about her character's controversial demise as well as being an "out lesbian actress" and a role model for the LGBTQ community:
"Pride is one of my favorite times of the year because it's so joyous! It's so gay! To be honest, my Pride parades are sort of blending into each other right now—I went to a few this year—and at one we held a moment of silence for Orlando. I was never struck more than in that moment of how joyous and how happy Pride makes me, because we had to take that moment of silence and for a moment, it was so profoundly sad, it was so profoundly upsetting, that it made me aware of how different a feeling it was. I took it as a message of how important it is to me to stay visible, to remain active, and not necessarily doing anything radical but just living my life openly and honestly in front of people—I think that in and of itself can be radical—and to not hide, and to not be afraid. These are things that are much easier said than done, but I think if anyone can do it, someone that is in my position as a potential role model should, and that's a position that I do not want to take lightly. I want to be a positive role model for young people to let them know that we can live our lives openly, honestly, and with love."
In addition to The Handmaid's Tale, Wiley will appear in the Emma Roberts thriller Nerve, along with Kimiko Glenn, as well as the FX series You're the Worst and a film about Kitty Genovese due out next fall.
+ Once upon a time Hannah Hart was this super-cute lesbian who had a YouTube show that Taylor liked a lot and every day she gets cooler and cooler and MORE FAMOUS and now she's gone and landed herself a Food Network show, namely "a six-episode culinary-travelogue series that will also encompass a range of digital and social content." Lesbians are really good cooks, 'yall.
+ Once upon a time Kate McKinnon was a comedian lesbians knew about and then she became a comedian Saturday Night Live fans and fans of Saturday Night Live Hulu clips knew about and now I guess it's time for the entire world to know about Kate McKinnon because Ghostbusters! Flavorwire is stoked for her new movie.
+ Here's that Orphan Black blooper reel you ordered, CRIS-PAY:
+ IS LEXA COMING BACK? IS SHE??!!!
+ A bunch of famous people recorded "Fight Song" for Hillary Clinton and it's pretty much in my head forever now and I've watched it six times because these are dark times and it makes me happy. However, they didn't use enough Tami Taylor or Aisha Tyler. Those are my notes. Please note them.
+ Kenny on The Real O'Neals will be getting a lesbian friend of color!
---
Rest in Power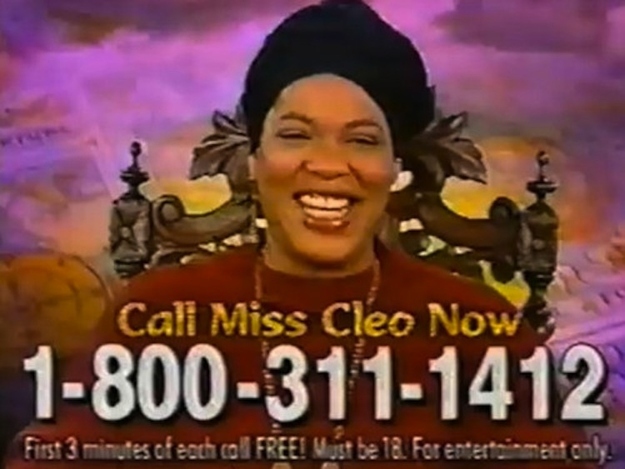 Youree Harris, better known to her late-night commercial fans as Miss Cleo, has died at the age of 53 after a long battle with cancer. The television psychic officially came out in 2006 in The Advocate. Further reading about this dynamic human: