Platypus cacti, hello! Welcome to your weekly Pop Culture News Fix!
---
Famous Queer Women Being Famous
Brittani Nichols and Margaret Cho wonder what it would be like if women ran Hollywood.
---
Lady Gaga and Linda Perry tag-teamed on "What's Up" at the 46th annual Songwriters Hall of Fame gala.
---
Miley Cyrus puffy-painted some Caitlyn Jenner portraits? And sold them for $69,000? At amFAR's New York Inspiration Gala? Miley does what Miley wants! She also took an agender date and the press couldn't stop talking about it.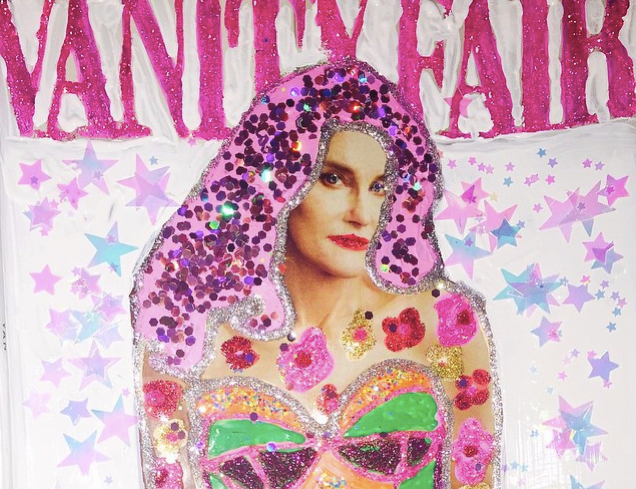 ---
The Teevee
+ I told you in this week's Boob(s On Your) Tube that NBC has murdered Hannibal, and with it, lesbian character Margot, who my girlfriend continues to assure me will engage in some scissoring this season. But showrunner Bryan Fuller thinks a fourth season might come our way via some streaming service or another.
+ ABC Family's Chasing Life will be back on July 6 for a second season. Brenna came out as bisexual last year, but her girlfriend moved away, which, in the Old World of two years ago, meant we'd never see her with another girl again. But in this New World, she's already smooching on another lady!
+ A panel of writers and producers from Empire participated in a panel this week, hosted by WGAW's Committee of Black Writers and LGBT Writers. They chatted about diversity, the "Empire Effect," and whether or not writers listen to fans on Twitter.
Coker began the event by introducing the "Empire" Effect — a catalyst for diversity becoming network television's new bread and butter — that followed the groundbreaking success of the series with a predominantly African-American cast. In addition to seeking more diversity onscreen, Strong revealed that he, along with co-creator Lee Daniels and executive producer Ilene Chaiken, wanted to make diverse hires with as many African-American directors and female directors as possible.

Strong declared with excitement, "There was only one white straight male to direct an episode last season … and it was me!"
+ CBS' The Briefcase will feature a transgender contestant in the season finale on June 26th.
All-Orange All The Time
Here are ten things you want to know about Ruby Rose. Here's OITNB's music director telling you everything about the end credits songs from every episode of season three. Here's Vox on why, statistically, this season of Orange isn't as binge-able as the others.
Laverne Cox talked to Vulture about Sophia's heartbreaking storyline this season.
We've seen a few Litchfield inmates sent to the SHU for reasons that aren't always clear or legal. But we hadn't seen someone sent there for her "own protection" until Sophia this season. What was your reaction to the way she was treated?
What I think is so brilliant about Sophia's story line and that particular moment — and what Jenji Kohan and our writers came up with — is that it shows the truth of the experience that a lot of transgender folks have in prison every single day. Far too often, trans people who are incarcerated are placed in solitary confinement allegedly for "our protection." And sometimes trans women are placed in men's prisons, where they put us in solitary confinement, which is cruel and unusual punishment allegedly for our protection. So when the writers came up with this, it's from reality. This is what happens to so many transgender people who are incarcerated every single day. I'm executive-producing a documentary called Free CeCe about CeCe McDonald, who's an African-American transgender woman who spent 19 months of a 41-month prison sentence in a men's prison for defending herself against a racist and transphobic attack. And three different times when she was incarcerated, she experienced being placed in solitary confinement allegedly for her protection. She fought to get herself taken out of solitary, but this is just the reality for a lot of transgender people all over the country today.
---
On the Newsstand, Like It's 1999
So many queer women are on magazine covers this month!
Amber Heard is on Elle and they actually used the word "bisexual"in the cover story interview.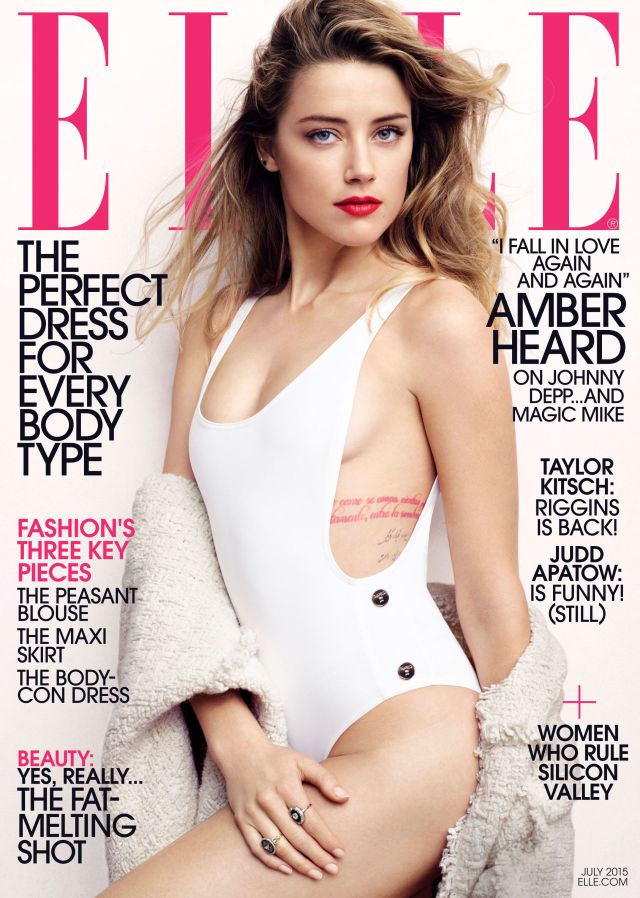 Samira Wiley is on Diva, and the full photo spread inside is glorious.
Jillian Michaels is on the cover of Shape, which is nothing new, but still: how does she do that?!
Cara Delevingne is on the cover of Vogue, but you already knew that. What you didn't know is that she and Khaleesi had an eyebrow-off on Graham Norton a couple of days ago.
---
The Movies
The first trailer for Lily Tomlin and Laverne Cox's Grandma is here! Early buzz says Tomlin's finally going to get some Oscar love.
Queen Latifah is set to play an angel on this earth in Sony's Miracles From Heaven.
Adapted by Randy Brown (Trouble with the Curve) the story centers on Beam (Garner) and a series of miracles that unfolded, leaving her family, her daughter's doctors and the community baffled. Latifah will play a Boston waitress — something of an earthly angel — who befriends the sick girl and Beam during their visits to Boston Children's Hospital. She steps up to provide comfort and a helping hand when they need it most, and her life ends up transformed by her interaction with the family.
The first photos from the all-women Ghostbusters reboot have arrived! They are a amazing! Kate McKinnon! Melissa McCarthy! Kristen Wiig!
---
Sportz Newz
+ The USWNT and its mant queer players are heading to the World Cup quarterfinals to take on China, after pulling out a win against Colombia in the Round of 16 on Monday. Megan Rapinoe and Lauren Holiday will be forced to sit out after receiving one-game suspensions for snagging their second yellow cards of tournament against Colombia.
+ Brittney Griner will be one of the few women (and the only openly queer person) featured in ESPN's Body Issue this year. Griner will also return to the WNBA this weekend following her high profile arrest, suspension, marriage to Glory Johnson, announcement of Johnson's pregnancy, and petition for annulment. She told the Associated Press: "Basketball is my safe zone, being back on the court means everything for me, basketball is my life. I'm ready to go. I definitely have been watching and I have been doing everything off the court to be on the court."
---
Also.Also.Also.
Do you want to pet my cat? Too bad.