Hello Autostraddle. This is Tinkerbell and I am seven years old. I am also very famous and very skinny, but one of my eyeballs is bigger than the other eyeball. I have three outfits, but I will soon have four outfits because I am sitting shiva for Tinkerbell. Not me, the other Tinkerbell. You have to wear black to sit shiva and two of my outfits are pink and one is red. The red one says UH HUH HER on it and it was signed by Leisha Hailey who wrote that I am a "hot dog." But back to the topic of this post which is that my heroine Tinkerbell is dead and I am so sad, how do I go on:
A long time ago, I was a purse. Then Riese took me in and named me Tinkerbell. She named me after the world's most beautiful dog besides me; Tinkerbell:
In honor of this sad day, probably the worst day in the herstory of dogkind, Paris Hilton has posted multiple pictures of Tinkerbell on her instagram webpage. This is an important moment for visibility for small dogs who like to wear pink.
As the only surviving Tinkerbell, I feel a great pressure to live up to the legacy of my foremother. Riese has promised me that I can do this without having to miss any episodes of my favorite television program Melrose Place. The other day while I was tossing and turning inside a pillow case inside a washing machine I was thinking about my own mortality and decided that I have no mortality.
This is me when Riese dressed up as Paris Hilton for Halloween and I went as Tinkerbell:
Enough about me, today is the other Tinkerbell's day. I will be watching Tinkerbell highlight reels on YouTube and looking in the mirror while chanting the Mourner's Kaddish. Riese has assured me that I will not die because "seriously this past year has been f*cked enough." I do not know what that means but I do feel that I am still robust.
Unfortunately, Tinkerbell (not me, the other Tinkerbell) is no longer robust. I would like to offer Paris Hilton the opportunity to hold me close to her chest while sleeping on her golden princess bed if she ever feels sad or alone.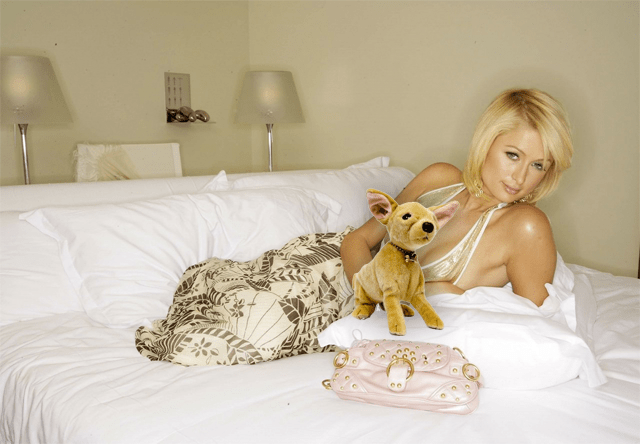 I was informed of this news by Angry Lesbian Feminist Carmen Rios, who told me, "RIP Tinkerbell, survived only by the other, more famous Tinkerbell who lives with Riese." I felt two feelings at that moment: 
1. Thank you for recognizing my fame
2. NOOOOOOOOOOOOOOOOOOOOOOOOOOOOOOOOOOOOO
"I'm very sad. Willow gets to be on the couch all day today if she wants. She can even lay on Carrie's grandmother's snuggly blanket," said Bren, who cares deeply about Carrie's grandmother.
"It's really sad because she is really sad because dogs are amazing," said Angry Lesbian Feminist Carmen Rios. "I am going to give Eli so many kisses today."
"I can't believe she kept a dog alive for 14 years," said Stef, who self-identifies as "The Worst." I have always felt a strong bond with Stef for pointing out to Riese that she was holding me upside down at the Halloween party and also because she is the Vapid Fluff editor, and that is what my insides are made out of: vapid fluff. Twice they have stuffed me at Build-a-Bear for free, and one time Riese's Mom stuffed me but I had body image problems.
"Actually, chihuahuas can live to be 20+," said Angry Lesbian Feminist Carmen Rios.
"She hoards animals and is way neglectful," said Stef.
The conversation then devolved into a discussion of Paris Hilton's pet-hoarding and alleged animal abuse. Stef said Paris Hilton has 35+ animals including a pig. I found this very upsetting so during this conversation I closed both of my eyes (even though one is bigger than the other) and sang "Stars Are Blind" to myself really softly, until Stef noted, "Anyway if you google Paris Hilton animal neglect a lot of things come up. She should probably have just gotten a dog purse."
Paris Hilton if you are reading this you can call me anytime if you need a small animal to cry on. Riese doesn't have her voice mail set up, though, so you should try texting first.