Happy holigays, queermos! It's been a long, rough, faith-in-humanity-testing whirlwind of a year, and I'm hosting this, the 8th Annual Christmakwanzakah Open Thread, to help you forget all about it for a few minutes via pictures of kittens, small talk about my dog, and an endless bounty of love strong enough to fortify your heart against the nuclear winter in our future and the racist relatives sharing your dinner table with you this weekend. 
Look, here's some festive animals!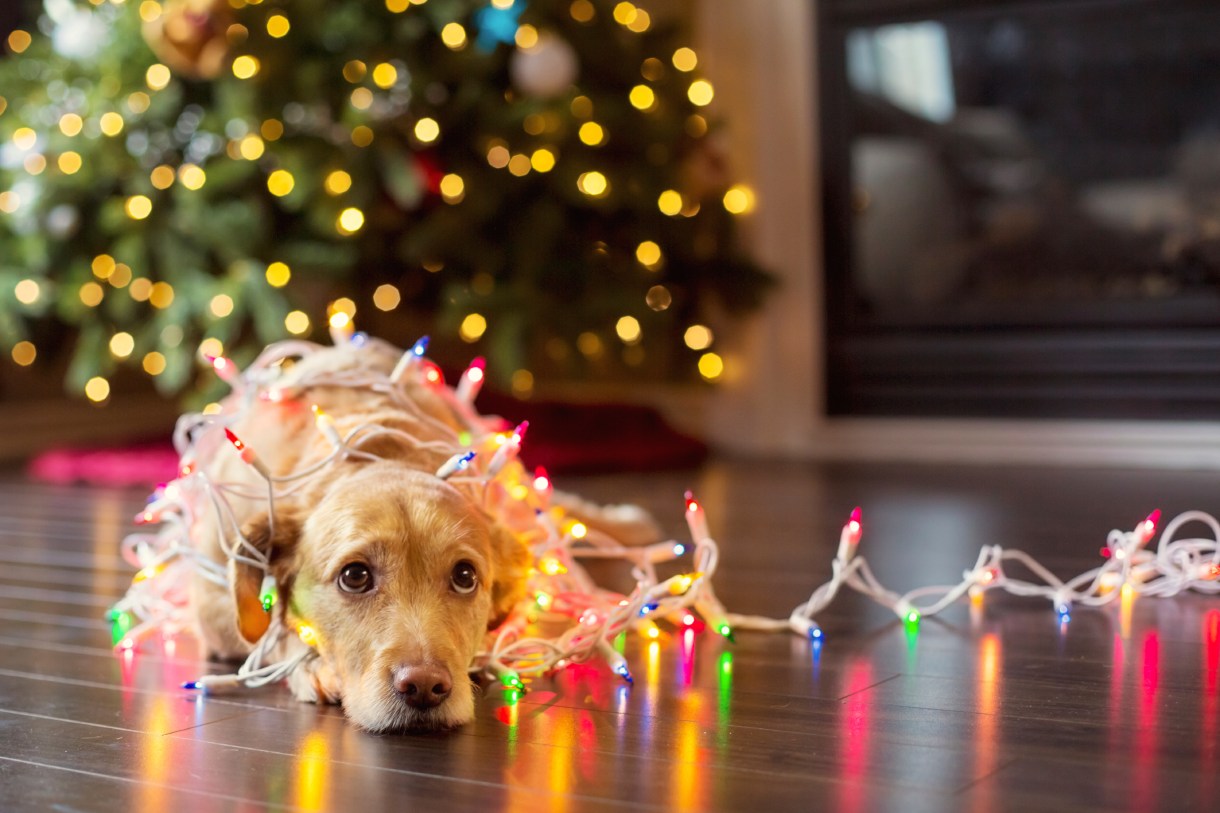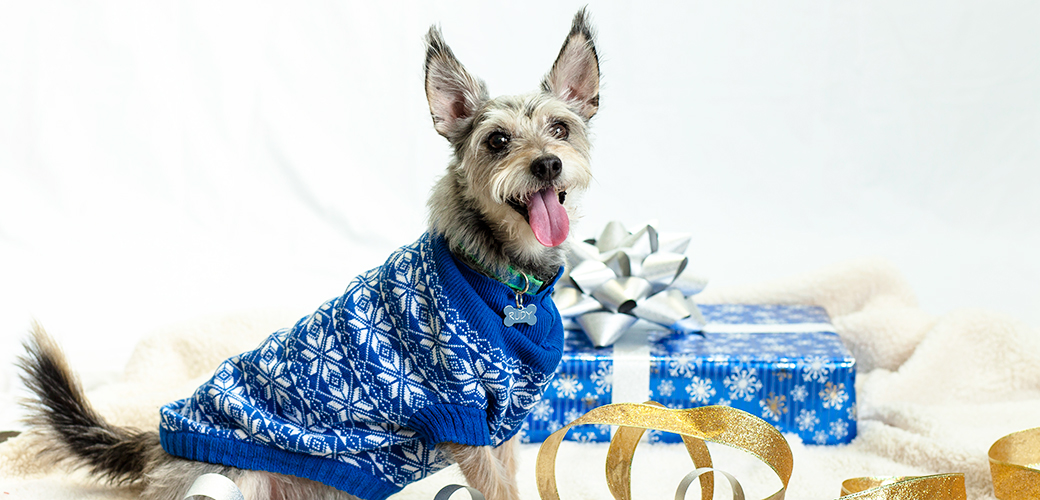 The holigay spirit almost got away from me this year, but then I slapped myself across the face with a metaphorical cold towel called "joy" and went to Target to fix all of my problems, as the rich white woman inside of me often calls out for me to do. I bought a tiny tree, ingredients for a pie, small stockings, and some candles that smell like pine trees and made some magic happen in the name of saving humanity and myself from the Mad Max film that has become our waking lives, and guess what? It worked! 10/10. Would recommend. Put on some holigay tunes, put on a sweater emblazoned with a pine tree and ideally some actual jingle bells, and get to work getting into the spirit. I dare you. Or don't! I love you never change you're perfect. But I still dare you to.
Here's a strong place to start.
https://www.youtube.com/watch?v=lVj5nUmOfR8
Regardless, though, Eli and I traveled home in matching varsity jackets this week with a T-Rex cookie jar, some self-help books, a big tin of butter cookies, a white sweater, and an overpriced airport bottle of Evian in tow, so I know it's officially time for me to put him in some flannel pajamas and try to train him to unwrap presents by himself. Luckily, I've got a very joyful week ahead of me: Multiple occasions to give and receive presents while I wear sweaters, a very gay New Year's Eve party, and an even gayer wedding ceremony. (At which, yes, I am reading a Hillary Clinton speech to the crowd. Bless.)
Also, I may or may not have convinced my mom to let me take a day trip with her to Chappaqua while I'm here in the arctic tundra I once called home so we can, like, IDK, take a hike in the woods for no reason? In case you were wondering, no, I don't plan to run into any smart and beautiful women in the woods and encourage them to primal scream with me for our nation. Stop being weird.
But enough about me! Here's a Festivus Poll for the rest of you! Since I asked you last year to help me dress my dog, I figured this year we could just all decide which of these signature Molly Adams holigay looks we like the most. Hail Santa is gonna win, right.
In case you missed the post last year, she has an extensive collection, so here's three outfits she owns and one sweater she doesn't own but totally should have bought.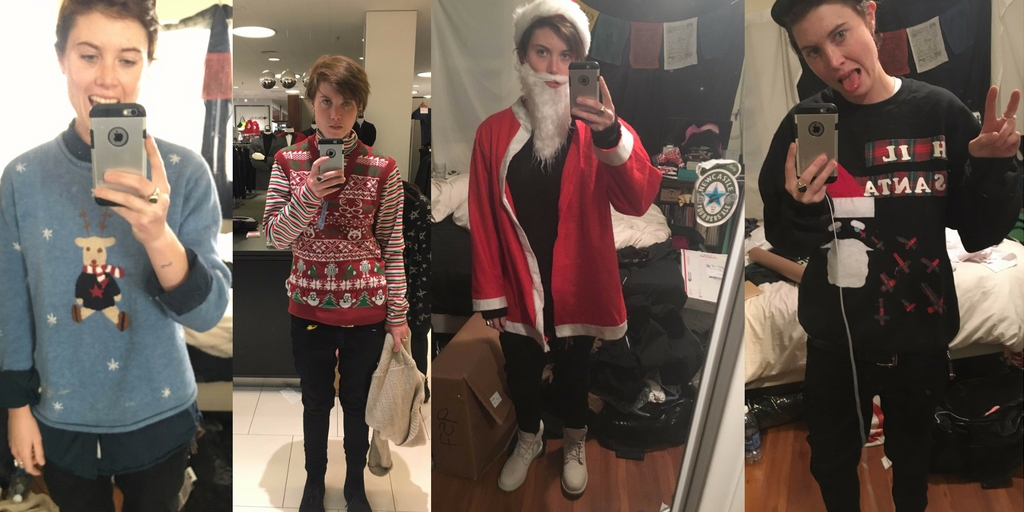 Okay, tofurkeys with all the fixings! Time to tell all and get weird together. Spill the tea. Shake the salt. Bare your soul. Post a picture of your cat in a Santa hat. Post a picture of your girlfriend lighting a menorah. Regale me with the minutia of your lives. Retell the stories of your youth. Record in excruciating detail the number of times your relatives brought up Benghazi at holiday dinner.
To get you started, here's a warm-up question. I love polls! Do you love polls? It's okay if you also just love dancing the pole. I'm into that.
See! Sharing is caring! Let's do this. I want to know everything about your holigay celebrations and your day-to-day life and I want to know it now and I ideally want you to wrap it up in tissue paper inside of a baby pink plastic bag and then put that bag inside of a box inside of a box inside of a box inside of a box, with each box intricately wrapped in paper, so that I can spend as much time immersed in the everlasting gift of your love as possible.
And remember: At Christmakwanzakah you tell the truth, so please don't hold back.
---
How To Post A Photo In The Comments:
1. Find a photo! This is the easy part. Find a photo on the web, right click (on a Mac, control+click), hit "Copy Image URL" and then…
2. Code it in to your comment! Use the following code, and use a DIRECT LINK to the image. Your image link should end in .JPG or .GIF or .PNG or .CallMeWhateverYouWant even. I don't care, but it should be an image suffix! KINDA LIKE THIS:
If you need to upload the photo you love from your computer, try using imgur. To learn more about posting photos, check out Ali's step-by-step guide.
How To Post A Video In The Comments, Too:
1. Find a video on YouTube or Vimeo or WHATEVER and click "embed." Copy that code, but first make sure it's for 640 px wide or less. If your player is too large, it will not display properly.
2. Copy the code and paste it directly into your comment.
3. Go forth and jam.