So in the 80's they used to make these young adult novel versions of popular television shows — they probably still do this now, I guess — and although my Mom wouldn't let me watch those popular television shows or, really, read those novels, somehow a copy of a Growing Pains novel ended up in my 3rd grade classroom and I read it. More specifically: I read it about 500 times. It was the first thing I'd ever read about teenagers (maybe) having sex and it blew my mind.
Before I get into this Novel Experience, a brief intro to the show in general: Growing Pains was a mega-popular sitcom that aired from 1985-1992 on ABC about an affluent Long Island family: work-from-home psychiatrist Dad Jason Seaver (Alan Thicke), journalist Mom Maggie (Joanna Kerns), rascally heartthrob Mike (Kirk Cameron), super-smart studious Carol (Tracey Gold) and "rambunctious" Ben (Jeremy Miller). For two years, Leonardo DiCaprio played a recurring role as a homeless boy taken in by The Seavers.
So, the chapter I liked, which I assume was based on an episode, involved Mike hooking up with a girl. I think. Specifics escape me now but the girl was somehow special and intimidating, like she was older or super-hot or more experienced, maybe? I distinctly remember that it ended with her leaving the house and Mike walking down the stairs and telling Ben that he needed to take "a cold shower," which I thought meant he'd just had sex but I now realize meant he'd just NOT had sex.
It's funny, considering what Kirk Cameron has become, that my strongest association with his existence was that sexual-innuendo-packed teen novelization-of-a-sitcom. See, Kirk Cameron was an atheist when he first joined the cast of Growing Pains. At 17, he became a born-again Christian (one who would've strongly opposed storylines involving sex or cold showers). Now he's a full-time Evangelical.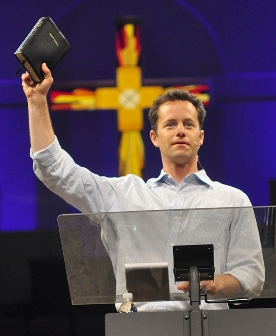 He's been in the news this week because on March 2nd, Cameron appeared on CNN's Piers Morgan show and was asked for his opinion on same-sex marriage. His answer:
"I think that it's – it's – it's unnatural. I think that it's – it's detrimental, and ultimately destructive to so many of the foundations of civilization. Marriage is almost as old as dirt, and it was defined in the garden between Adam and Eve. One man, one woman for life till death do you part. So I would never attempt to try to redefine marriage. And I don't think anyone else should either. So do I support the idea of gay marriage? No, I don't."
Since that night I've been getting a lot of emails from GLAAD about Kirk Cameron, and I've been seeing a lot of Kirk Cameron articles on my Google Reader and I've seen lots of my Facebook Friends recanting their childhood crushes on Kirk Cameron and expressing public remorse regarding their teenaged investment in multiple copies of his Tiger Beat centerfold.
GLAAD is asking its supporters to sign a petition to tell Kirk Cameron that he's no longer your idol. From its email call to action:
Kirk Cameron joins former TV stars Victoria Jackson and Chuck Norris in desperately trying to remain in the public eye by using anti-LGBT rhetoric…
While Cameron is using his platform to speak out against gay people, his 'Growing Pains' co-stars including Leonardo Dicaprio, Brad Pitt and Hilary Swank have spoken out for LGBT equality and are enjoying critically successful careers. Joanna Kerns, who played Cameron's mom on 'Growing Pains' also co-starred in the cult hit 'All Over The Guy' as the mother of a gay man.
Today's teen idols are also standing up for equality in America. Aziz Ansari, Chris Colfer, Miley Cyrus, Hilary Duff, Dakota Fanning, Zac Efron, Josh Hutcherson, Kristen Stewart, and many more have all spoken out in support of LGBT people.
Furthermore:
"In this interview, Kirk Cameron sounds even more dated than his 1980s TV character," said Herndon Graddick, Senior Director of Programs at GLAAD. "Cameron is out of step with a growing majority of Americans, particularly people of faith who believe that their gay and lesbian brothers and sisters should be loved and accepted based on their character and not condemned because of their sexual orientation."
Piers Morgan disagreed with Cameron when asked what he would do if one of his kids came out. Morgan said: "If one of my sons [came out], I'd say 'that's great son, as long as you're happy.'"
Yet despite all this hullabaloo and the obviously inexcusable nature of Cameron's comments, I can't seem to summon a fuck to give about this. See, anyone who spent inordinate amounts of time channel-flipping in the early '00s (Cameron was often on the Christian channel preaching about things) is aware that Kirk Cameron's mainstream acting career, rather than being a life-defining experience, was a thing he did as a kid before going on to doing what he really cares about, which is "sharing the gospel with teenagers, intellectuals, atheists, Moslems, Jews, Cults, backsliders, and the self righteous."
Cameron is currently married to actress Chelsea Noble, who played his girlfriend on the show. 
In other words: I really doubt Cameron gives a fuck about whether or not he's still your teen idol!
(It's also a strange strategy for a GLBTQ organization — asking gay men and women to redact their crushes on a straight man?)
When Cameron became a born-again Christian, he became a bit of a pain in the ass on the set of Growing Pains, refusing to do any storylines that were against his faith, like insisting on removing any suggestion of pre-marital sex. Cameron also pushed producers to fire Julie McCullough, an actress hired to play the nanny, because Cameron objected to her having posed nude in Playboy. (Meanwhile, his cast-mate Tracey Gold was suffering from severe anorexia nervosa, an issue she has spoken out about many times since.)
After Growing Pains, from which Cameron banked over 50K a week, he did more film and television work, such as Like Father Like Son and Listen To Me and eventually his own sitcom, Kirk. In Kirk, Cameron played a "graphical designer" and former "mischievous screw-up" forced to move home and care for his three younger siblings after their parents moved to Europe. It aired for two seasons on the WB in 1995 and 1996.
He pretty much left mainstream film and television after that, besides doing Growing Pains movies in 2000 and 2004, and appearing on Larry King Live with the cast in 2006 when the series was released on DVD.

He's now devoted himself entirely to spreading his interpretation of the "word of God" and starring in Christian movies like Left Behind: The Movie. He's the co-host, along with evangelist Ray Comfort, of an unintentionally hilarious Evangelical program called The Way of the Master, in which Comfort and his "team" wear matching polo shirts and annoy innocent people on the street with The Gospel.
Cameron even wrote a book about his journey, "From Fame to Faith," and here is the video from his Good Morning America appearance promoting that book:

Cameron doesn't believe in science or evolution, which is why he participates in fantastic stunts like distributing an annotated/edited/revamped version of Darwin's The Origin of the Species on college campuses — a version which promoted Cameron and Comfort's creationist agenda. He also tours the country talking about marriage and how to save it from "the pain and brokenness we see in homes today."
Cameron's latest kick is Conservative political action centered around his new film, Monumental, which describes how his vaycay to Plymouth Rock really brought him back to America's religious roots, hammering home the fact that "the meaning of separation of church and state has lost its original meaning. It's now a codeword for secularizing the state."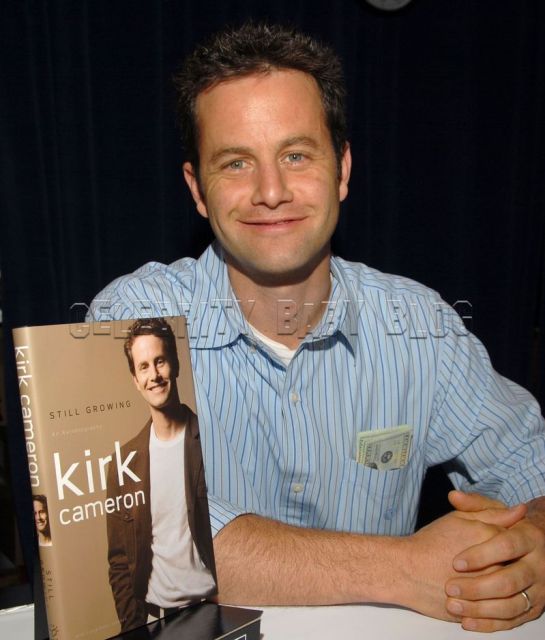 So was anybody surprised by his comments to Piers Morgan? Like any religious zealot you ask about gay people on television, you know the answer's gonna be homophobic and irritating before you ask it.  Just last year, The Advocate described Kirk as "an outspoken opponent of gay rights." (Although his similarly religious sister, Candace, who I was in love with when she played DJ Tanner on Full House, did sit down for an interview with Perez Hilton, which mens she probs hates gays less than Kirk does.) Kirk has shared his anti-gay views on television before, like during this 2008 Bill O'Reilly appearance:
Although GLAAD has successfully obtained apologies from celebrities like Tracy Morgan and Adam Corolla for offensive things they said publicly about LGBT people, there's not a chance in hell Kirk Cameron, like any religious zealot, is gonna listen to GLAAD's mating call. So I guess my question is — is Cameron really worth our time right now?  Certainly it's always good to raise awareness, I can't argue with that. What do you think?
I remain undecided, but I've recently acquired new feelings about that Piers Morgan fellow. See — last night, according to Gawker, "TMZ ambushed Piers Morgan to ask about his thoughts on Cameron's statements. Using what was maybe not the best word choice, Morgan called Cameron's strict adherence to his morals "brave." Instead of bowing to societal pressure, as many would have, Morgan noted that Cameron "was honest to what he believed."
I'd be first in line to sign a petition to get Piers Morgan to take that shit back.
In the meantime, I'm gonna go take a scalding hot shower.