I really wish I could give you something better than a mini-apple crisp recipe this Sunday Funday, but that's hard to top. I love pie. Doesn't everyone like pie?
Instead, though, I have good news about Obama being a nice guy, old(er) people who like gay people, and the Self-Evident Truths project!
Grandparents for Marriage Equality
What happens when an old married couple decides they love gay people? A beautiful PSA. In it, Lutheran Pastor, Reverend John Reitan, and his wife Dorothy share photos and memories of their married of almost 70 years in an effort to speak out in favor of Washington's marriage equality law. In this video, John remarks, "we want our nine grandchildren to be able to share in the joy and happiness that Dorothy and I have," referencing the fact that two of his grandchildren are gay.
Two Relevant Stories About Obama
+ Barack Obama, President of the United States, is totally speaking at Barnard as the keynote for this year's graduation. Does this mean he likes gay chicks? Either way, it's still awesome:
Barnard College announced today that Barack Obama will deliver the keynote address for this year's 600 graduating women. SO JEALOUS. I don't even remember who my commencement speaker was, just that he was super pretentious and that I had never heard of any of the supposedly amazing books he talked about having written. It's also a possibility that I was too hungover to deal with the whole thing — but if Obama had been the speaker seeing me off into the real world, I never would have stayed up all night drinking bad whiskey at the horrible on-campus bar! Anyway, at least we can all watch the speech, broadcast live, on Barnard's website, and pretend we're right there with the POTUS.
+ So Rush Limbaugh called this woman who wasn't allowed to testify about birth control in the House hearings a "slut" for using birth control in the first place, and then demanded she put all her sex on tape for him! But to make it all better, Obama gave her a call to tell her her parents should be proud of her and that she was awesome and that he liked women's rights!
Self Evident Truths Hits the South
Remember Self Evident Truths, the iO Tillet Wright project I told you I loved? It was based in New York City then, but now it's moving on down to the south to get more footage, more queer people, and more of a good time than ever. So help them out!
Ladies With Accents
Sandra Bullock was totally hot speaking German or whatever at the Oscars. If you like accents though, maybe watching multiple videos of women speaking with them will be the perfect afternoon activity for you.
Mary Portas Calls Her Relationship "Bloody Brilliant"
Mary Portas, host of the show "Queen of Shops," left her husband a little while back and found something else – a woman to love named Melanie:
The 51-year-old tells ES: "I certainly wasn't some suppressed lesbian thinking, 'God, I can't wait to get out of this marriage'. We just grew apart. And I happened to fall in love with a woman. Graham [her ex-husband] was the first person I told about Melanie."
The fashion expert has two kids – Mylo, 18, and Verity, 16 – and now lives with journalist partner Melanie Rickey in West London.
"I don't want to sound smug but [life with Melanie] is bloody brilliant," she says. "I know we've got it right and I know that my children are wonderfully interesting and interested because of it."
America's Next Top Model Might Be Queer
Season 18 of America's Next Top Model features a half-American, half-British group of competing women who look unlike anything you've ever witnessed in the natural world. The "British Invasion" also comes, however, with two reasons to watch: 20-year-old bisexual Laura, and 25-year-old lesbian AZMarie, who "prides herself in her ability to be both masculine and feminine."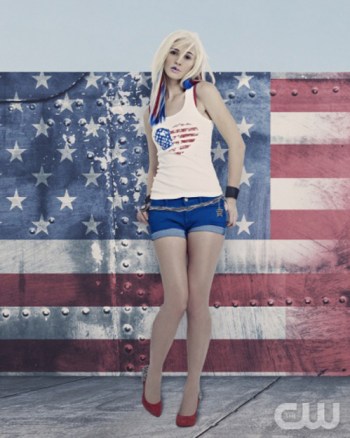 LiLo Retrospective: SNL
Lindsay Lohan has had many good ol' times on SNL, long prior to her appearance last night. It's nice to remember them all in one post.
Kittens in Space
Kittens in Space. This is real.