This sauce smells good, it's easy, and it can be vegan or not and is great either way (make sure you use either meat or substitute, though — without, it's a little less substantial).
Obviously, you can put the sauce over regular pasta, but spaghetti squash is particularly nice because it's less heavy and more exciting.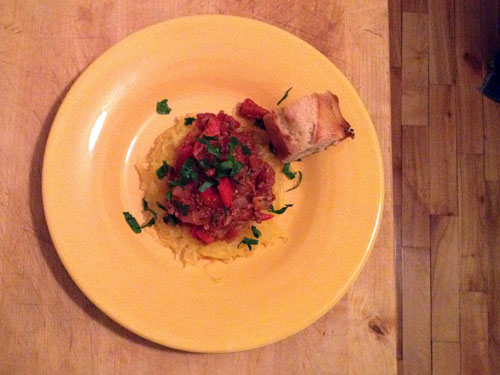 Spaghetti Squash with Spaghetti Sauce
Ingredients
a spaghetti squash
1 medium onion, finely chopped
2-3 cloves garlic, minced
ground round (Italian flavoured works best) or ground beef (if there are smaller and medium sized packages in the store, go for medium)
1 large can chopped tomatoes (unless you have tomatoes that are in season and for some reason you don't want to eat them straight up, there is no reason to not used canned for this)
Sprinkle of red pepper flakes, or 1/2 jalopeno, finely chopped, according to preference
Portobello mushrooms (cremini will also work), chopped
Shredded fresh basil (get a large bunch — you will need at least a 1/2 cup)
Small can of tomato paste
Olive oil
Salt and pepper to taste
1 tsp sugar
Instructions
1. Preheat the oven to 375F. Cut the spaghetti squash in half lengthwise, remove the seeds, and bake rind-side up for 30 to 40 minutes. When it's done, you'll be able to pierce the rind easily with a knife (but it shouldn't be mushy). When it's cooled enough to handle (or, wearing oven mitts), scrape the strands out with a fork. Set aside.
2. Put the onion and garlic with some olive oil in a pot that looks like it can hold all of the other ingredients and then some (medium? large? Use your judgment). Cook until the onions are clear and soft.
3. Add the ground round or ground beef and mushrooms. If it starts to stick, add a little more oil. Cook until hot (ground round), or until the beef starts to brown.
4. Add the canned tomatoes, tomato paste, pepper or pepper flakes, and bring to a boil.
5. Add salt, pepper, and about 1/2 cup of basil.
6. Cook until the sauce has reduced, which will take around 30-45 minutes (it will thicken, there will be less of it, the meat will be thoroughly cooked). Add 1 tsp sugar (optional? sort of. Makes a surprising/delicious difference? Yes.), stir, and remove from heat.
7. Spoon over the spaghetti squash or your pasta of choice, garnish with additional basil, and serve.