Welcome to Oh Gay Cupid! Autostraddle's OkCupid series. We get lots of questions on Formspring regarding online dating, so we finally got a bunch of people together to talk about it. While OkCupid isn't the only online dating site for queers, and maybe isn't even the best, it does seem to be the one we use most often. We'll be discussing all things OkC, including meeting friends, first dates, profiles, fuck-ups, letdowns and more. Even though it's the 'OkCupid Series,' the advice given in this series could easily be applied to any online dating site, so don't get your panties in a twist.
My girlfriend Zeller and I met on OkCupid. I love her, and maybe someday we'll get married and have babies and sit in rocking chairs on our front porch with lap blankets. Maybe we'll just adopt six thousand cats. I suppose you could call us a success story. Then, why do I still feel the need to give her the weird side-eye and awkwardly laugh when people ask how we met?
When I met Zeller online, I had recently ended a very long-term, long-distance relationship and was newly back in Colorado after living abroad. I didn't know a single lesbian in my small city. One night, I drunkenly peered through the windows of the gay bar in town and decided it wasn't my scene. So, I joined OkCupid.
She was one of my 'quiver matches' for a few weeks, but I was too shy to message her. Finally, she sent me a hello and complimented my profile reference to A Tribe Called Quest. Look, if a girl can agree with you that "Can I Kick It?" is one of the best songs ever written, you go on a date with her to a coffee shop and then invite her to bar trivia.
I'm going to be honest. Even after being together for a long time, our parents don't know how we met, exactly. I told my parents we met through friends. She told her parents we met in a coffee shop. It's not a total lie — we just had our first date in a coffee shop through our mutual friend OkCupid.
There's just something strange about saying, "We met online." There's a stigma that goes with those three words. I don't care how popular it is to meet people online, there's still that weird associated skeezy feeling. Sometimes, when you tell people you've met your partner online, it just feels like you're a lonely loser who can't meet people in real life, even if that's so far from the truth.
Meeting people online is the second most-popular way of meeting new people, second only to meeting through friends. In fact, 61% of same-sex couples meet online.
It's popular. Why are we still feeling weird about it?
Getting to know ladies online is almost necessary for me. As a seemingly-invisible femme, cute lesbians hardly ever approach me, even at gay clubs. I'm so shy around cute girls, and after a few drinks I just get even more awkward. My straight friends think that every lesbian they meet would be my perfect match, because all lesbians will be perfect for each other, right? My girlfriend's parent's family-friends even texted her once trying to set her up with their niece.
I think that when you get to the heart of it, the weird, skeezy stigma revolves around two outdated ideals. First: Online dating is for losers. Second: Online dating is full of creepy pedophile murderers. Rebuttal: I don't think I'm a loser and I don't think my girlfriend is a loser and I've never thought anyone was a loser for dating online, so there's that. The idea about online-stranger-danger is reserved mostly for pearl-clutchers and the 9 o'clock news.*
In an interesting article critiquing the way popular dating websites advertise themselves as marriage-matchmakers (I'm looking at you, eHarmony commercials), author Jessica Massa hits an important point, "The over-stressed emphasis on marriage and true love and commitment perpetuates the still-popular belief that online dating is a last resort for when you've been too busy working or feeling lonely or dating the wrong people to find love." [emphasis hers]
Use online dating for whatever you want. I don't care if you want to get married or get laid, you're not a lonely loser. You're still a special snowflake. Using a dating website shouldn't feel as abnormal as it sometimes does. Let's lessen the stigma ourselves as a grassroots effort. Here are some tips I've found useful about how to tell other people you met your significant other online.
You Met Each Other Online, And That's OK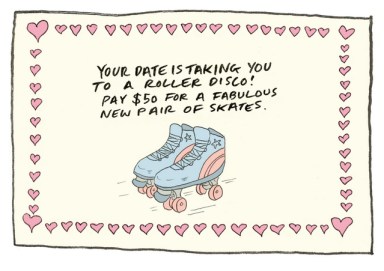 Tell people you met your partner however you want. It is totally okay to lie to people if you want. Yes, I said that and I mean it. Don't think your parents will understand? Saying you met at a coffee shop/bar/friend's house is fine. Maybe down the line you'll be at a family dinner and your sibling will let it slip and everyone will laugh and not really care about it by then. Maybe your grandchildren will ask you how you met and you'll tell them a charming story about a coffee shop. Who cares?
Quit thinking it makes you less awesome. You know what you want and that's why you need someone's profile before you can commit to having a drink with them. Why is this a bad thing? You don't have time for meeting losers who won't even like your cat and think your flag-burning weekends should have you imprisoned. Meeting people online automatically gives you top secret info it might have taken three or four dinners/coffees/drinks/picnics to get out of the way. You're just being efficient.
Talk to your partner about it. Do you want to have a different story? Better get that straight. Does your partner feel embarrassed and do you feel totally cool about it? Maybe figure out a middle-ground for when people ask the two of you when you're together so no one feels awkward. You can say "online" but not "on a dating website" perhaps. Sometimes with less details, you'll feel more comfortable.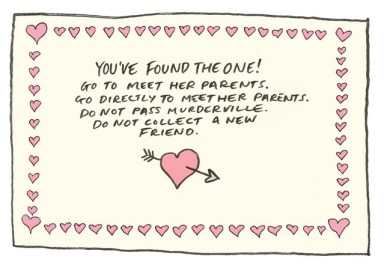 Stop worrying about what others are going to think. This is one of those easier-said-than-done things. Sometimes people are going to give you a raised eyebrow when you say you met online. But you know what? Fuck those people. Perhaps you're the side-eye, awkward-laugh type (we can be twins!). Stop doing that. You're automatically giving people permission to dismiss your actions because you're dismissing them first. Just be casual. Shrug a shoulder. Have a coy smile. People will typically react in response to how you react first.
Be happy with your own actions. Are you happy with your girlfriend? Great! Own that, and use that happiness to remind yourself you made the right choice every time you start to feel silly about meeting your girlfriend online. It's as simple as that.
Any other tips or lies about meeting you'd care to share?
*As my very own please-don't-die disclaimer: please don't be stupid about meeting strangers online. If someone wants you to meet them at their house at 3am for a first date, say no, and meet them in a coffee shop/public place/anywhere not so Murderville, USA. Unless it's that kind of a first date, and I'm not judging you but I want you to stay alive.
---
Special Note: Autostraddle's "First Person" column exists for individual queer people to tell their own personal stories and share compelling experiences. These personal essays do not necessarily reflect the ideals of Autostraddle or its editors, nor do any First Person writers intend to speak on behalf of anyone other than themselves. First Person writers are simply speaking honestly from their own hearts.