Learning to feed yourself can be one of the most terrifying things. Am I about to give myself food poisoning? If I eat this too often will I end up with scurvy? How can I get the most nutritional bang for my buck? Why does this still taste like ass?
With Ode to My Pantry, learn to navigate a grocery store without having a meltdown in aisle three. Give a man a fish and feed him for a day, teach a queer to cook and stave off malnutrition for another semester.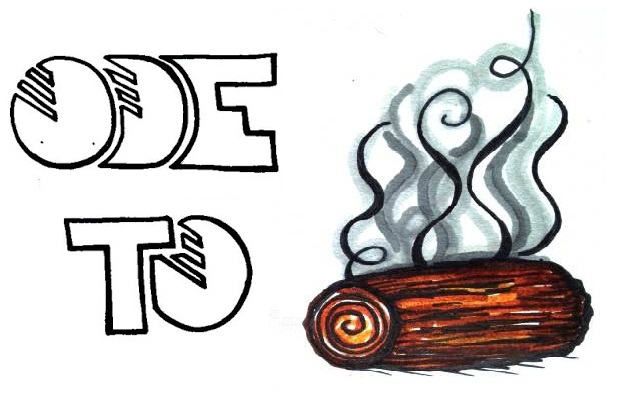 I'm the kind of person that likes burned food. Grilled cheese? That had better be 99% brown. Toast? I'll eat it when I can snap it in two. Steak? Keep it bloody but wrap it in a carbon cocoon. There's a fine line between golden, brown and delicious and blackened foodstuff and I brazenly skip over it, twirling streamers of burnt bacon behind me as I go. Is that weird? Probably. Is it dangerous? All signs point to yes. But much like my love of cutting my own hair, some things are worth the risk.
Smoke has been as much a factor of cooking as the fire itself. That meat they ate on the plains of Africa or foothills of Asia? You can bet your boots it was a sooty mess, soaking up the flavours and scents of the surrounding smoke. Nowadays we have things like stoves and slow-cookers to reduce our dependence on human engulfing fires, but just because we don't need smoke doesn't mean we shouldn't smoke. By simply adding a few chunks of wood to the grill or resting your fish on a plank instead of tinfoil, you can up the flavour ante without burning yourself at the stake.
Much like the Maillard reaction, the science of smoke is too complex for us to completely understand. In a perfect world with perfect fires, the fuel, oxygen and heat would be just balanced to only release water vapour and carbon dioxide. But we don't want perfection, we want flavour. When wood is burned in a low oxygen environment, the smoldering fire creates new chemicals, some yummy and some less so. You will liberate some formaldehyde and acetic acid, but you'll also liberate fragrant phenols (pungent/smoky), furans (sweet/bready/floral), lactones (coconut/peach), acetaldehydes (green apple), guaiacols (smoky/spicy), diacetyls (buttery), isoeugenols (sweet/clove), syringols (spicy) and vanillins. (The last of which you'd notice if you've ever drank bourbon aged in a charred barrel.)
When it comes to choosing your smoke sacrifice, not all trees are up for the task. Even though your mummified four-month old Christmas tree is made for immolation, upcycle it another way. That handy dandy pine may be full of perfectly flammable wood, but much like other conifers, it's also full of resin. While this substance is great for healing wounds or trapping scarabs, it creates a sooty smoke that leaves your food sticky with a not-so-faint wisp of turpentine. Someone'll correct me that resinous smoke can be incredibly tasty, but I just don't have time to go to La Rochelle. And for the love of all Rachel Maddow, don't burn your plywood shelves or your LACK side table!
Hardwood is your friends when it comes to building a pyre to the smoked food gods. You can recognize your chums by their winterwear. Are they standing buck naked in the cold? Chances are you're looking at an angiosperm! Even though they're known for their late autumn stripteases, they keep it classy with their seeds, bundling them up in flowers and fruit. In addition to being generous with their sap and their sugar, their slow-burning wood tends to be a bit aromatic as well. While they won't taste exactly like the flowers, fruits or nuts they bear, different hardwoods bring unique profiles to your foods.
Hickory: A sweet wood that pairs well with pork and pork type products. If you were thinking of bacon, you were probably thinking of this.
Mesquite: A strong earthy flavour that's characteristic of Texas and Southern barbecue. Hot and fast burning, it's best used on red meat with a short cooking time.
Alder:  A delicately flavoured wood that pairs well with fish or poultry. It doesn't impart a strong flavour, but it's enough for lox and that's all I need.
Apple Wood (and other fruit): Mild and fruity, it gets cozy with pork, poultry or cheese.
Maple: Not only does it give you Canadian nectar, but it imparts a slightly sweet, fruity flavour to poultry or ham. The most generous of trees.
If it's simply too cold to fire up the ol' burner, it's easy to incorporate some summer flavour into your food without hotboxing your kitchen to "accidentally" meet some hot firefighters.Given that smoke's phenols and formaldehydes are effective antimicrobial agents, if a food can be dried, it can probably be smoked.
If the concept of smoked food
makes you shudder with fear
 instead of shivering with delight, there are "safer" ways to consume your smokeables. Liquid smoke is a food additive that dissolves everything you love about backyard barbecues into the convenience of a bottle.
Aromatic wood
chips or shavings are smouldered at a low temperature with relatively little oxygen to create a shitton of smoke. Said smoke is then distilled and dissolved into water or water mist. Once it's collected, the smoke distillate can be separated, with the
wood wax rising to the top and heavy tars at the bottom
.
The resulting middle phase contains a shitton of flavour and
removes most of the harmful chemicals
. If this sounds like dark sorcery, keep in mind that
you've already consumed some smoke
 since basting with a smoky brew is a helluva lot cheaper than actually smoking pork belly. If you don't trust the big guys, make your own liquid smoke via
distillation
or 
extraction
. The concentrate 
is
quite strong, so make sure to use a light touch when cooking. But even a few drops added to a TVP based dish can add a meaty note to an otherwise vegan offering. Or make my favourite Caesar taste a little bit more meaty.
So go forth and smoke or let me know how I'm going to die a delicious bacon-fueled death. You chew you.